Even after instant messengers and video calling apps burst onto the scene, exchanging emails is still a very popular choice, especially for formal communication. However, not everyone might find the web-based version of email providers as the most convenient way to exchange emails. Therefore, in this list, we'll take you through the best free email clients that you can use to optimize your mailing experience.
For smartphone users, we have already listed several quality email apps. So, in this one, we are focusing on the top email clients available right now for Windows.
Pitting web-based email clients and dedicated email clients against each other, it's no doubt that the former provides ease of access and eliminates the hassle of installing updates every next day, but the latter has its own advantages as well. The biggest advantage of all is the ability to manage multiple accounts from different email services through a single user interface. I mean, you can't see your Outlook emails in Gmail, can you?
What Is An Email Client?
An email client or email reader is a software program that you can use to manage one or more of your email accounts. Sometimes, it is also known as a mail user agent or message user agent.
Its major purpose involves exchanging and managing emails for one or more accounts. Several email clients offer additional features, such as spell check and auto-replies, that further enhance user experience. For these extras and multiple account support, people often prefer email clients over web-based email.
So, what is the best email client? In the following list, we'll tell you about some top free email clients apps available for Windows 10.
Best Email Clients For Windows 10 – Organize Your Inbox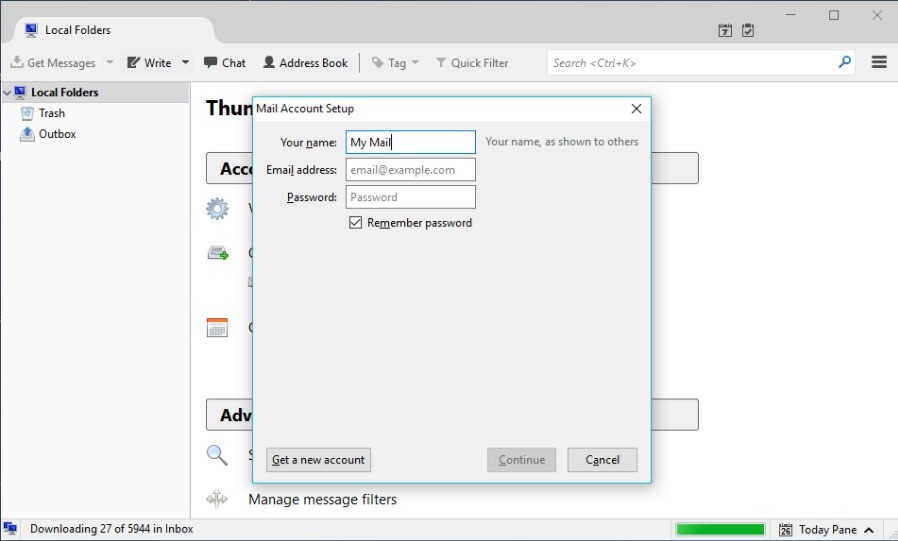 The great old open-source Mozilla Thunderbird is still among the top-rated email programs for Windows 10. Despite it being somewhat ordinary, the free email software packs enough muscle to compete against other Windows email software.
Thunderbird's features include RSS readers, chat support, web search bar, quick filter toolbar, activity manager, etc. It can automatically filter the junk out of your inbox, provide phishing protection, supports Do Not Track, and more. Just like Firefox, you can install add-ons to extend its capabilities.
The reason why it's one of the best email clients is that there is no paid version of Thunderbird. So, there is no restriction on the features offered by the email app.
Pros:
Open-source
Feature-rich (auto replies, activity manager, RSS readers, etc.)
Supports many add-ons or plugins
Cons:
No longer gets new features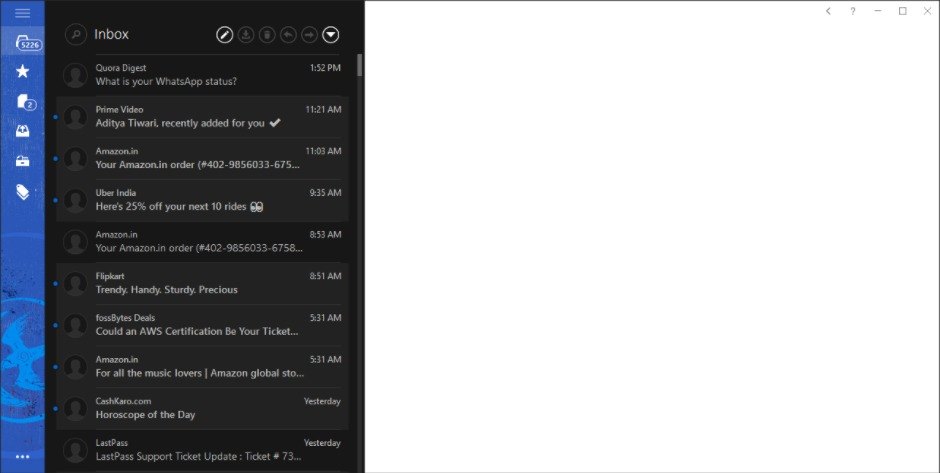 One of the best emails client for Windows made by a third party is Mailbird. This Windows email app offers the combined inbox functionality called Unified inbox. It includes a dark theme and different backgrounds in the appearance settings. You can choose between the default and a Mozilla Thunderbird style layout.
One handy feature in the Windows email app is called the Speed Read that helps users to go through their emails quickly. In addition, Mailbird also allows users to add Identities. So, they can send emails from a different email ID that's not connected to Mailbird.
This free Windows email app isn't just limited to email accounts. You can add many add-ons to use WhatsApp, Slack, Google Docs, and other services without leaving the app. But the free version of Mailbird limits the user to only one account. For adding more accounts, you will require Mailbird Pro.
Pros:
Supports integration with Slack, WhatsApp, Google Docs, etc.
Supports IMAC and POP email service
Handful of customization options
Cons:
Only one account sync possible in free version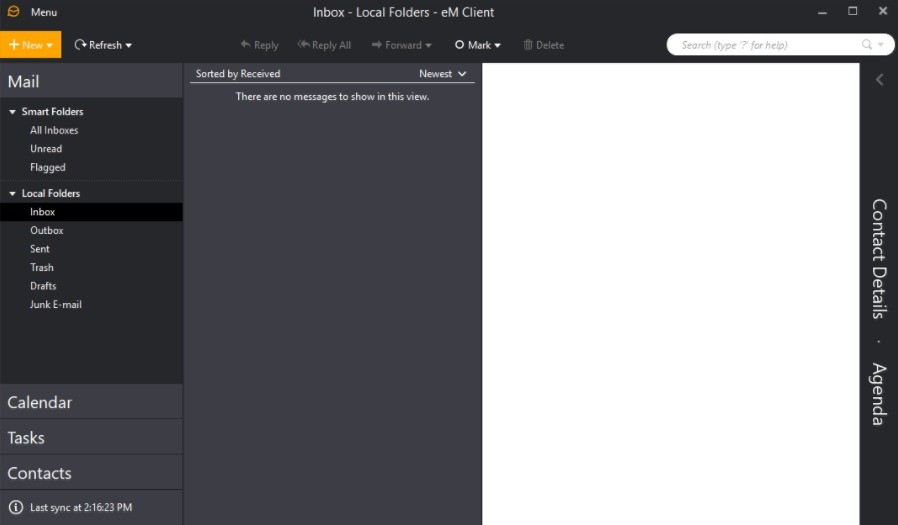 It might not have a fancy name, but eM Client will surely please you with its looks, especially the dark theme. EM Client's clean interface would please users who like to keep things simple.
You can manage everything from your account, calendar, contacts, and chat support. Moreover, it supports PGP encryption so can send your emails securely. Other features include a built-in spell checker, language translator, delayed send, search bar, to-do list, etc.
While there are no restrictions on the features, the free version of eM Client only allows you to add up to two email accounts. For more, you'll have to go for the Pro version.
Pros:
Neat user interface
Lots of features such as spell check, language transaltor, and chat support
Cons:
Only syncs up to two email accounts at once in the free version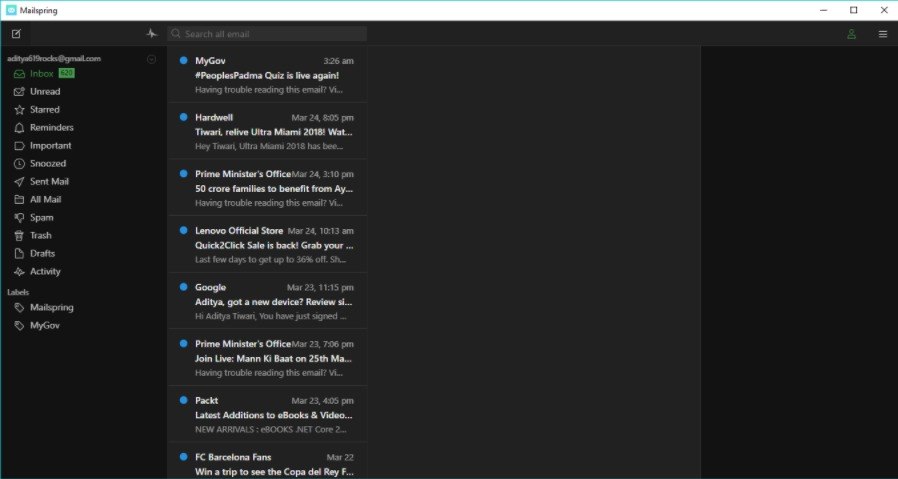 Mailspring is a powerful email client for Windows. It is a fork of the defunct email client Nylas Mail, created by one of its developers as a lightweight successor.
From the moment you download Mailspring, you start to get the feel of premium email software. It supports a variety of email services including Gmail, iCloud, Outlook, and other IMAP and SMTP email providers.
This Windows email program comes with many useful features including link tracking, read receipt, detailed contact profiles, snooze, email templates, etc. But, there are a few limitations such as some features being only available in the paid version.
Pros:
Useful features such as read receipt, templates, link tracking, etc.
Supports many email providers including Gmail, Outlook, iCloud, Yahoo, and more
Supports up to four email accounts at one time in the free version
Cons:
Some features locked behind paywall
Ordinary user interface
5. Mail & Calendar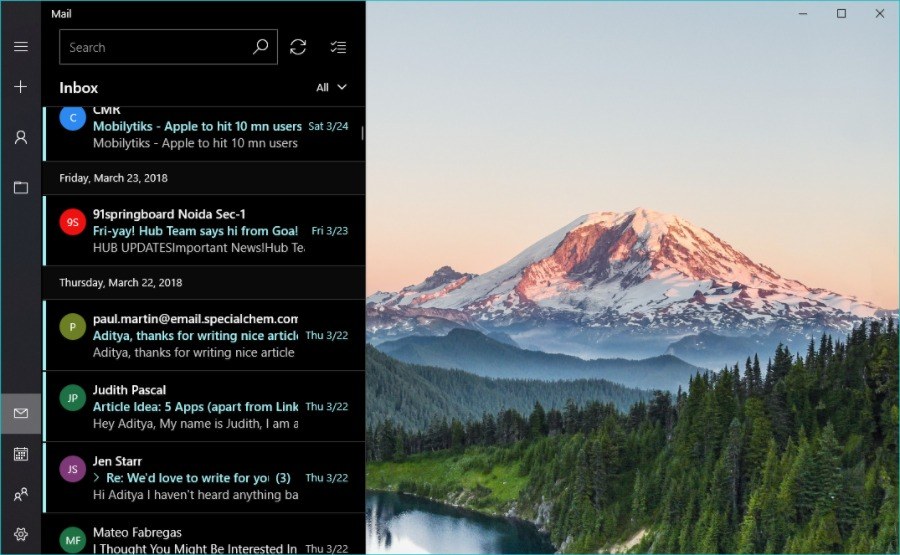 Probably the best free email client, the Mail app comes pre-installed with Windows 10. It is the free alternative to Outlook that's bundled with Microsoft Office. Windows 10 Mail app is stripped down in features when compared to Outlook, still, it doesn't let you down in features.
This free email client for Windows supports Microsoft, Gmail, Yahoo, iCloud, Rediff, and many other email services that support IMAP and POP. You can view your emails in separate inboxes or merge your account to display all the emails in a single Linked inbox.
The email app also supports automatic replies to save the day when you're not able to respond to emails. There is another handy feature that lists all your important emails in a Focused inbox and the rest in the Other tab. Besides this, it also offers different personalization options using which you can change backgrounds, font color, or switch between light and dark themes.
Pros:
Compatible with multiple email service providers including Microsoft, Gmail, Yahoo, and iCloud.
Supports built-in Calendar app
Cons:
What To Look For In Email Clients?
Choosing the best email client isn't as tough a job as it might seem when overwhelmed with options. One of the main reasons people resort to using an email client application is the fact that most of them sync multiple different email addresses at the same time. So, naturally, it would benefit you from choosing an email client that is enough for all your email addresses.
Other factors of deciding your pick are subjective and depend on your unique needs. For those who must avoid a typo at all costs, a client that provides a spell check feature is of big importance. On the other hand, someone else might find features, such as auto-replies and language translation, more crucial to their usage.
So basically, after you have filtered out the email clients that support all your important accounts, you would have to choose among them based on the features you find useful.
Conclusion
While each email app mentioned above has its own pros and cons, Mailspring is our go-to mail client. The support for up to 4 accounts at once it offers in the free version is a crucial determinant for our pick. On top of that, its impressive range of features and add-ons are a big bonus.
By the way, if you are someone who ranks privacy over anything when it comes to email, you might want to choose your email service provider thoughtfully. Here is a list of the best free email services we made earlier.
So, these were some of the best email client software for Windows 10 that you can use for free. In case you have a suggestion or query, drop it in the comments below.
FAQs
1. Which is better Mailbird or eM Client?
While both these email clients have their own advantages, we would rank eM Client higher than Mailbird. This is because, while they're comparable in terms of features, eM Client supports two email accounts but Mailbird supports only one in their respective free versions.
2. What is the difference between Windows 10 mail and Outlook?
Windows 10 mail is a watered-down email client suitable for the average user, whereas Outlook is a bit more complicated and targets certain professionals.