Amazon is one of the biggest e-commerce websites of all time with millions of products listed on its platform. To keep the products competitive, it frequently fluctuates the price of its products.
While this maximizes profits for Amazon retailers, it can be disastrous for consumers and small business owners who paid a high price for a product that is now sold at a discounted rate.
If you use Amazon or any other online shopping market, it should be your utmost priority to have a price checker installed on your web browser.
A price tracker tracks the fluctuation in the price of a product and notifies you on the price drop. Apart from this, a price checker can also streamline the process of comparing the prices of a product on different platforms.
Best Amazon Price Trackers For Chrome And Mozilla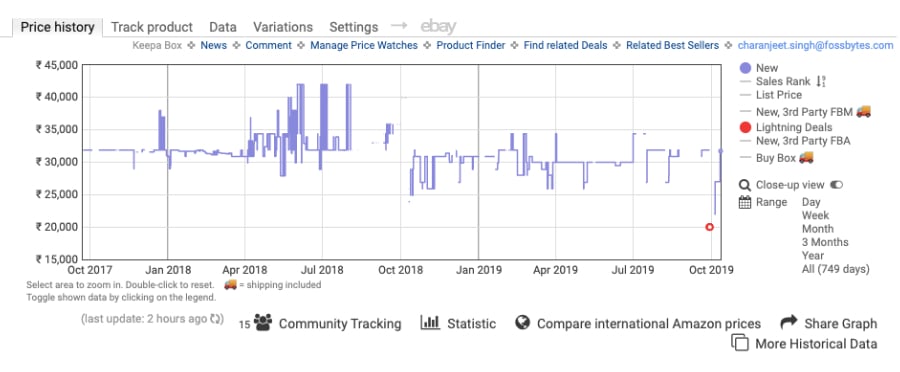 Keepa is one of the most popular amazon price change trackers on our list. The best part about Keepa is that it offers a slew of amazing features right up front under the Amazon product listing.
You have an in-depth interactive graph with multiple variables. If the chart isn't overwhelming enough, you can add more variables by going into the settings tab right there itself.
You can even compare the listing from other Amazon international prices and add price drop notifications, setting it for Facebook, Telegram, email, etc.
If you are just window shopping, you can go to the deals section on the website. Keepa aggregates millions of listing from Amazon and produces the best deals ranging in multiple categories.
Browser Extensions
Chrome, Mozilla, Internet Edge, and Opera
Supported Amazon markets
.com, .ca, .mx, .br, .uk, .de, .fr, .it, .es, .jp, .in, .au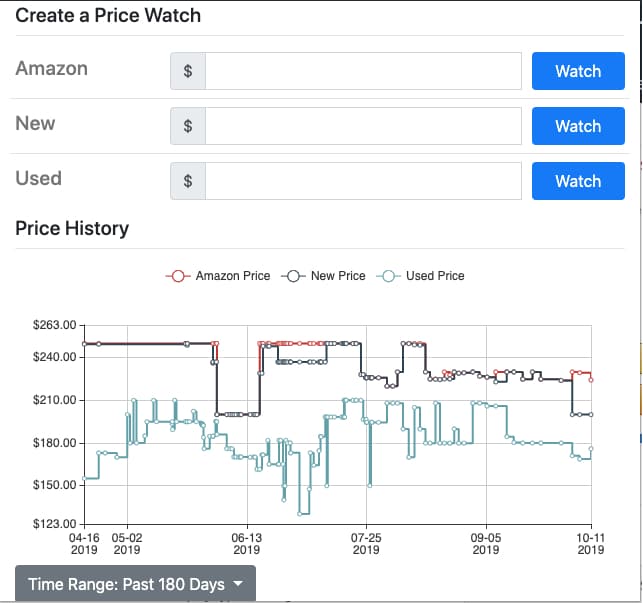 Penny Parrot has the best price drop charting of all the Amazon price history trackers. It is streamlined, uncluttered, offers less but all the necessary variables.
In fact, the user interface is the prime reason why I consider Penny Parrot as one of the best Amazon price trackers. It is certainly short on features, but at least whatever is on the tool is big and visible.
Another reason why I like Penny Parrot is because it offers an iPhone shortcut to view the price history of a product on Amazon.
The issue with this price tracker is that it only supports Amazon.com. Also, you will need to sign up in order to use the free Amazon price tracker.
Browser Extensions
Chrome, Mozilla, Internet Edge, and Opera
Supported Amazon markets
.com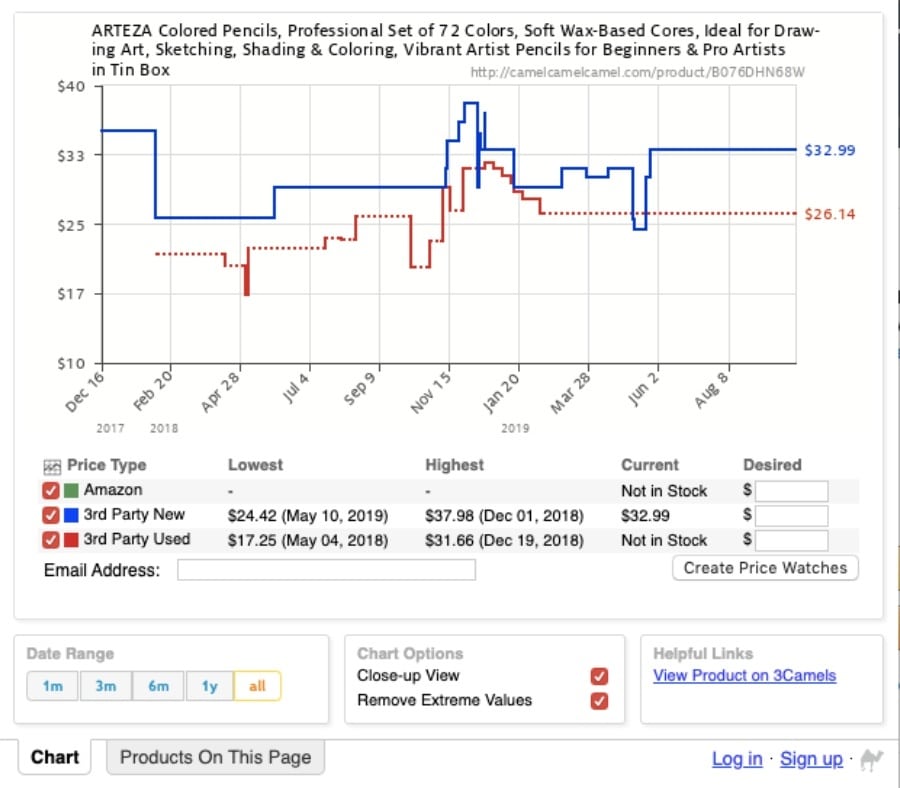 CamelCamelCamel is another popular Amazon price tracker, however, it's not certainly the best one.
While there is an in-depth price drop graph, it appears clunky and cramped with data with no interactive elements. In contrast to other best Amazon price trackers such as Keepa, it offers little added features.
But one of the perks of using CamelCamelCamel is that you can then use the Amazon price tracker Chrome extension without necessarily making an account, a must step in several other price checkers.
The price tracker app does offer price drop tool notification, but only through email.
Browser Extensions
Google Chrome and Mozilla
Supported Amazon markets
.com, .au, .uk, .cn, .ca, .fr, .de, .it, .es, .jp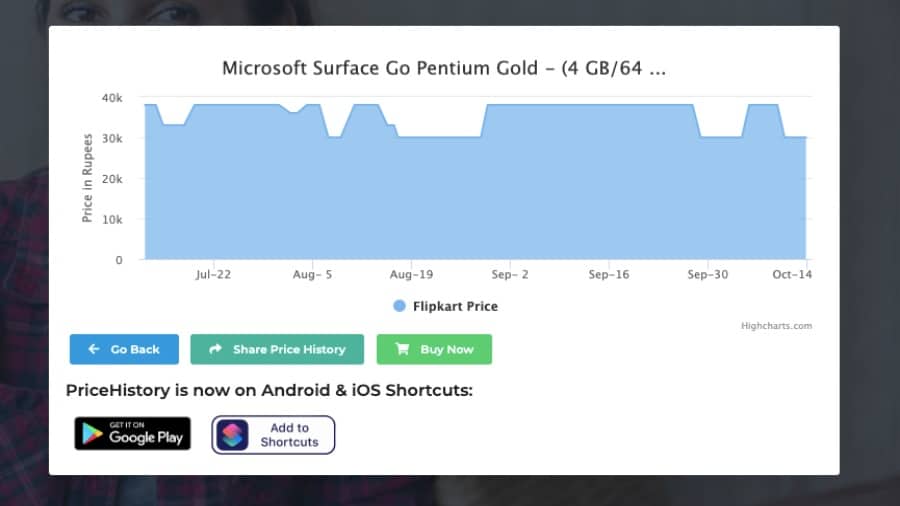 All the price trackers aforementioned are exclusive to Amazon. But, if you want to compare prices from different platforms, Price History is your best bet.
Instead of offering a browser extension, Price History asks you to enter the product link on their website to get the price drop chart. You can use the Price History's bookmarklet that will instantly bring up the price history.
The price tracker tool is exclusive for the e-commerce space in India such as Flipkart, Myntra, etc. For smartphone users, you can download the Price History Android app or use its Siri shortcut in iPhones.
The price tracker for Flipkart lacks a price drop notification system which could be problematic for many.
Supported markets
Amazon, Flipkart, Ajio, Jabong, Myntra, Kvoos, Croma, Snapdeal, Paytm Mall,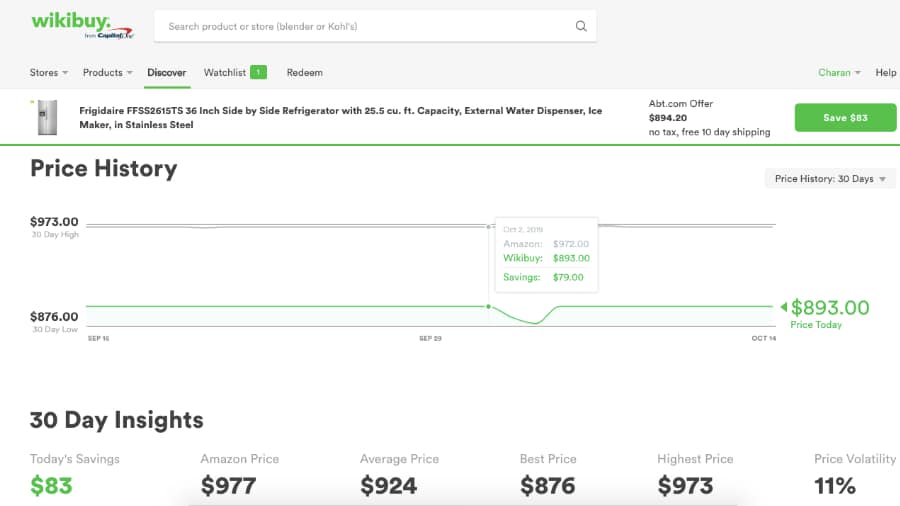 WikiBuy, from Capital One, features a number of tools for you to grab the best deal and one of them happens to be an Amazon price tracker.
Unlike the tradition of delivering a price history chart right away, WikiBuy redirects the user to their attractive and engaging re-created version of the listing.
There, you will find a summary of pricing history, offers from other websites, alternatives to the product, YouTube reviews, final price and much more. You can set up a price drop notification just like any other Amazon price tracker.
When you shop on WikiBuy partnered websites, you are rewarded with WikiBuy credits which you can redeem for gift cards. Of course, you will have to login in order to use WikiBuy.
Browser Extensions
Google Chrome, Firefox, Edge, and Safari
Supported markets
Only international platforms of Amazon, eBay, Walmart, and few others.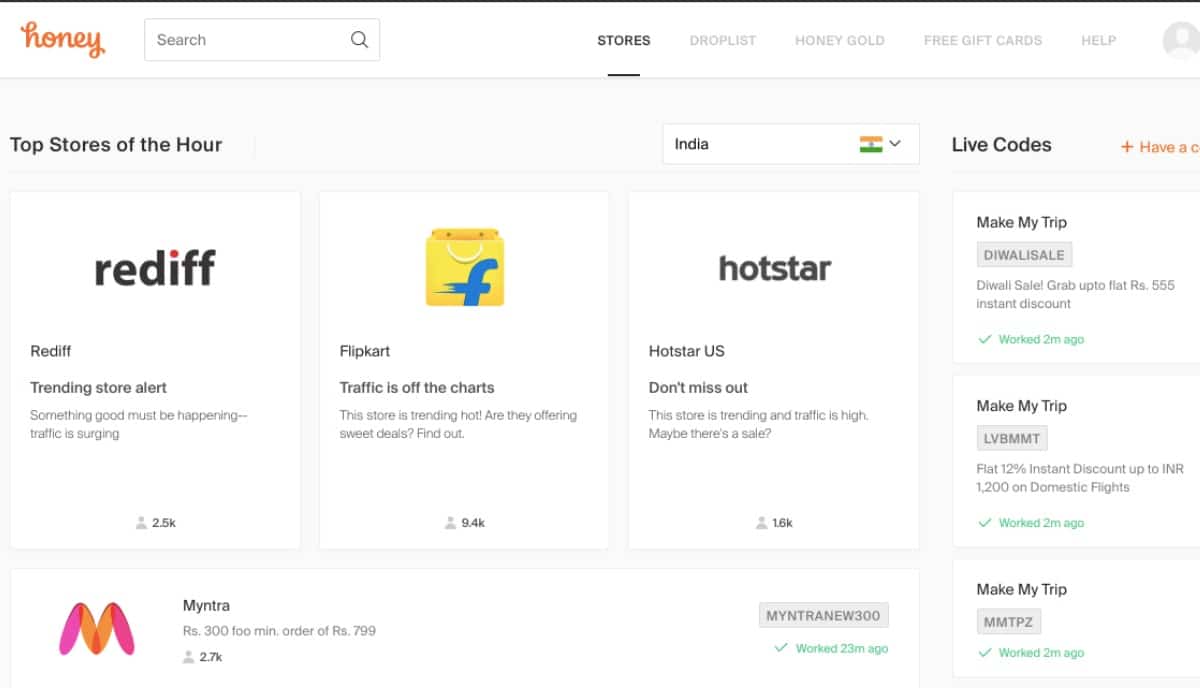 Honey's primary task is to provide coupons for you to save money while shopping, but it also features a price history tool for Amazon and a few other markets.
Just like WikiBuy, Honey also includes a credit system called "Honey Gold" which you can use to buy gift cards. Apart from that, you can compare the prices listed by different sellers.
Coming to the price tracker, it does have a wide reach given the availability on Android and iOS both. But for some reason, I faced a lot of difficulties just to get the price history of products.
Also, the Amazon price tracker for Chrome requires the login credentials of your Amazon for the price tracker to work
Browser Extensions
Google Chrome, Firefox, Edge, Opera, and Safari
Supported markets
.com, .au, .uk, .ca and a few more.
Which is the best Amazon Price Tracker app?
Price tracker for Amazon is one of the best ones for Android users. The app supports a lot of Amazon markets including Amazon.in and features price drop notifications as well. Sadly, the app lacks a past history of the price drops.
As for iOS users, I couldn't find a useful price tracking app for Amazon. Therefore, I would recommend you to install the shortcut of any of the above price trackers.