Are you looking for some free email services for 2019? Well, you have landed in the right place. We have already talked about some of the free email clients for Windows 10 and also about free email apps for Android.
There is a difference between an email client and an email service or email provider. You can take the example of a car running on a freeway. So, consider the email client as the road on which different cars can run. In the same way, you can configure different email services (cars) on a single email client.
Here's a list of the free email services you need to know:
Top Free Email Service Providers For 2019
Top email services for privacy-focused users.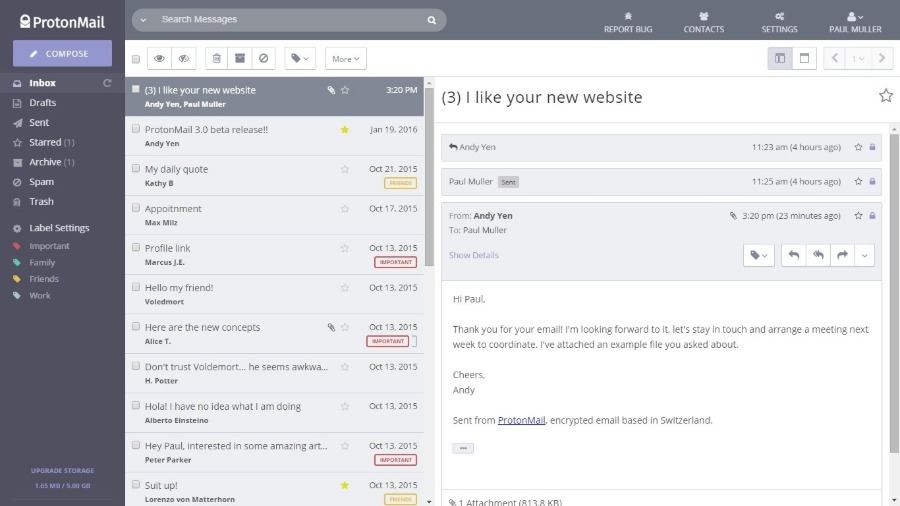 Sign-up: Free (No Ads)
Paid Plan: Available
Platforms: Webmail, Android, iOS
What is ProtonMail?
The first name on our list of the best free email services is by ProtonMail. What's great about this is that it's an open source email service.
ProtonMail is run by a Swiss-based company called Proton Technologies AG, which started the email service back in 2014. Currently, there are more than 10 million users of ProtonMail across the globe.
What are the best features of ProtonMail?
It supports common email protocols including IMAP, POP3, SMTP.
It's a secure email provider as it offers end-to-end encryption with full PGP support.
It doesn't log any IP addresses.
Provides 2FA for an extra layer of security and supports apps like Authy, Google Authenticator, and FreeOTP.
You can send self-destructing emails which automatically get after a specified amount of time.
The bad part
The free plan has very low storage.
It doesn't work smoothly with non-Proton email services.
Using its PGP encryption isn't that easy.
Best email provider for Google account holders and everyone else.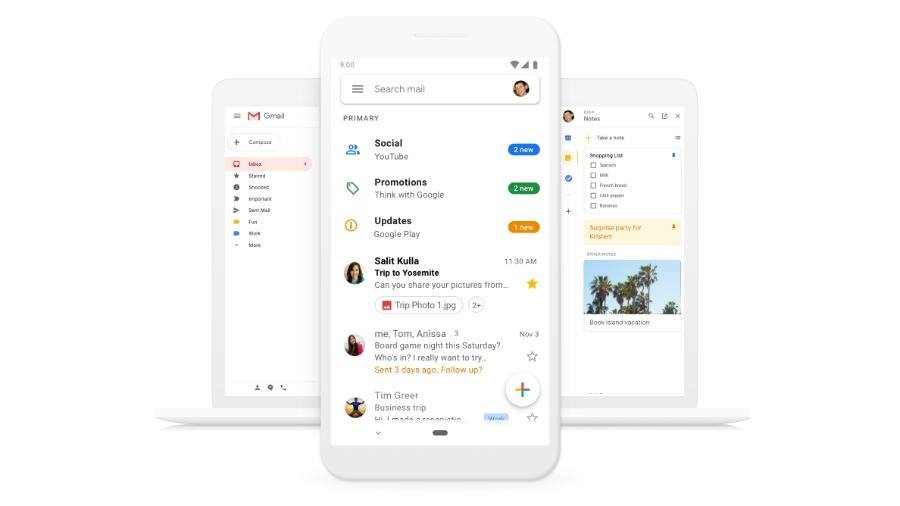 Sign-up: Free (with Ads)
Paid Plan: Yes (G-Suite for Business Users)
Platforms: Android, iOS, Webmail
What is Gmail?
Do I need to tell you about Gmail? In fact, it's a common thing that many people consider Gmail and email to be the same. This Google-owned free email service is that popular.
Google started Gmail back in 2005 and since then it has become the most used email service on the planet. Big credit goes to Google's dominance on the internet and the smartphone market.
What are the best features of Gmail?
Very easy to use and provides good integration with other Google products such as Keep, Drive, Android, Docs, etc.
Packs lots of AI features, including automatic smart suggestions as you type emails.
Offers support for popular email protocols including POP3, IMAP, SMTP. So, it's easy to set up third-party email clients.
Provides up to 15GB cloud storage via Google Drive.
Supports 72 different languages spoken in different parts of the world.
It can automatically sort emails into different categories to reduce clutter. This feature is really helpful
It's surely one of the secure email providers. It comes with different 2FA methods including OTP, Authenticator apps, and hardware-based 2FA.
The bad part
The free version contains ads.
Google is known to scan user emails to fuel its different services. For example, through reminders for package deliveries and flights.
Best email provider for Microsoft and Windows fans.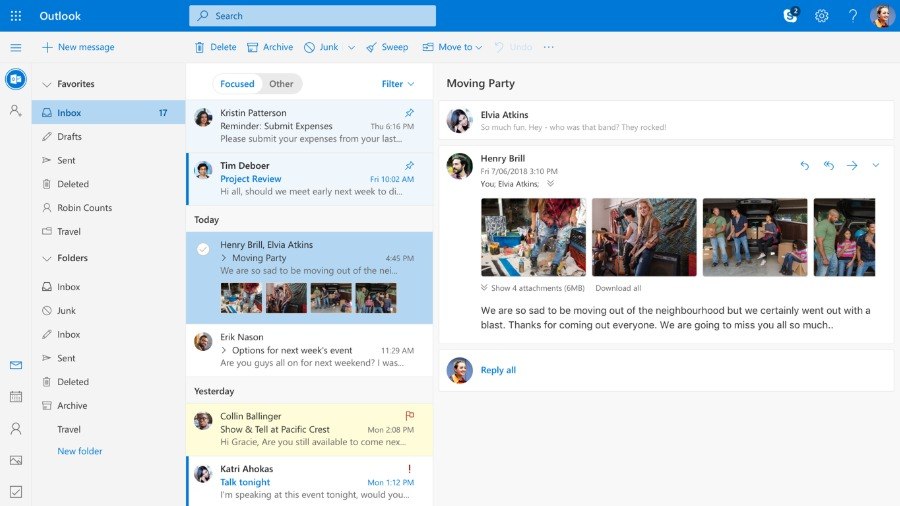 Sign-up: Free
Paid Plan: Yes (Office 365)
Platforms: Android, iOS, Webmail, Outlook (Client, Paid)
What is Outlook?
Just like Gmail, Outlook is also an old and very popular mail service that doesn't cost you any money. It's one of the first email services on the web and Microsoft changed its name from Hotmail to Outlook after purchasing it in 1997.
There's no doubt that as one of the top email providers, Outlook faces a tough competition from Google. Still, it provides a very different user experience.
What are the best features of Outlook?
Neat and clean UI that doesn't look cluttered is easy to use.
Offers 15 GB of storage.
Got integration with other Microsoft apps and services such as Calendar, People, OneDrive, etc.
Comes with Focus mode, which automatically filters important emails in your inbox.
Gives an option of dark mode and let you pick different themes.
Provides common email protocols like IMAP, POP for email client support.
Supports 2FA, both SMS-based and app-based, for extra security.
Functionality can be extended by adding plugins called Add-ins.
You can create rules to automate tasks when an email arrives.
The bad part
The web interface is not as comfortable on laptops as the ads on the right side take considerable space.
It takes a while to understand its advanced settings.
One of the top email services with a terabyte of storage.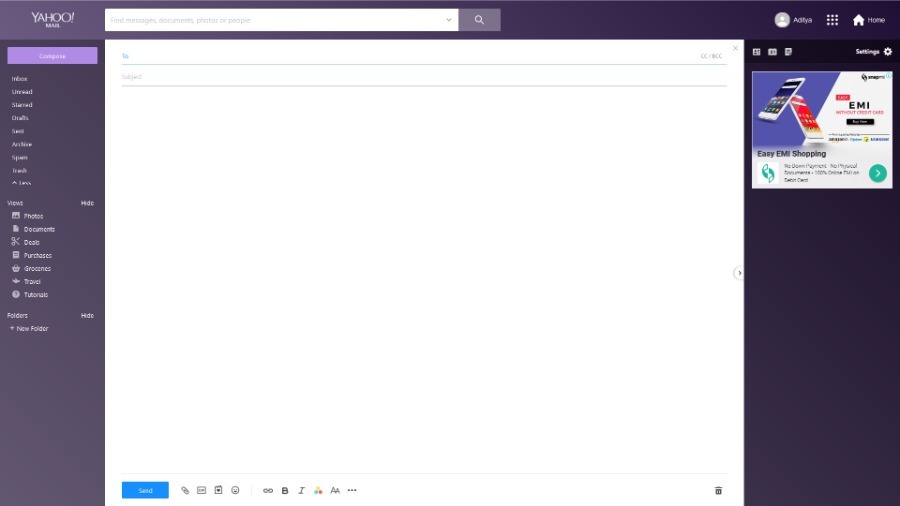 Sign-up: Free (With Ads)
Paid Plan: Yahoo Mail Pro
Platforms: Android, iOS, Webmail
What is Yahoo Mail?
You might be living under a rock if you don't know about the email provider called Yahoo Mail. A couple of years back, a big chunk of Yahoo's business was brought by Verizon.
In the past, I remember having multiple free email accounts from Yahoo. It was possibly the best email service you could have, but with the arrival of Gmail and Outlook, it could remain on the throne any more. This doesn't mean we have to exclude it from our list of the free email services for 2019.
What are the best features of Yahoo Mail?
Provides 1TB of email storage.
The new features include setting reminders within the email for doing tasks.
Create disposable email addresses for temporary use.
Send an email from a different address without setting up a new account.
Just like Gmail, users can 'unsubscribe' annoying emails without leaving the Yahoo app or web interface.
You can decorate your Mail inbox with different themes
You can create different filters emails and set custom rules.
The bad part
Developed a bad reputation in the past after Yahoo didn't report a security breach for a couple of years.
No label or tagging features for organizing emails.
Ads cover a considerable part of the screen.
It's a top email provider for Apple users.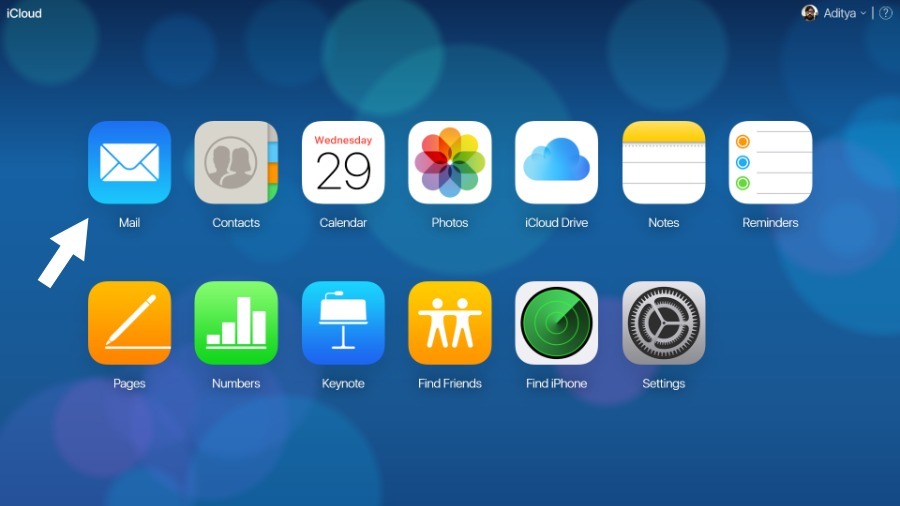 Sign-up: Free (No Ads)
Paid Plan: No
Platforms: MacOS, iOS, Windows, Android
What is iCloud Mail?
For those looking for free email accounts from a premium brand, iCloud Mail is the answer. As you might know, the popular mail service is owned and operated by Apple.
It's obvious that it works flawlessly across the Apple ecosystem. But you may have any trouble using it on non-Apple devices as well.
What are the best features of iCloud Mail?
The Maildrop feature lets you share attachments of up to 5GB.
Like Outlook and Gmail, users can set different rules to automate tasks.
The user interface is simple and very easy to use.
Supports Macbooks, iPads, iPhones, and even Apple TV. Can be used locally on Windows using iCloud for Windows.
Doesn't include any ads.
Good support for non-Apple email clients including MS Outlook.
The bad part
Initial setup requires you to have an Apple device.
Doesn't support the POP email protocol
Android setup is tedious.
Great free email service for business users.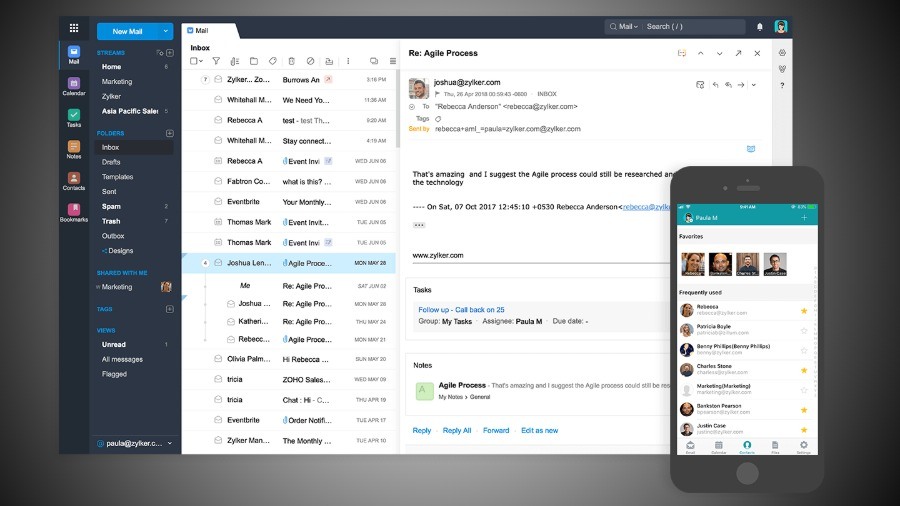 Sign-up: Free (without Ads)
Paid Plan: Yes
Platforms: Android, iOS, Webmail
What is Zoho Mail?
Zoho Mail makes it to the list of the best free email services. It is based out of India and the company behind Zoho mail was founded back in 1996.
It has only happened in recent years that Zoho has become a popular email service not only in India but in other parts of the globe.
What are the best features of Zoho?
Comes with a suite of office apps for editing text, presentations, spreadsheets, etc.
Advanced email features including filters, automatic reply, and advanced search.
Provides a tabbed interface for opening multiple emails.
Provides third-party integration for over 750 apps with its tool called Zapier.
Connect well with other cloud storage including Google Drive, OneDrive, etc.
It supports common email protocols including IMAP, POP, SMTP.
Provides custom domain options.
The bad part
Most relevant for business users.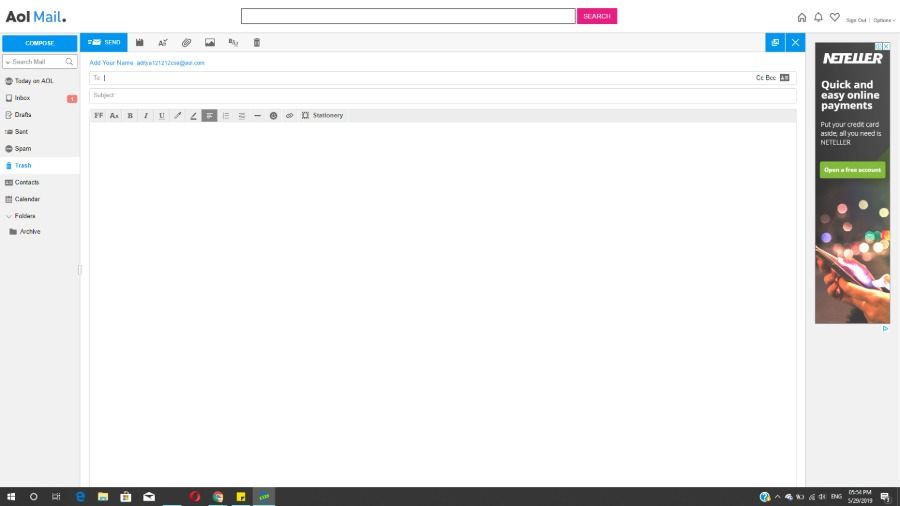 Sign-up: Free (with Ads)
Paid Plan: N/A
Platforms: Android, iOS, Webmail
What is AOL Mail?
The next name on our list of free email services is of AOL. Now, the AOL (or America Online) is very old on the internet and it is still one of the best email providers you choose.
Most recently, it has been acquired by US telecom giant Verizon, who is also the owner of Yahoo Mail.
What are the best features of AOL Mail?
Comes with support for email protocols IMAP and POP making it easier to set up on email clients.
Comes with built-in support for Calendar and To-list apps.
It supports different keyboard shortcuts and panels that can be resized.
The bad part
If you want a free email service without phone verification, this is not your cup of tea. Makes it mandatory to give your phone number.
It has fewer features than other free email services.
Storage size limits are not known. Claims to provide unlimited storage.
So, these were of the best free email services that you can try out in 2019. Now, each of these serves a different purpose. For example, you can go with ProtonMail if you don't want an email without phone verification. For new business users looking for a free email account, Zoho mail can be a good choice.
Gmail is a promised email provider with all-rounder features and so is Microsoft's Outlook. And lastly, if you want unlimited storage then Yahoo Mail is at your service.