A super-fast internet connection is everyone's inner wish nowadays. In fact, internet access is so important in today's time various countries have made it a fundamental right for its citizens.
In reality, there could be a considerable difference between the download speed claimed by your ISP and what you actually get during practical usage. When you're merely browsing through websites, it's hard to guess whether you're getting what you paid for. Many websites will work just fine at average internet speeds.
That's where you need good apps and sites to test internet speed. They can calculate the actual download and upload speeds you're getting on your device. Still, you should consider that there are different factors that can affect your internet speed.
Here, I have listed some of the best tools to check internet speed on your Windows, macOS, Linux, Android, or iOS device.
Note: Before you do the speed test, make sure no other app or device is consuming your internet bandwidth to get the best results.
5 Best Sites To Check Internet Speed In 2020
1. Speedtest.Net
Platforms: Web, Android, iOS, Windows 10, macOS, CLI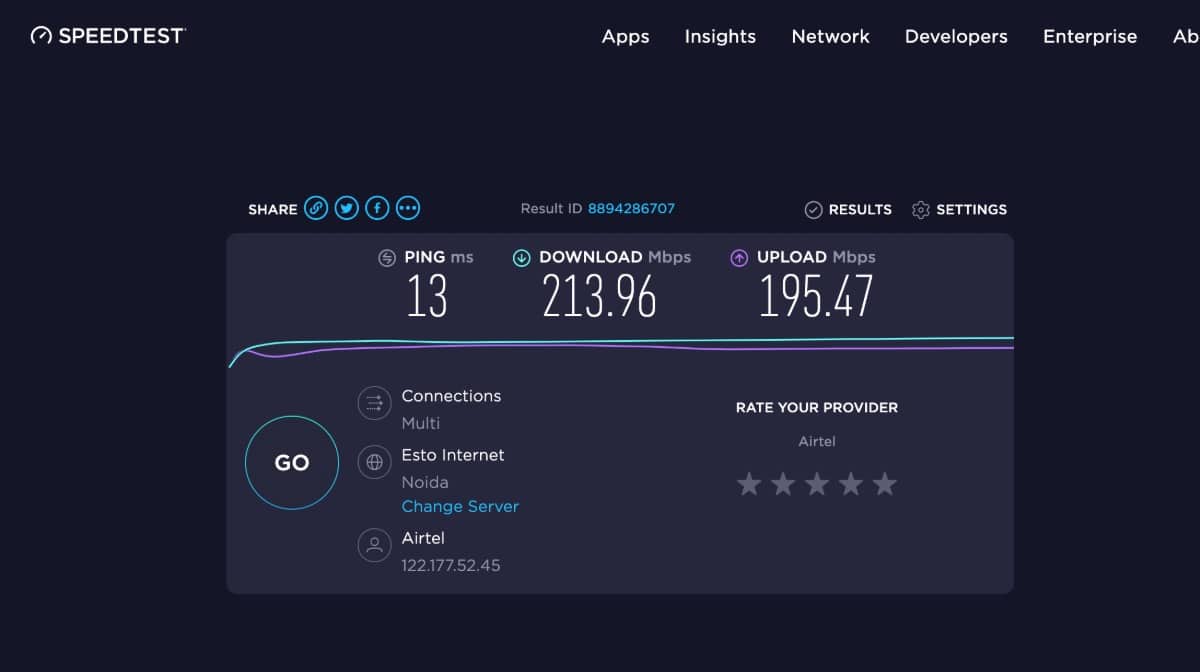 Just like Google is for search engines, Speedtest by Ookla is the most popular platform where you can check internet speed of your broadband connection. Its apps for Android and iOS now come with a built-in free Speedtest VPN service as well.
What makes it the biggest service of its kind are the tons of Speedtest servers spread across the world. That's because the physical distance of the server can make differences in the speed and latency, especially, when one is on a VPN.
Speedtest by Ookla offers native apps for all the major platforms and you can test your internet speed using the command line as well.
What's the best features of Speedtest by Ookla?
Provides data such as Download/Upload speed, IP address, ping (latency), etc.
Allows the user to pick a test server manually
Provides an option to export internet speed test results
Ookla speed test has around 8000 servers spread across the world
Provides Speedtest insights on global speed test numbers
Allows the user to switch between single and multi-connection speed tests
User can create an account to save speed test results
What's the bad part?
Ads sometimes slow down the loading of the Speedtest site (doesn't affect test results)
Get Speedtest for Web, Android, iOS, Windows 10
2. Fast.com
Platforms: Web, Android, iOS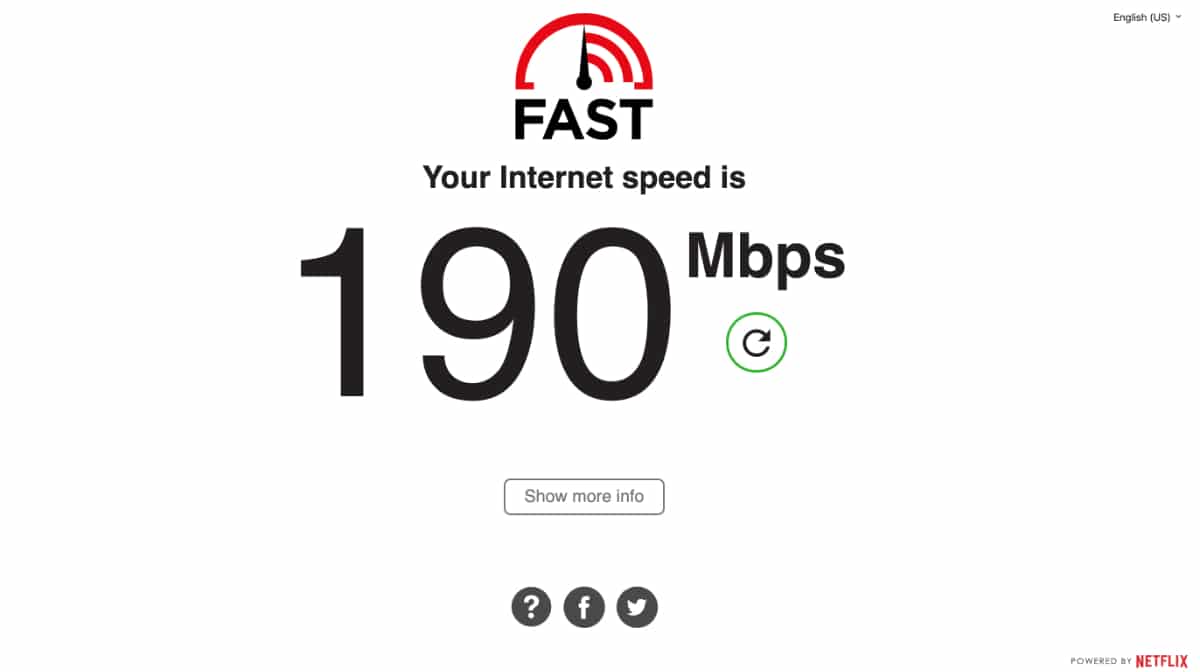 Fast.com is a free network speed test app developed by the streaming giant Netflix. Don't judge it by the minimalistic UI, it offers some important details other than your download speed.
Up until last year, the Netflix speed test app only calculated download speeds. But as more people started using it, Netflix added support for upload speeds as well. As a plus point over the Ookla Speedtest, Fast also calculates unloaded latency which is the latency when people on your LAN are using the internet.
It can be helpful data for gamers and binge-watchers. All other speed test tools on this list provide unloaded latency numbers.
What's best about Fast.com?
Provides details like download/upload speeds, ping, IP address, etc.
User can choose the number of parallel connections for speed test
User can choose the test duration between 5 to 30 seconds
Can calculate loaded ping for both download and upload
Can save device configuration without a user account
Supports 25+ languages to cater to the users of various regions
What's the bad part?
Requires extra click to check the upload speed
User can't choose speed test servers
Get Fast.com for Web, Android, iOS
3. Google Stadia Speed Test
Platform: Web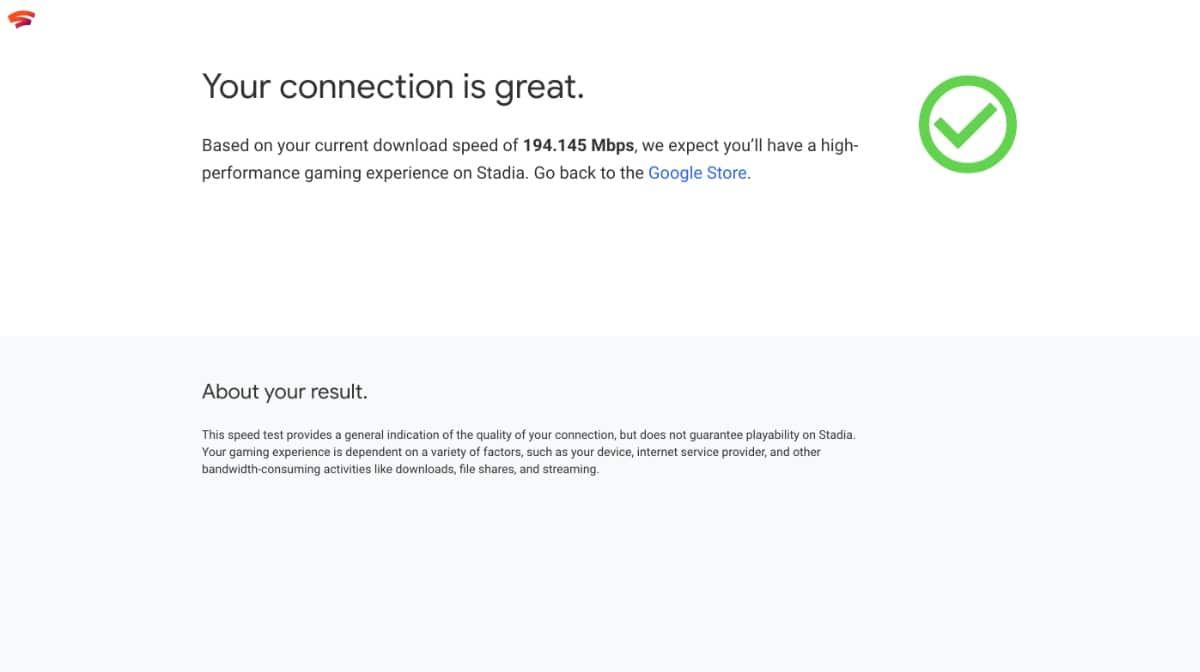 If a reliable download speed test tool is all you want, then you should try the Google Stadia speed test tool. As you might know, Google's ambitious gaming service requires a super-fast internet connection to stream games in 4K.
A minimum of 10 Mbps is required to run Stadia games in 720p and for 4K with 5.1 channel surround sound, it should exceed 35 Mbps.
That's why Google has put up this speed test tool so that users can know whether their internet connection is capable enough for Stadia. Google has partnered with the Measurement Lab (M-Lab) to provide this tool.
What's best about Google Stadia speed test?
Simple to use
Performs download speed test in 30 seconds and uses 40MB data
Works in all the regions
What's the bad part?
Only calculates the download speed
Next to no customization options
Get Stadia speed test for Web
Google Internet Speed Test
Partnering with M-Lab, Google also offers another way to check your connection speed and provides more information than the one mentioned above.
You don't need to install anything, the Google speed test tool can be accessed from Google Search itself. Just type "speed test" in the search bar and press enter.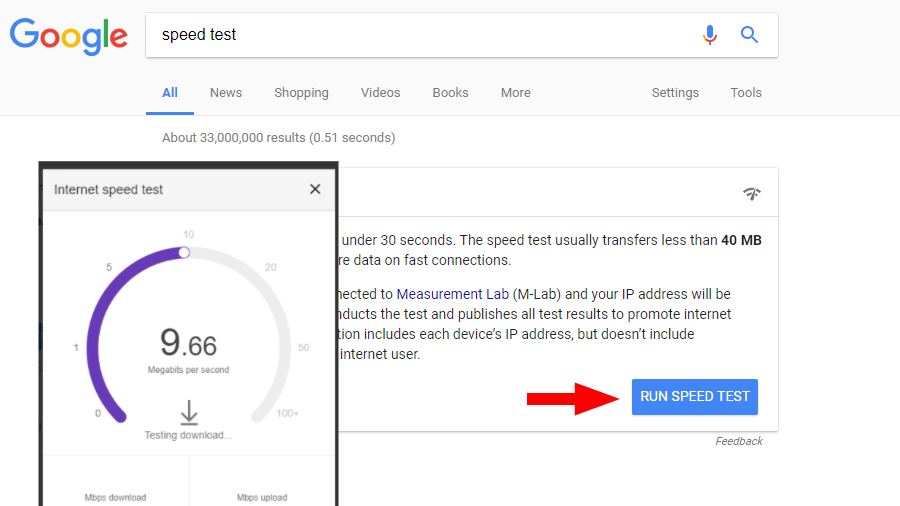 Currently, it can only measure network speeds up to 700 Mbps. So, if you have a gigabit connection, this tool won't work for you. Also, it works in a limited number of regions.
4. Xfinity Speed Test
Platform: Web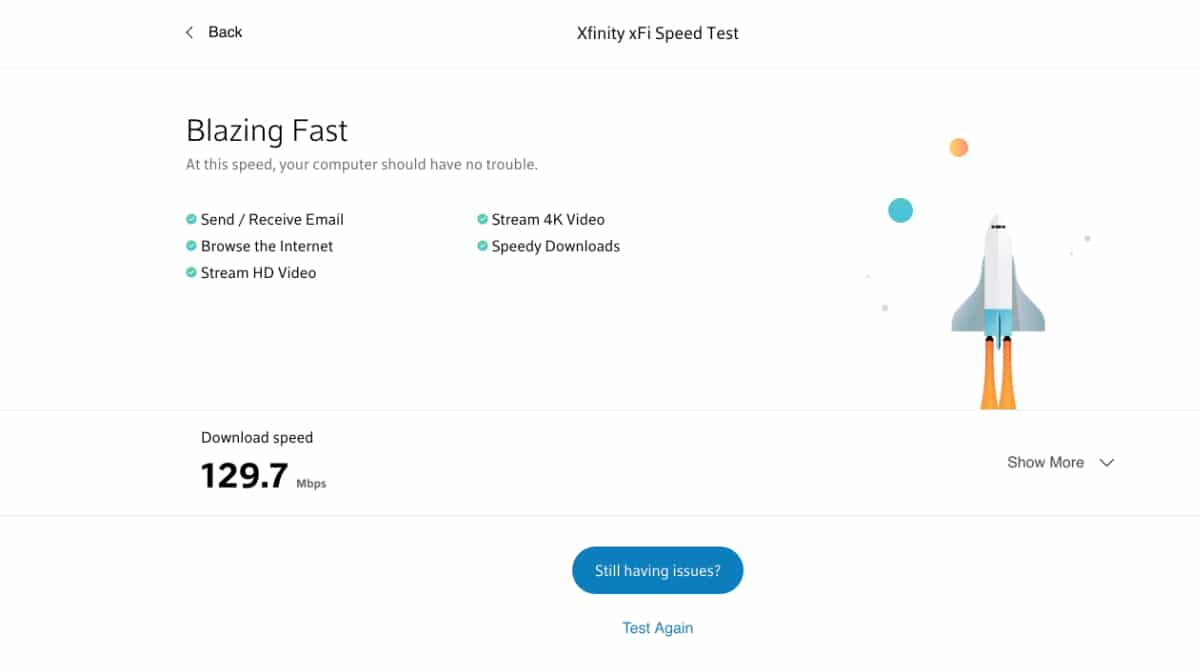 For the users of the Xfinity, Comcast offers a free tool to check internet speed on PC as well as mobile devices. However, it can be used without any issues by other users as well.
Just like Fast.com, the Xfinity speed test tool is also blessed with a visually appealing user interface. It shows detailed information on how the internet speed is measured and tips to improve their online experience.
What's the best about Xfinity Speed Test?
Provides one-click network speed test for non-Xfinity as well
Shows information like IP address, upload/download speeds, ping, server location, etc.
Suggests whether the user's internet speed supports 4K or HD streaming, speedy downloads, and more.
What's the bad part?
Users outside of the US might get inaccurate upload speed and latency results
Requires extra click to check the upload speed
Fewer customization options than other speed test tools
Get Xfinity speed test for Web
5. Verizon Speed Test
Platform: Web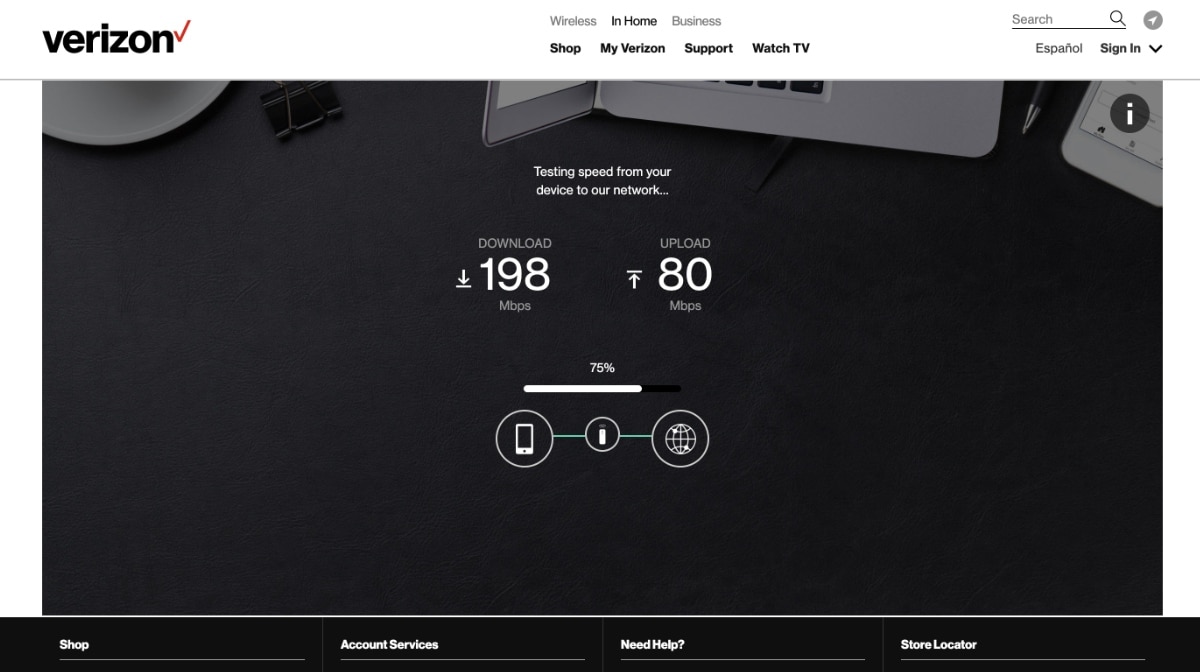 The US-based telecom giant Verizon has also created a speed test tool for the users of its Fios fiber service. However, other people can also use it to check the speed of their internet connection.
The Verizon speed test tool can be accessed by visiting the website of the telecom giant. One problem the users will face is that the company has put geo-restrictions on it.
What's the best about Verizon speed test?
Simple interface to test internet speed in a single click
Provides details such as upload, download speed, ping, IP address, test server location.
What's the bad part?
Doesn't work for users living outside the US
Doesn't offer any customization options
Get Verizon speed test for Web
Test Internet Speed Now!
So, guys, there were some of the best free sites and apps to check internet speed at your home or office. While testing all of these, I realized that each of them have some positives and negatives. For instance, Speedtest has a robust network of test servers and Fast.com gives you more controls. But the best part is that these tools come at no cost so you can use whichever you want.
If you know of any other tools to test internet speed or have any suggestions to make, drop your thoughts in the comments.