There are different ways to protect your computer and one of them is using good antivirus software. But what about the threats that come uninvited from the internet? That's where you need the best firewall software to keep your machine away from any harm.
A firewall acts as a barrier between your computer and the internet. It filters out all the malicious traffic coming from the outside world. There are software and hardware-based firewalls available. You might have heard about USB-firewall sticks called Armadillo and USG. Also, there is this smart firewall known as Cujo.
But here I am going to focus on the best free firewall software for Windows 10. These solutions may also work on older versions, including Windows 7 and Windows 8/8.1.
5 Best Free Firewall For Windows 10 (2020)
1. Comodo Free Firewall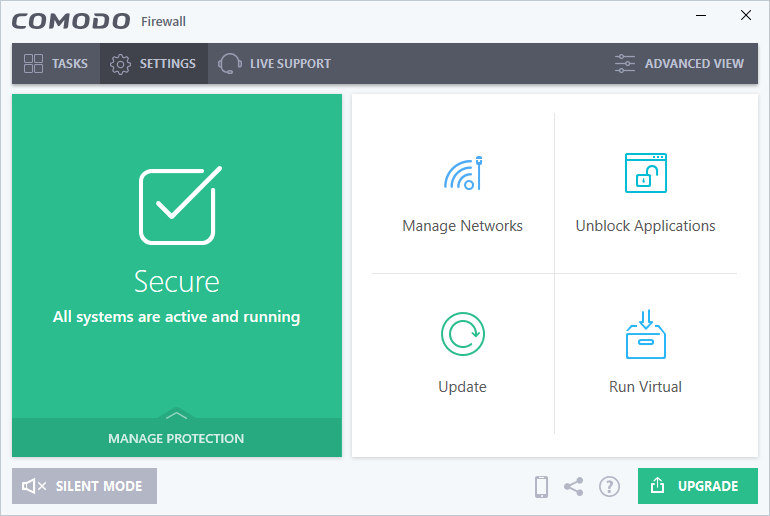 Whether you want the best firewall for home or anywhere else, you shouldn't miss out on this one. Comodo Free Firewall is a robust firewall software for Windows that comes at no cost.
Of course, there is a paid version if you want more features but the free version seems to get the job done. It comes bundled with Comodo antivirus software which could be a pro or con depending on your needs.
What's great about Comodo free firewall?
Above-average looks but spaciously laid out controls make it easy to use
Provides sandboxing of new applications
Efficiently monitors apps and system activity for threats
Cloud-powered behavior analysis system to detect zero-day threats.
Provides easy option to create new firewall rules
Whitelists trusted publishers based on cloud data
Desktop widget to show traffic and firewall status.
Offers optional Comodo Secure DNS for secure browsing
What's the bad part?
Confusing setup process with attempts to install addons
Visuall appearance can be improved
Download Comodo Firewall
2. TinyWall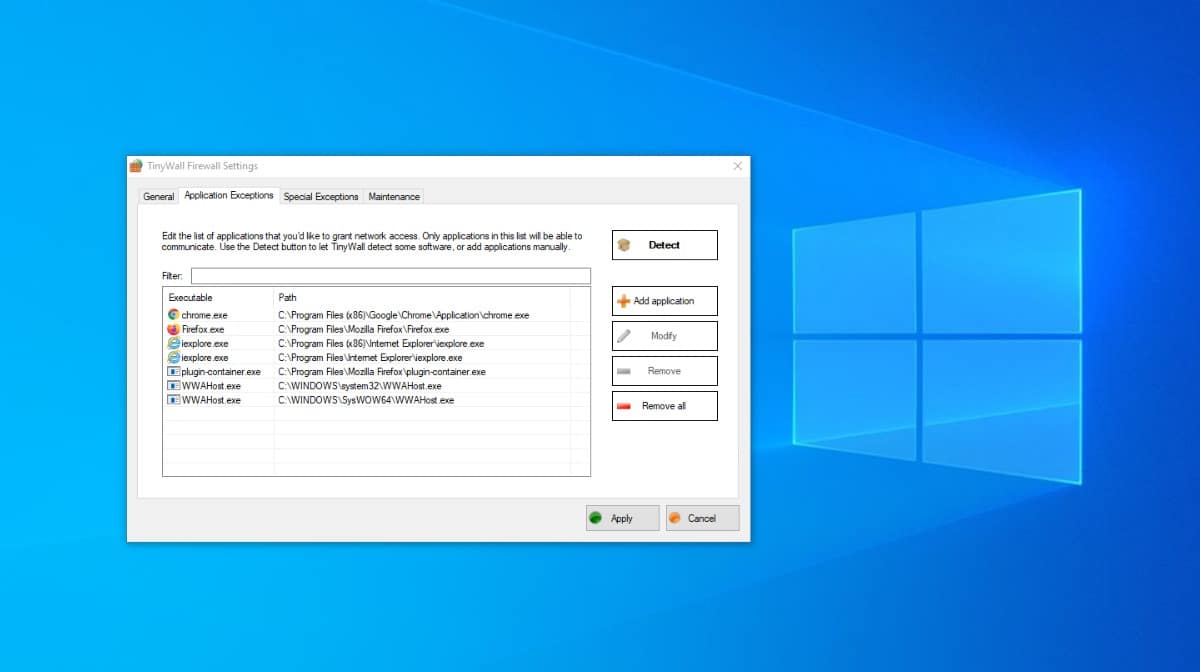 While many Windows 10 firewall solutions restrict features in some or the other way, TinyWall has no such. What's makes it a worthy choice for the best firewall for home is the fact it doesn't offer any paid version at all.
That means there is nothing you'll get deprived of. As the name says, TinyWall takes a lightweight approach and also doesn't try to lure you by making tons of promises. It just tries to do its job very well.
What's best about TinyWall?
Comes with automatic learning mode to impose rules as per user habits
Lightweight firewall software with smaller storage footprint
Provides quick buttons for enabling normal protection, allowing.blocking all traffic, learning mode, etc
Provides password protection to safeguard firewall settings
Can blocks apps from accessing the LAN
User can set timed firewall rules that expire after some time
Doesn't shows ads and unwanted pops despite being free
What's the bad part?
UI can be improved to fit among other modern apps
Download TinyWall
3. ZoneAlarm Free Firewall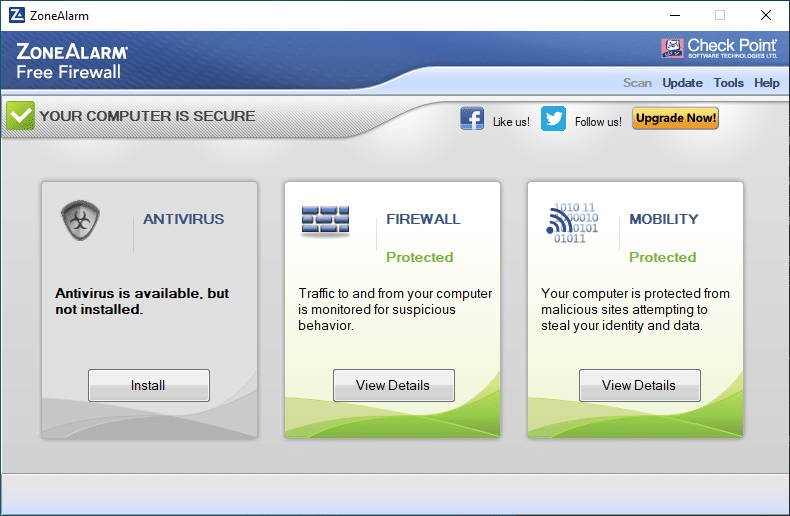 It is a free firewall solution offered by the popular security firm Check Point. ZoneAlarm can easily be one of the best free firewall software for Windows 10, as it provides a bundle of an antivirus, a firewall, and an identity theft protection feature.
However, you do have an option to not install the antivirus part save some space on your hard drive.
What's great about ZoneAlarm Free Firewall?
Use interface is clean with optional spaciously laid out
Basic firewall can easily hide exposed ports and prevent hacker activity
The built-in Application Control feature efficiently blocks unwanted access attempts.
It comes with an optional identity theft protection feature.
Game mode to pause Zonaalarm alerts during gaming sessions.
Provides password protection to prevent unwanted settings change.
User can backup and restore Zonealarm settings.
What's the bad part?
User interface does not look old-fashioned
Some options and features may seem confusing
Too many popups for non-whitelisted apps
Antivirus installation prompts start to get annoying
Download ZoneAlarm
4. Windows Firewall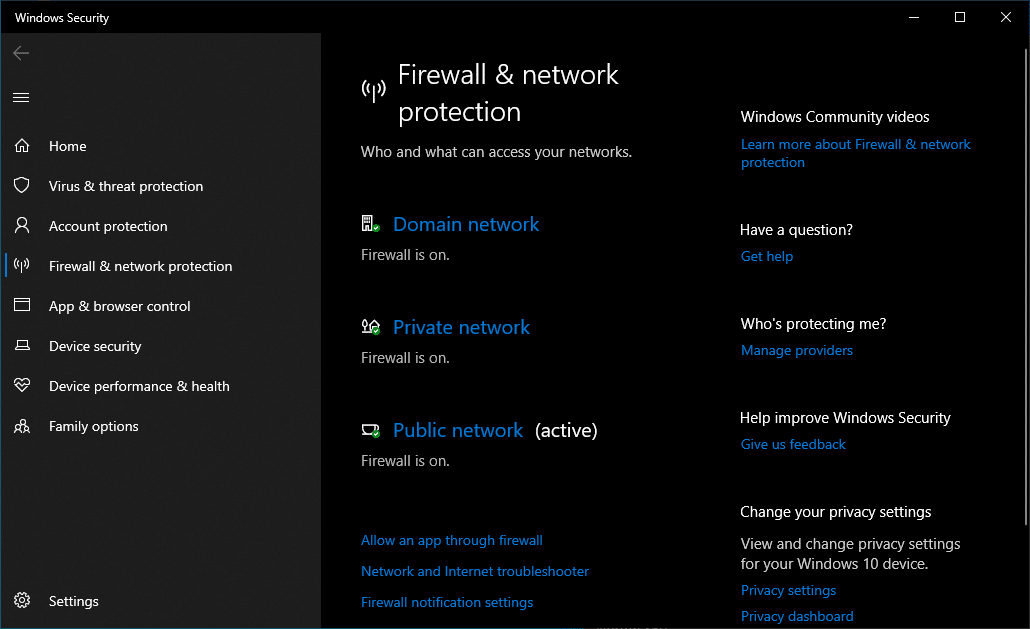 Why go anywhere else when you have a robust free firewall for Windows 10 sitting inside your computer? Yes, the Windows Firewall is still a very good solution that you can pick when going for the best free firewall.
It was first introduced with Windows XP in 2003 and it has improved a lot since then. In called Windows Defender Firewall in Windows 10. One of the things to like about it is that it works so silently that most of the time you won't even notice that exists on your computer.
What's best about Windows Firewall?
Well designed UI with easy to understand controls
Integrates well with the Windows OS
Provides an easy way to blacklist and whitelist applications
User can easily create custom inbound and outbound traffic rules
Non-interruptive operation all the time.
What's the bad part?
Some advanced options may not be easy to find and use
5. OpenDNS Home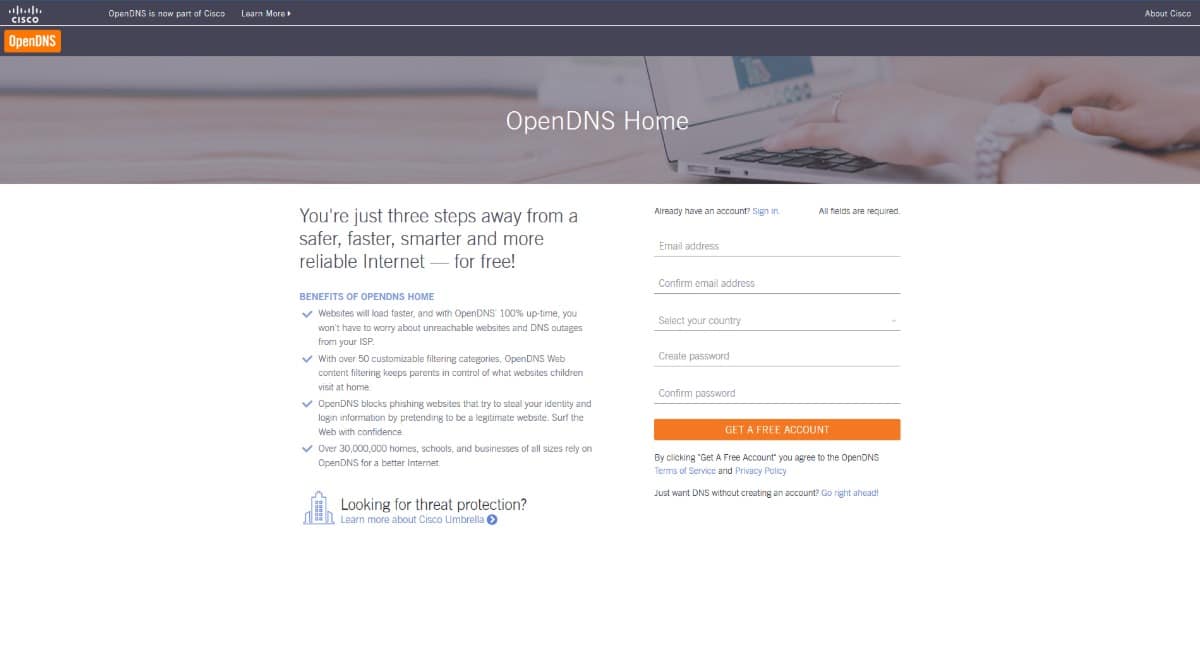 OpenDNS is already a known name among custom DNS services, Google DNS and Cloudflare being the other two biggies. But its users also get a free firewall to improve their internet security while browsing random websites.
It's called OpenDNS Home and you don't need to deal with any tedious setup process and any app. You need to configure the OpenDNS server on your machine, do a couple more steps and you're good to go.
What's best about OpenDNS Home free firewall?
Hassle-free setup process
It is a completely free firewall for home and office
It doesn't disable or cause problems to existing solutions such as Windows Defender firewall
Provides 50 customizable web filters divided by severity level
Offers phishing protection and basic botnet protection
Firewall stats accessible via web interface
Can be set up directly on the router for maximum output
Comes with custom DNS service that can improve your internet speed
What's the bad part?
The web interface doesn't look good
It's not a traditional firewall solution for Windows
Get OpenDNS Home
So, these are some of the best free firewall software for Windows 10 that you can try out in 2020. Given that all of them are offered at no cost, you won't have much problem jumping from one to another. If you want an even more advanced solution, you can go for this free open-source firewall called pfSense which is based on FreeBSD.
If you want to add something, don't forget to drop your thoughts.