Short Bytes: Do you ever feel the need for a hardware firewall for your USB ports? USG v1.0 is one such nifty device that you can use to isolates the maliciousness stored on an untrusted USB drive. Its fully open firmware and two STM32F4 microprocessors make this possible. You can grab USG v1.0 by contacting its developer or build your own USG.
W
hat if you find a random USB drive on the road? Should you pick it up and use? In a
recent article
, I tried to explain the perils of using a random USB drive and why it's a risk that's not worth taking.
Having said that, even if you didn't find the USB drive at some random place, can you trust it completely? What if the firmware running on your computer has already been modified by the manufacturer? There's no simple method to get a concrete answer to this question. But, as your computer automatically trusts every device you plug in, one needs to take some precautions.
To counter this problem, USG was created. It's a small tool for the privacy-oriented people who are habitual of adding extra layers of security in their digital lives.
What is USG? How does this hardware firewall work?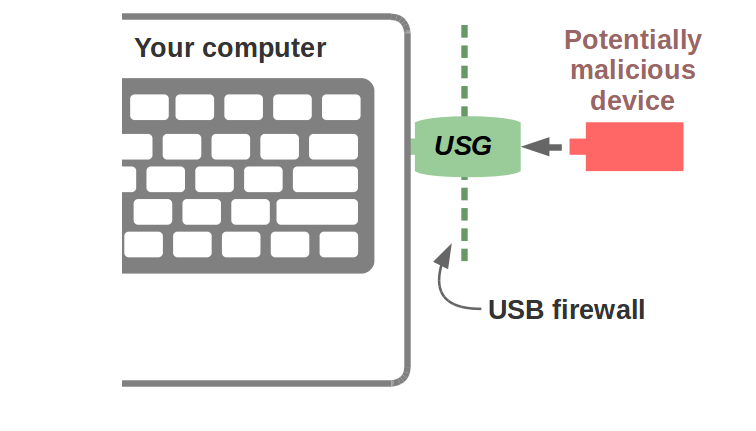 To use USG, you need to put its one end to your PC and the suspected USB device into the other. It automatically scans the USB device for BadUSB attacks, which can harm you via USB driver exploits and hidden/visible evil functionality.
The USG uses two STM32F4 microprocessors communicating over a high-speed serial link which allows only a restricted set of commands to pass. So, a malicious host is barred from corrupting the USB drive's firmware.
The USG supports mass storage devices, flash drives, keyboard, and mice. In future updates, you can expect to see some extra devices. Talking about the speed, USG Version 1 uses 12Mbps hardware, so the storage transfer should run around 1MBytes per second.
You should note that the USG protects you from low-level USB attacks, but it can't save you from viruses stored in the drive's file system. Also, it wasn't designed to resist physical voltage overload attacks. So, it doesn't claim to protect you fully from the USB Killer. However, it might be possible that after destroying the USG's circuits, the voltage surge will be reduced to a safe level.
How to get/make USG hardware protector?
You can grab USG Version 1.0 by contacting its developer —[email protected]. It costs about $60+shipping. It ships with fully tested and latest firmware.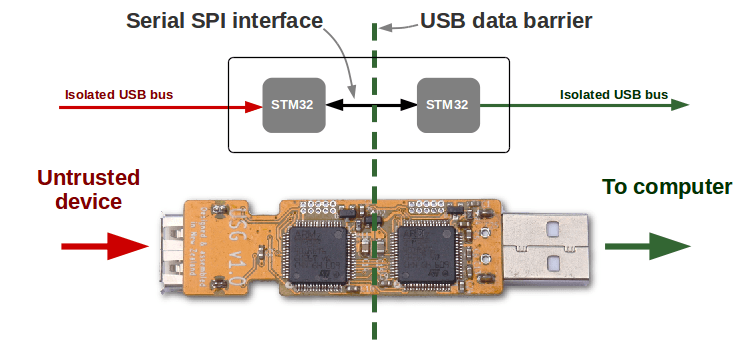 Just in case you wish to polish your DIY skills, you can also create your own USG firewall by following these instructions.
Bonus Video:
https://youtu.be/a81p79WTdkQ