Although smartphone cameras cannot beat professional ones in all the departments, the smartphone is the primary device for capturing moments as we carry it along all the time. There are tons of quality camera apps for that purpose.
But your candid snaps, selfies, shared images, and videos–everything ends up accumulating in your gallery. Now, if your gallery application loads photos slowly or does not have a user-friendly interface, it can be a pain to browse through hundreds of your media.
Default gallery apps on Android often fail to provide a fast and responsive experience. So, we have compiled some of the best Android photo gallery apps of 2019 that will surely enhance your experience.
Note: This list isn't in order of preference. You are advised to choose any of these that suits your needs.
10 Best Android Gallery App List (2019)
Piktures
A+ Gallery
Foto Gallery
Google Photos
F-Stop Gallery
Simple Gallery
Camera Roll – Gallery
MyRoll Gallery
Focus – Picture Gallery
QuickPic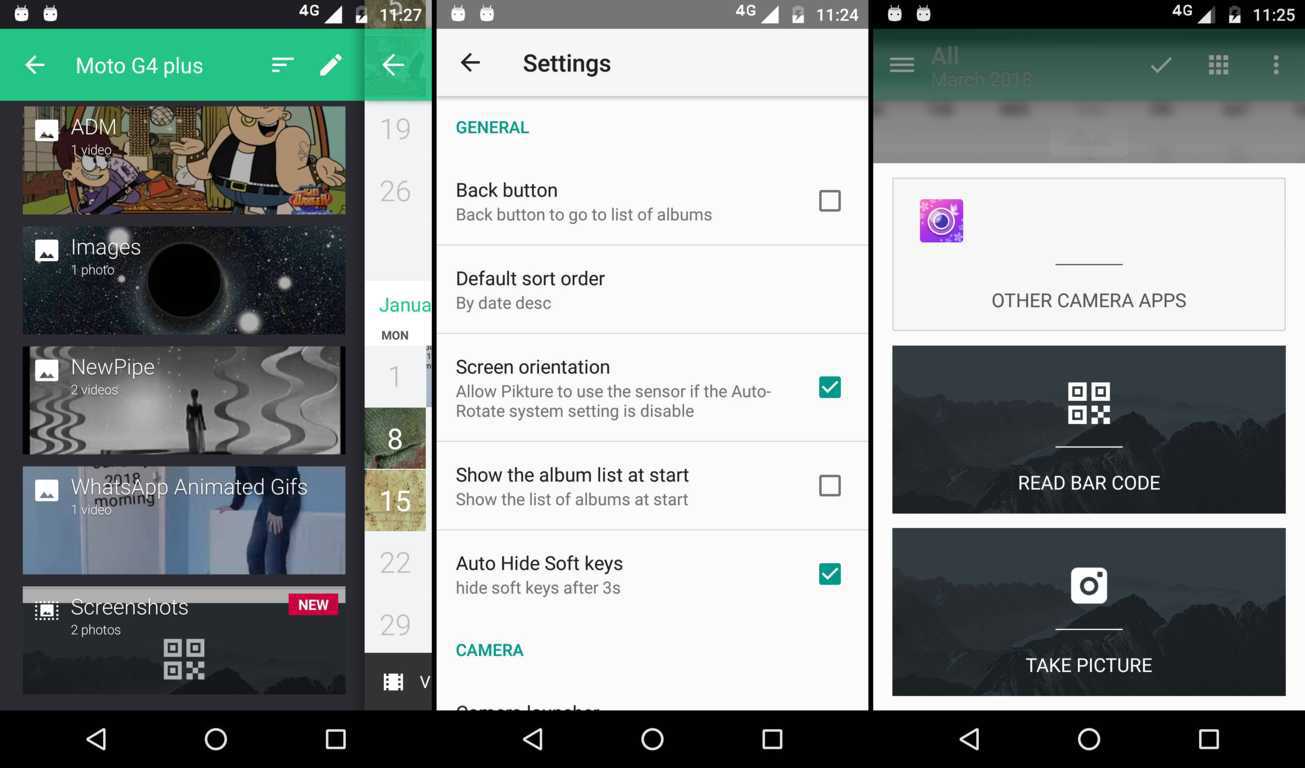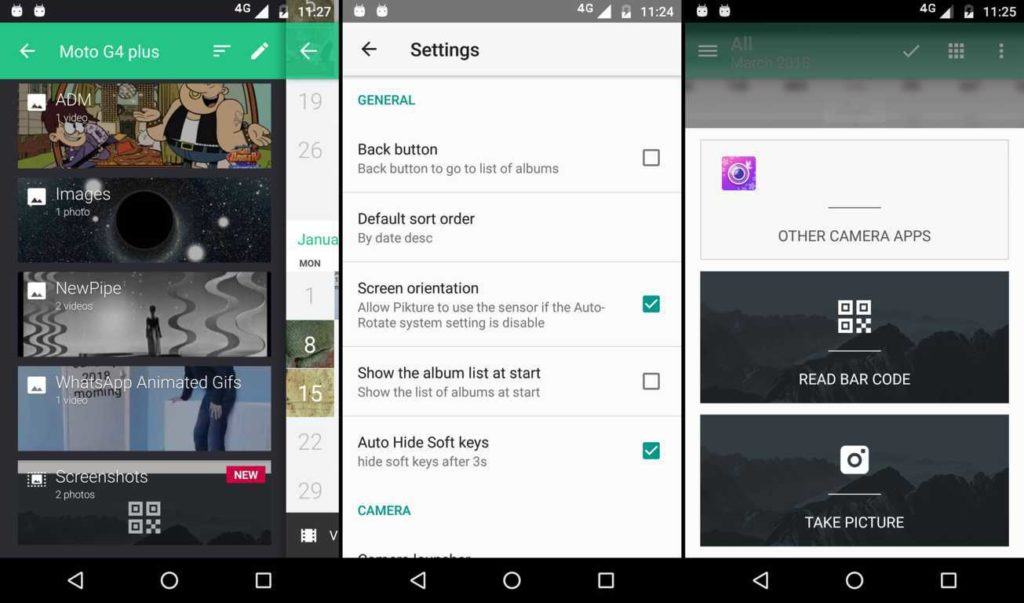 Piktures is one of the impressive and full-featured Android gallery apps. Along with a stylish interface, it is an excellent gesture-based gallery app to organize and manage your albums.
It is fast, simple to operate, and available for free with no ads. You can create new folders, exclude unwanted folders, hide albums, get access to cloud services, etc. It includes multiple sorting and grid options, and you can also view your files based on dates or locations.
The app also comes with a built-in video player, GIF player, image editor, and a lot of other features. Additionally, you can also protect your private photos in the Secure Drive with PIN-code protection. Piktures is optimized for large-screened devices. Moreover, the alpha version has Chromecast support as well.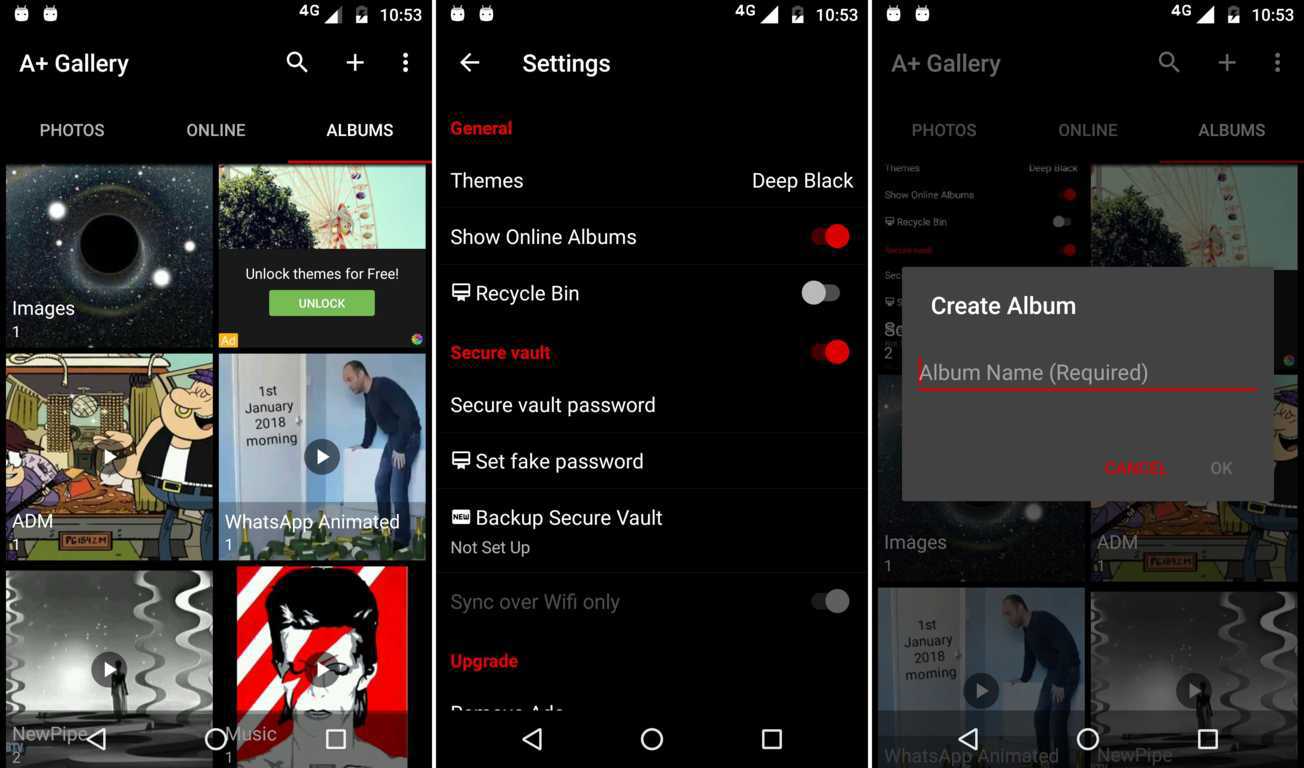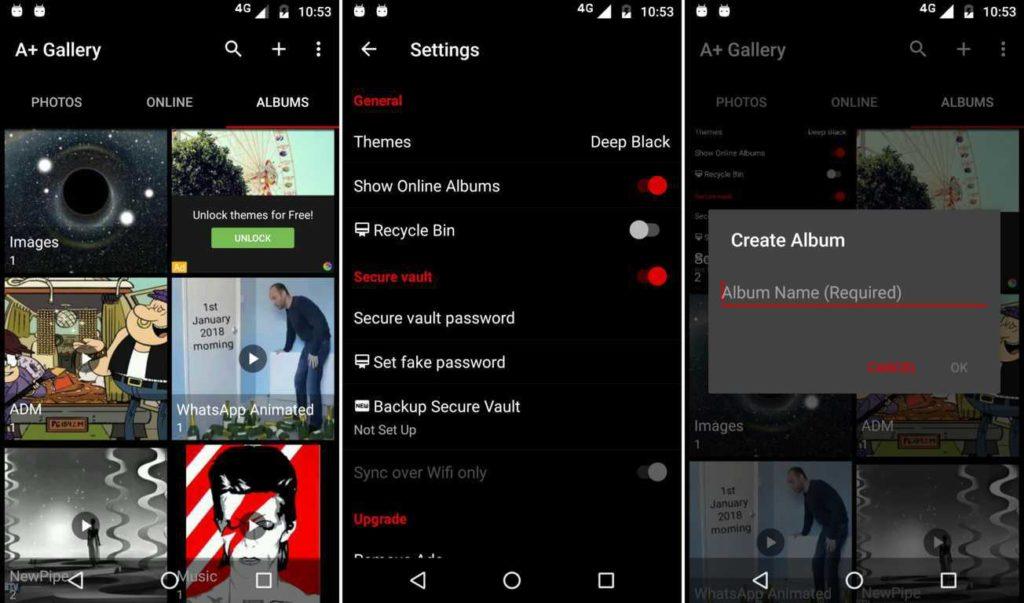 A+ Gallery allows you to organize and manage your collection of photos with ease. It is another picture gallery app for Android that is worth a try. You can browse HD photos, search and manage albums with speed.
The app automatically organizes your files by date and location. You can create new folders, share your photos, set favorite photo collections, etc. It includes both list and grid views, and you can also sort your albums in different orders.
Moreover, it has support for Facebook, Dropbox, Amazon Cloud Drive, and you can view those photos as well. A+ Gallery has a built-in recycle bin and a secure vault to hide your private files.
The app is available for free and displays ads. However, if you want, you can remove the ads with the Pro version that is available for an in-app purchase.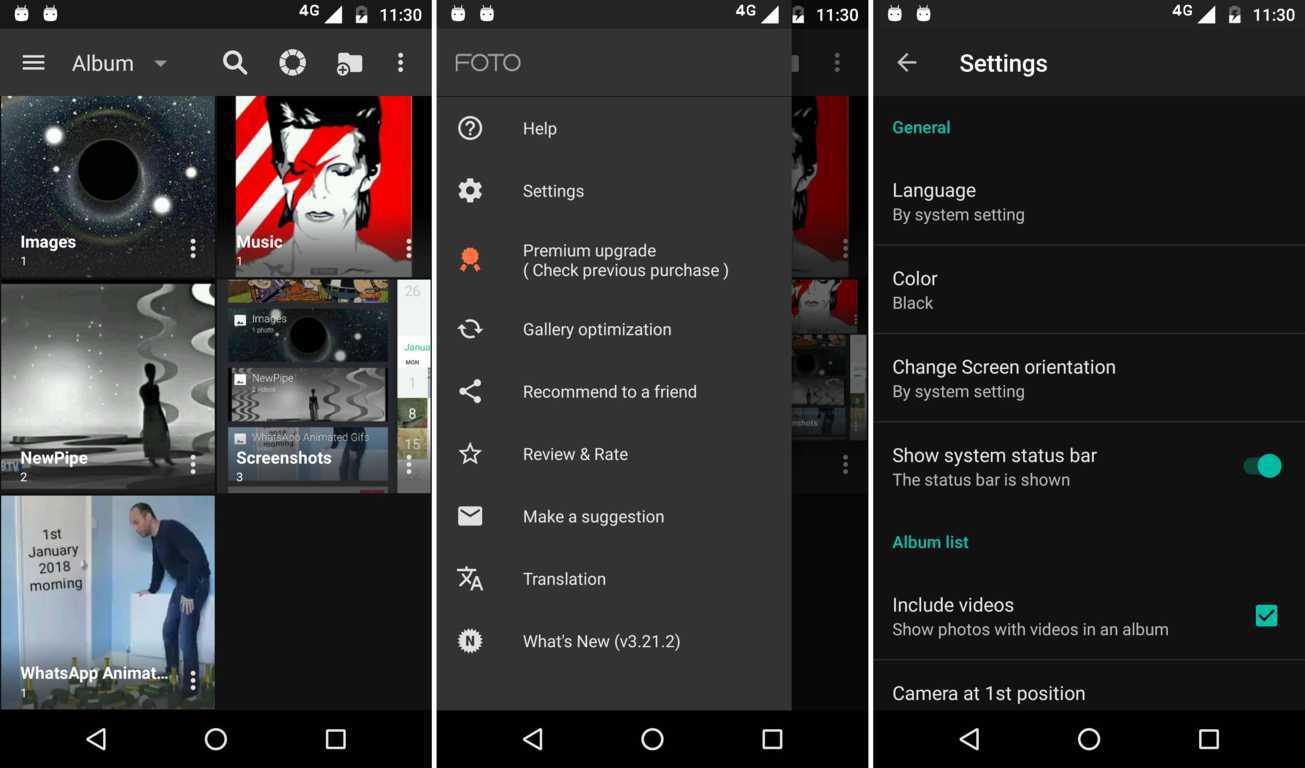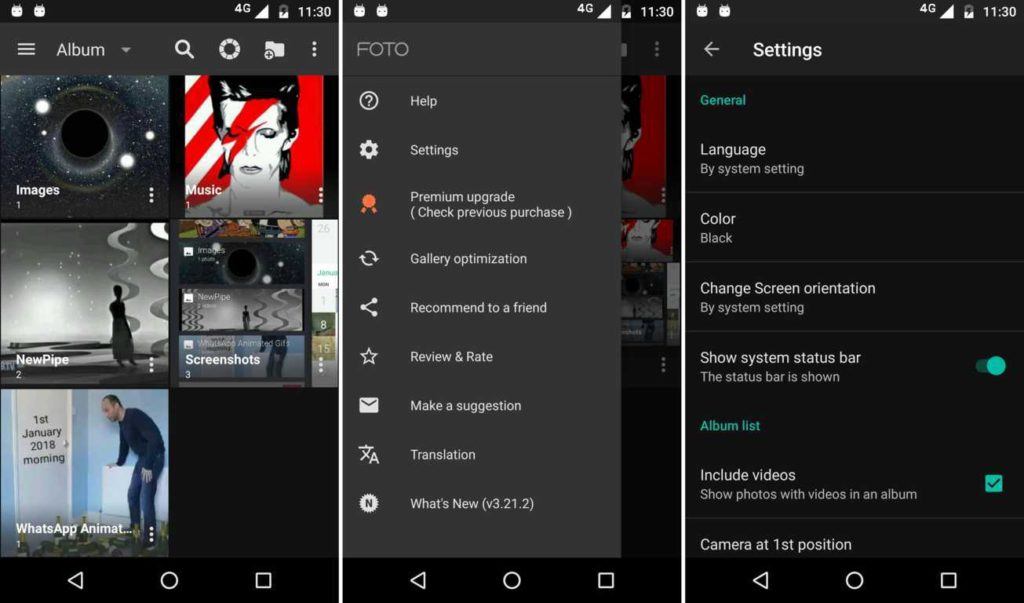 Foto Gallery will be a reliable option for anyone who is looking for a lightweight but full-featured Android photo gallery. It provides fast loading capabilities along with neatly organized albums. You can move files between folders, hide/exclude private folders, add new folders, scan folders, change app theme, etc.
It also includes a trash folder from where you can recover any photo that is deleted by accident. It has a built-in photo editor, video player, and GIF player.  You can sort files by different order and view them by list or columns. Moreover, the app allows you to make GIF from a video. All in all, you can ignore this one when looking for the best gallery app for Android as the app is free with no ads.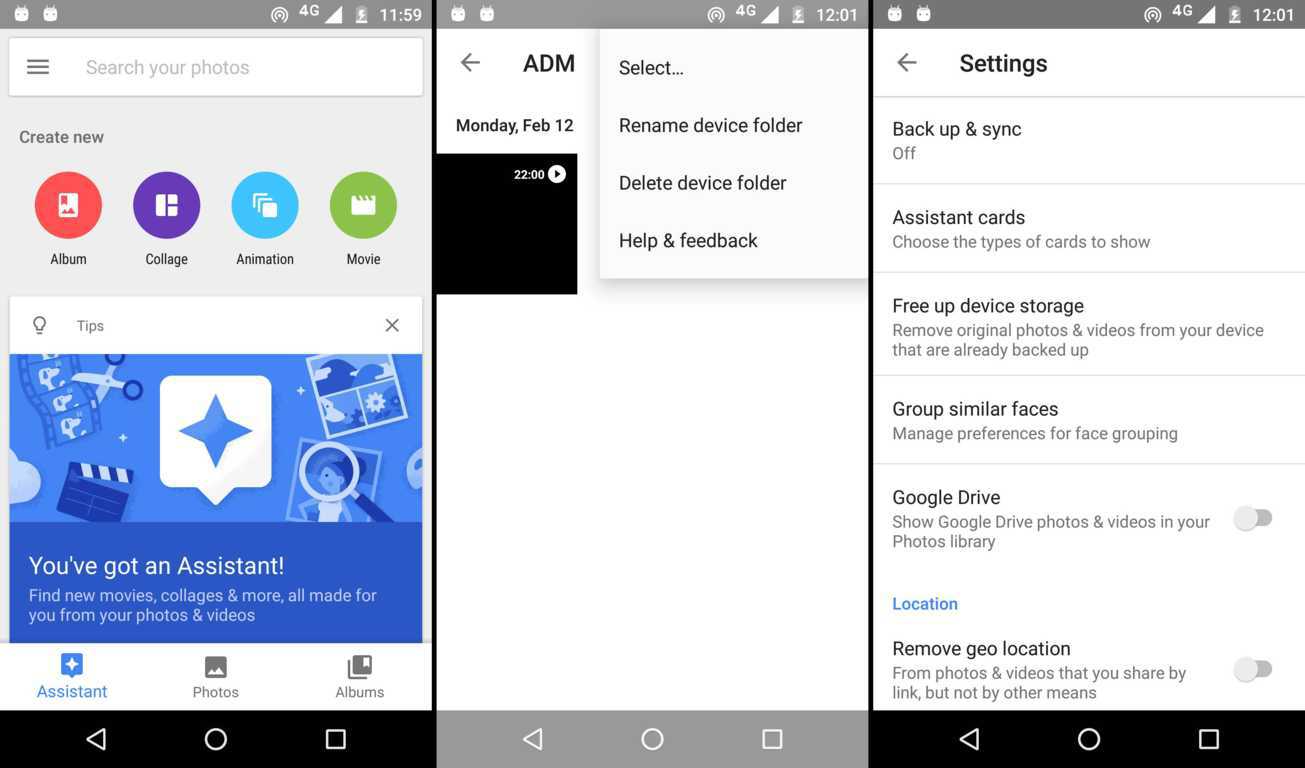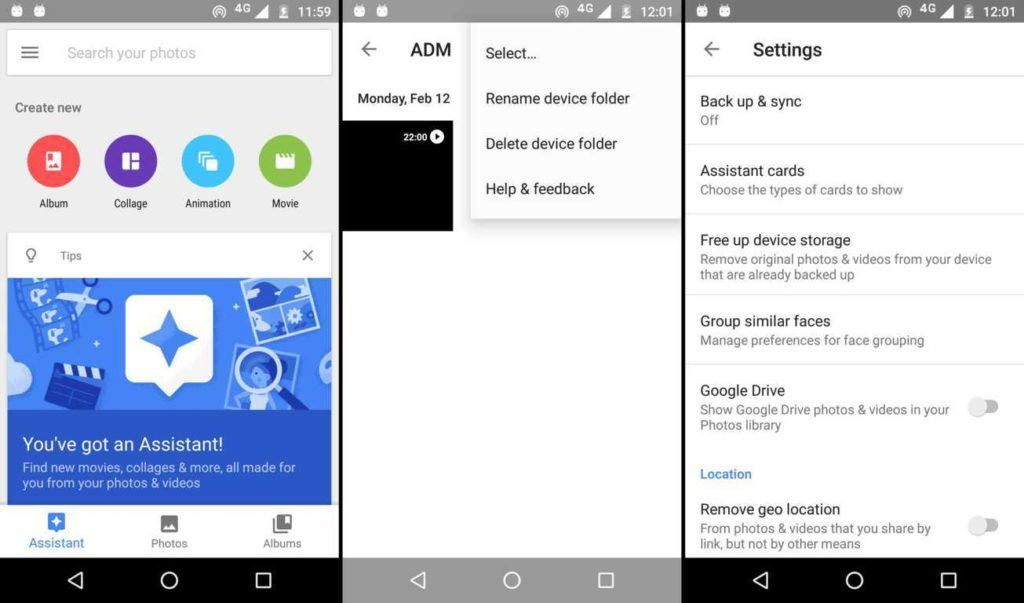 Google Photos usually comes pre-installed on most of the Android devices. It is an advanced Android gallery app and a storage service that is developed by Google.
It gives its users free, unlimited storage for photos and videos provided the images are within 16 megapixels, and videos are within 1080p. Media of sizes larger than that will consume your Google Drive quota. The app automatically analyzes the pictures and identifies them based on various visual features and subjects.
It acts as a photo backup service when you share any file. You can also turn off the backup option. Moreover, it includes an inbuilt editor, a trash folder, visual search options, and comes integrated with Google Assistant.
The interface is well-organized, and you can use the kinetic scrolling to breeze through the photos and videos. It is free to download from the Play Store with no in-app purchases or ads.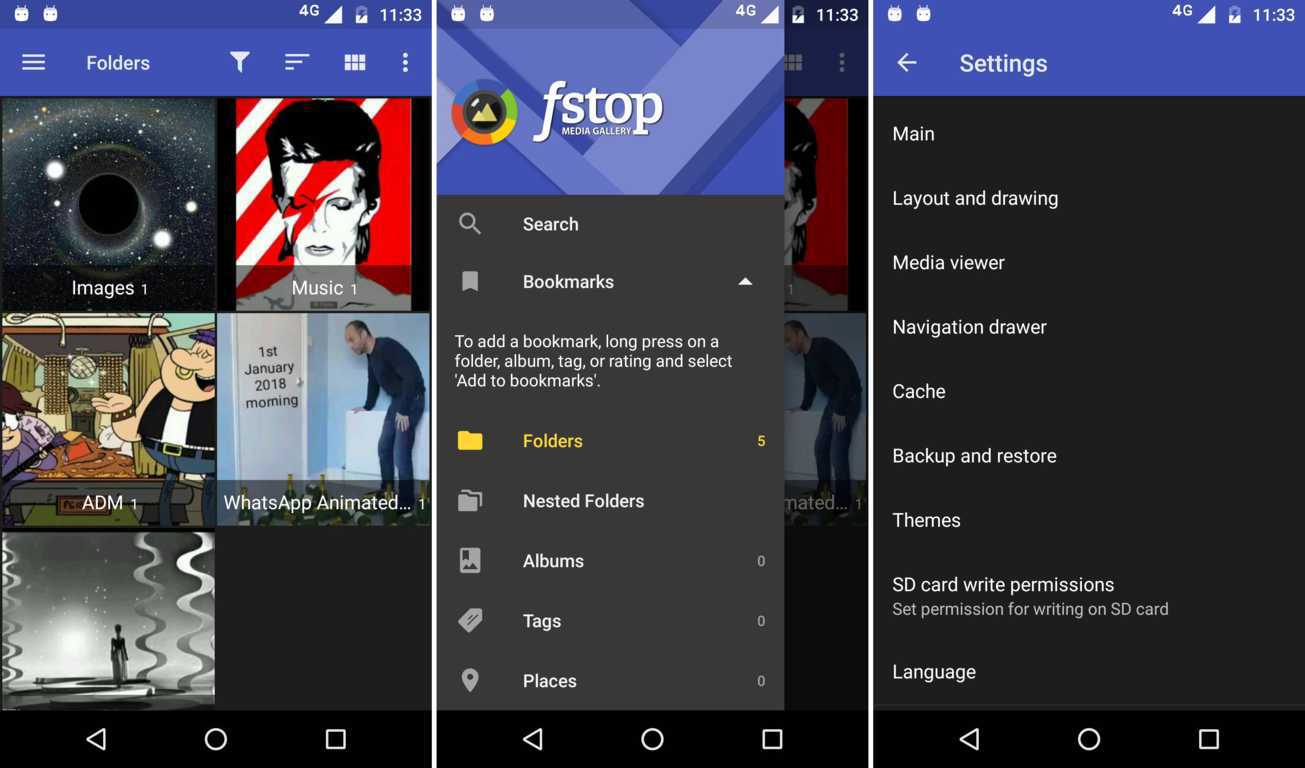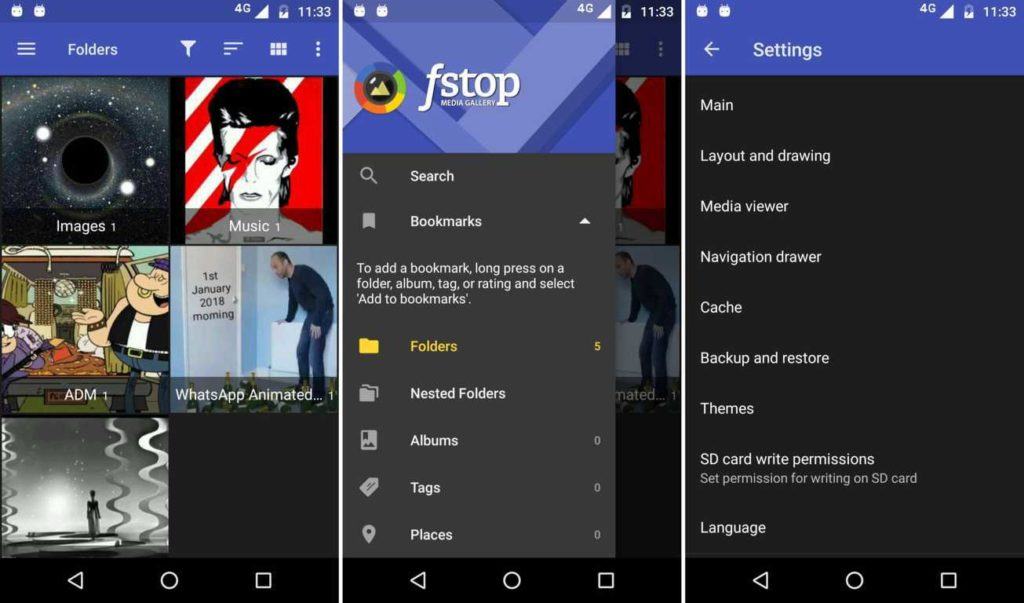 F-Stop Gallery is a feature-rich Android gallery app. The interface is optimized for Android 10 with beautiful material design. It is fast, free with no ads or any in-app purchases. When you first start the app, it scans all your media. The scanning continues in the background while you can still run the app.
You can quickly search through your files, save tags, add folders, bookmark, hide or exclude folders, set a password to folders, etc. This photo gallery app includes an option to open the camera and a refresh button to load new media.
Also, you can sort your files in different ways, and it provides a grid or list view options. Moreover, you can search for your photos on a map with an integrated Google Maps experience. The free version itself comes with a lot of features; however, if you like, you can opt for the Pro version for additional features.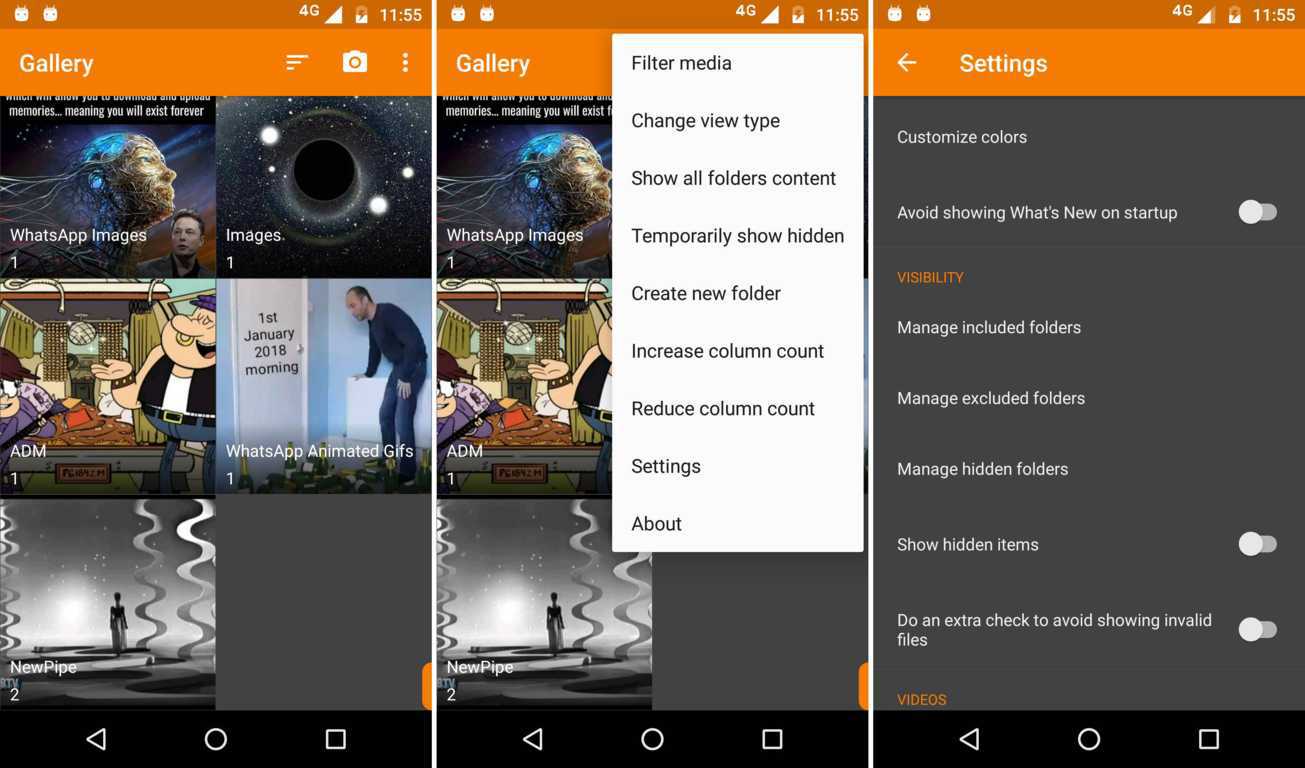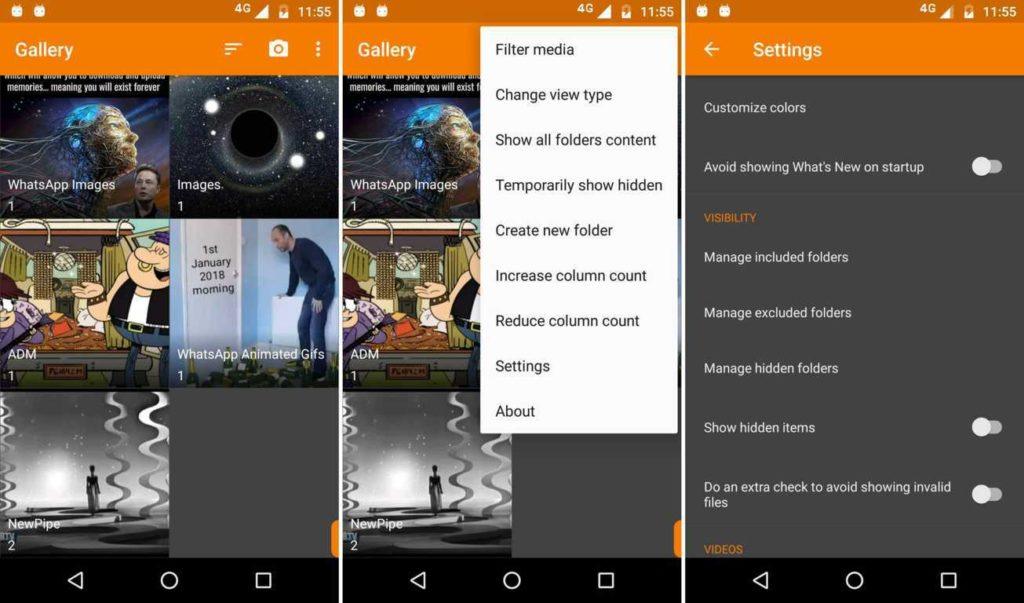 Simple Gallery, as the name suggests, is a simple photo gallery for Android, but accompanies all the necessary functions. It permits you to scroll through your files quickly, and sort them in various order like date, size, name, etc.
Media files are shown in multiple columns, and you can also filter the media by images, videos, and GIFs. You can hide folders and temporarily show the hidden files for a session. Also, you can add new folders, change view type, etc.
Moreover, this Android photo viewer also includes password protection, and you can even modify the app with different themes. The app is lightweight and has a user-friendly interface. It is free with no in-app purchases and does not display any ads.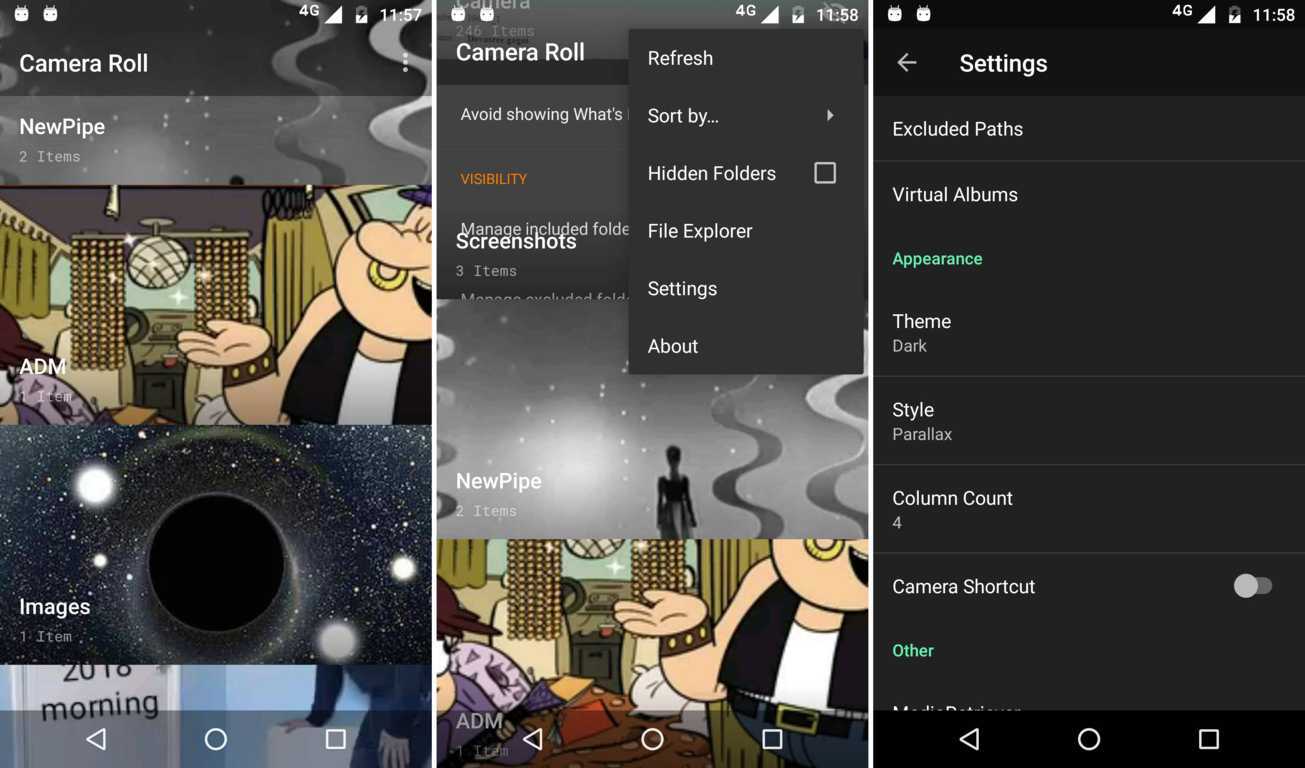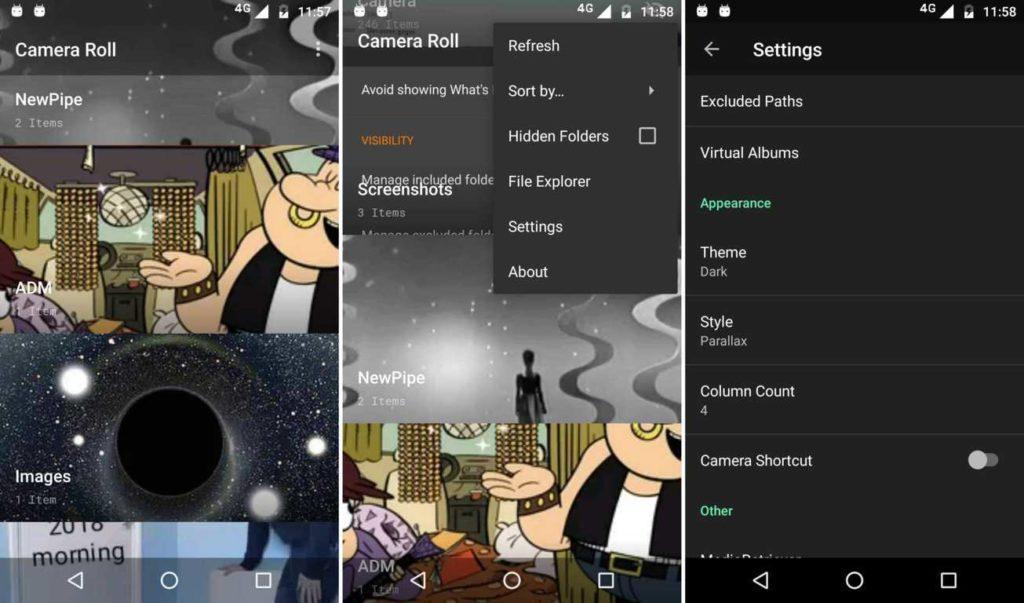 This Android picture gallery is primarily designed for speed and performance. It has a smooth and intuitive interface. It is not highly featured but comes with all the essential functions. You can quickly scroll through the files, sort them by name/size/date, add different themes, and can even customize the style of the main page.
Moreover, you can create virtual albums, hide folders, and it also has a built-in file explorer. This Google Photos alternative allows you to edit Exif data of your images. Overall, the app is quite simple and lightweight. It is free with no ads or in-app purchases.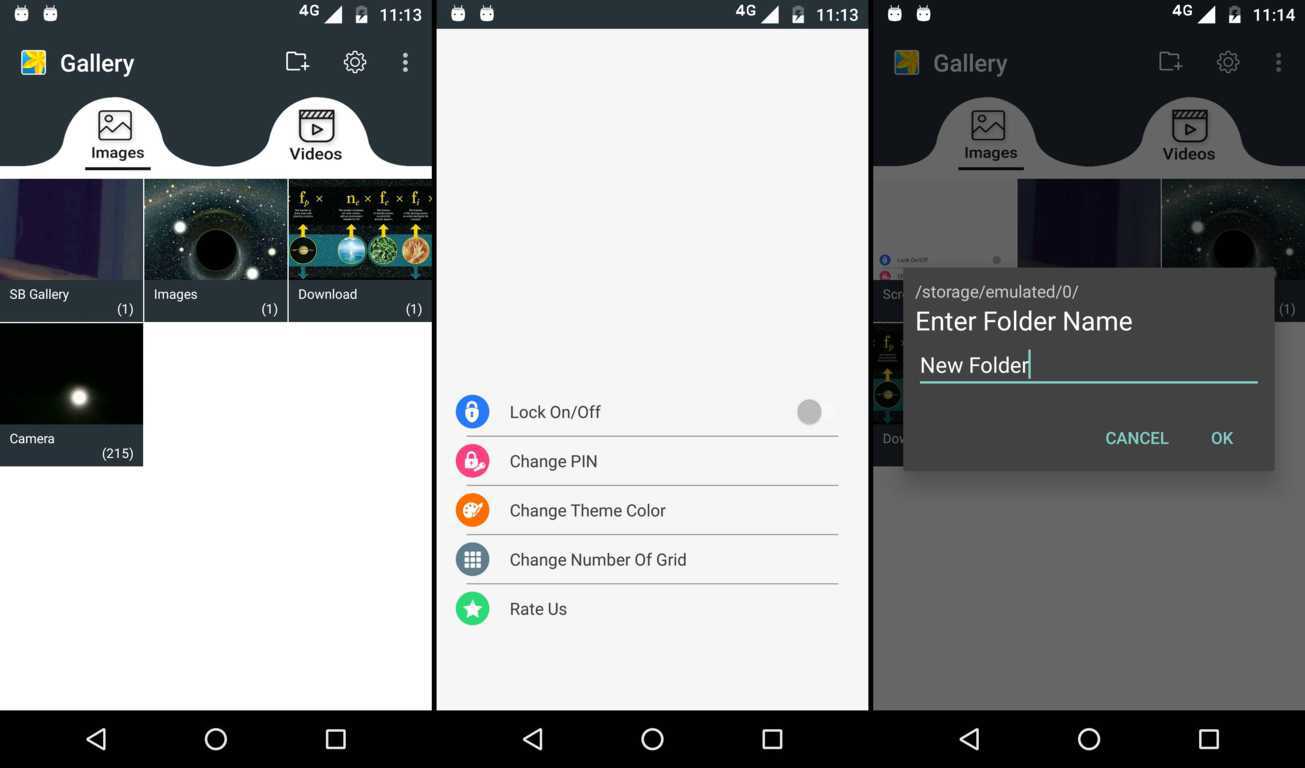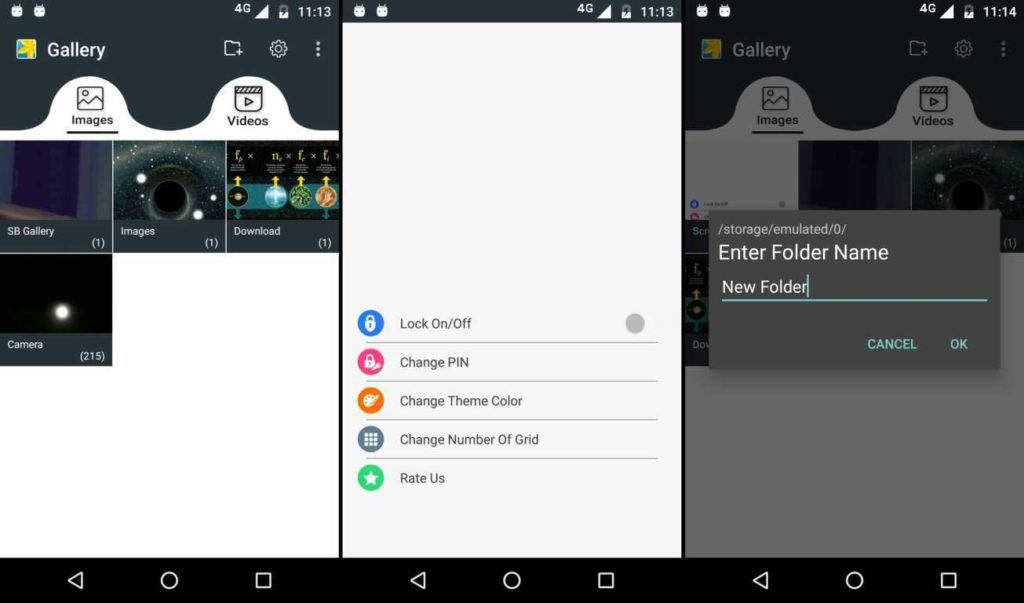 MyRoll Gallery is another contender for the best photo gallery app, which is preferred by a lot of users. The main page consists of two sections, i.e., images and videos. You can sort files by name/date/ascending/descending, create new albums or folders, change the theme and file view option, etc.
It has an inbuilt app lock function and the option to access the camera. You can copy/delete/share and do all those kinds of stuff. Also, the user interface is smooth and easy to operate. It is free with no in-app purchases.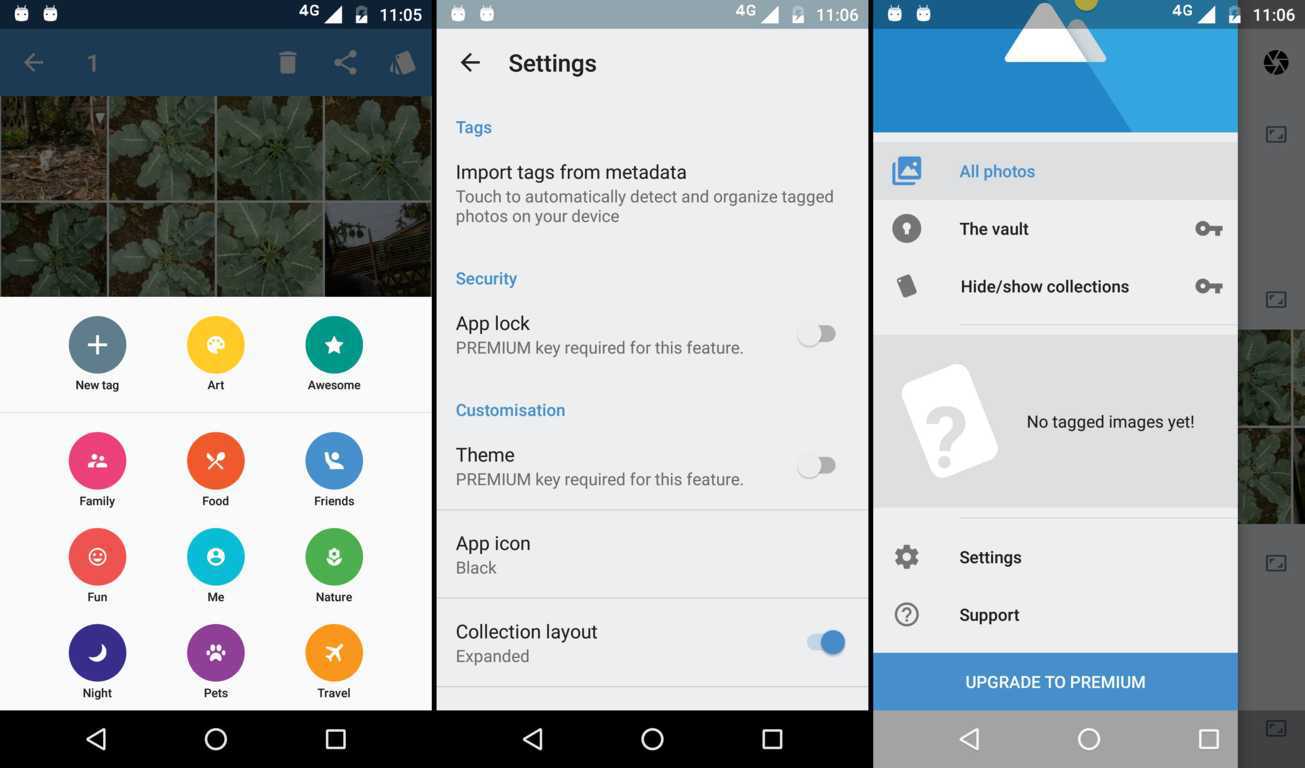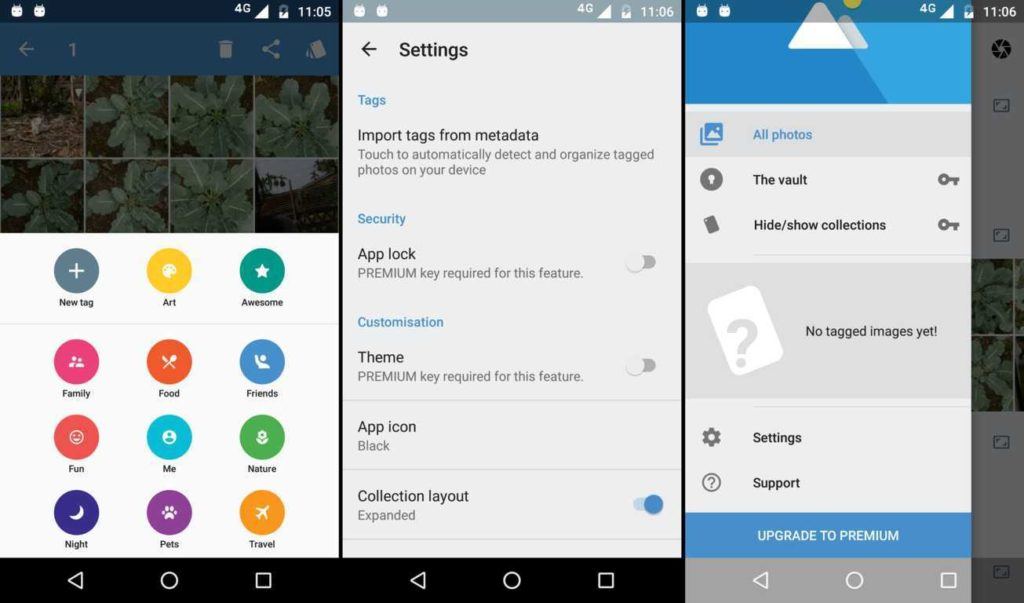 Focus Gallery standouts for its speed and efficiency, and it is also easy to operate. It is free and does not display any ads. The app supports all kinds of photos, videos, and GIF files, and they appear well organized on the main page. This default gallery alternative has an inbuilt video player and camera option. It includes a comprehensive tag system, app lock function, light and dark theme, a secret vault, etc. You can also change the app icon if you like.
The app can prevent others from swiping to other images when you're showing them your picture. However, the free version of the app has limitations, and most of its amazing features are available with the premium version. The premium version is available as an in-app purchase.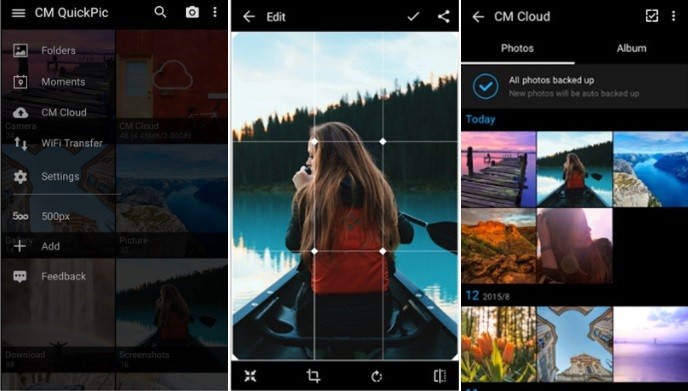 QuickPic is an awesome Andriod gallery app with over 10 million users. It is incredibly fast, lightweight, and has a smooth user-interface optimized for large-screened devices. QuickPic includes multiple finger gestures as well.
You can hide or exclude your private files, create additional folders, sort files based on name/date/path, etc. Also, you can view your content based on different viewing modes such as stack, grid, or list. The Google Photos alternative has an inbuilt image editor with many functionalities, including rotate, shrink, and crop.
It has support for multiple online album services, including Google Drive, OneDrive, Amazon, etc. Also, it can back up your media to your preferred cloud service. Overall, the app works quite well. It is free, along with some in-app purchases, and contains no ads. In my opinion, it is worthy of being called the best gallery app for Android. Also, check our articles on the best photo viewer for Windows 10 that you can use right now!
Note: The developer of the QuickPic app, Cheetah Mobile, has been linked with privacy and security-related concerns. Hence, it's advised to install it at your own discretion.
Did you find this best Android gallery app list to be helpful? Share your valuable insights in the comments.