Strikethrough text is generally used to denote the information that's no longer valid or the text that has been deleted. This text styling is also often seen on social networking sites like Facebook, Twitter, or Instagram.
Crossing out text is child's play, if you know where to look. Nearly all popular writing apps come with a strikethrough text option; some even support a strikethrough keyboard shortcut.
But more often than not, the strikethrough option is not upfront, making it harder to locate. On top of that, following three to four steps can get bothersome especially if there is a lot of text that needs to be crossed out. Of course, there is a strikethrough shortcut but you won't find it in all the writing or chatting apps.
How to strikethrough text?
The most efficient method is taking help of an online strikethrough text generator tool. They are extremely easy to use, and you can bookmark them for quick access.
There are a number of strikethrough text generators, but finding the right ones is crucial. Here, we have listed out the seven best strikethrough text generators through which you will be able to cross out text like a pro —
Fossbytes Strikethrough Text Generator
The Fossbytes Strikethrough Text Generator is among the good ones. It's extremely easy to use and doesn't bombard users with obtrusive ads, which is the case with most free cross out text tools. It is also the most efficient; As soon as you start typing, the online tool automatically starts showing up the crossed out text right beside the standard text.
The Fossbytes Strikethrough text generator features one click tools such as Copy, Download and Clear. You can download the text in the form of a text document.
Strikethrough Text Generator is a part of Fossbytes Tools. Our top 7 list of best tools continues below
Top 7 Strikethrough Text Generators In 2020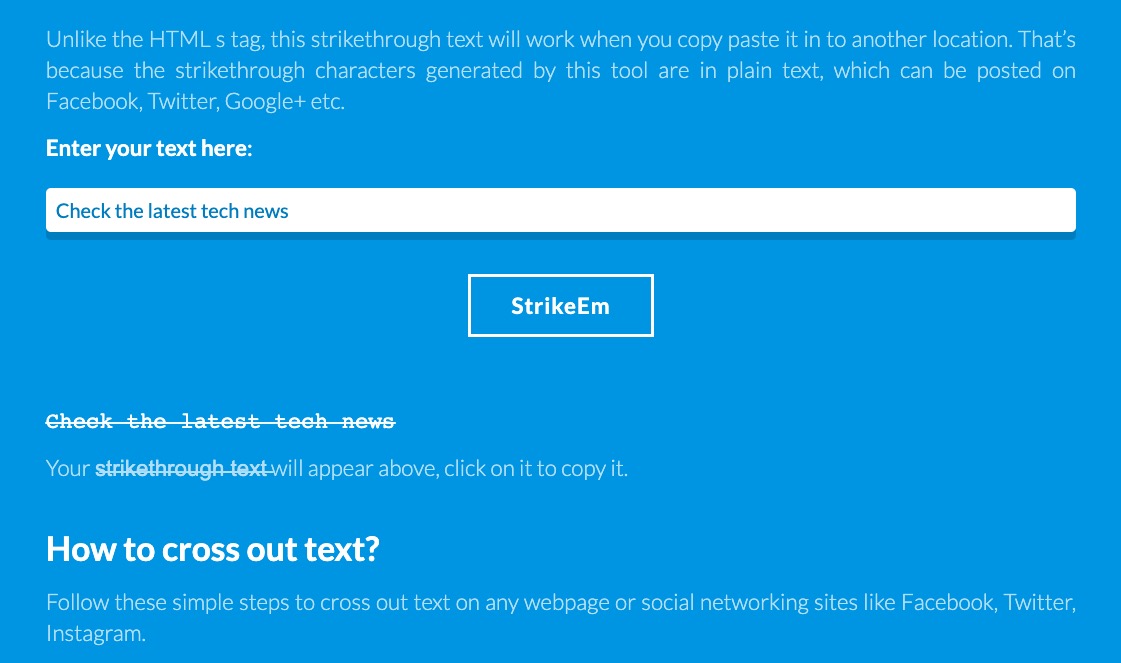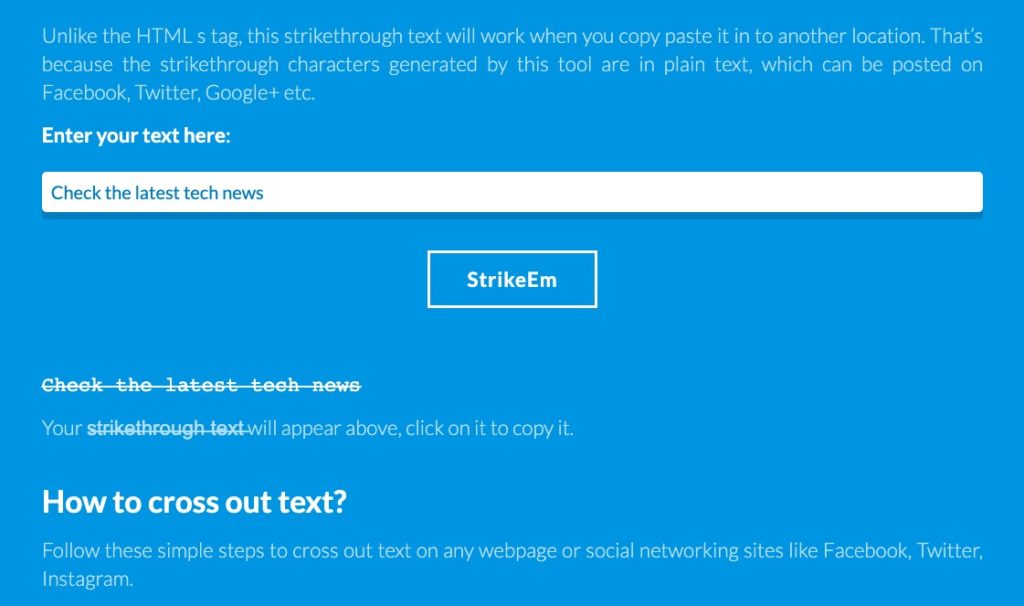 Strikethrough Text Generator by Saijo George is one of the best strikethrough text online tools. Scroll down, type in your text, tap on StrikeEm button and you are good to go.
However, it involves more steps than Fossbytes Strikethrough text if you are in a hurry. On top of that, there are ads as well as no quick shortcuts to copy the text. Still, the user interface is clean and ads don't obstruct the content. Overall, the tool is far better than most strikethrough online tools.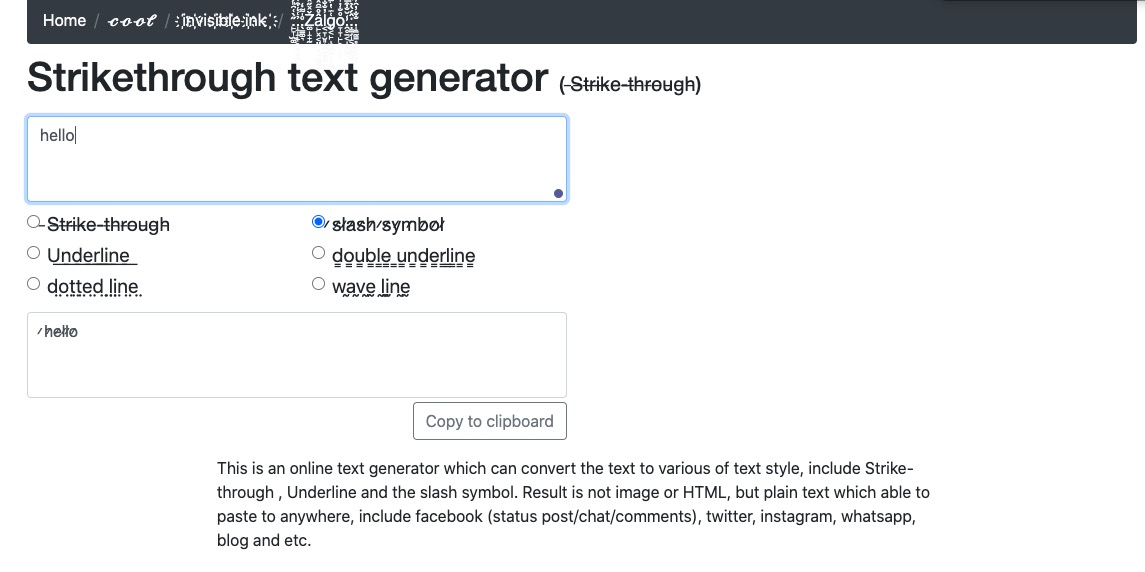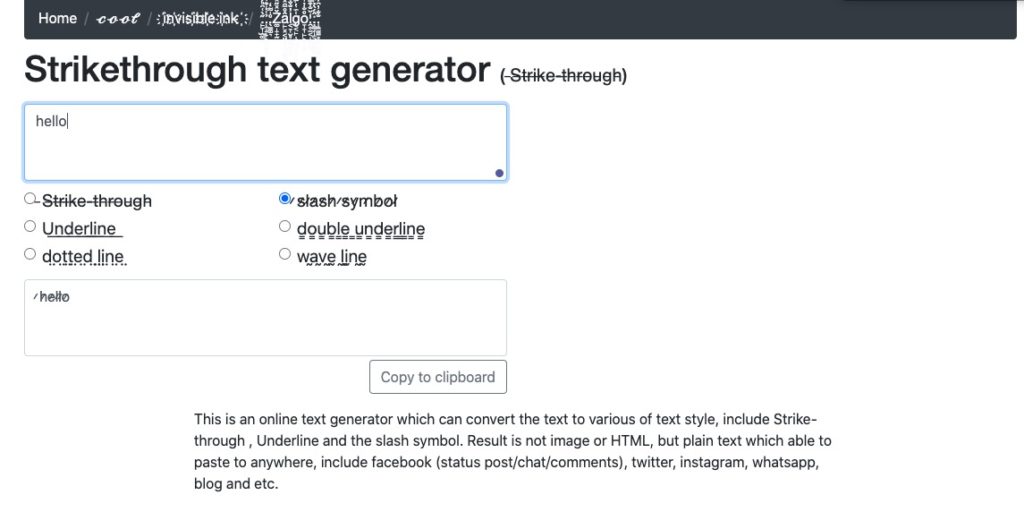 At first look, PiliApp's strikethrough generator looks overwhelming, but it's very simple to use. Unlike other strikethrough online tools, PiliApp features some added tools for typographical emphasis such as underline, dotted line, wave line, and double underline.
You can also add slash symbol to the text, which can be used as an alternative to crossing out text. There is a "Copy to Clipboard" option which is always welcomed. Still, the ads are problematic, which adds to the already cluttered user-interface.


Ads are a huge problem with Convertcase's strikethrough text generator. Not only do they cover the entire page, but they also add up to the page's loading time.
But if you can get past that, it's a good strikethrough text generator. The input box counts the characters, words and lines that you have written. There is a quick "Copy to clipboard" button as well as a download button.
There are social media buttons for sharing Convertcase links with your friends. However, sharing the cross out text would have been more beneficial.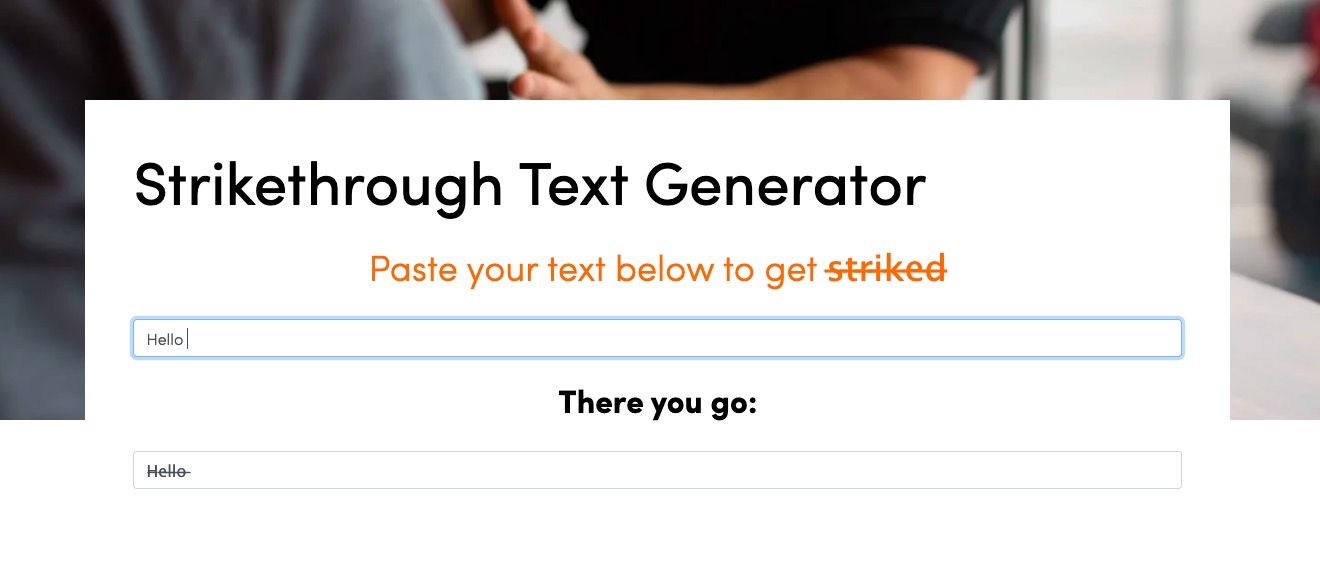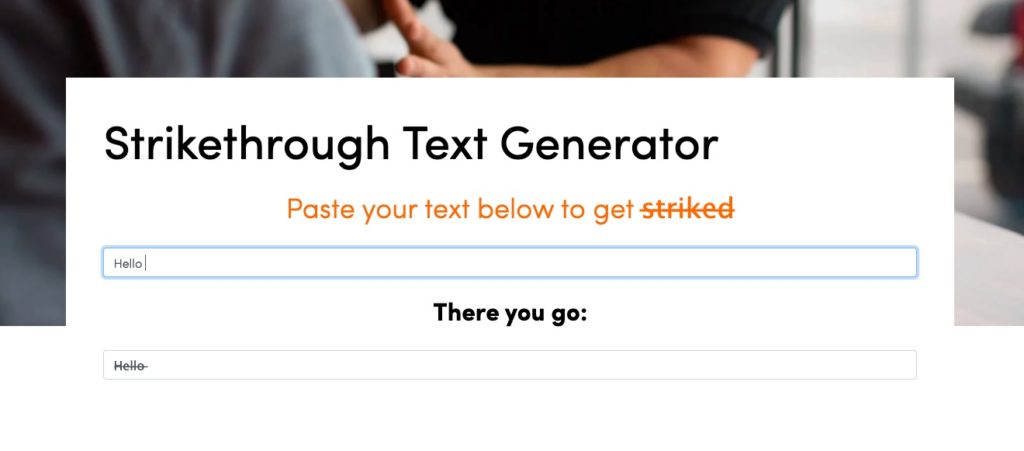 Singlegrain's strikethrough text generator tool has by far the most appealing UI, thanks to animations and lack of ads on the page. You just type something in the designated text box and strikethrough text appears automatically.
Sadly, there are no quick action buttons. Overall, Singlegrain is a good crossed out text generator — it's simple and the UI doesn't appear overwhelming. However, if you are looking for more options, then Singlegrain is not the right one for you.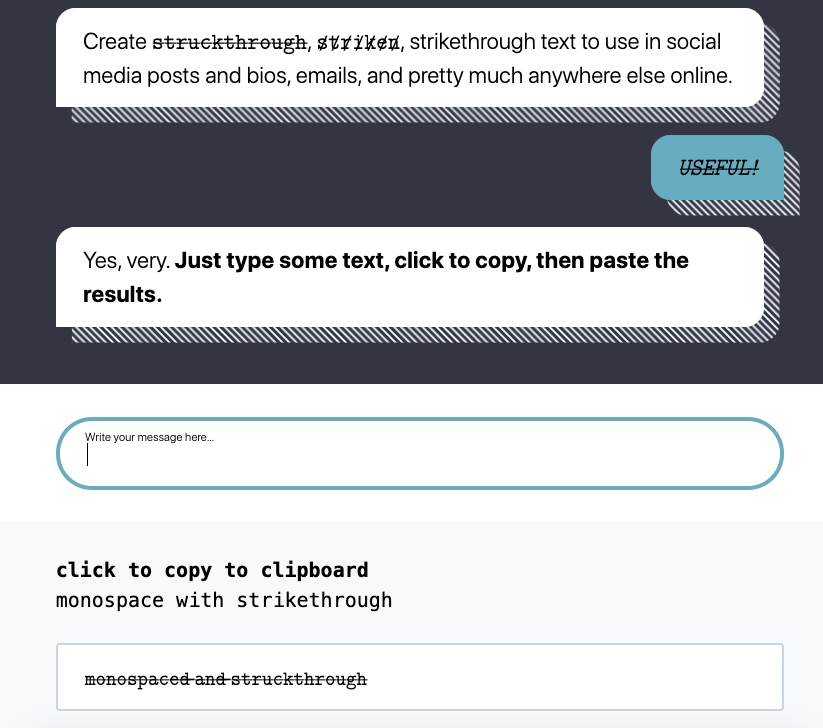 Qwerty.dev's strikethrough text generator also offers a unique and thought-provoking design. Although the website has ads, they are hard to differentiate from the overall design, making them pretty much non-existent.
Coming to the tool, the online strikethrough generator has multiple, separate boxes for the kind of strikethrough you want. Scroll down on the page and you will find options to produce monospace strikethrough text, sans-serif strikethrough text, text with slashes, redacted text, styled strikethrough text as well as unstyled.
I would say Qwerty.dev is also one of the top strikethrough text generators which you bookmark on your browser.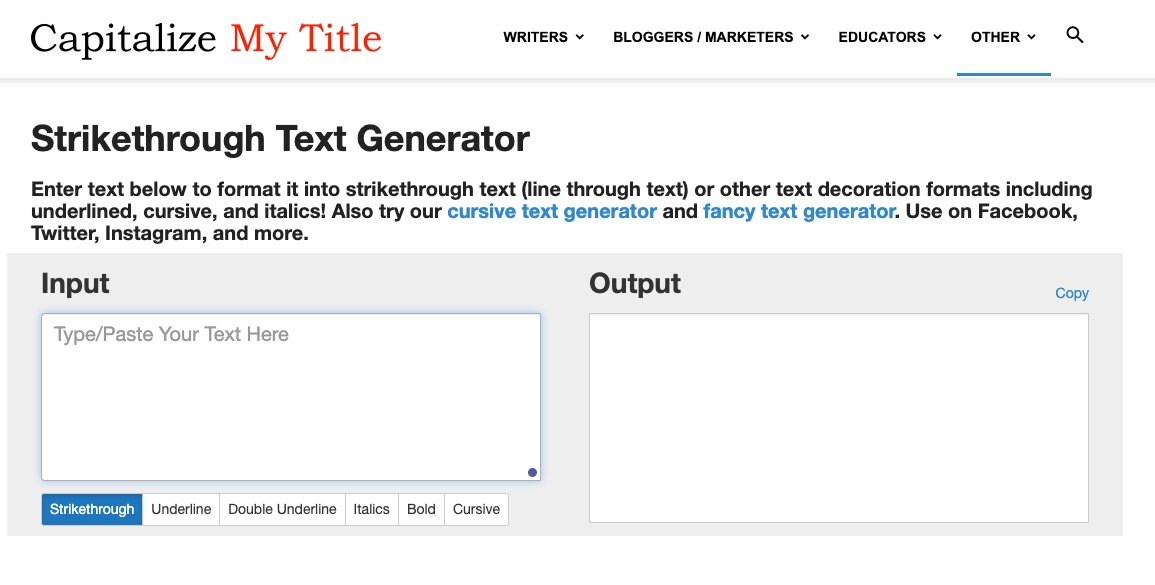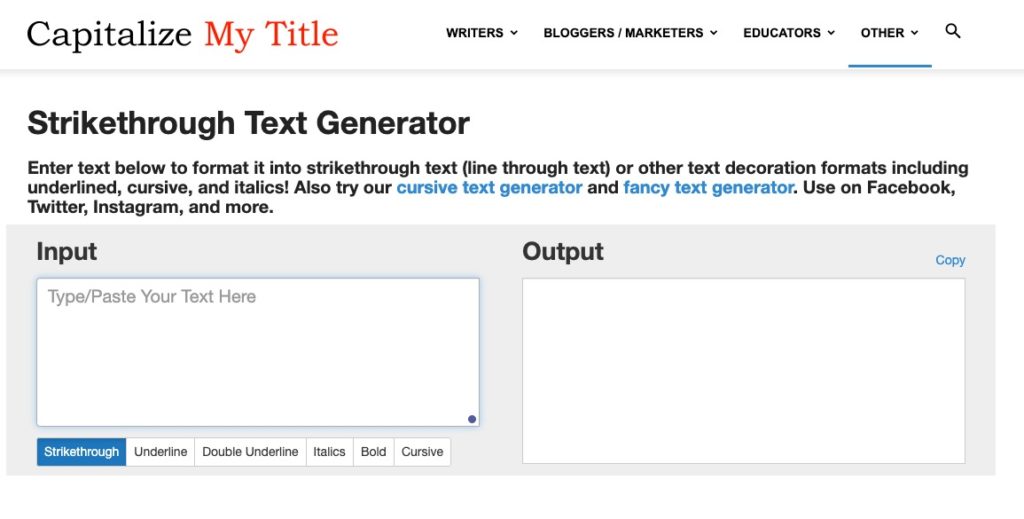 Capitalize My Title looks a lot like Convertcase. It has a similar UI with too many ads and also has a slow loading time. But unlike Covertcase, it offers added tools for typographical emphasis such as underline, dotted line, italics, bold and cursive.
Since the strikethrough text option falls under the same options, it cannot be used with other font tools i.e. you cannot have bold text or cursive text crossed out in one go. Alternatively, you can copy the formatted text first and paste it in a new Capitalize My Title tab.


Cute Kaomoji is another tool on our list that you can use to produce lines through text. It offers four types of strikethrough — Strikethrough, Big Strikethrough, Tidle and Slash.
Apart from that, it also features a quick Copy To Clipboard button and an option to reverse text, which is missing from all the top strikethrough text generators mentioned here. The UI is simple with ads at the bottom, however there are too much unnecessary text above the tool which could have been avoided.
So these were some of the top online strikethrough text generators. Let me know your go-to crossed out text generator in the comments down below