Weather services have become a lot more accurate lately, thanks to meteorological advancements that use advanced techniques to make highly reliable weather models. Till a few years ago, people used to rely solely on TV, radio or the newspaper to know about the weather. But now we can see detailed information and prediction on our smartphones with ease.
Knowing the weather forecast can help us plan for weekends or events. Weather widgets can further increase our productivity as we view our smartphone's home screen for hundred times a day. There are a lot of weather apps for Android that you can rely on. Here, we have made a compilation to help you select the best Android apps.
Note: This list isn't in order of preference. You are advised to choose any of these apps that you prefer.
10 Best Android Weather App List 2018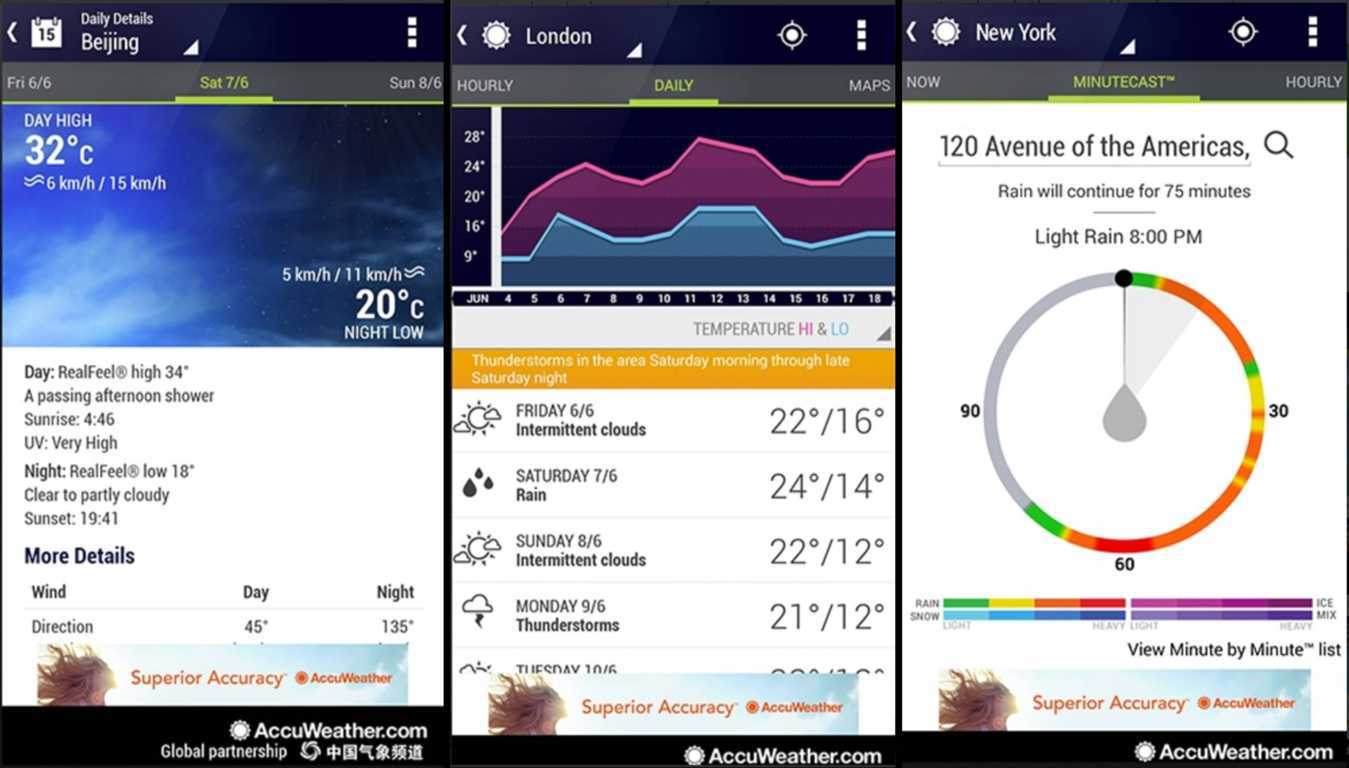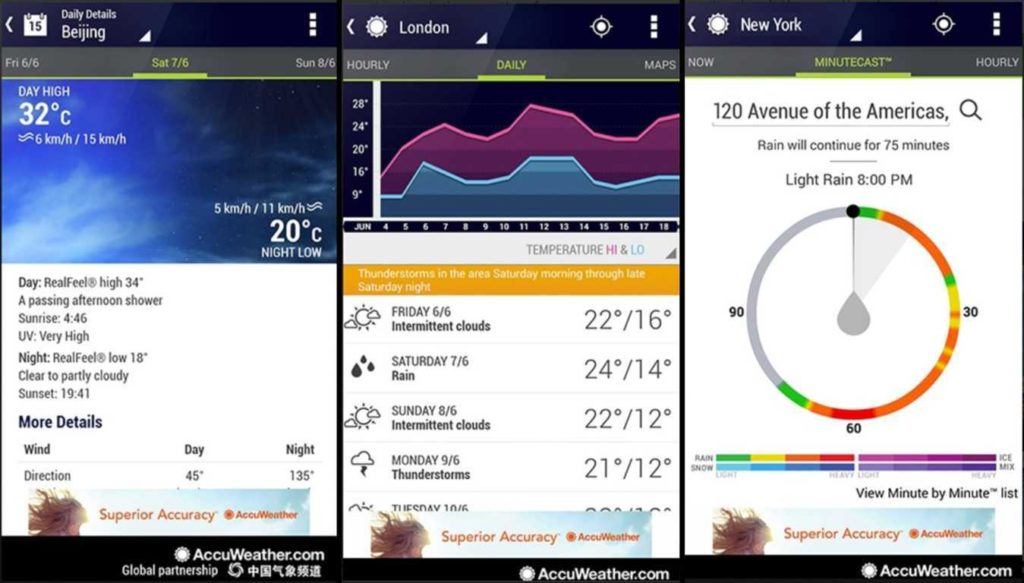 AccuWeather is an excellent weather app for Android that shows high-level accuracy with its weather prediction. It allows you to personalize the weather of your location in many ways and is also available in 33 different languages. The app can show you the temperature in Fahrenheit or Celsius, humidity, wind, and also the hour of sunrise and sunset.
It has a MinuteCast feature that can predict the rain on a minute-by-minute basis. Other features include GPS Radar maps, live weather reports, weather widget, top-trending weather videos, Android wear support, etc.
The app is free, displays ads and contains in-app purchases.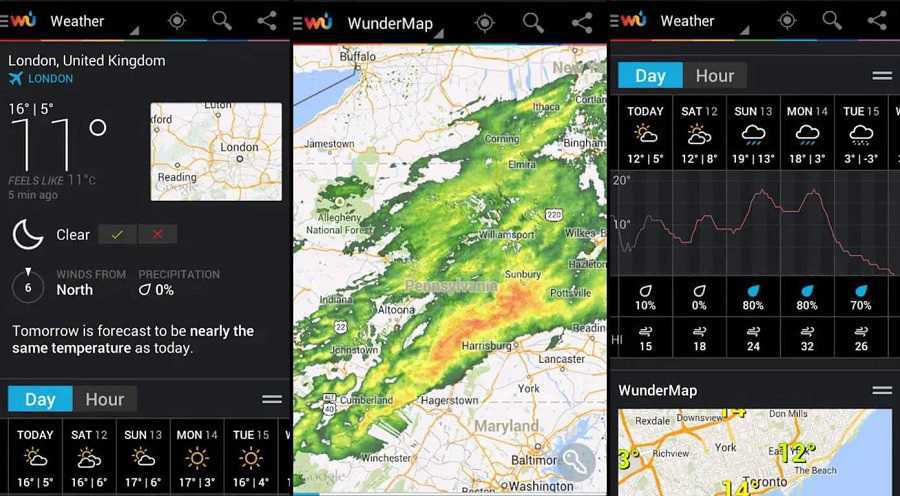 Weather Underground uses a unique network by linking more than 180,000 independent weather station. It aggregates the weather data and creates an incredibly reliable weather report. Moreover, the app features 10-day forecasts with text summary, severe weather alerts, National Weather Service radio, customizable widgets, and snow and winter reports.
It has an Interactive Map that shows all the weather stations along with animated radar, satellite, and other data. Also, the intuitive interface allows you to choose between a light or dark theme of the app.
It is free and displays ads. You can remove the ads with an in-app subscription.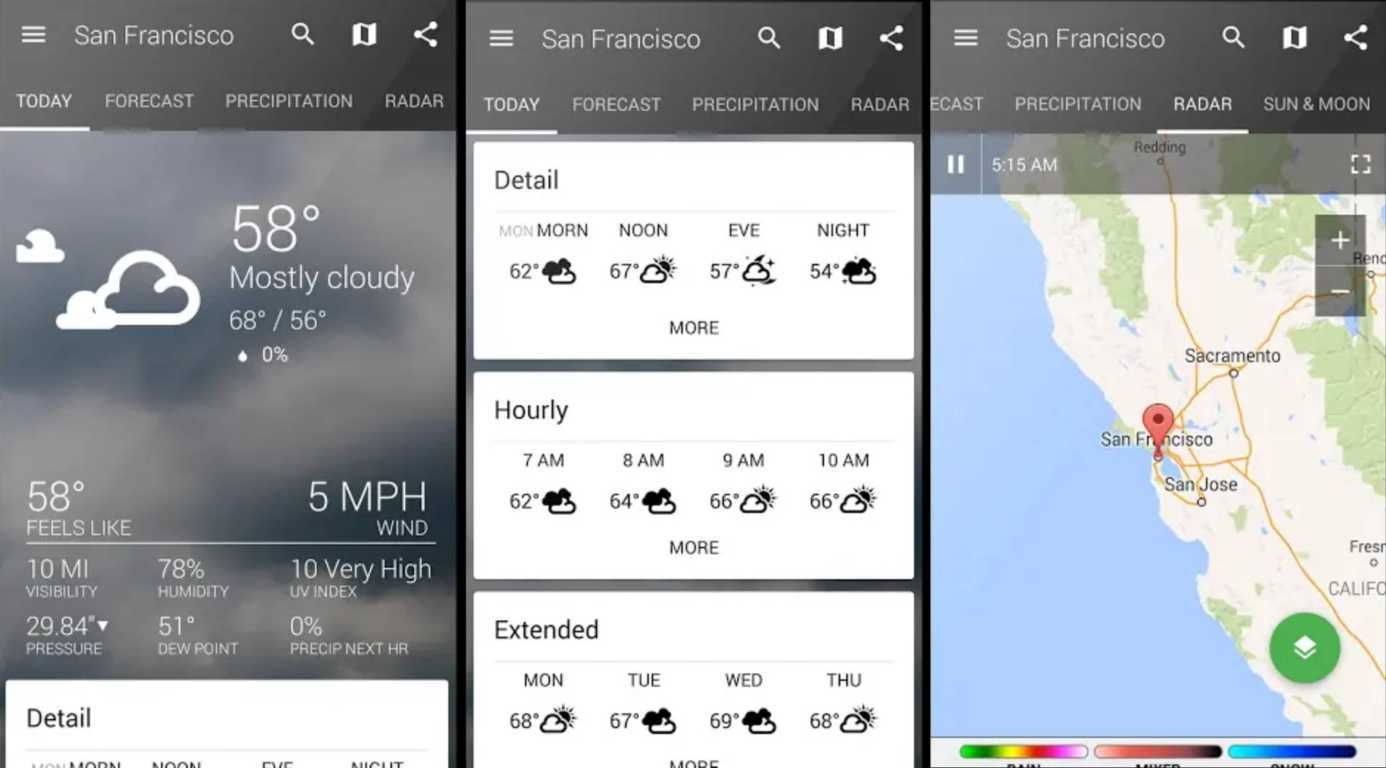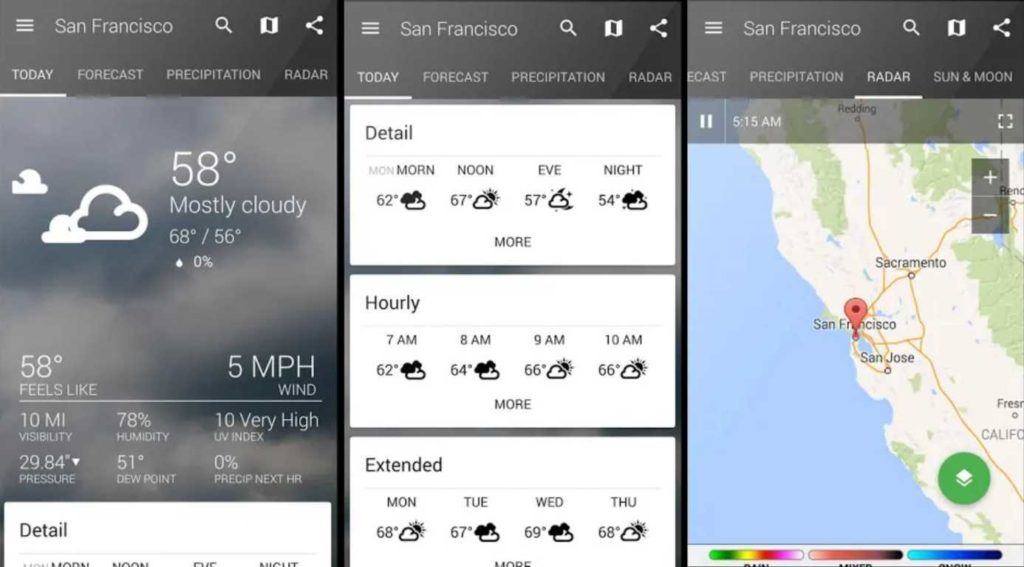 1Weather is a popular Android weather widget app that features all the essential weather details. You can get real-time local weather and forecasts for any location in the world. It can show you weather predictions for up to a week in advance. Moreover, there is hourly forecast and precipitation info, extreme weather warnings ( for the US only), live animated radar, animated sunrise and sunset, and lunar stages.
All of these features are available for free and beautifully packed within an attractive interface. The pro version allows you to remove the advertisements.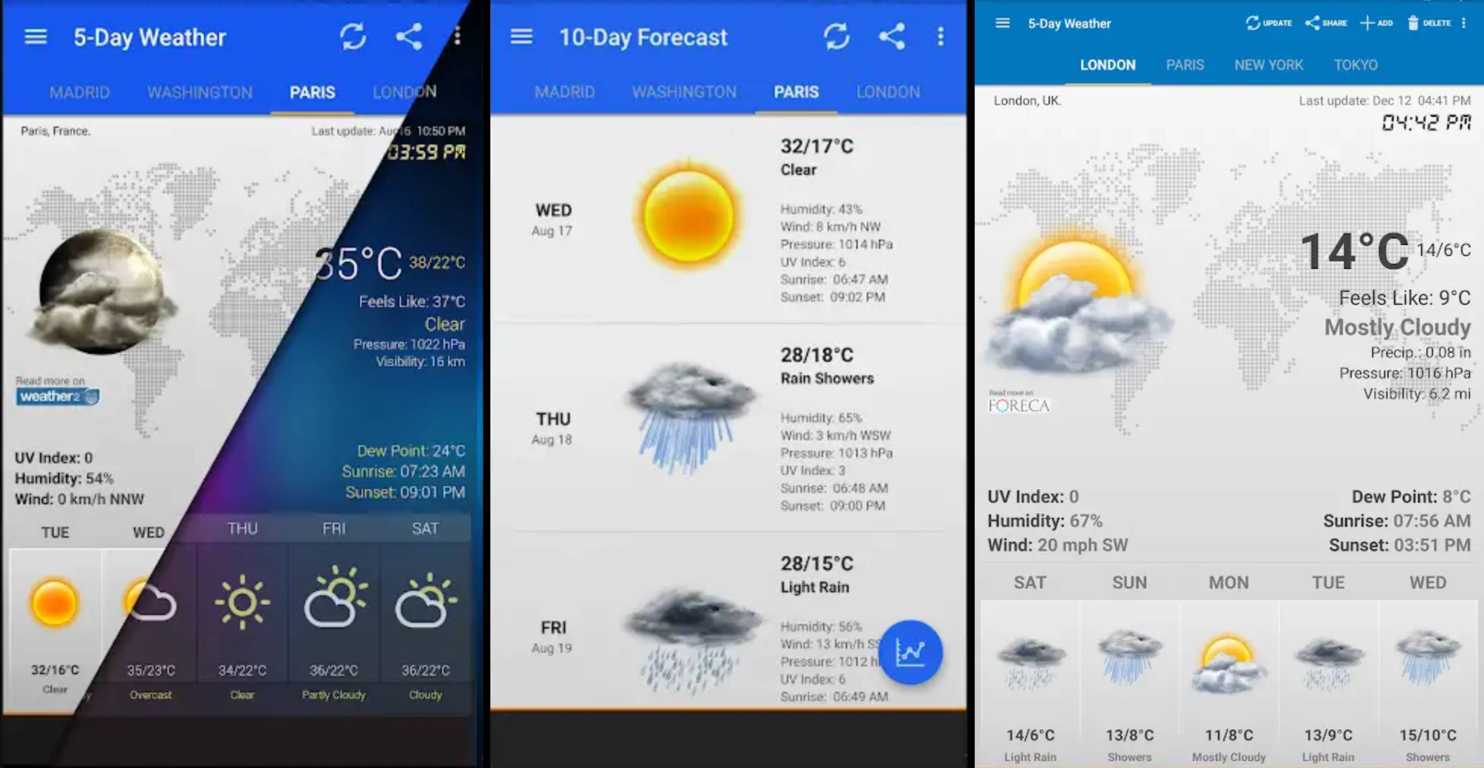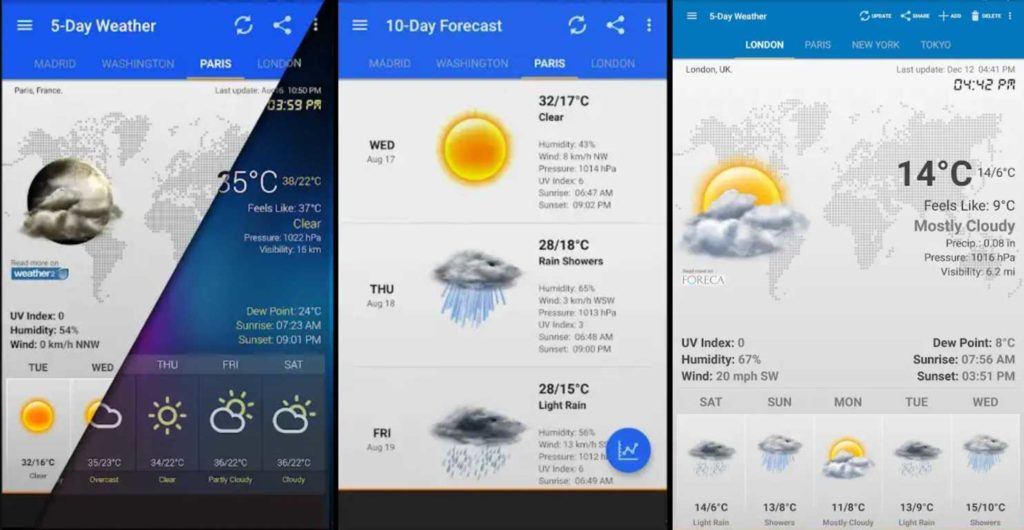 Weather & Clock Widget will let you know the precise time and weather conditions of any specific area in real time. It has automatic location detection, and also allows you to locate by network and GPS, or manually search for a location by name. The app is highly-featured, and all the functions are available for free.
There is hourly weather forecast, weather notification alerts, multiple weather providers, precipitation, humidity percentage, sunrise and sunset timings, etc. Moreover, it comes with Android Wear support, beautiful widgets, weather map, and you can even share weather and location info with friends.
The app is available in multiple languages and contains ads.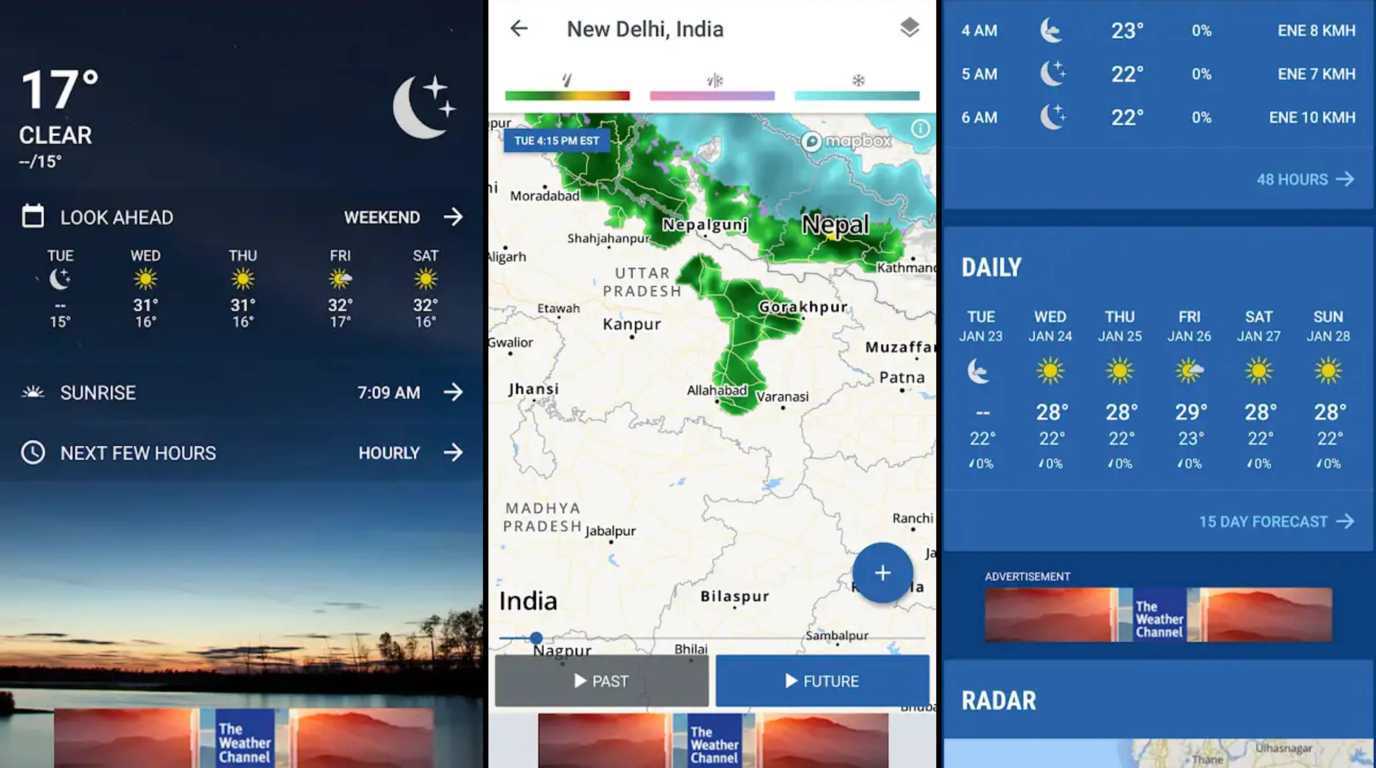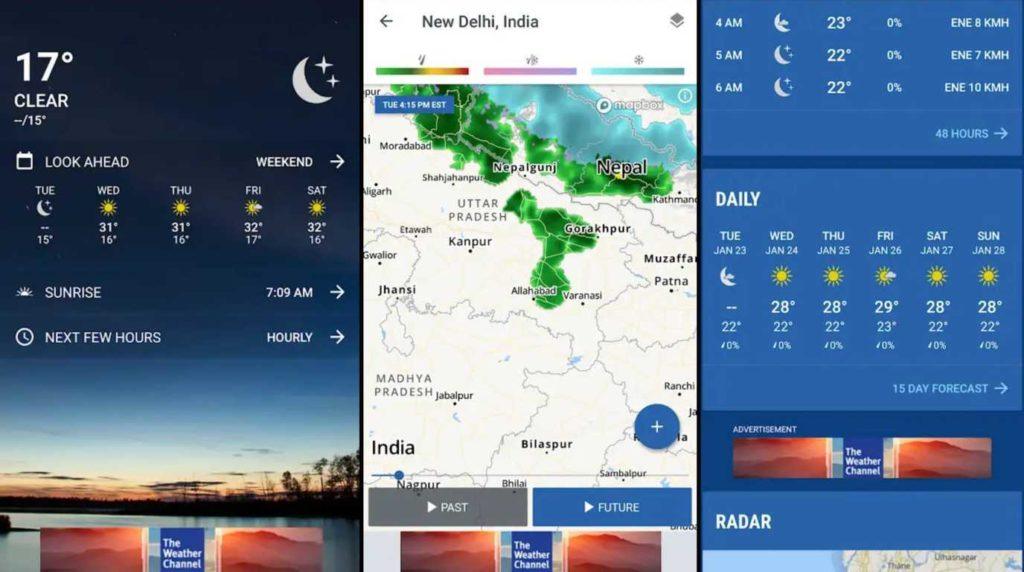 The Weather Channel is one of the best weather apps for Android which provides you with accurate weather information and forecasts for any location in the world. It covers all the necessary features like temperature, future forecast, weather alerts, radar maps, etc. There is also weather news, breathing index, UV index, several widgets, and lightning and pollen alerts.
It even allows you to report the current weather in your city. The interface is beautifully designed and easy to operate. You can add widgets to your home screen so that you can always stay updated with weather information.
 All the features are available for free with no in-app purchases.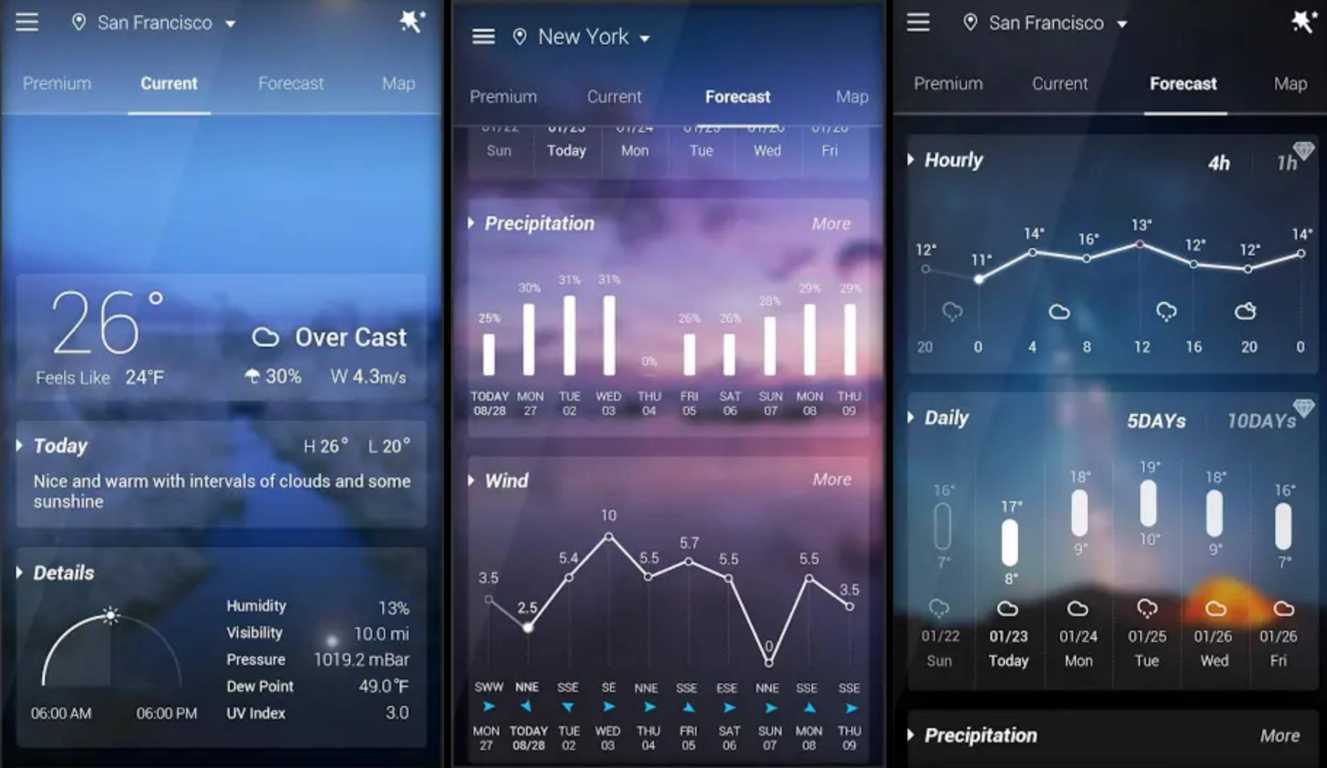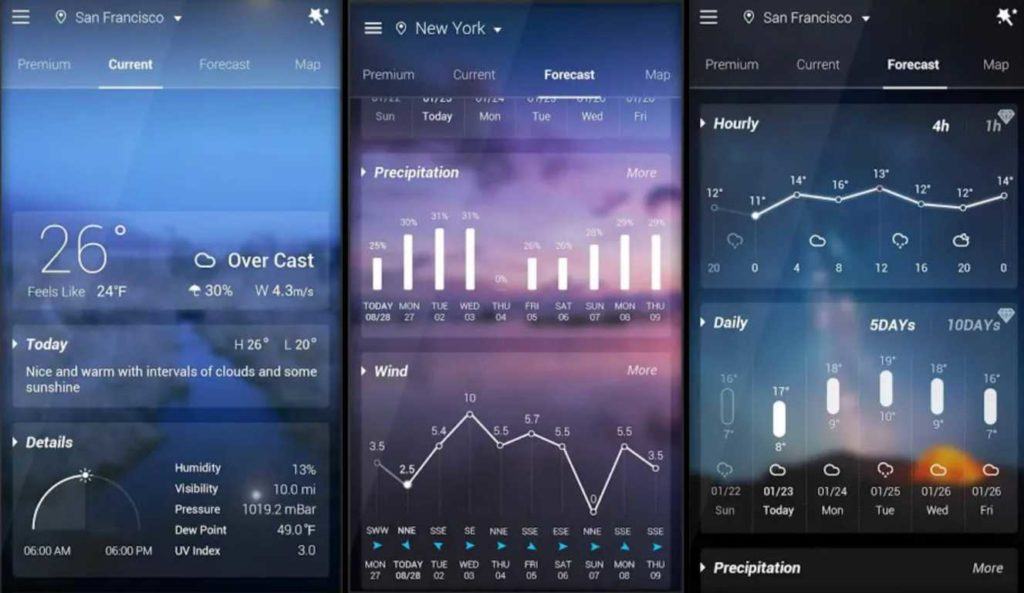 GO Weather is another recommended weather widget that is highly-accurate with its weather predictions. It is known for its simplicity and covers meteorological data for over 100,000 locations around the world. It can automatically recognize your city and set it as default. There is also an option to choose many areas and store them in a list of favorites. Other features include hourly and daily forecast, weather alerts, precipitation forecast, weather map and radar, weather and clock widgets, etc. It has an elegant layout and lots of other info.
The app is free and comes with ads and in-app purchases.
If you are someone who don't want to download weather apps and still want quick access to weather updates can check out the list of best weather forecast websites here!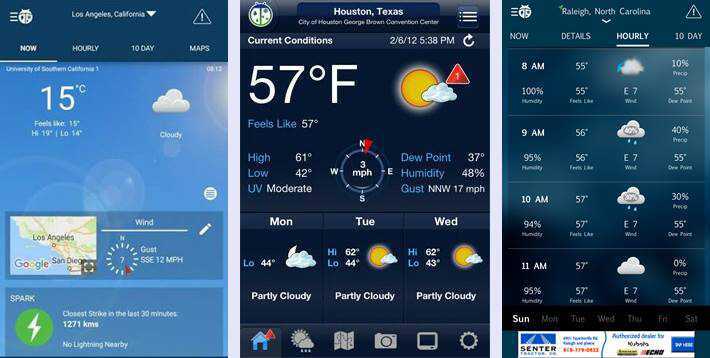 WeatherBug is an awesome weather app for Android that has been around for quite some time. It has an excellent user interface. Besides all the essential weather info, there is a traffic jam section that allows you to view traffic conditions and avoid jams. Moreover, it features 18 different weather maps, lightning alerts, weather news, hurricane center, etc. There are various widgets to choose from, but they are available in a separate app.
It has multi-language support and contains ads.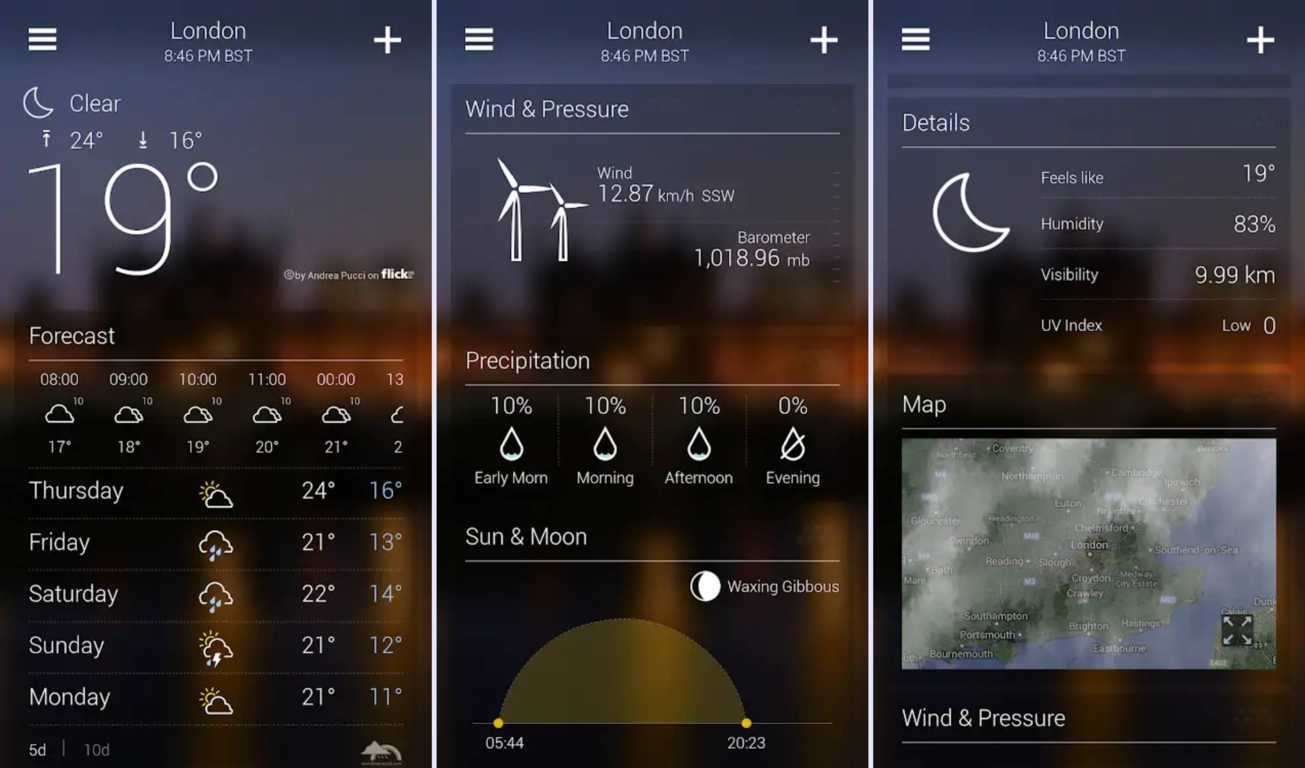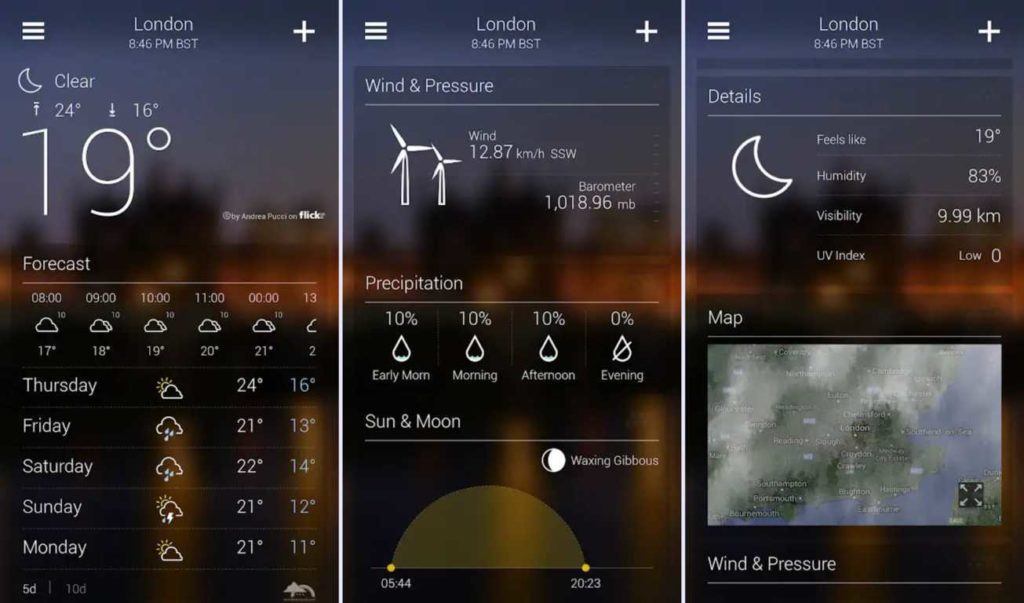 Yahoo Weather is the official Android weather app by Yahoo. It shows you the current weather with beautiful photos that match the weather conditions. You can also submit the weather photos of your location if you want.
The app is very visual and intuitive. It presents hourly, 5-day and 10-day forecasts, and there is weather alerts, radar information, home screen widgets, humidity sensor, UV index, and precipitation. You can also see sunrise and sunset timings, and the wind and pressure of your location.
It is free and ad-supported.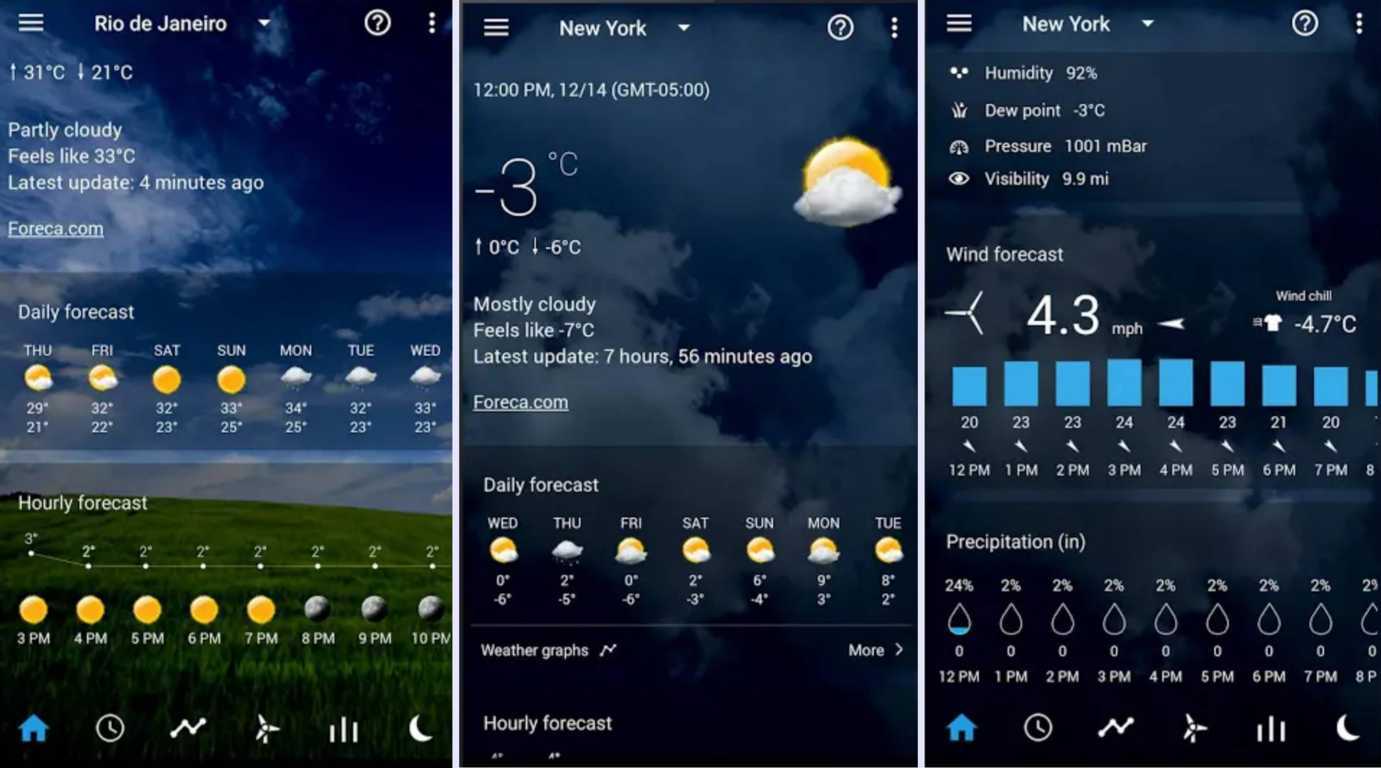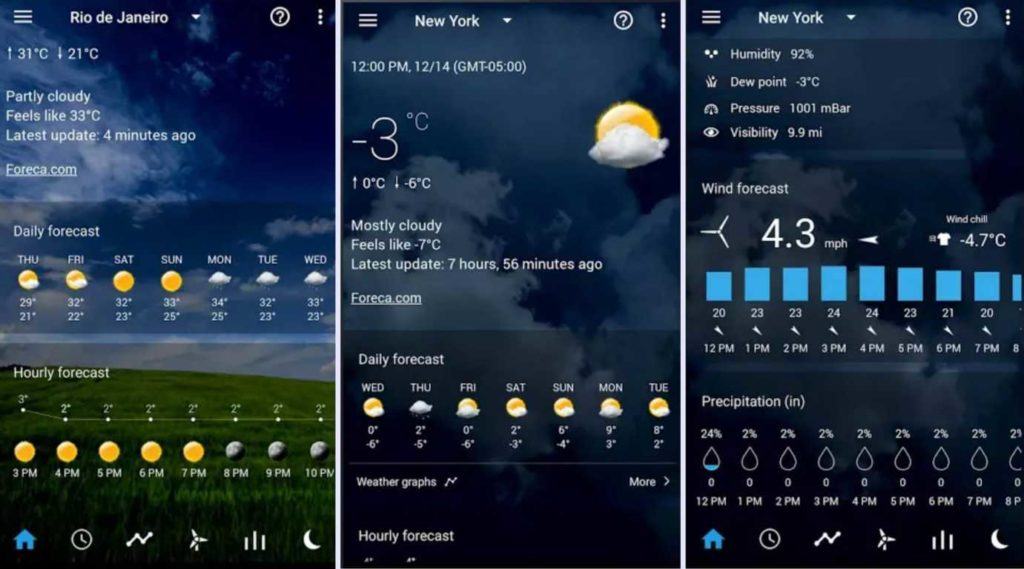 Transparent clock & weather is one of the best weather widget apps that comes with a lot of customizable options. It allows you to customize the features that you would like to see in the widget, such as the temperature in Celsius or Fahrenheit, sunrise and sunset timings, humidity, etc.
You can get a 7 to 15-day weather forecast, 12-hour precipitation forecast, weather alerts, weather radar, etc. The app has well-balanced customizations without being overwhelming and offers you a great deal of information.
It displays ads and has a pro version with additional features.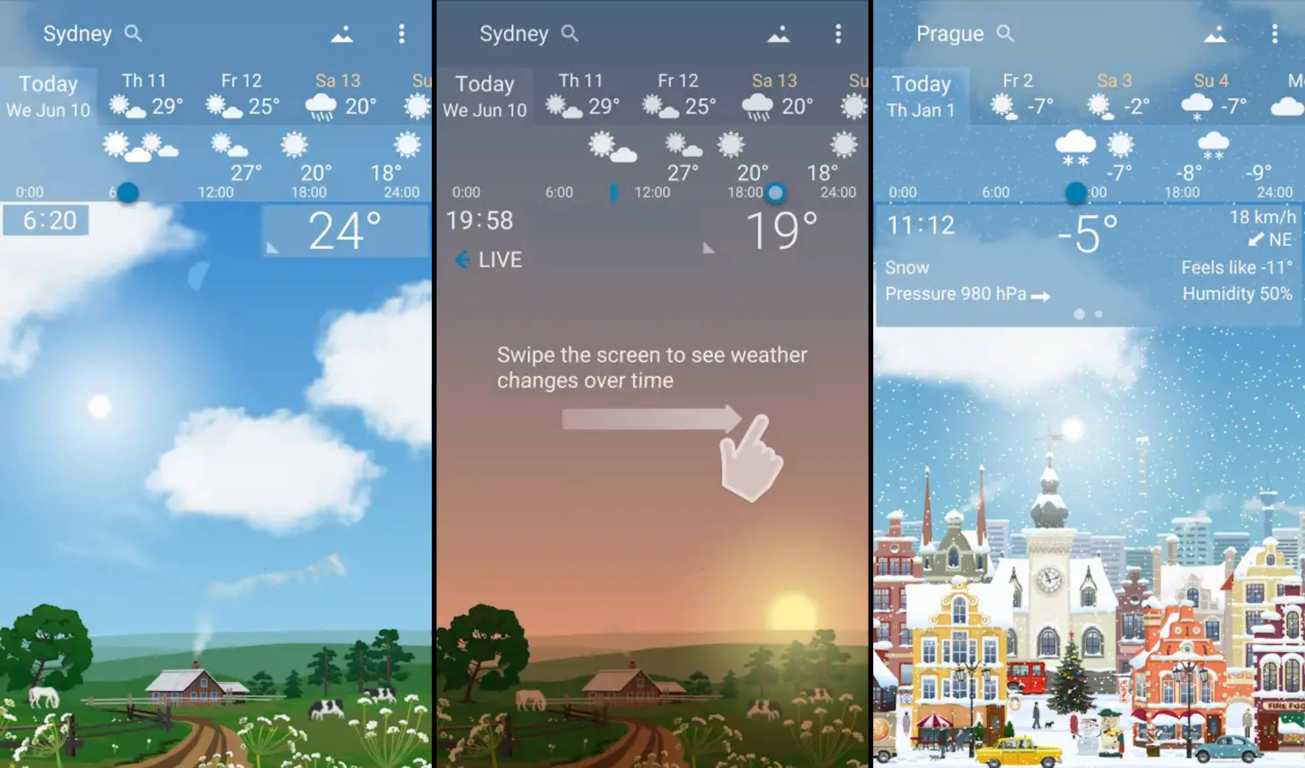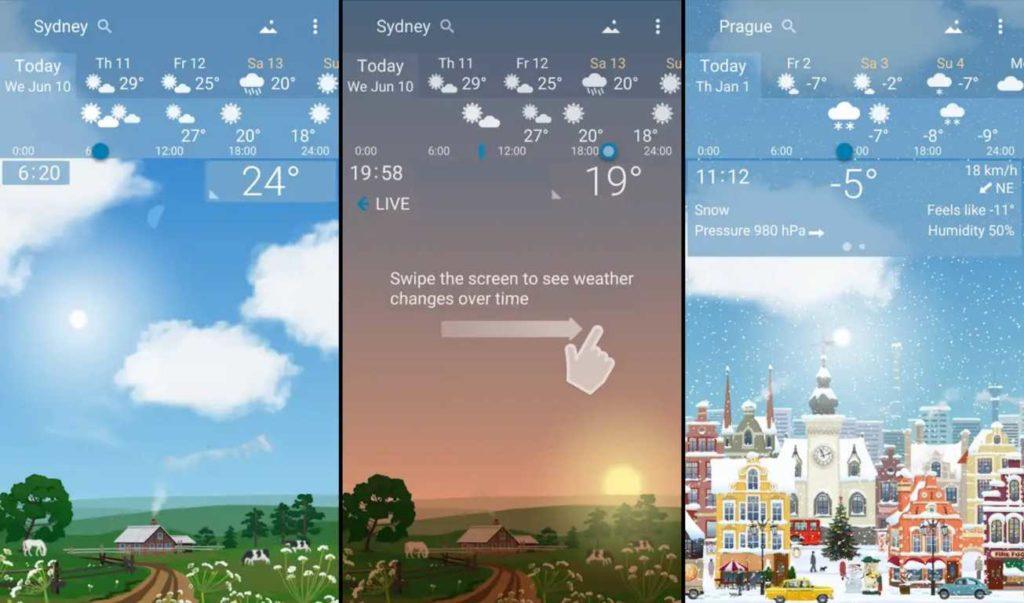 YoWindow is our last entry in the list of weather apps for Android, but it is an excellent weather app for those who are looking for simplicity. It covers its essential features reasonably well. You can simply swipe through the screen and see how the weather is going to change throughout the day.
It shows you the current weather and forecast for several days ahead. There is also live and static wallpaper that changes according to seasons and are incredibly detailed. Overall, the app is simple along with a beautiful design and easy to use. The app displays ads.
Did you find this best Android weather app list to be helpful? Share your reviews in the comments below and keep reading Fossbytes for more informative articles.