An OLED screen can vastly change the way you think of a Windows laptop. And this ASUS Vivobook Pro 15 review takes note of the same. The laptop belongs to ASUS' popular Vivobook series which, in 2022, includes several 14, 15, and 16-inch laptops. The Vivobook Pro series differentiates itself from the vanilla series in terms of design, internal components, and most importantly, in terms of display. While the regular ASUS Vivobook series comes equipped with an IPS LCD panel, the Pro series features an exceedingly better OLED display. On top of that, the laptop also gets an Nvidia RTX GPU, an Intel 12th Gen CPU, and much more.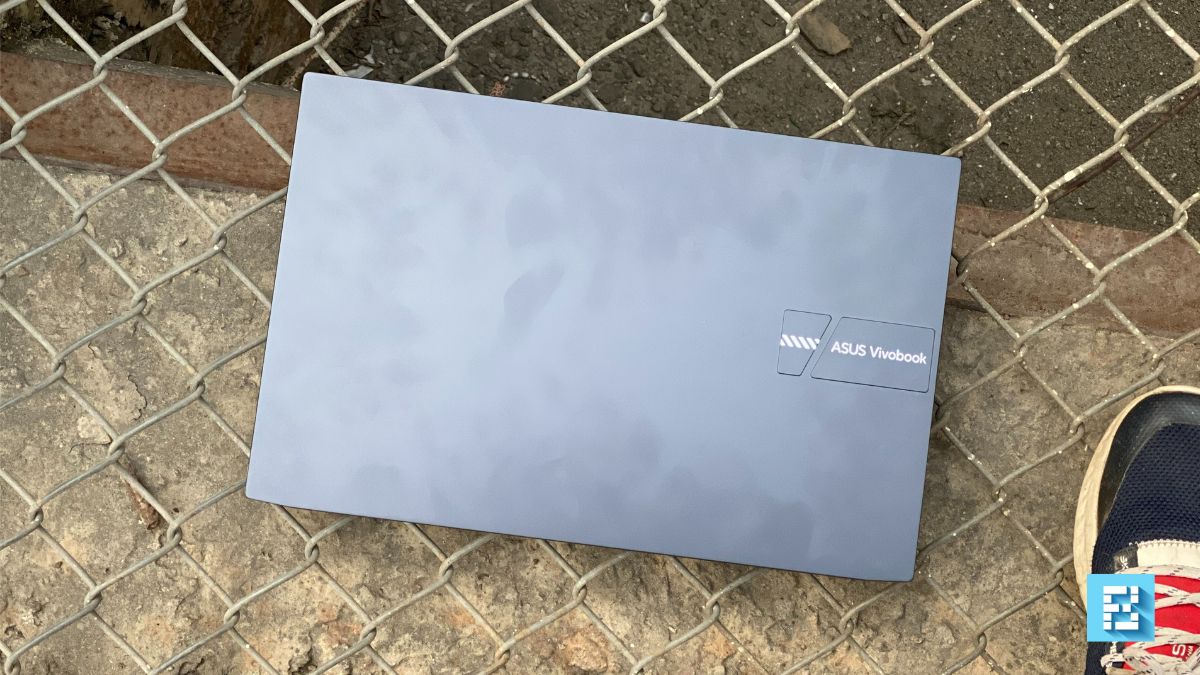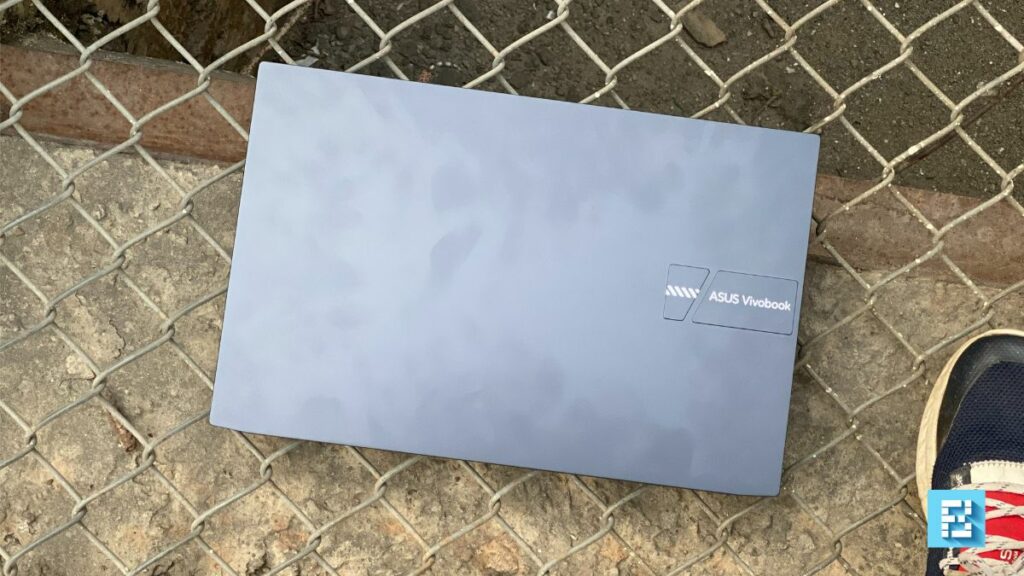 The laptop precisely costs around Rs 90,000 at the time of writing. And considering the kind of components it offers like an OLED display, a dedicated GPU, and much more in a thin and thin and light chassis, one can be forgiven for thinking that the deal is too good to be true. For this price range, you can get a gaming laptop, easily. Moreover, you can also get a thin and light as well. But still, you won't get a laptop that combines the best features of both on top of an OLED display. So, is the deal too good to be true? Let's find out.
ASUS Vivobook Pro 15 Specifications
Processor: Intel 12th Gen Core i5-12450H featuring 8-Cores, 12-Threads with 4.40GHz Max Turbo frequency
Graphics Card: Nvidia RTX 3050 Ti featuring 4GB GDDR6 VRAM and 65W TGP
Memory: 16GB LPDDR5 RAM running in quad-channel mode
Display: 15.6-inch OLED in a 16:19 aspect ratio featuring a 1080p panel
Storage: Intel M.2 SSD 670p (SSDPEKNU512GZ) with 512GB capacity
Battery Capacity: 69Wh
Weight: 1.8kg
ASUS Vivobook Pro 15 Design And Features Review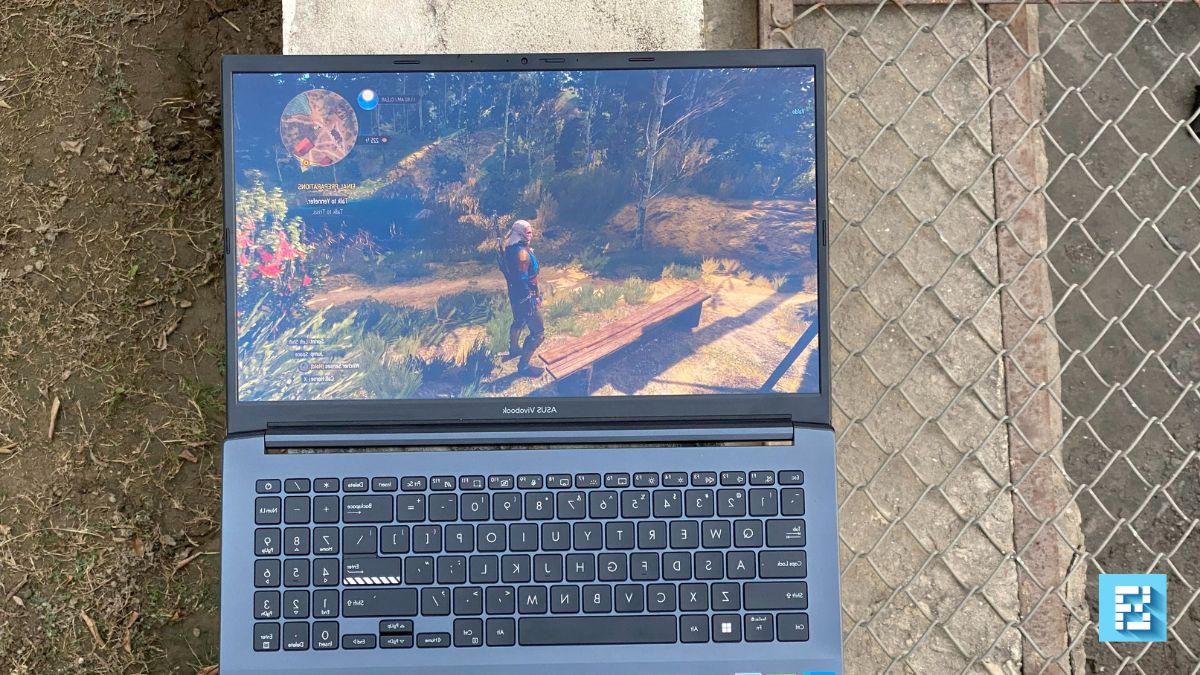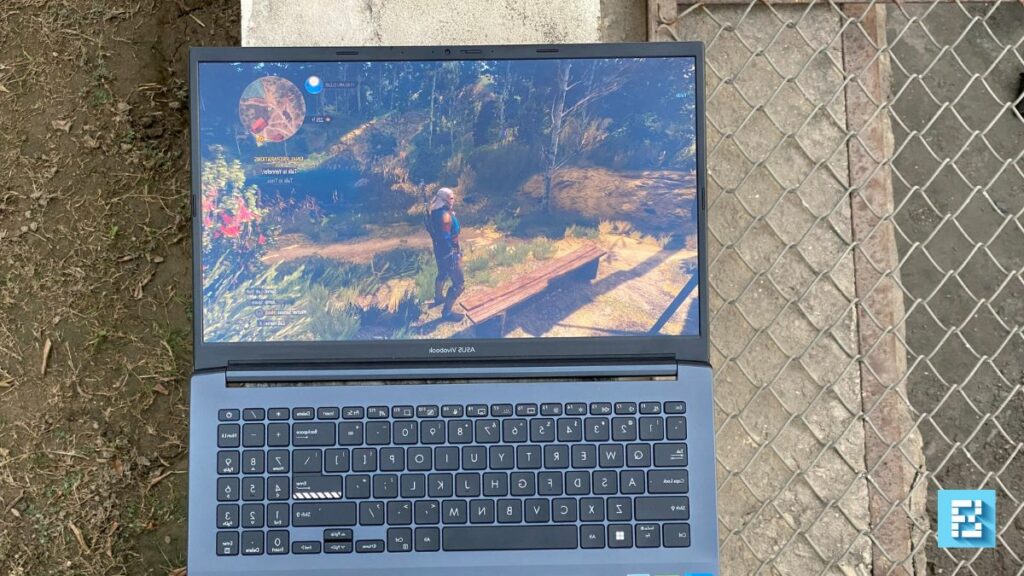 ASUS has tried its best to add interesting tidbits to the otherwise generic laptop design. For example, on the laptop's lid, you'll find specialized carvings with the word "ASUS Vivobook" written on them. Secondly, the laptop also has a 180-degree hinge, which works as intended. ASUS has also given a cut on the keyboard deck so you can easily locate and lift the laptop lid with one hand. Moreover, the hinge feels tight enough, in a good way, as you can set it at any angle and it'll hold its position even when you're shaking the laptop while typing furiously.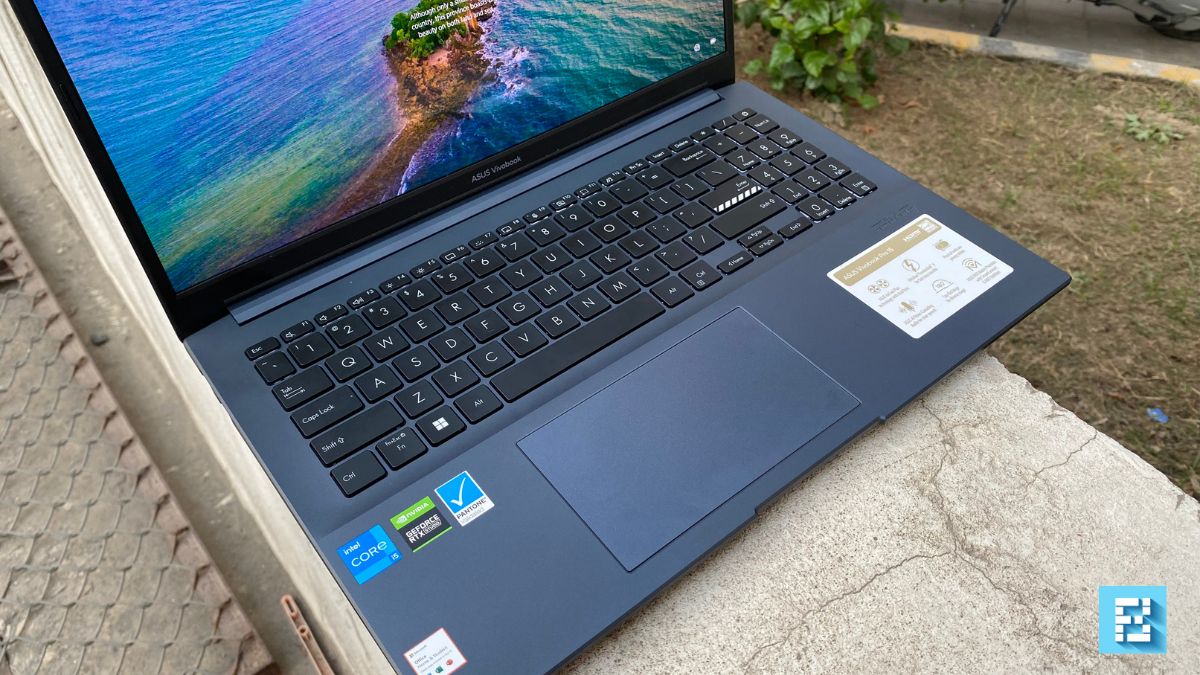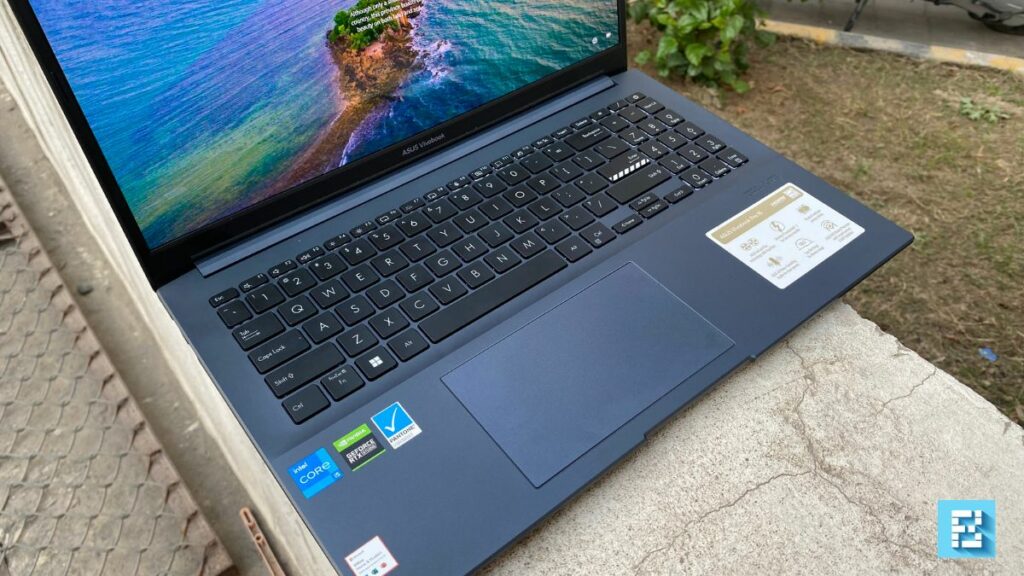 Apart from that, the screen is 15.6 inches in size and unlike the Lenovo Legion 5i, I reviewed earlier, has no protruding back area. So the overall size of the laptop is as big as the screen. ASUS Vivobook Pro 15's overarching design is thin and light. You can see the designer's inspiration behind making the I/O layout region and the screen lid thin while maintaining enough area for ventilation.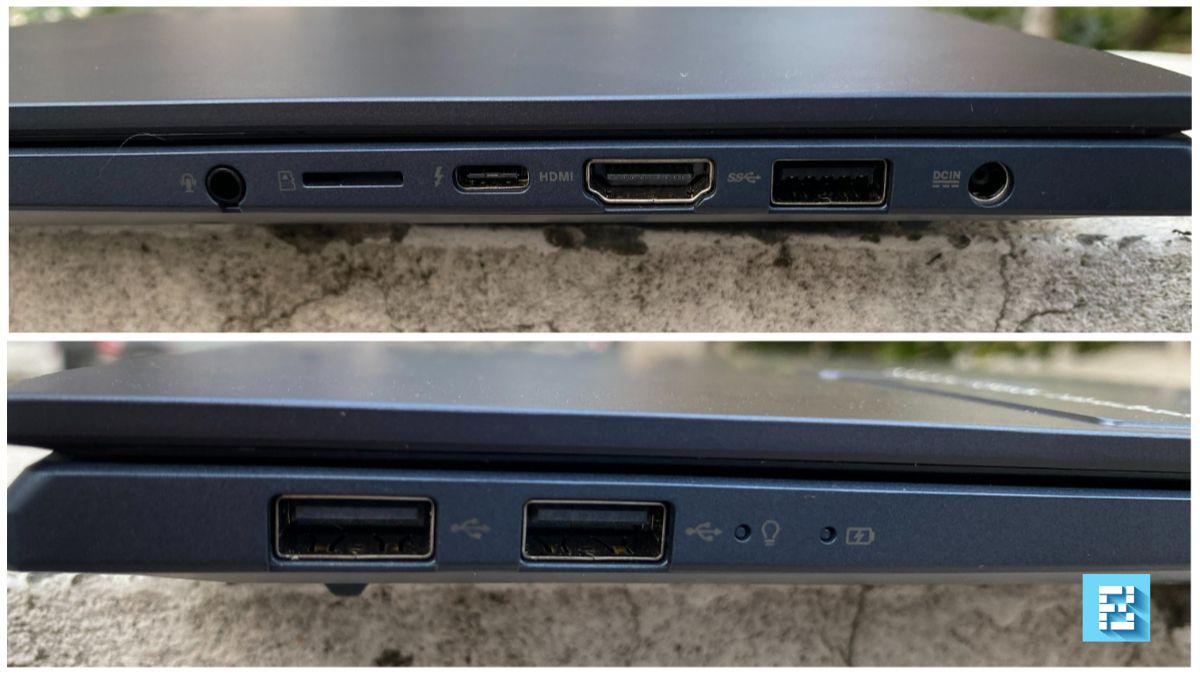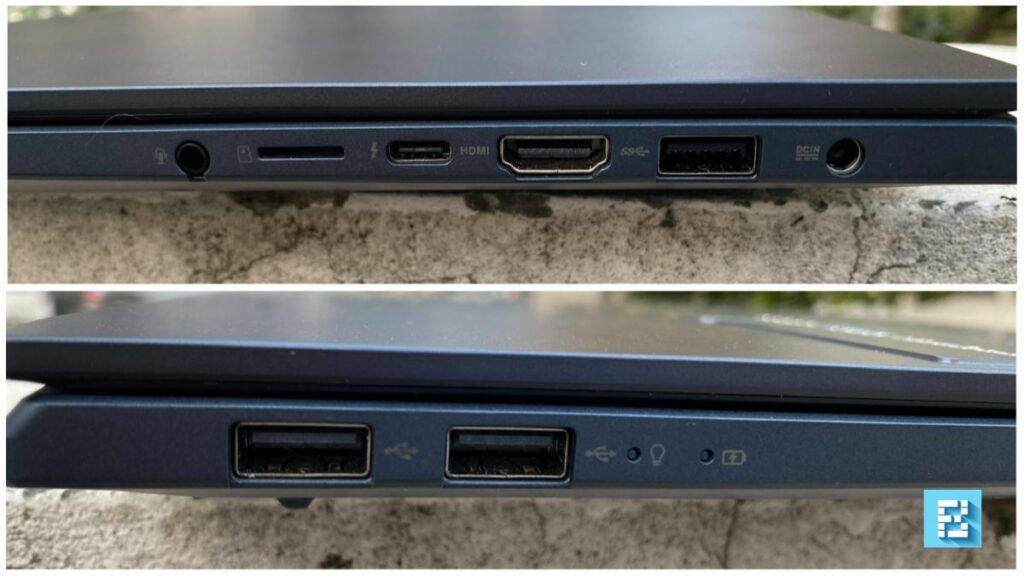 Speaking further on design, the laptop does not sit flat on the desk but rather has two big protruding rubberized slots and an even bigger similar strip that runs horizontally adjacent to the lower vents. This help to lift up the laptop and maintain airflow beneath it. Lastly, in terms of build quality, the laptop's lid feels stiff and sturdy. Meanwhile, the laptop's deck area looks and feels solid as well. The chassis has some flex but it's what'd you say "manageable."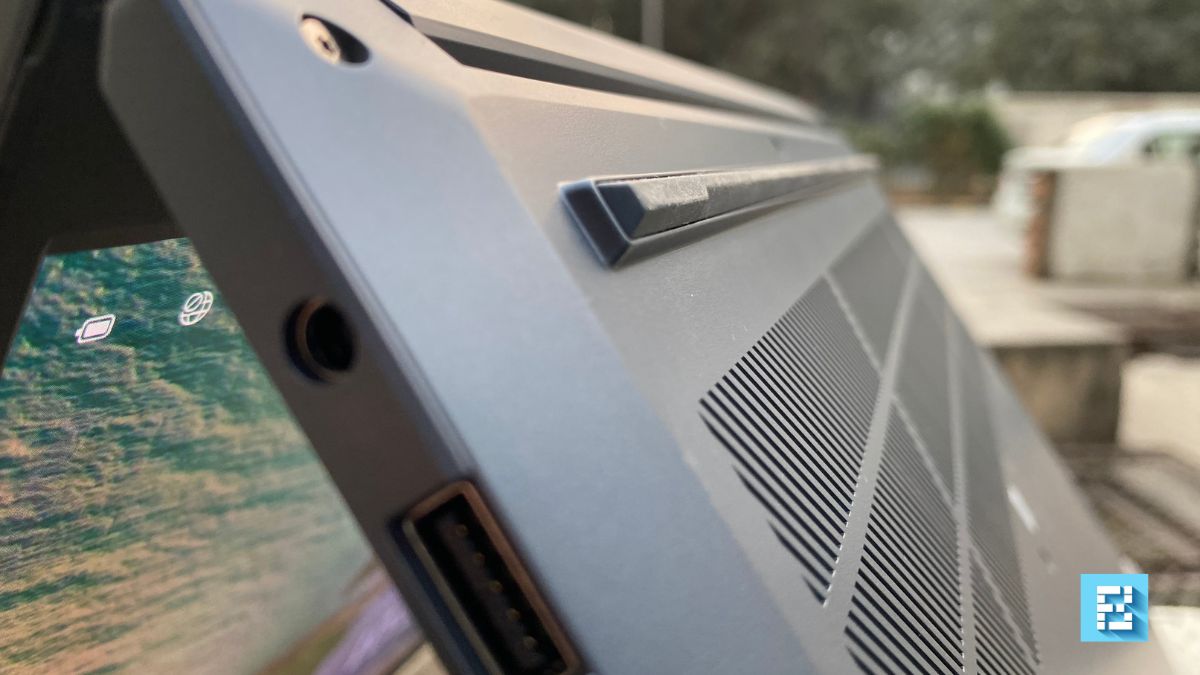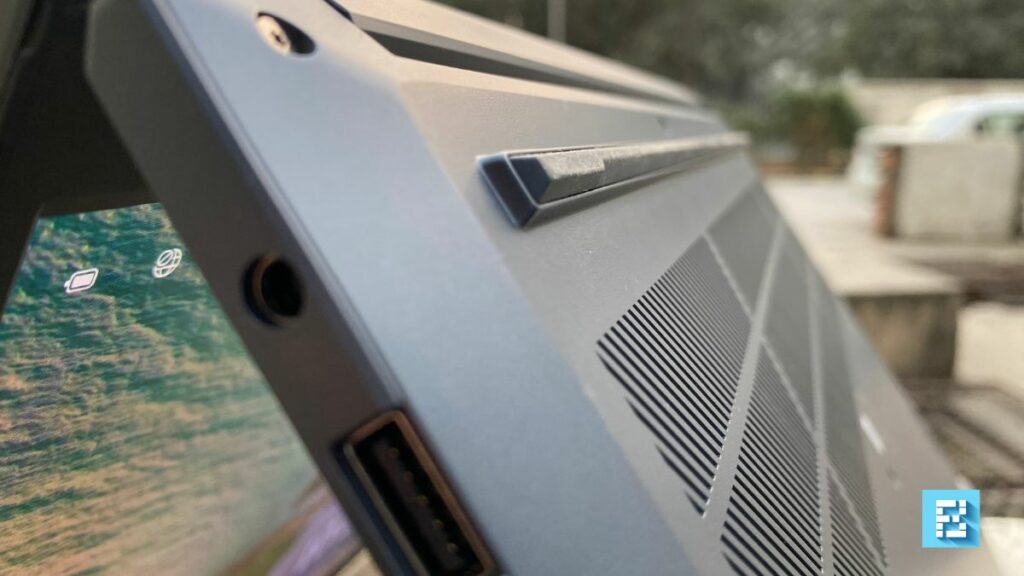 The keys have good travel to them and because the chassis is stiff and solid the typing experience is good as well. Although there is still room for improvement here. Moving on to the trackpad, it is quite big in size and feels smooth to touch. In short, it works well, without any issues. Lastly, in terms of I/O ports, the ASUS Vivobook Pro 15 comes with three USB Type-A ports, an HDMI slot, a Thunderbolt 4 Type-C port, an SD card slot, and a 3.5mm USB jack as well.
ASUS Vivobook Pro 15 Screen And Speakers Review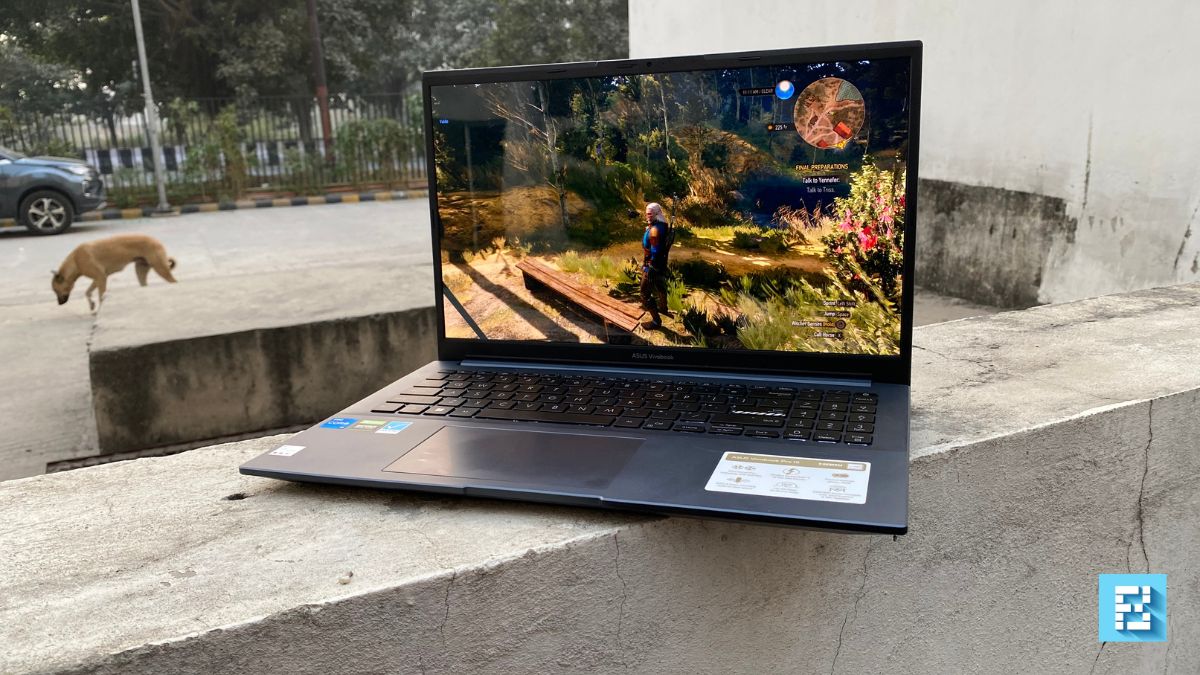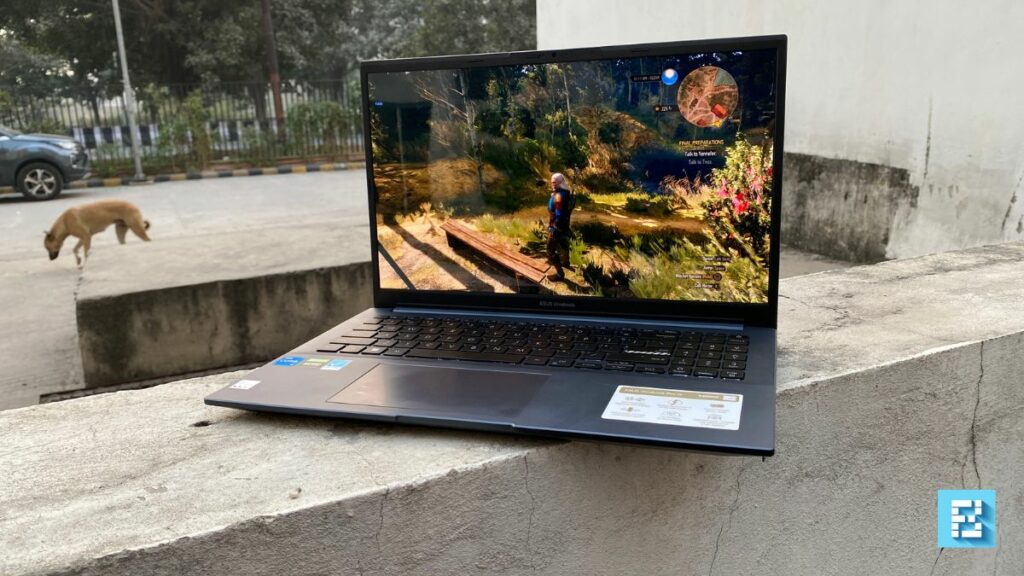 The screen is probably the star of the show. To give you the specifics, it is a 15.5-inch FHD OLED display. It has 600 nits of peak brightness, which is evident while playing games even in a well-lit room. The display also covers 100% DCI-P3 color spectrum and is perfect for watching HDR content. I don't know whether the picture can do justice to it or not, but it really makes a huge difference when viewing the same content on an HDR display.
I played Witcher 3 on the Vivobook Pro 15 and it looked amazing. The OLED makes a huge difference and adds a ton of drama to the sunlight and shadows in the game. The game ran smoothly as well, thanks to the RTX 3050 Ti.
The speakers on this device are decently loud. They are downward-facing, so when you keep the laptop on your lap, they sound a bit muffled. But when the laptop is on a desk, they sound very clear and crisp. They do lack base but the overall volume is good enough.
ASUS Vivobook Pro 15 Performance Review
Alright, performance is one thing where I'd say that the ASUS Vivobook Pro 15 takes somewhat of a backseat. Firstly, the Intel Core i5-12450H features only four performance cores and four efficiency cores. As a result, its multi-core performance is only slightly better than 11th Gen's Core i7-1165G7, which is another quad-core chip.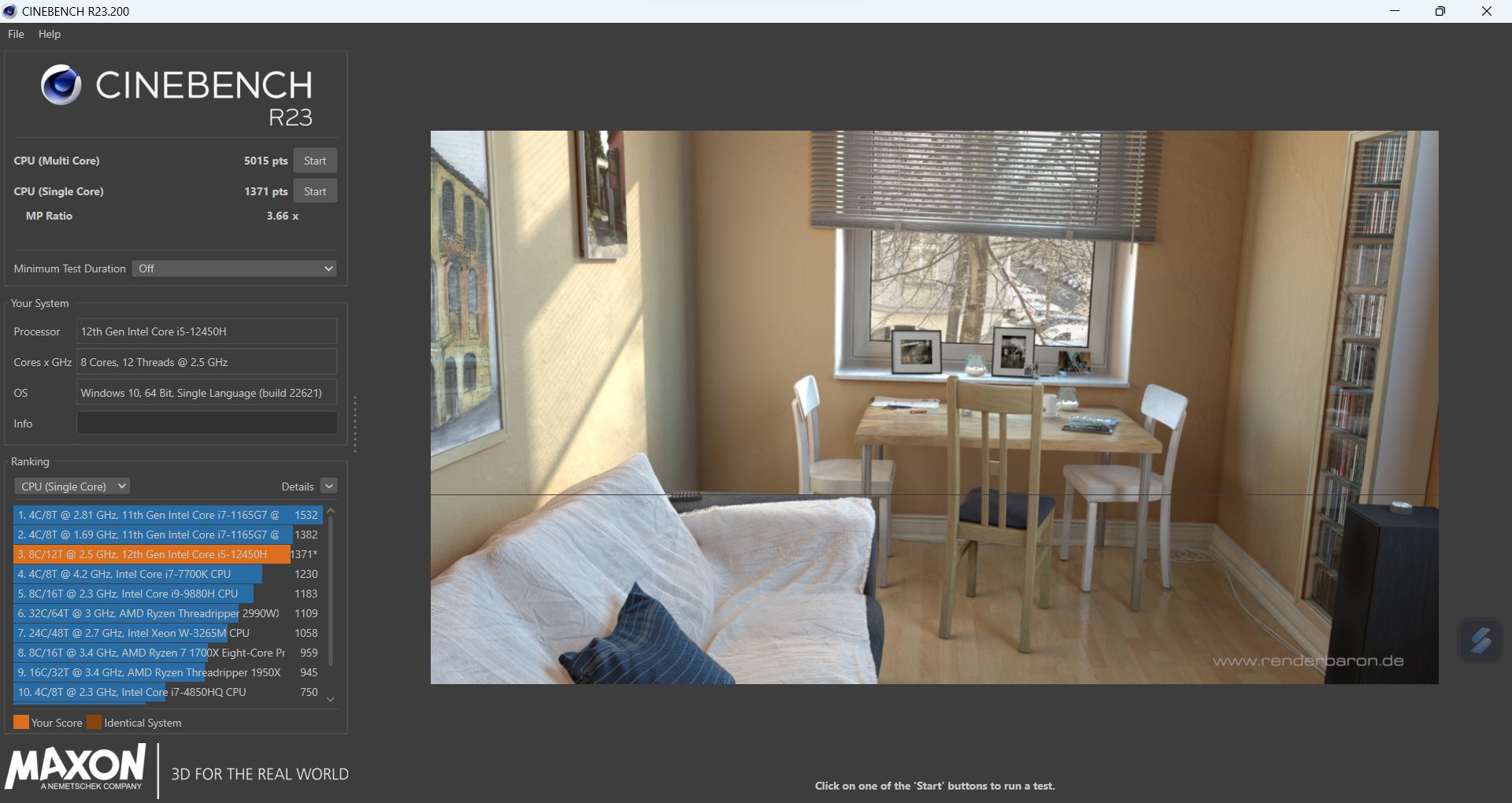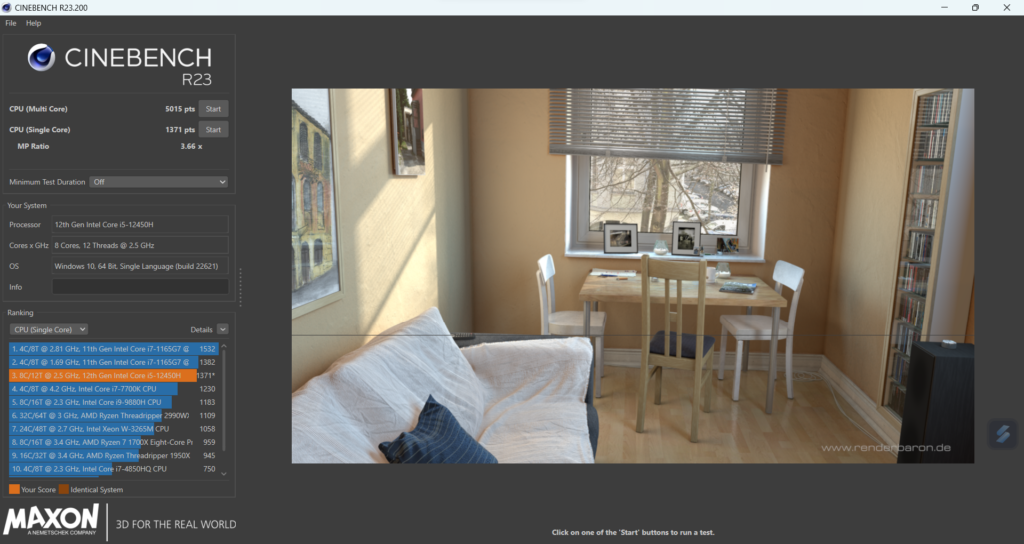 If you compare the 12450H with something like a Ryzen 5 5600H, the latter comes out on top in scenarios that require a multicore performance. But that's not to say that the Core i5-12450H is slower by any means. Most top and mid-tier CPUs have reached a certain threshold where they're already quite good enough for most workloads and the Core i5-12450H is amongst them. Its single-core performance is really good. It also lends the laptop a good battery life of around 6-8 hours with 70% screen brightness and the laptop runs quite most of the time. More importantly though, it runs games quite well.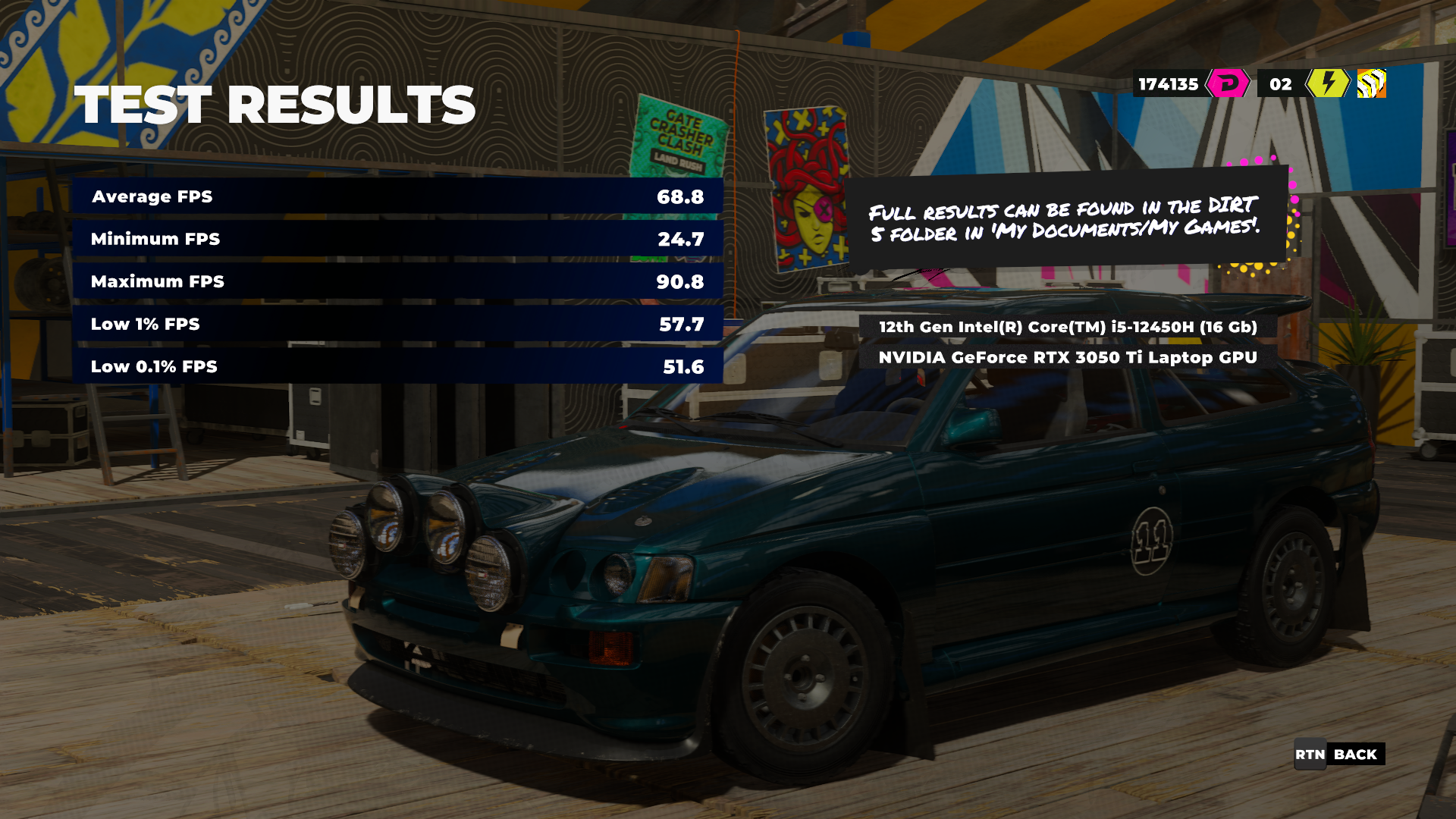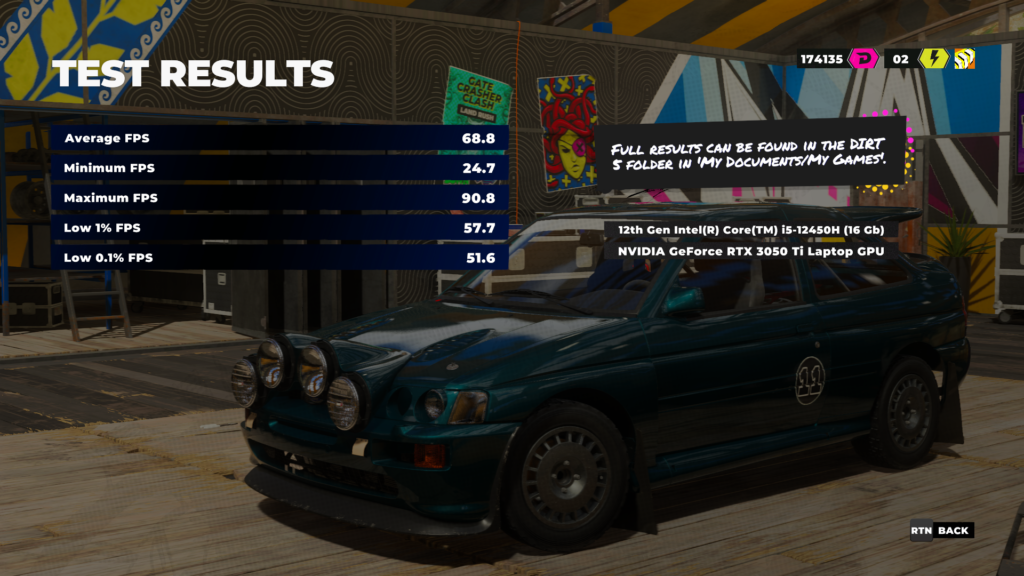 Unlike video editing, gaming is an activity that does not rely on a lot of physical cores. This is why a faster quad-core chip can run pretty much most games smoothly. However, the RTX 3050 Ti has a lower TGP here. For reference, a Dell G15 gaming laptop comes with an RTX 3050 and an RTX 3050 Ti and both of them have around 95W TGP. But the RTX 3050 Ti in the ASUS Vivobook Pro 15 has 65W. Still, the question is how much does that affect the laptop's gaming performance? Here's an objective look at its benchmarks.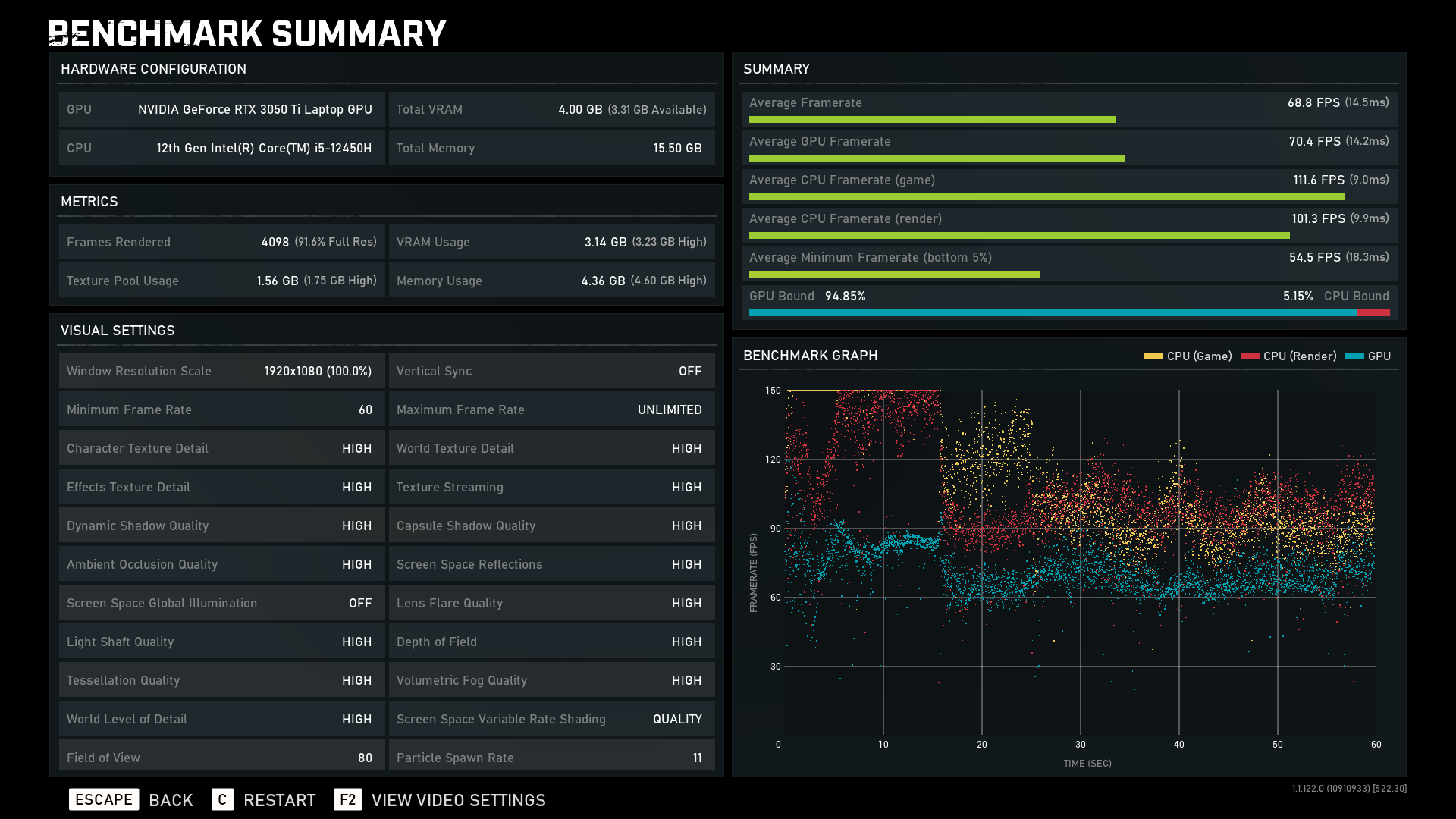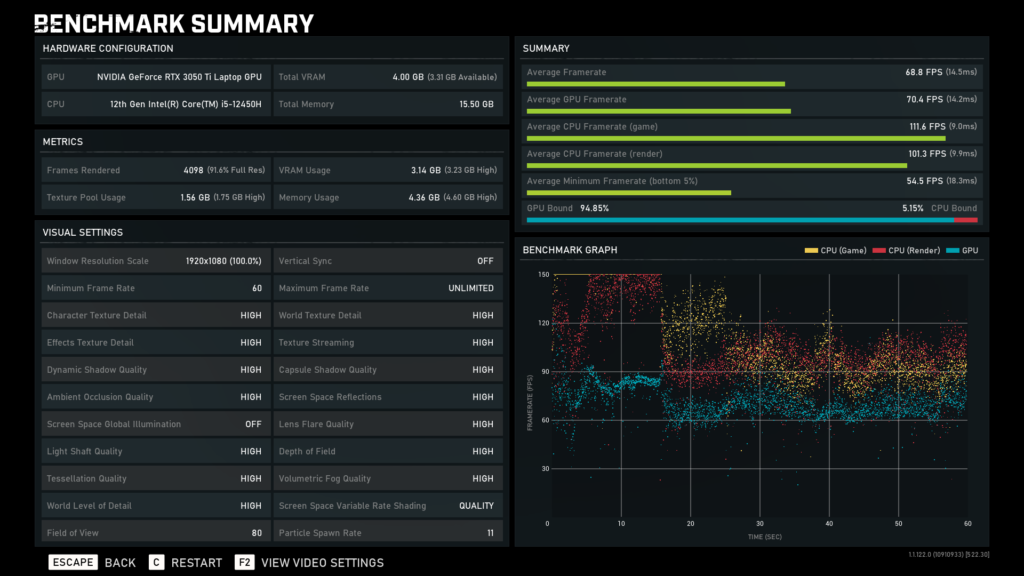 I tested these benchmarks at 1080p resolution at a high graphical preset with V-sync OFF. Starting off with the Dirt 5, the laptop scored around 68 FPS. In Gears 5 again, the laptop scored close to 68 FPS. And while running the more demanding Metro Exodus, the laptop scored 53 FPS.
It is clear that the laptop can run most games at around 60FPS in high settings in 1080p resolution, which is good enough performance for the OLED screen which is anyways limited to 60Hz. Moreover, we also have to keep in mind that the Vivobook Pro 15 isn't primarily a gaming device but seeing the kind of performance it has makes it a decent gaming machine as well.
ASUS Vivobook Pro 15 Verdict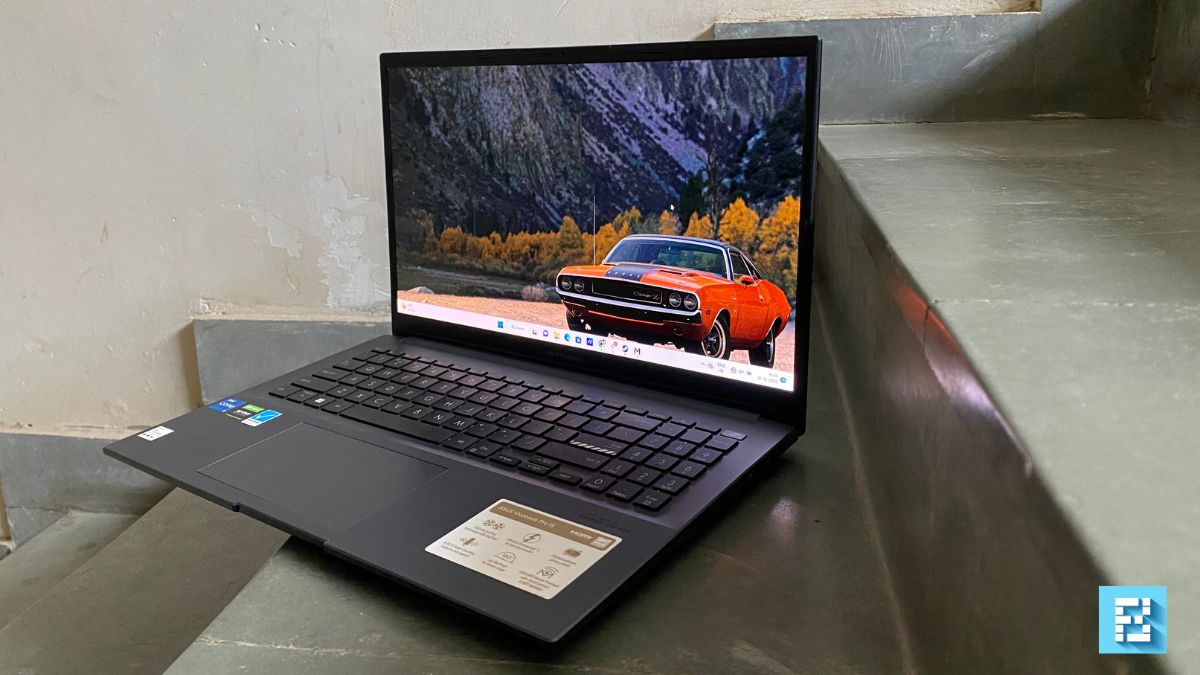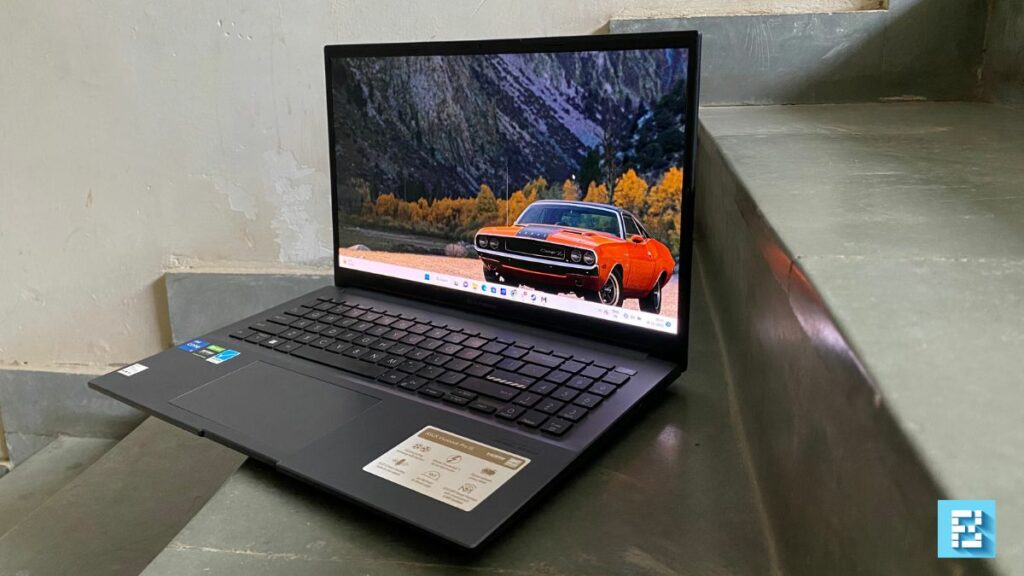 ASUS Vivobook Pro 15 Review
Summary
The ASUS Vivobook Pro 15 offers a best-in-class OLED display, a decent speaker setup, and above-average battery life. Its processor might not be a multitasking beast when compared with other chips with higher core counts but for office and productivity tasks it is still more than enough. Additionally, the Nvidia RTX 3050 Ti does a great job of making this otherwise thin and light creator's laptop a gaming machine. Almost no other device on the market offers a setup similar to the ASUS Vivobook Pro 15 and for that, it becomes an easy recommendation.