The first thing I want to mention in this Lenovo Legion 5i review is how the gaming laptop takes cues from its more powerful cousin, the Legion 5i Pro, and delivers a package that's highly versatile. For the uninitiated, the "i" in the Legion 5i stands for Intel, as it comes equipped with a 12th Gen Core i7 processor. Lenovo also has an AMD version of the same laptop, simply called the Legion 5.
For the review, we have a Lenovo Legion 5i's top-spec variant which comes with 32GB DDR5 RAM, an Nvidia RTX 3060, and the aforementioned Intel Core i7-12700H CPU. Every year when Intel and AMD release their brand new chips, OEMs also rush to launch an updated variant of their laptops. Usually, these changes are limited to minor spec bumps but this time, Lenovo's design team did a comprehensive job with its Legion 5 laptop series.
Lenovo nailed the design of its Legion 5 Pro series last year. Hence, it only makes sense to use what worked well across its other variants as well. It is exactly what you see in the Legion 5i 2022. But unlike its "Pro" gaming cousin, the Legion 5i remains subtle design-wise which further helps the laptop to establish itself as a sensible versatile machine and not just a full-fledged gaming laptop.
Lenovo Legion 5i Specifications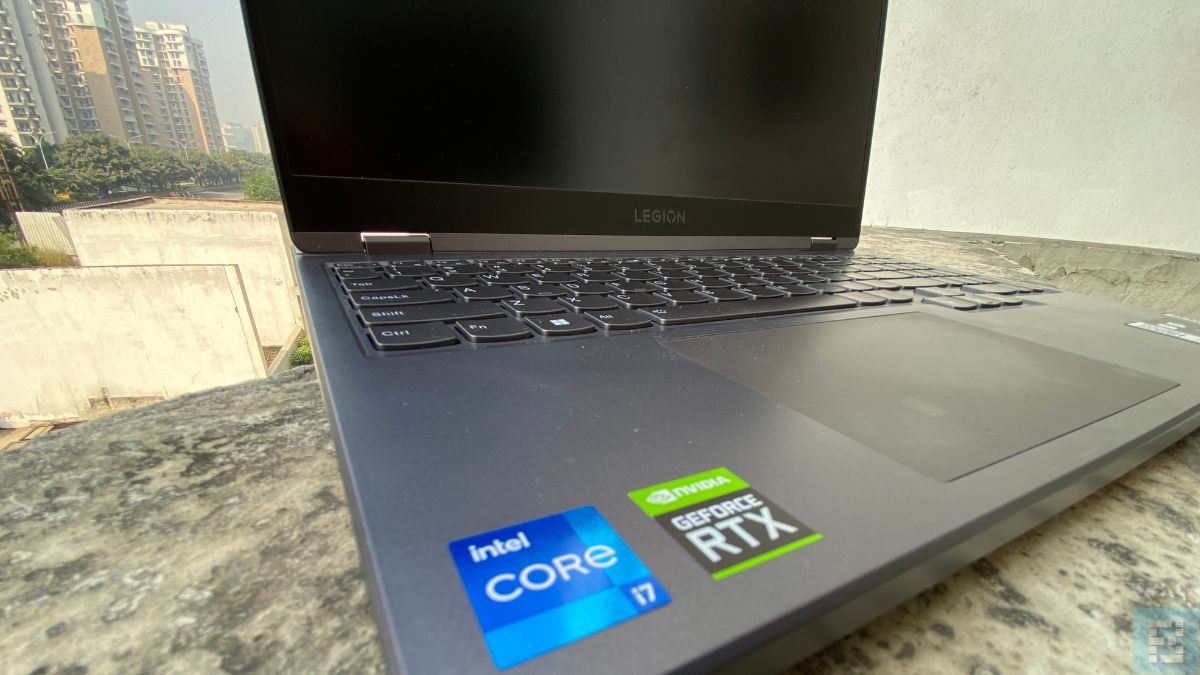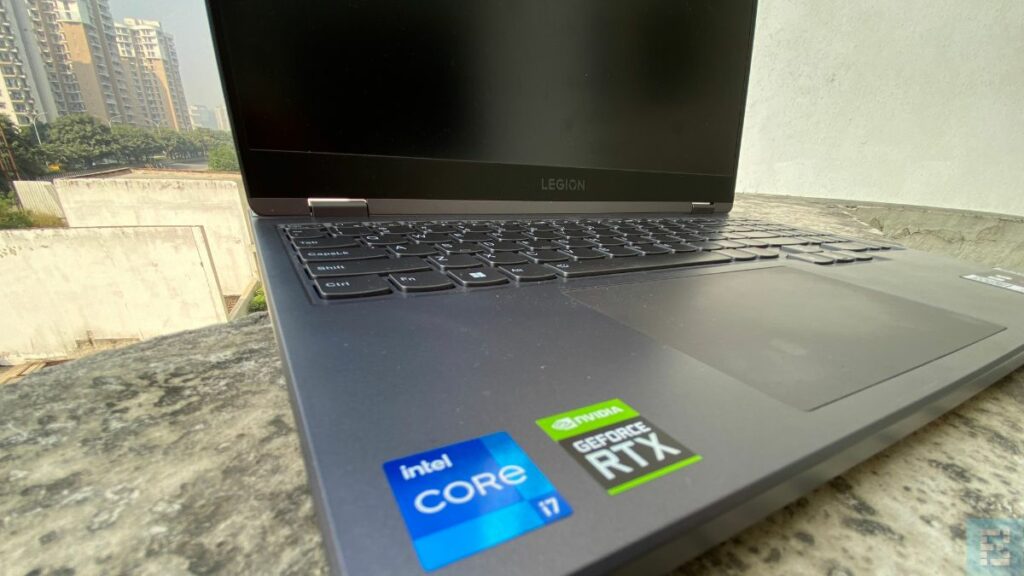 Processor: Intel 12th Gen Core i7-12700H CPU Featuring 14-Cores (6 P-Cores, 8 E-Cores) 20-Thread with 45W default TDP.
Graphics: Nvidia RTX 3060 with 6GB GDDR6 VRAM, 140W TGP.
Memory: 32GB DDR5 running in Quad-Channel mode.
Storage: 1TB NVMe SSD.
Weight: 2.4kg.
Display: 15.6-inch WQXGA IPS display with 165Hz refresh rate, 300 nits brightness, 2560 X 1400 pixel max resolution.
I/O Ports: 2 X USB Type-C port (1 X Thunderbolt 4 port), 3 X USB Type-A port, USB Type-C PD charging port, HDMI port, Ethernet port, 3.5mm USB port, SD Card slot, physical camera shutter.
Lenovo Legion 5i Design and Features Review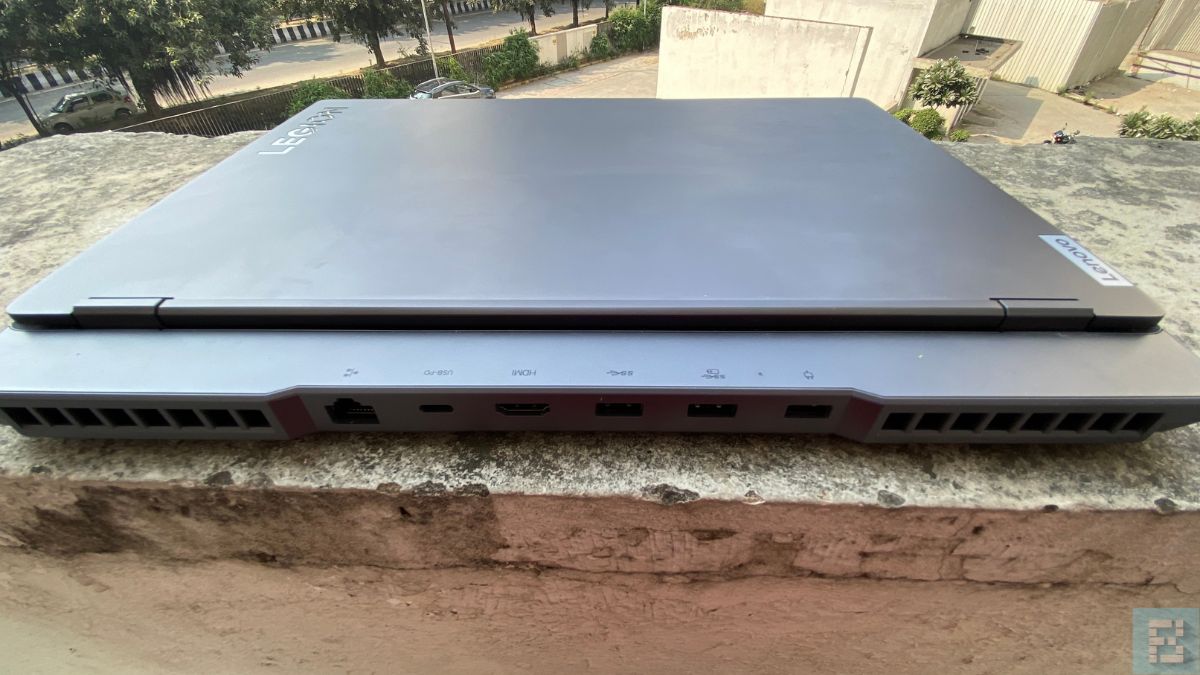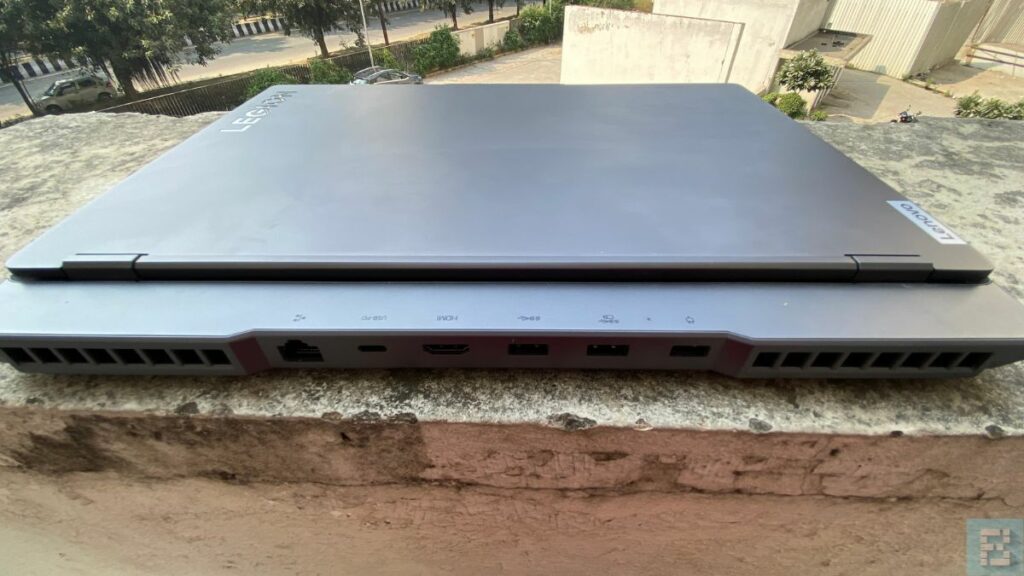 The first big change you'll notice on the Lenovo Legion 5i is the transfer of the majority of side ports. Apart from a USB Type-A port on the right and two USB Type-C ports on the left, the Legion 5i features no extra slots on the sides. Instead, most of the ports are now located on the back, including an HDMI slot, two USB-Type-A ports, a DC charging port, a USB Type-C PD charging port, and an ethernet slot as well. If you're a creator, you'll find that there's almost everything here except for a full-size SD card slot.
Now, the protruding back does mean that the screen size is a bit smaller compared to the laptop's overall footprint. But it's still a healthy 15.6-inch IPS LCD display, about which we'll talk in detail later. One thing which I hoped Lenovo would bring over from its Pro series to its other products is the 16:10 aspect ratio display; the added height makes a world of difference to using a laptop, doesn't matter if you're streaming content, playing videogames, or editing 4k footage.
While naturally sitting on your desk, the keyboard is positioned on a little incline. Mainly because the laptop is thicker towards the end, probably for better cooling. But this change only makes the keyboard more comfortable to type. It feels much easier to rest your hands on the desk during furious typing sessions as well. Moreover, the concave keys are big and have a nice travel to them which also makes typing more comfortable.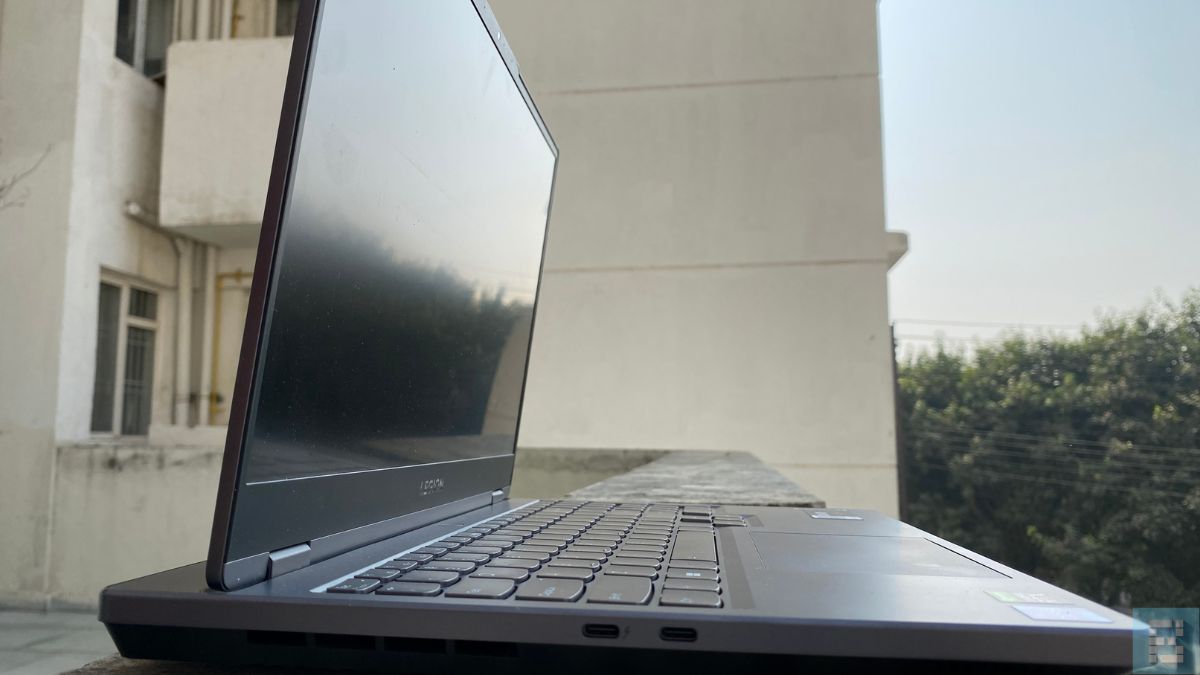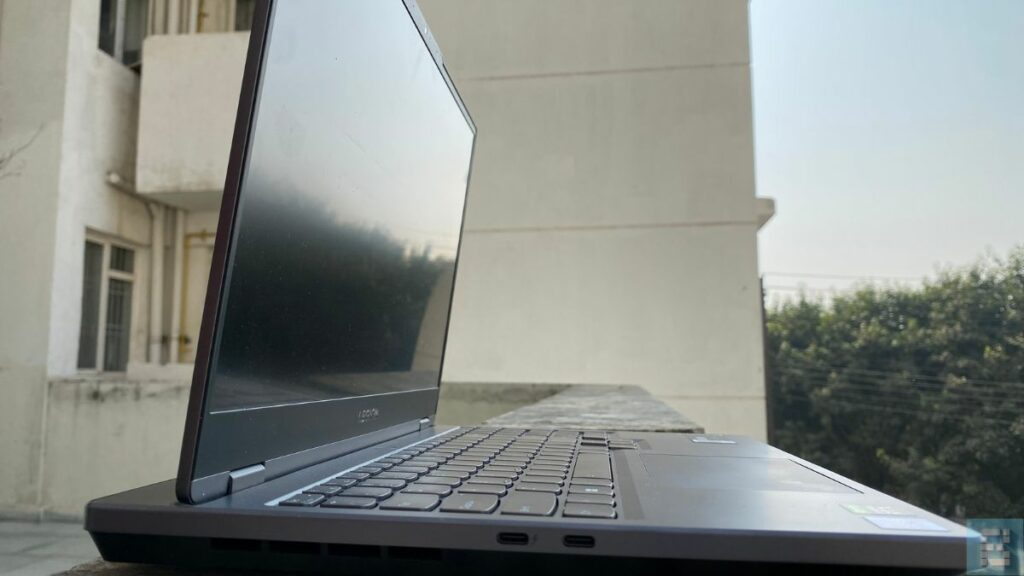 Personally, I wish there wasn't a Numpad on this laptop so the other keys would be much bigger and more spaced out, but I do see the benefit of including it for most users out there. Speaking of buttons, the Legion 5i's power button remains the same as the previous generation and it turns red when put into performance mode which, even in 2022, looks really cool.
The laptop's overall build quality is top-notch. Apart from Dell and Apple, Lenovo is the other brand that consistently builds rock-solid machines. The chassis is made from a mix of Magnesium and Aluminium and thus easily holds its own against daily wear and tear.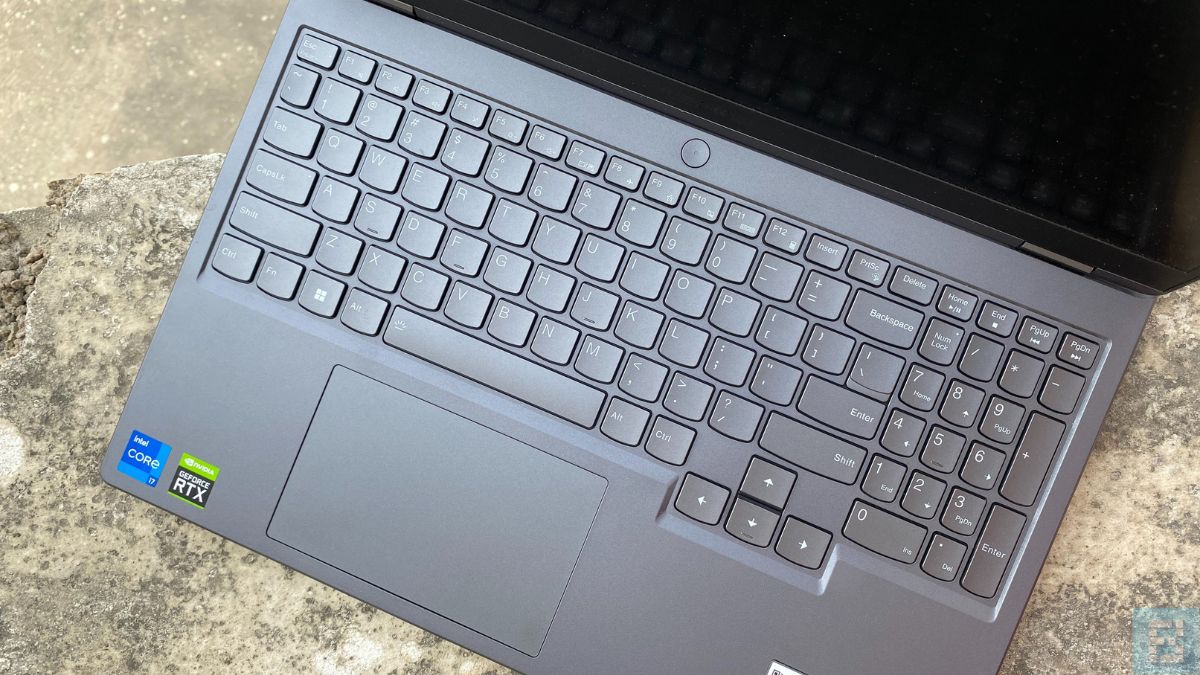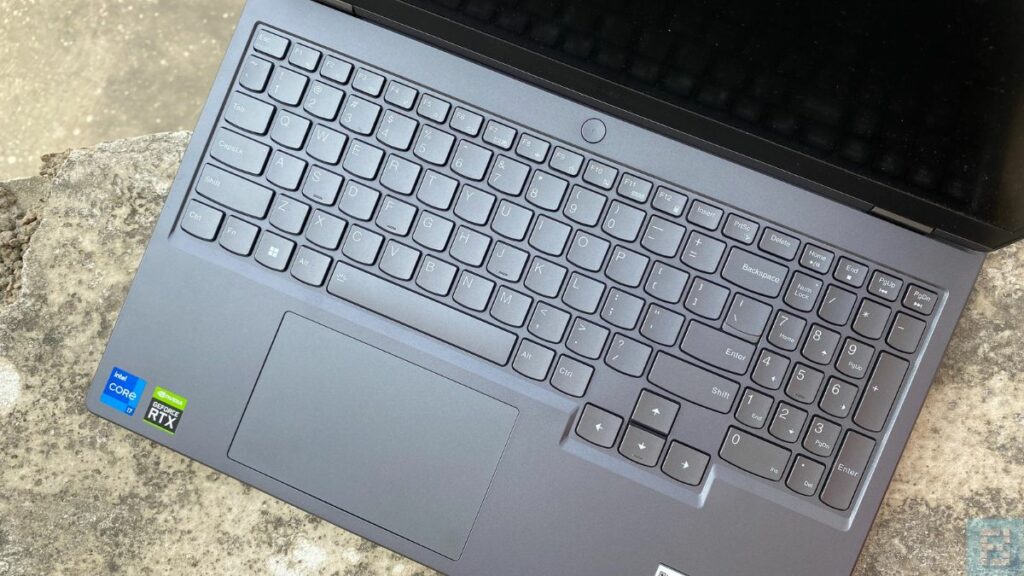 The screen's hinge is very solid and has a tiny protruding extension that allows me to open the lid easily with one hand. I often use the deck to keep my pasta bowl, or my milkshake jar (yes, I live dangerously), while streaming content. And even after a week of using the laptop as an ultra-premium stand, there are no visible scratches or marks on its surface. Cleaning the laptop is also fairly easy and doesn't matter how sweaty your hands are, the surface stays smudge-free most of the time.
The laptop does weigh close to 2.4kg but in case you're willing to lug around the added weight, the Legion 5i doubles up as a very reliable machine thanks to its cooling performance, about which we'll talk in the performance section.
Lenovo Legion 5i Screen And Speakers Review
The Legion 5i's screen is a 15.6-inch WQHD IPS LCD display that supports a 165Hz maximum refresh rate and a 1400p max resolution. It has a 16:9 aspect ratio, which is found in most laptops. The peak brightness of the display is 300 nits, which is again kind of an industry standard.
In real-world usage, you'd find that the screen is decently lit. My office has pretty bright ceiling lights and the Legion 5i's screen looks good even in this condition. The viewing angle of the display is decent for the most part. The display is also non-reflective and has a matte finish to it, which is a solid plus in my book.
Moreover, the screen is certified with an X-Rite Pantone validation making it color-accurate as well. The Lenovo Legion 5i has downwards-facing speakers and they are quite loud. Even in a crowded office, you can kick back and enjoy a video without external earphones.
Lenovo Legion 5i Gaming And Performance Review
To reiterate, the Legion 5i we tested is equipped with an Intel 12th Gen Core i7-12700H processor and an Nvidia RTX 3060 with 6GB GDDR6 VRAM. The laptop also has a MUX switch and I used the same while testing games. Moreover, Lenovo has increased the max TGP for the RTX 3060 by 10W in this generation, with the total TGP for the GPU now at 140W. Paired with this setup is 32GB DDR5 memory running in the quad-channel mode for maximum performance gains and a 1TB SSD to handle storage duties. We tested the Lenovo Legion 5i in our gaming benchmarks at 1080p and 1440p resolution.
The Legion 5i can easily run titles like Dirt 5, Gears 5, Assassins Creed Valhalla, and GTA 5 at 1080p above 100FPS. Meanwhile, it ran games like Metro Exodus and Assassins Creed Valhalla at around 88FPS at 1080p resolution. Running all these benchmarks at the Legion 5i's native resolution gave us lower numbers, naturally, but the question is by how much? In easy-to-run games like Gears 5, GTA 5, and Dirt 5, the laptop scored between 90-100FPS at 1440p resolution. However, in more demanding titles like Metro Exodus, the laptop scored around 66FPS at its native resolution.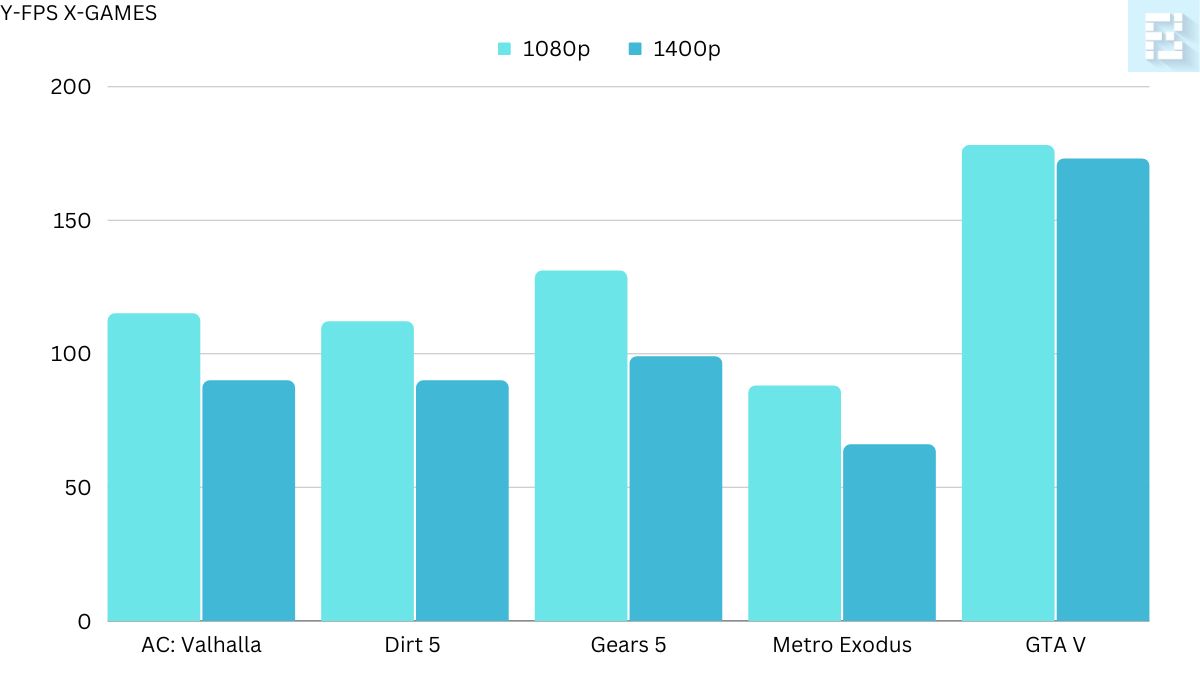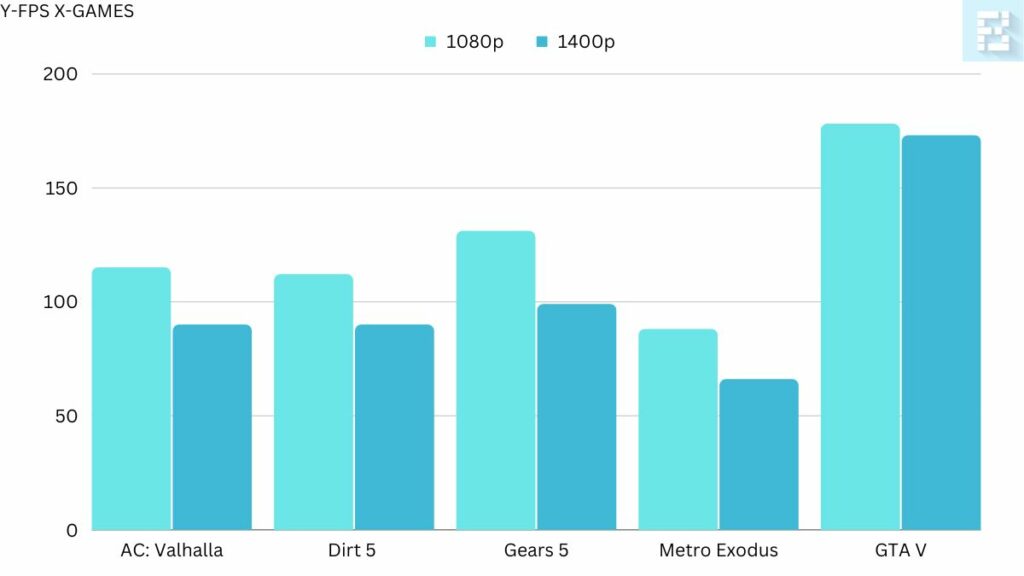 The GPU only has 6GB GDDR6 VRAM which could be an issue in future titles. For instance, the AC: Valhalla consumed 5820 MB of 6144MB of the Nvidia RTX 3060 when running the game at its native 1440p resolution. Because of the added resolution, I'd suggest going for the higher Nvidia RTX 3070Ti variant of the laptop if you wish to make full use of the 1440p display on offer. Otherwise, 1080p gaming on this device is better suited, keeping future gaming requirements in mind.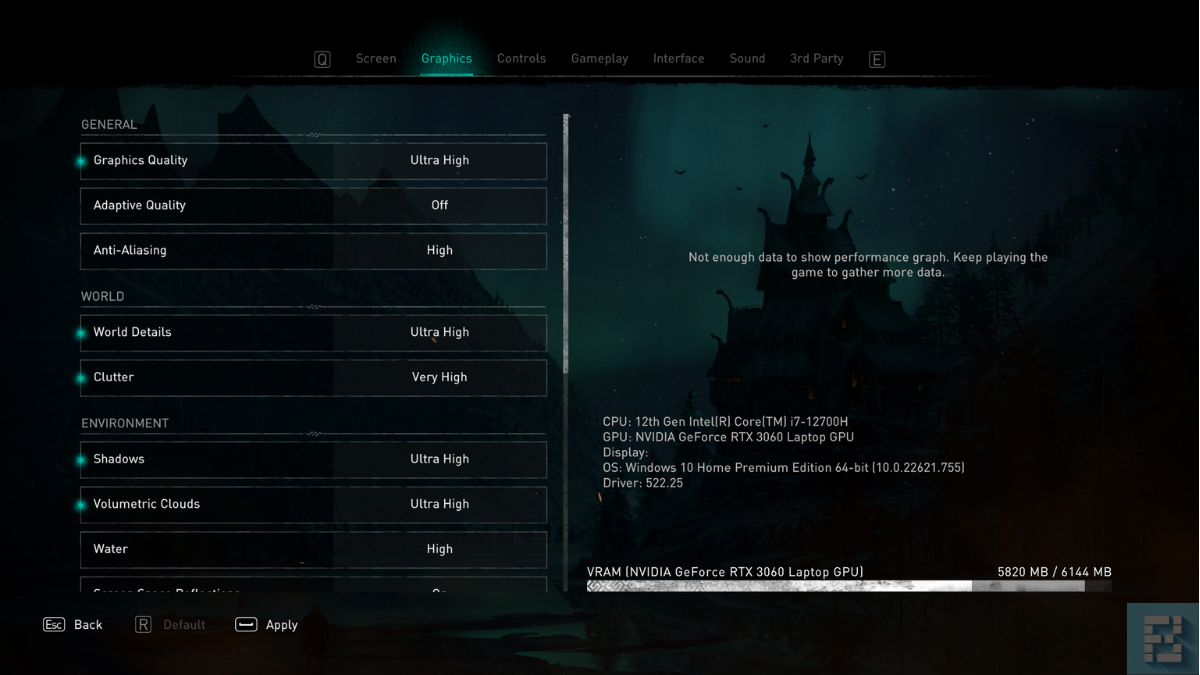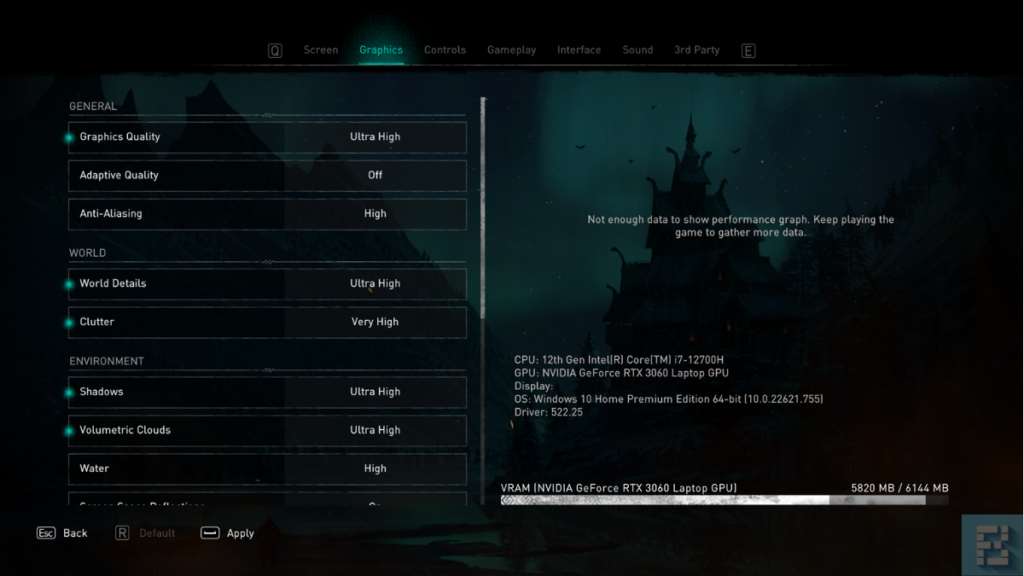 Moving on to its performance, in Cinebench R23 the laptop scored 17333 in multi-core tests and around 1777 in the single-core performance tests. The Intel Core i7-12700H generally has similar scores. In my Acer Predator Triton SE 500 review, the laptop also scored around 17736 in the multi-core test and 1752 in the single-core test. In general, the overall performance of the chip is great for both multi-core and single-core focused tasks.
Speaking of efficiency, the CPU has a Power Limit 1 (PL1) and Power Limit 2 (PL 2) of around 115W and 130W respectively. In the Cinebench R23 stress test, the Intel Core i7-12700H reached a maximum CPU package power of around 108W and remained mostly between 85-90W for the duration of the test.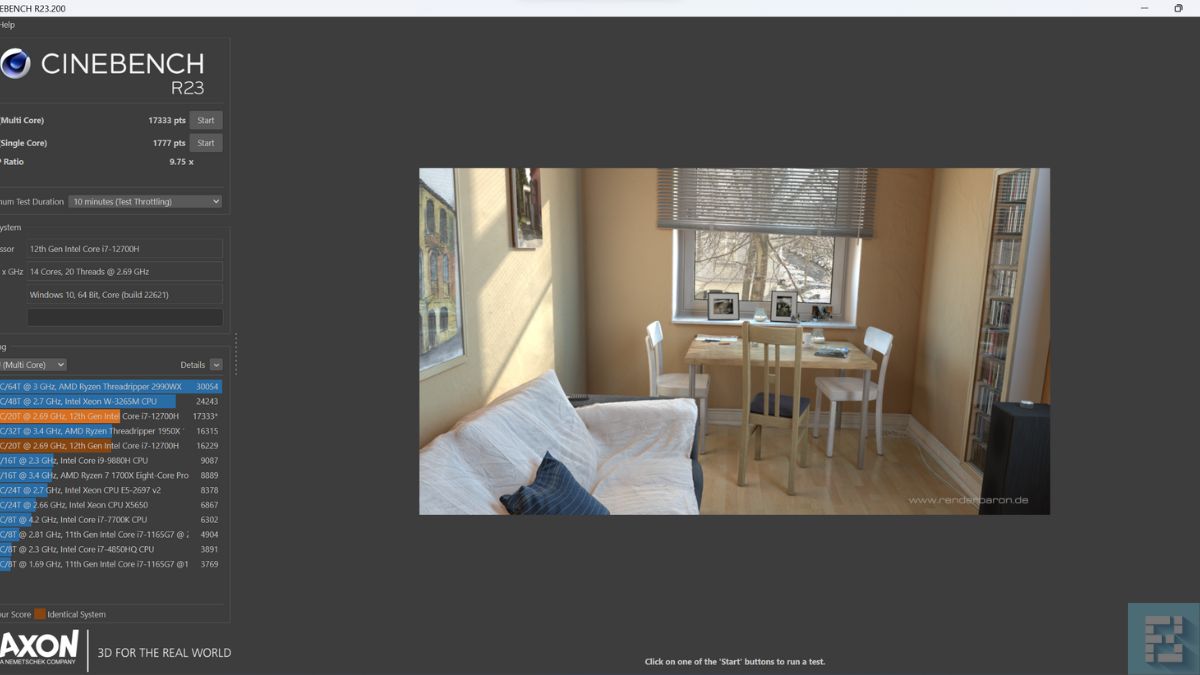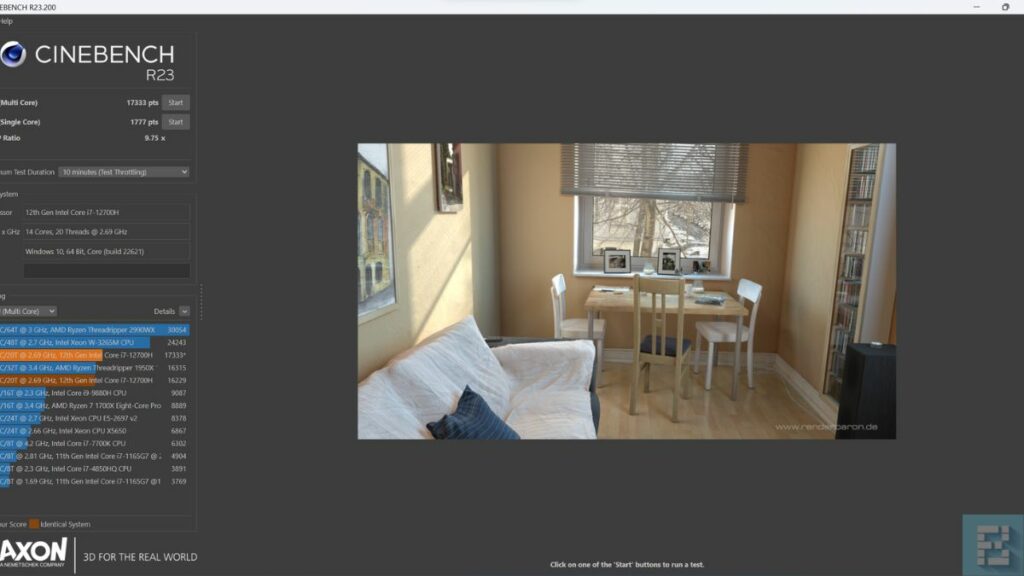 During gaming, the CPU package power reaches close to 66W but remains between 30-45W during the duration of the game. However, under normal usage like streaming, browsing, and editing documents and sheets, a maximum the CPU draws a maximum of 44W most of the time. And the Package Power remains close to 20W under light usage. Overall, these numbers are pretty good. In terms of temperatures, the CPU easily manages to stay below 72 degrees under normal usage. While gaming, the temps spike up to 85 degrees but mostly stay within the 60-75 degree range.
Now the GPU draws close to 125W and goes as far as up to 131W in some cases while gaming. I noticed this power draw while playing AC: Valhalla at a high graphical preset at 1440p resolution. Therefore, it is safe to say that the GPU is drawing enough power to its claimed 140W TGP limit, which simply means performance is delivered as advertised.
Lenovo Legion 5i Review: Verdict
Lenovo Legion 5i Review: The Office Gaming Laptop
Summary
Thanks to a subtle yet highly functional design and powerful internal components, the Lenovo Legion 5i is a great choice for a gaming laptop that doubles up as an everyday productivity machine. Apart from the few shortcomings I mentioned in the article, I wish for Lenovo to add a 135W USB Type-C PD charger to the laptop too. make it easy to travel with on a daily basis.
If you're also looking for a thin and light gaming laptop, do check out our review of the Acer Predator Triton 500 SE.