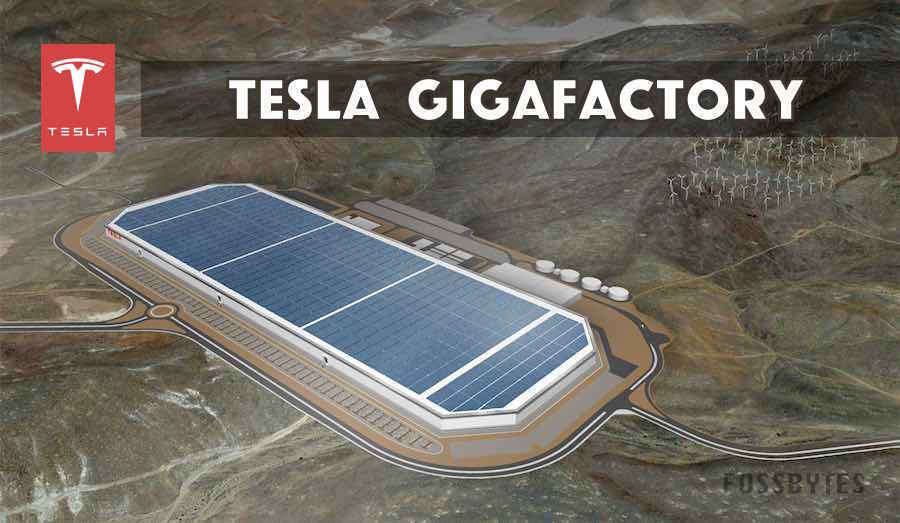 Short Bytes: To meet its upcoming projected production of the electric cars, Tesla is going to add another feather in its cap by opening Gigafactory. It is supposed to produce batteries for the electric car with a goal of achieving net-zero energy and it will also use the renewable source of energy.
T
esla, a company which has become a
synonym for the innovation
, is ready to come up with its battery plant this summer in 2016. The battery plant is supposed to produce stationary battery which will store solar power and can be reused later.
In this endeavour, the Japanese company Panasonic has already partnered with the electric car-maker Tesla. Panasonic is going to invest $1.6 billion in Tesla's Gigafactory.
The grand opening of the factory is scheduled to open on July 29. This news was informed in an email to customers who were a part of a sales referral program.
Because of resetting its goal to produce 500,000 vehicles a year by 2018 than 2020, Tesla will need more batteries to power its vehicles.
The previous month, Tesla unveiled its Model 3. For this car, Tesla has already taken 400,000 car reservations orders.
The Gigafactory will produce batteries for significantly less cost using:
Economies of scale
Innovative manufacturing
Reduction of waste, and
Optimization of locating most manufacturing process in near vicinity
Tesla is also expected to drive down the per kilowatt hour (kWh) cost of their battery system by more than 30 percent. Gigafactory will also use renewable sources of energy with a goal of achieving net-zero energy.
Reason behind the name Gigafactory:
The Gigafactory name comes from the projected production capacity of this future company where "Giga" represents a billion and the factory is supposed to generate one billion watts for one hour.
Also Read: Elon Musk Wants To Develop An Electric Airplane That Takes Off And Lands Vertically