Apple claims that the M1 Pro and the M1 Max hold water as the new M1 Max GPU benchmarks surface. So far, the M1 Max Metal benchmark and GFXBench results are out.

M1 Max gets a Metal score of 68870, which is 3x faster than the M1 MacBook Pro. However, the Intel-based MacBook Pro 16 with its top GPU configuration still beats the M1 Max.
It is not confirmed whether the M1 Max chip in the metal benchmark is a 24-core GPU or a 32-core GPU setup. We think it is a 24-core setup, as Apple designed these chips to replace the previous ones. So it doesn't make sense if their top performer falls short of its predecessor.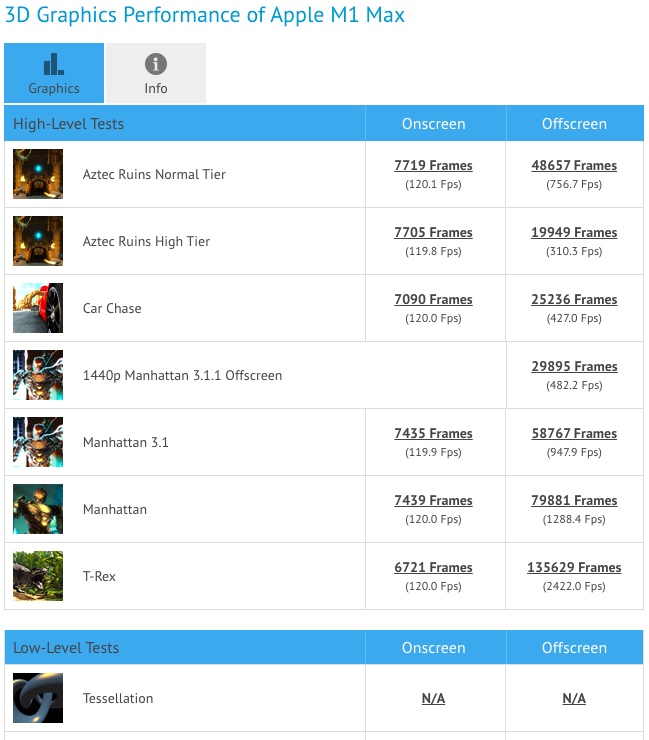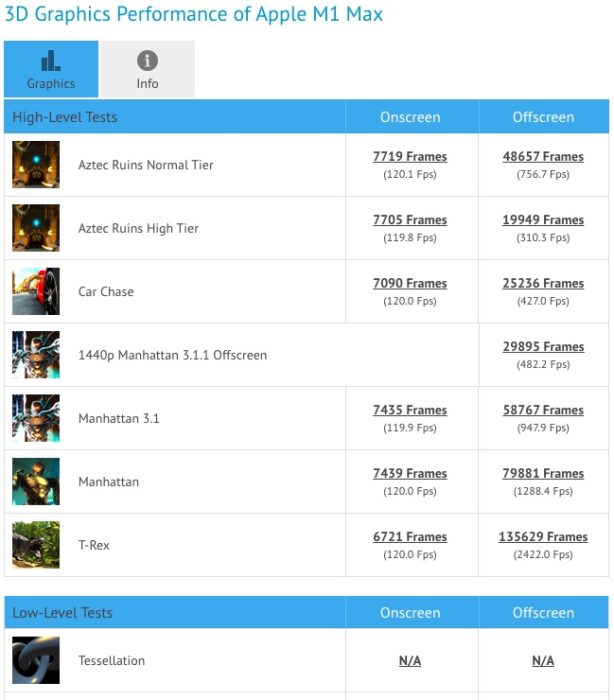 Coming to the M1 Max GFXBench score, the chip's graphics manage to beat the Nvidia RTX3070 in a Razer Blade 15. The M1 Max GFXBench performance is nearly 25% faster than the RTX3070. While there's no comparison drawn with the RTX3080 yet, this score shows how Macs are improving in terms of graphic capabilities.
The M1 Max/Pro chips are also the fastest chips in a Mac to date. Geekbench benchmark shows a single-core score of 1749 and a multi-core score of 11542. Folks at MacRumors point out that the M1 Max score is beaten only by the higher-end Intel Xeon chips in the existing iMac Pro and Mac Pro. Those chips are also due for Apple's silicon treatment in the coming year.
For now, it is best to use these CPU and GPU benchmarks with a grain of salt. More credible and widely-tested results should start pouring in when the MacBook Pro 14 and 16 deliveries start. You can check the new MacBook Pro's specifications in the linked article. You should also check out our updated Mac buying guide to choose the right Mac.