Short Bytes: A part of the Windows 10 Insider Build 16251 is a new feature that allows Android and iOS users to connect their devices to Windows 10 PCs. Currently, the option allows them to continue viewing web pages on their PC.
T
he latest Windows 10 Insider Build 16251 was
announced yesterday
by Microsoft's Dona Sarkar. One notable and useful feature that's included in the preview build is the ability to connect your Android (iOS support coming soon) to your Windows PC.
Linking the two devices is to deliver the cross-device experience which is currently limited to web browsing. For instance, you can open a particular web page on your Android phone and continue reading it on your Windows PC.
To link your Android phone to Windows 10, you can open the new Phone option in the Settings after installing the Insider Preview Build 16251. The linking process requires you to install a test Android app called Microsoft apps. A link for the same is sent via SMS when you initiate the linking process.
When browsing a web page in Google Chrome on your Android device, you send the web page to your Windows PC by tapping the overflow menu button (three dots) and selecting 'Share' option from the list. The process might slightly differ for other web browsers.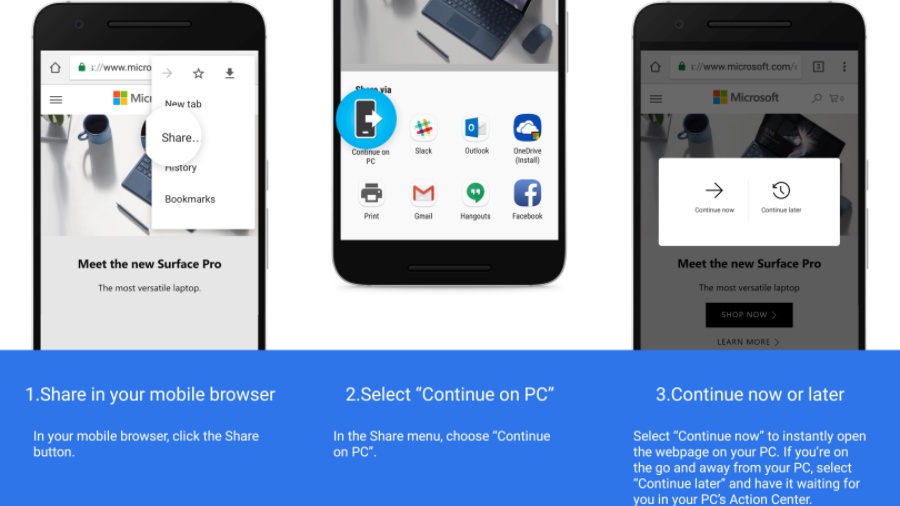 On the Share screen, you have to tap 'Continue on PC'. Post that, tapping 'Continue Now' would open the web page immediately and 'Continue Later' will display the website in the Action Center. The linking feature would arrive in Windows 10 with the release of the Fall Creators Update in September. Meanwhile, you can check out seven great features coming with the Fall Creators Update.
Introducing the option to link smartphones to Windows PCs is another step from Microsoft towards homogenizing the device ecosystem for the users. The Connect app on Windows 10 already allows users to mirror their smartphone screens on Windows 10 PCs.
Among other updates included in the Insider Build 16251, Cortana's interface can expand to show the contents of a web page instead of opening the web browser. You can now ask Cortana questions like, "Hey Cortana, Restart PC" or "Hey Cortana, sign out", to perform sign-out, shutdown, lock, restart operations without using your voice.
What do you think about the latest feature Microsoft has introduced? Drop your thoughts and feedback.