The last six months are filled with a lot of headlines by the announcements of new Linux-based laptops. Various new players have emerged to lure the new audiences with pre-installed Linux distros in their high powered laptops.
Along the similar lines, System76 has again come up with its new lightest laptop, Lemur Pro. Though they are an old player building Linux based desktop, server, or laptop, they're now including their own services more. Hence, the latest Lemur Pro targets to bring high battery power and lightweight with either their own pre-loaded Ubuntu-based Pop!_OS or Ubuntu.
Lemur Pro: Technical Specifications
The most highlighting feature that system76 wants to focus on is Lemur Pro's high battery usability. If you're a great fan of epic fantasy adventure series Lords of the Rings, you can finish it in 10 hrs as it has an original theatrical time of 558 minutes.
Not only that, you can read Wikipedia articles for 16 hours and write code in VIM editor for 21 hours continuously without plugging in the charger. You may not have that ability to sit for such a long time, but Lemur guarantees to sustain up to that time.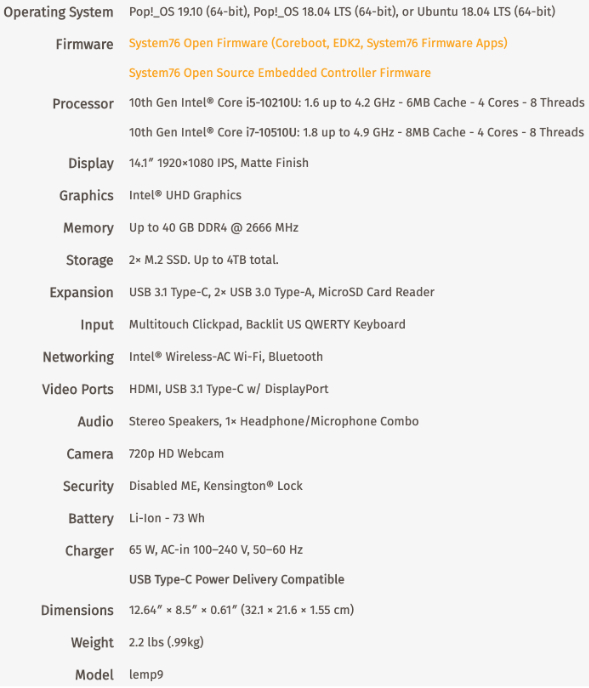 Lemur Pro relies more on the open-source software built by System76, such as Firmware (Coreboot, EDK2) and Ubuntu-based Linux distro Pop!_OS. But, if you love beginner-friendly Ubuntu more, you can install it as well.
The 10th generation Intel processor with quad-core enhances the gaming experience more on its 14.1 inch Matte IPS. The graphics unit provides the Ultra High Definition display and 720p High definition for a webcam.
For an external device connection, Lemur offers both USB Type-C and Type-A cables alongside HDMI and MicroSD ports. Moreover, you can connect without wires using Wi-Fi or Bluetooth.
If you care about the speed of runtime applications, worry not, as it has RAM of up to 40GB that runs at 2666MHz. In addition to that, Lemur also has two M.2 SSDs that sums up to 4TB of free storage.
At last, the thing that also matters the most is the price. Lemur Pro is the lightest but not the cheapest than Galago Pro that costs only $949. The basic cost of a Lemur Pro is $1,099.
As of now, more details about the purchase or shipment are yet to come. Till then, you can sign up to get early access that most probably will arrive in early April.