Keeping track of your income and expenses can help you to plan your savings, estimate tax returns, and make sure that you don't spend more than you earn. In our day to day lives, we spend money to access a variety of services like transportation, internet subscriptions, etc. Some excellent Android money manager apps can help us in keeping a log of our income and expenditure. If you are the kind of person who wonders at the end of the month where all your money went, you must install a money managing app and let it manage your finances.
Note: This list of apps isn't in order of preference. Select any app that is suitable for you.
Top Android Money Manager Apps for 2018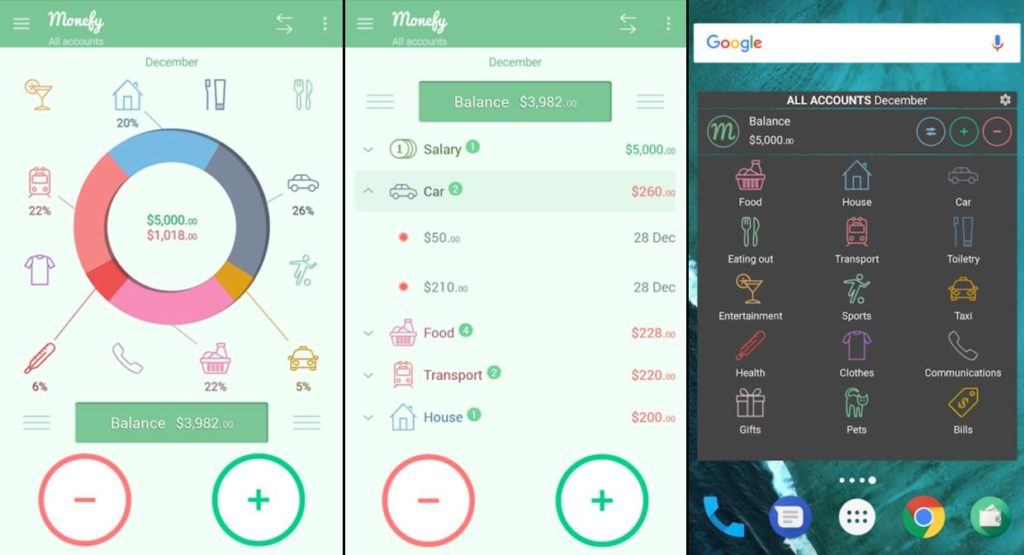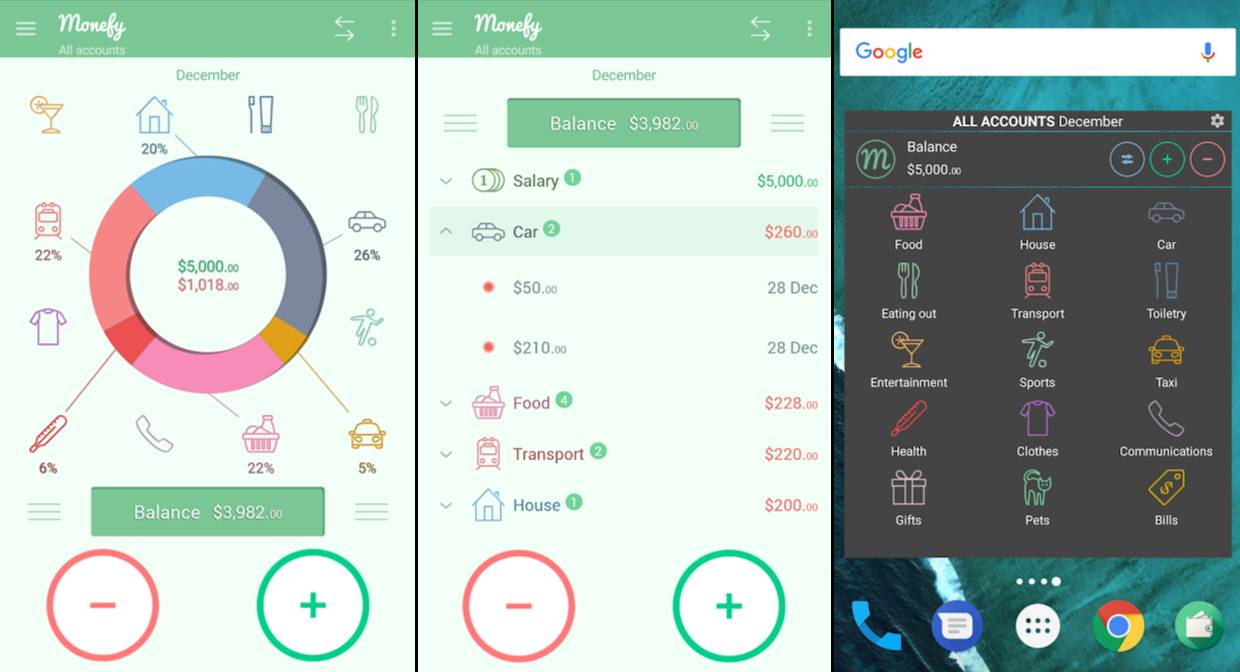 Monefy is a lightweight personal expense tracker app that has an intuitive interface. Your expenses can be managed by many categories such as bills, clothes, entertainment, food, health, transport, etc. Incomes are also categorized by deposits, salary, and savings. The user-friendly interface of this app ensures that every entry to your income or expenditure is a just a single click away. Also, the app comes with widget support for easy entry of data. Your expenses are shown in informative charts that are easy to understand.
Other features include a built-in calculator, passcode protection, support for multiple accounts, synchronization with Dropbox and much more.
The app is free with in-app purchases.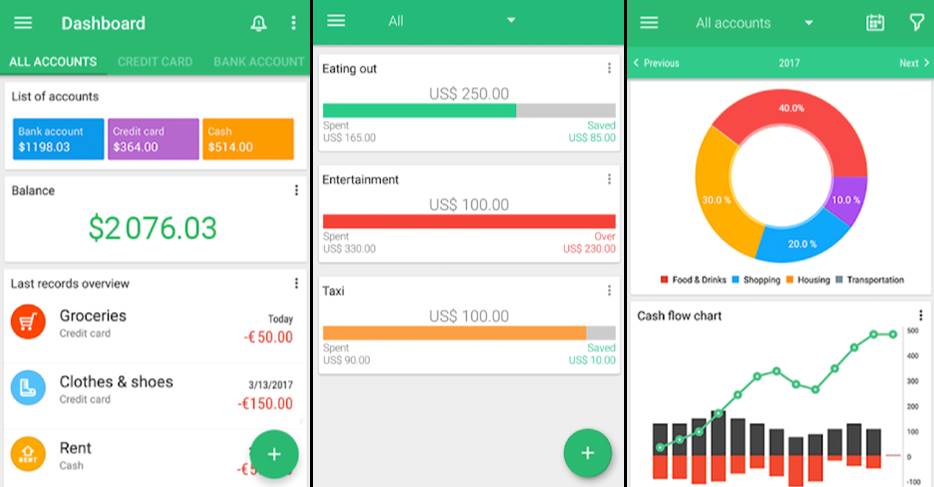 Wallet is a cross-platform money manager app and is used by millions of Android users. It initially requires you to log in using Google, Facebook or email. Your finances will be automatically synced. The app helps you save money and plan for the future. It has easy to understand graphs that give an intuitive analysis of your income and expenses. You can share selected accounts with your family or friends to cooperate on a  budget.
Other features include PIN lock, debt management, receipt and warranty tracking, multiple currency support and more. Moreover, the app has support to sync your transactions with 3,500 banks worldwide.
This personal expense tracker app is free and has in-app purchases.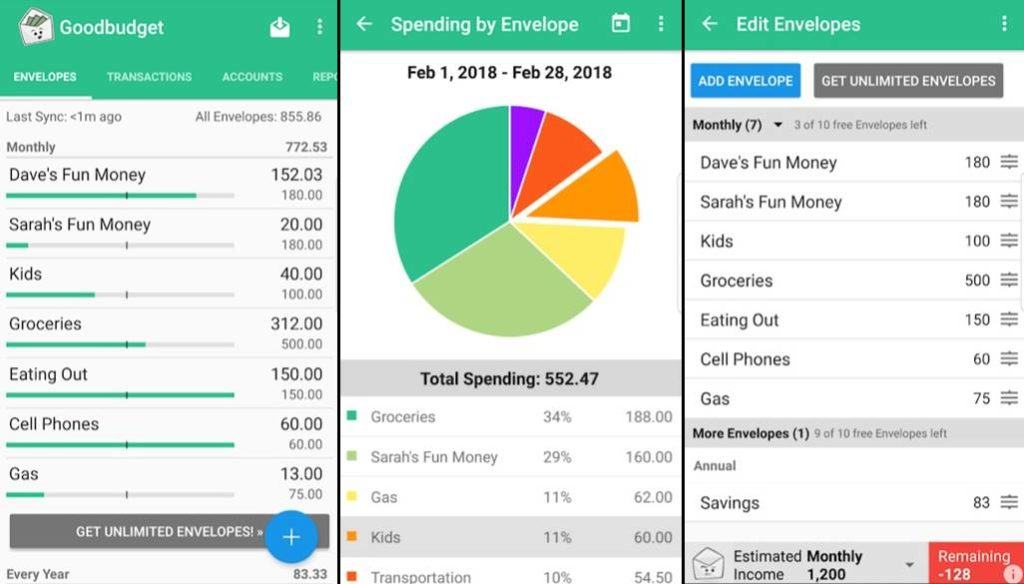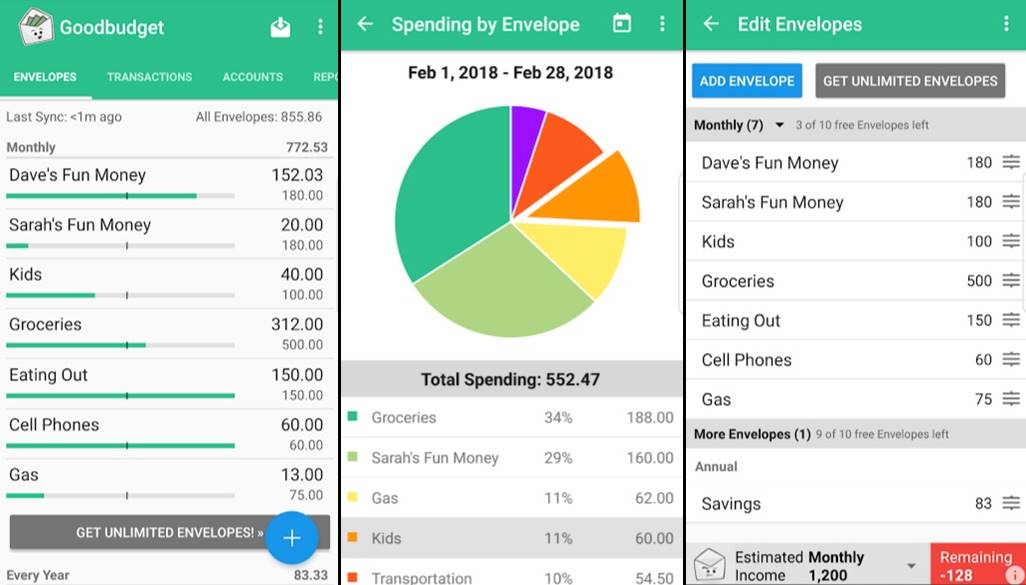 Goodbudget is a lightweight Android money manager app that is great for finance management. Once you sign-in, your budgets are automatically synced. The app is cross-platform and supported in Android, iOS, and the web. You transactions are arranged in a user-friendly interface in the form of envelopes.
You can easily transfer funds between such categorized envelopes and other accounts. The web version also allows you to download your transactions in CSV format.
Goodbudget is free and has no ads. Users can opt for further useful features through in-app purchases.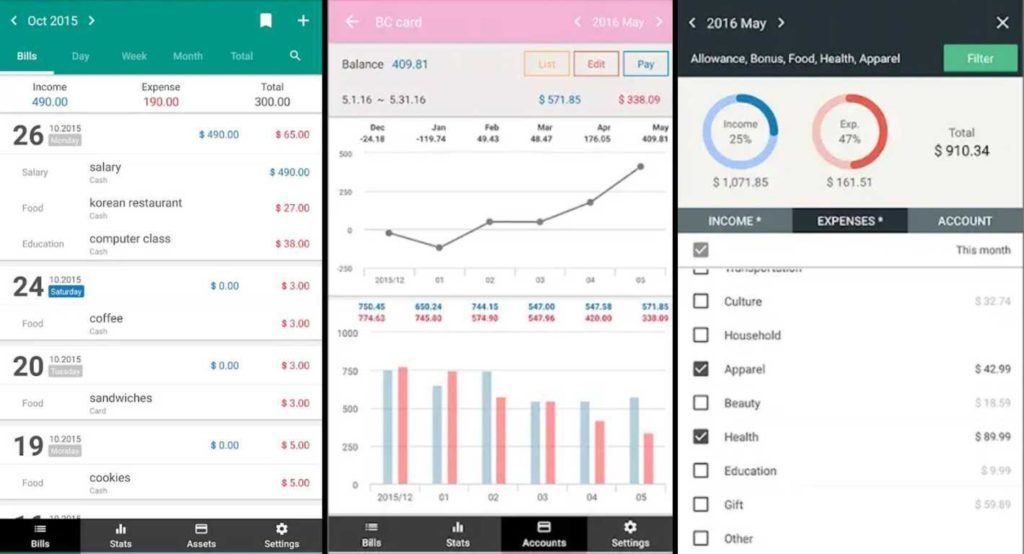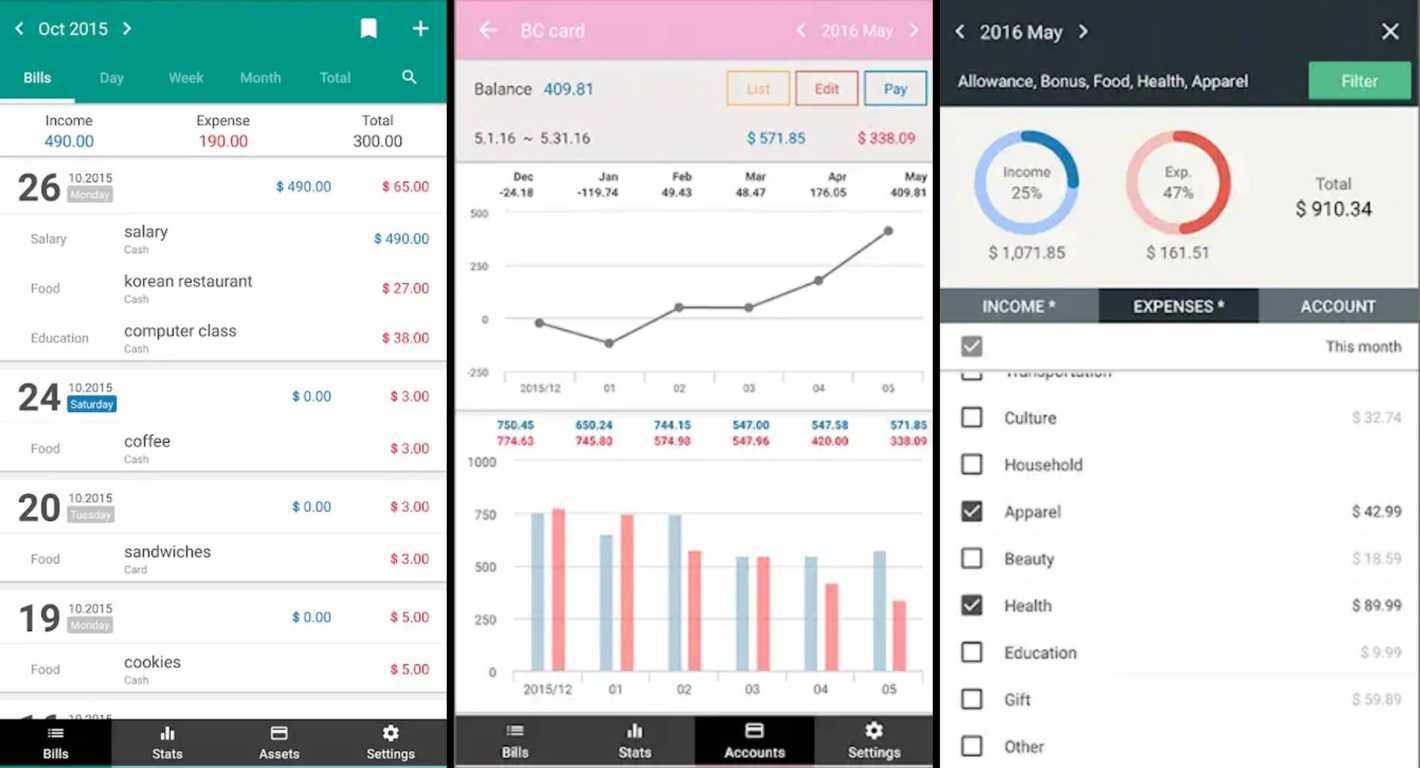 Money Manager can help you record your personal and business transactions, review your daily, weekly, and monthly data, and generate spending reports. It facilitates efficient asset management and accounting, and also allows you to budget your expenses efficiently. Also, it can assist you with your debit and credit card transactions. It has a transfer and recurrence function where you can manage your salary, insurance, term deposit, and loan by setting automatic transfer and recurrence.
Moreover, it includes a passcode feature, bookmark, and an inbuilt calculator. You can even backup and restore your data if you ever switch to a new device.
The app is free and contains ads. However, there is a paid version that is ad-free and gives you unlimited assets.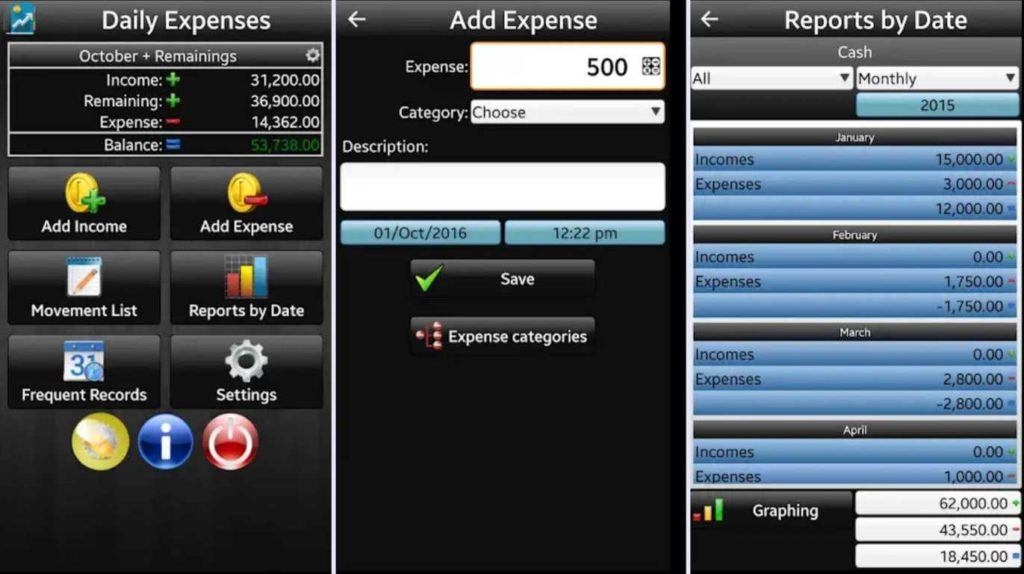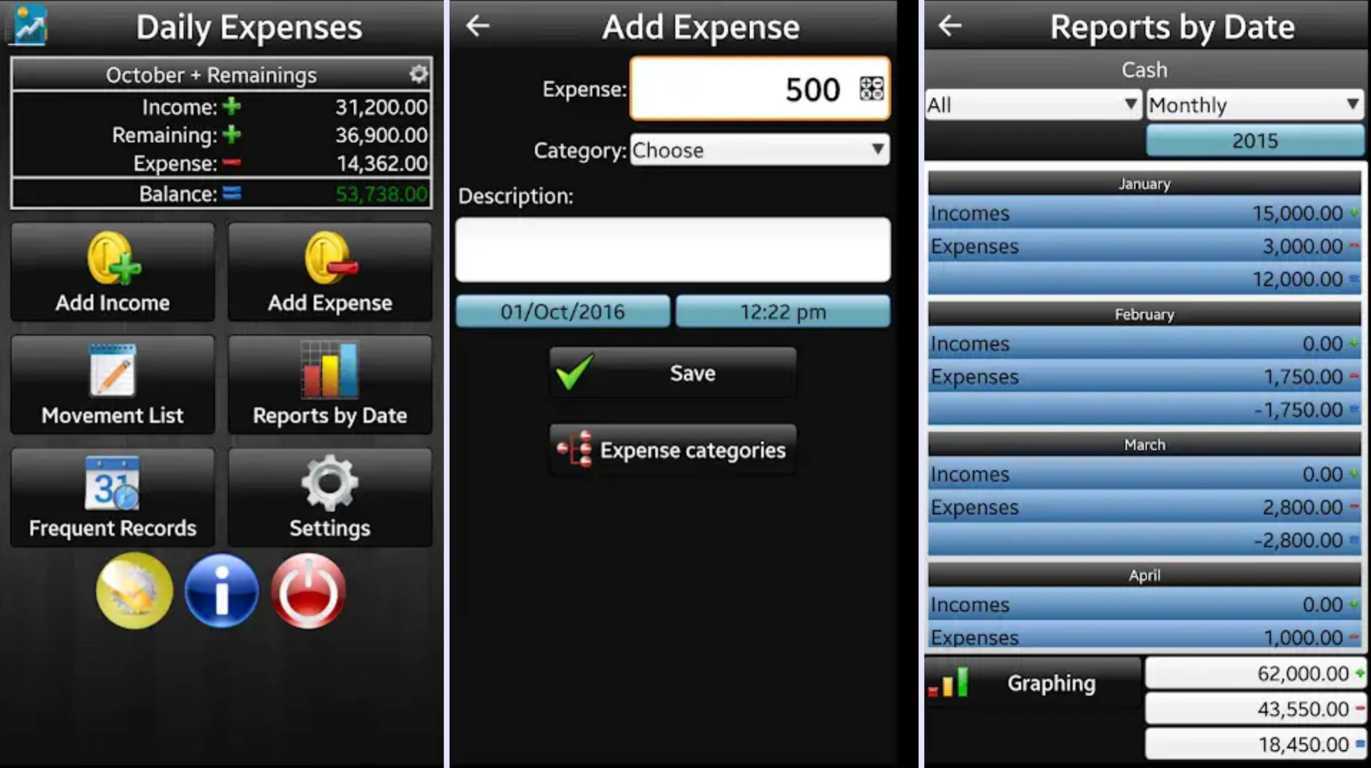 Daily Expenses is another relevant Android budget app designed to organize your income and expenses. It allows you to enter receipt and transaction information, track income and expenses, and review reports. The app is lightweight and has an interface that is well laid out and simple to navigate. It provides separate fields for tracking bank and credit card transactions.
This money managing app has proper budgeting tools for tracking cash flow and projecting expenses and income. You can also protect your information with a password. Moreover, you can email receipt and expense information from the app and store it to the cloud. You can also choose the currency and date format used in your country.
The app is free and contains ads and in-app purchases.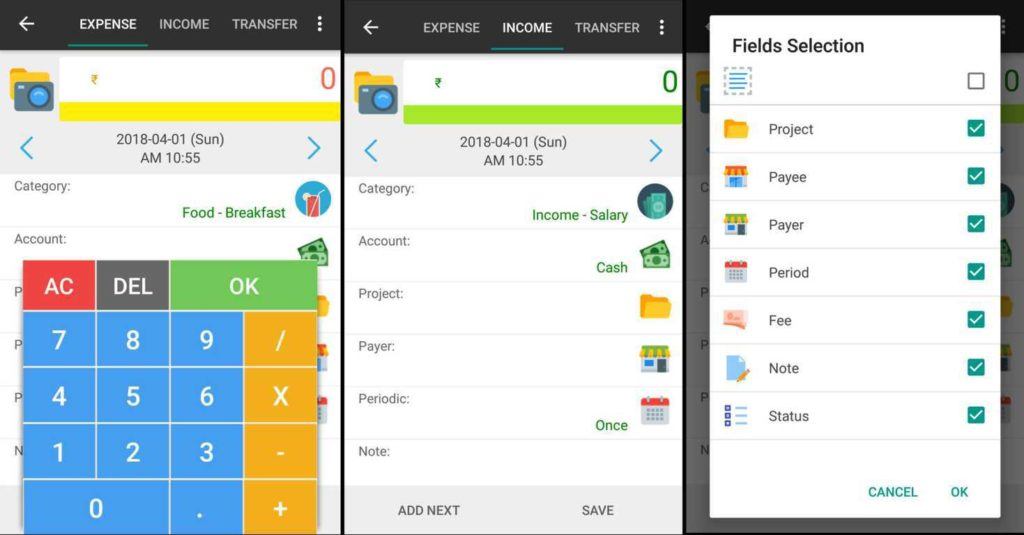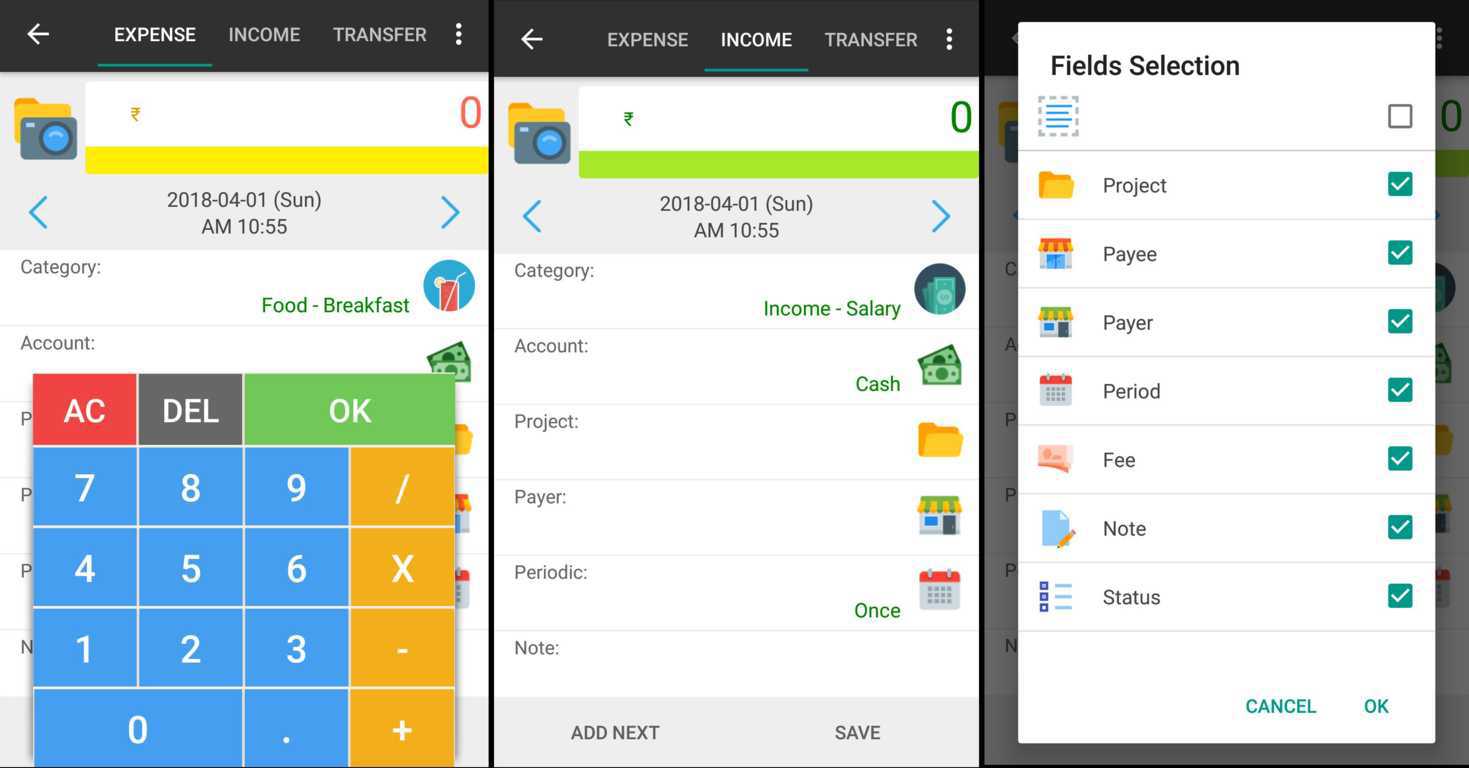 AndroMoney is designed to be a great finance management app for either personal or business expenses. It permits you to add multiple accounts to your profile, check your balance, transfer funds, or create customizable budgets. You can use the built-in calculator to enter your amount and choose a category, account, specific project, payee, and the payment period. It is extremely configurable. Each category also has a series of subcategories.
The app uses reports as a visual way to see your finances. It offers pie charts, trend charts, and bar charts. Also, you can export your data to a CSV file. Moreover, there are various other features like the ability to set a yearly, weekly or daily budget, password protection, and Sync to other devices.
The app covers all the necessary features without any in-app purchases. It is free and contains ads.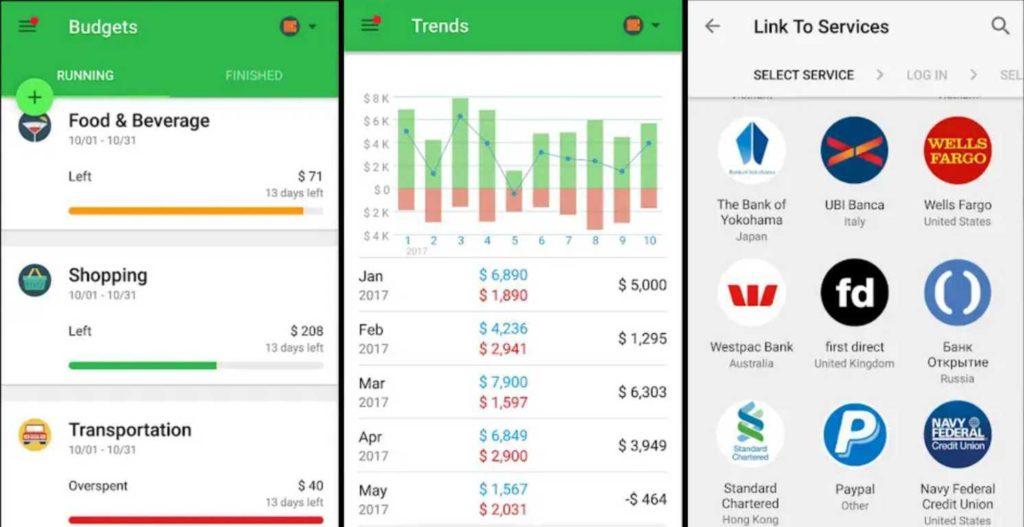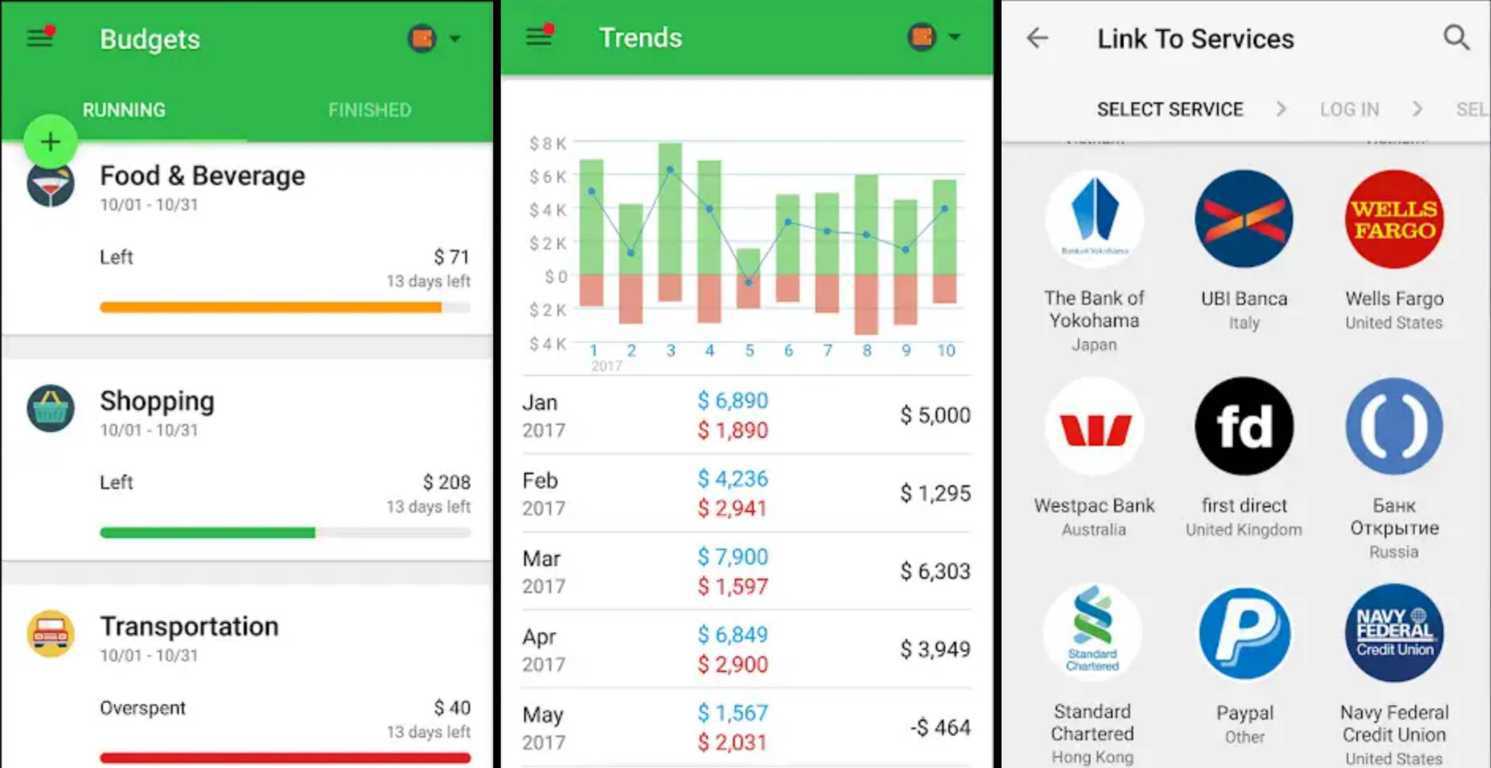 Money Lover is an all-in-one tool in this list of best budget apps for Android. It can separately keep track of multiple bank accounts, help you track expenses, income, and make various budgets. Tracking your expenses is very easy. All you need to do is to enter the amount and then choose a category. Every spending and income will be presented intuitively by nicely designed column and pie charts. Also, the expenses that you made will be automatically labeled as Food & Beverage, Shopping, Salary, etc.
Moreover, it can keep track of multiple budgets at once. Other features include a reminder of your upcoming bills, cloud-syncing with other devices, currency converter, receipt scanner, debt and loan manager, etc. You can also export expenses to Excel or CSV files.
The app is free, ad-supported and contains in-app purchases.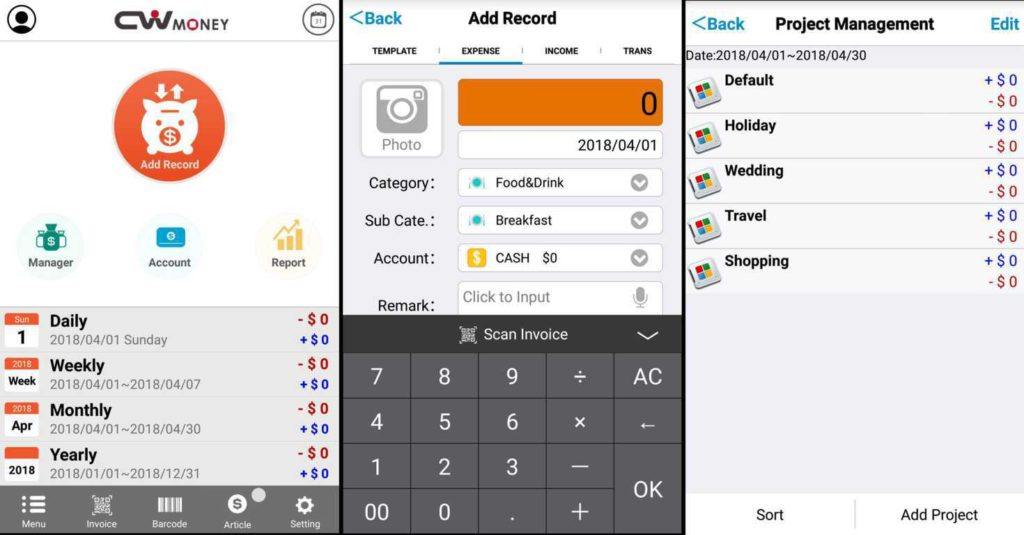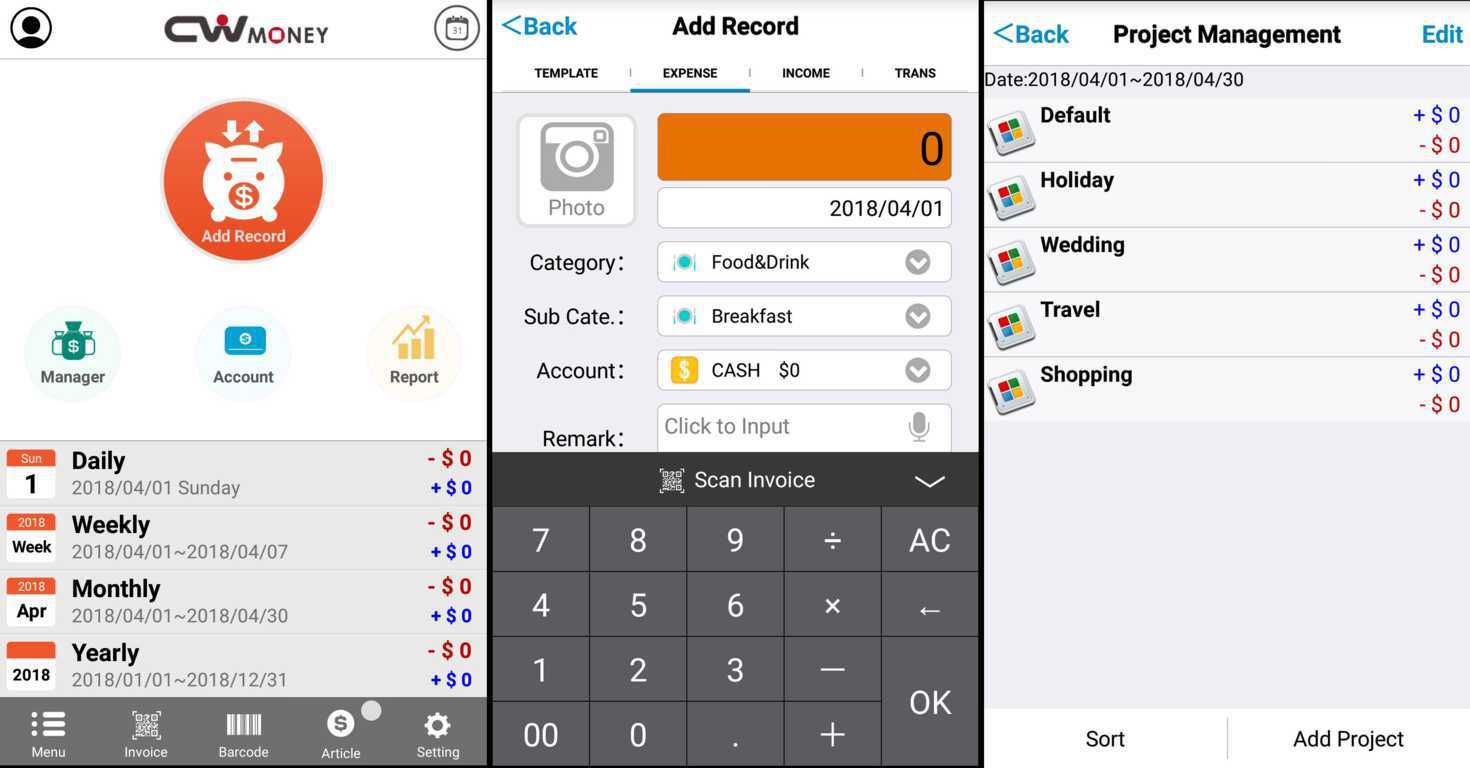 CWMoney is a lightweight and straightforward money manager app where you can efficiently manage your finances. It lets you record your daily expenses and income, and set budgets with great ease. There are various categories and sub-categories. Also, you can add a new category if you want to. It has a separate project management field where you can manage your projects efficiently.
It has support for GPS, camera, voice, calculator, and you can manage multiple accounts and currency. The interface is quite user-friendly, you can also modify it with different themes. Moreover, it includes shortcut and widget for a quick track, pie chart reports, and you can also export your data to Excel XML, and CSV files.
There is a paid version of the app available. However, the free version covers all the necessary functions. It is ad-supported.
Did you find this best Android money manager app list to be helpful? Share your views in the comments below.