Sometimes, we tend to forget even the silliest little things. I've seen people carrying around a small notepad and jotting down whatever they want to remember. But paper notes have their limitations. You may lose your notepad, and its no match for apps that can even store image notes or audio notes. Note-taking apps have flooded the Play Store recently. Here, we have made a compilation of Android note-taking apps based on the features they provide. All of these apps are free to download and will surely help you to increase productivity in day to day life.
Note: This list isn't in order of preference. You are advised to choose any of these apps that suit your needs.
8 Best Note-Taking Apps For Android In 2018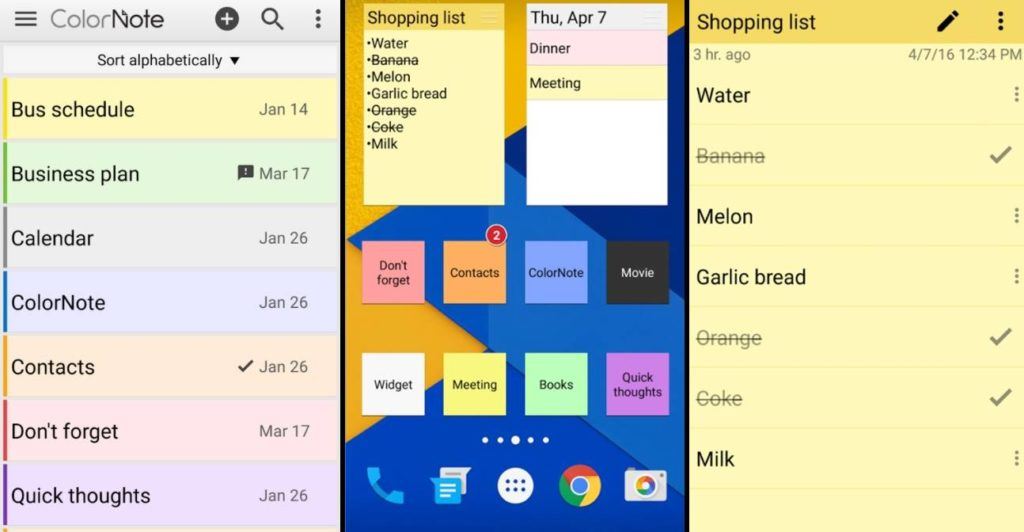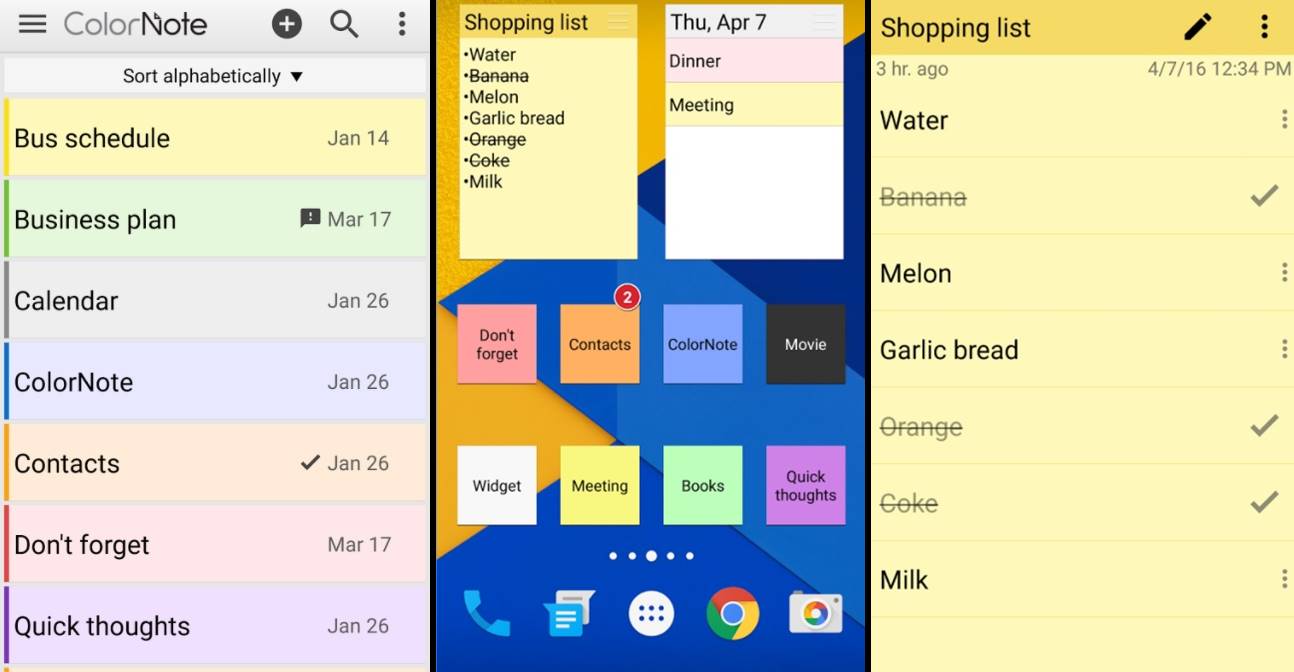 ColorNote is a full-featured Android note taking app. It is not necessary to log in to the app, but you must do so if you wish to sync your notes and use online backup. The first time you open the app, it takes you through a nice tutorial which you can choose to skip but is indeed helpful. You can configure the app in three themes including a dark theme. Once you finish writing a note or checklist, it will save automatically when you press the back button. You can set a specific time or day for note reminders. Moreover, you can pin a note or checklist to the status bar in case you are the forgetful kind.
Another useful feature is "autolink" through which the app automatically detects web links or phone numbers in your notes and takes you to your dialler or browser in a single tap, saving you from the hassle of copy-pasting. Apart from all these features, you can change the color of your notes, set memo widgets, organize notes by calendar view, lock notes by password, share notes and a lot more. The app is free to download and ad-free.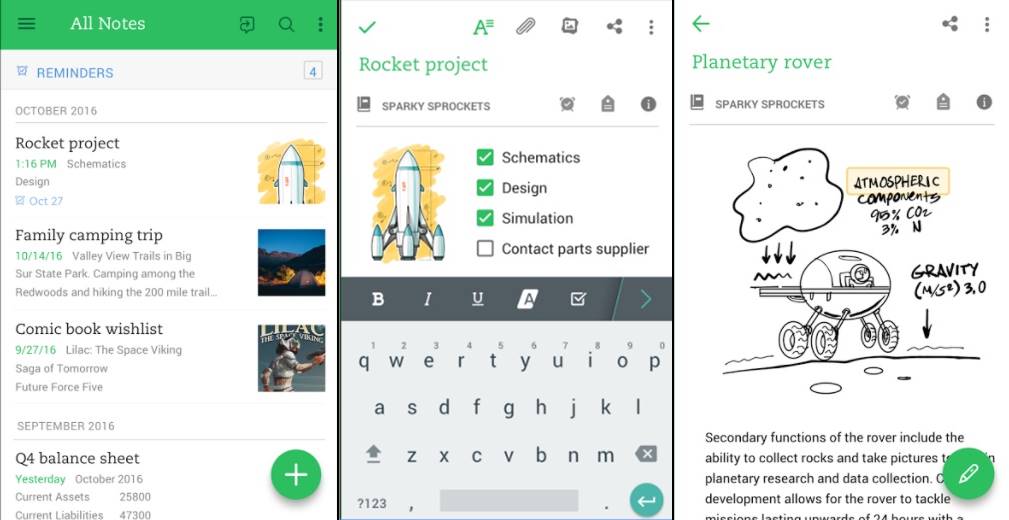 Evernote requires you to register using your email or Google account. You can set up to use fingerprint lock to protect your notes. It allows you to take notes in a variety of formats such as text, attachments, handwriting, photos, audio, and more. The app is cross-platform, so your notes get synced across all your devices. It is easy to set reminders, make checklist or plan events. If you are overwhelmed by the features, you can have a look at some tips and tricks on its website. Also, Evernote supports home-screen widgets for quick access to your notes.
The free version of the app will let you use it in two devices and any browser. Moreover, the free version allows up to 60Mb of uploads per month and file sizes up to more 25Mb. The app offers in-app purchases to subscribe to PLUS or PREMIUM plans and get more storage space and a lot of other features.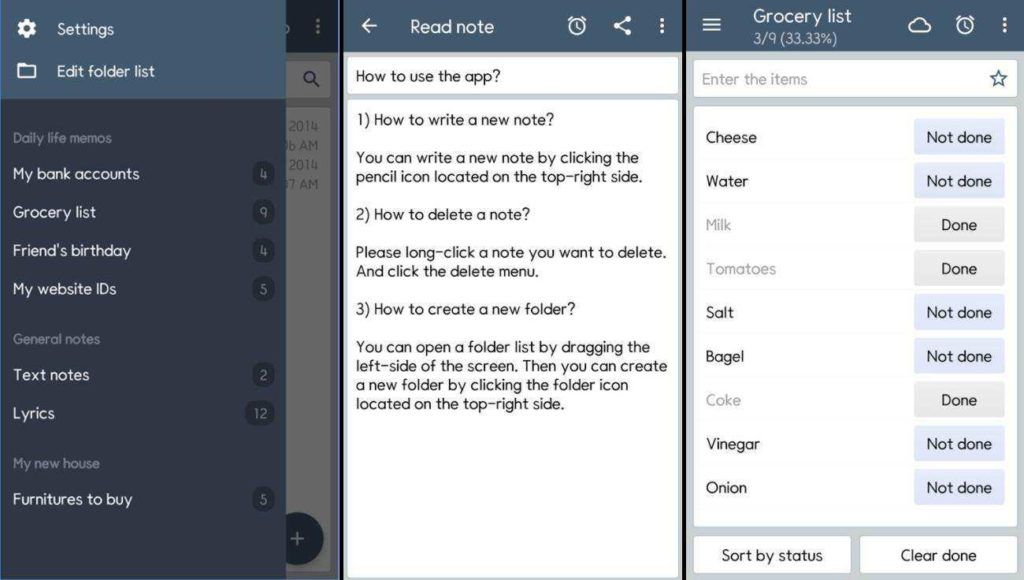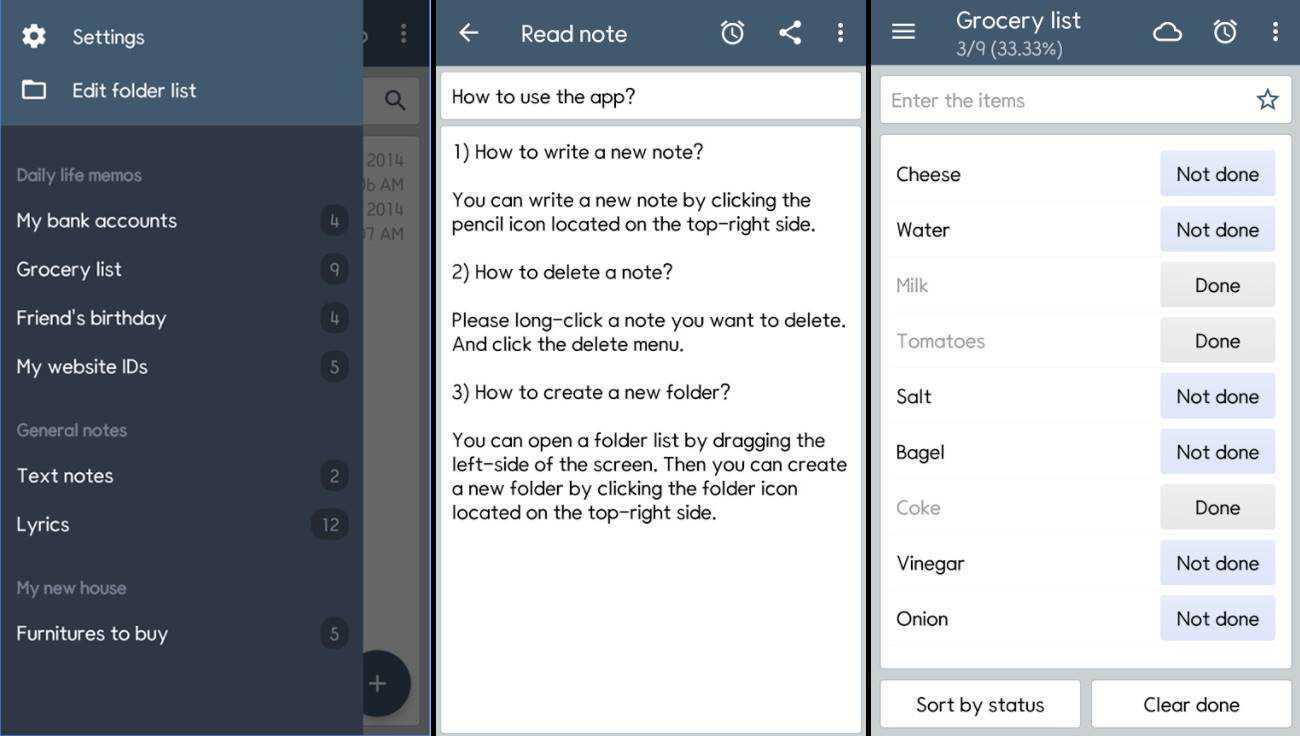 ClevNote is a thoughtfully designed Android notes app to help you with your daily life. It stands apart from the other notes app by its unique interface and useful features. Apart from taking simple notes, it can do much more. ClevNote can help you organize bank account information and easily save them. You can later share your account number by easily copying it to the clipboard. Making grocery list or any to-do list is easy and convenient. The app can help you remember birthdays with additional memo and notification. It's "Website IDs" feature helps you save username and URL to keep track of the numerous websites you register to.
ClevNote stores the information you have on your device memory with AES encryption. You can also opt for cloud backup using Google Drive. The app can be locked with a passcode. Moreover, there is widget support.
ClevNote is lightweight and one of the best notes app for Android. It has ads and offers in-app purchases.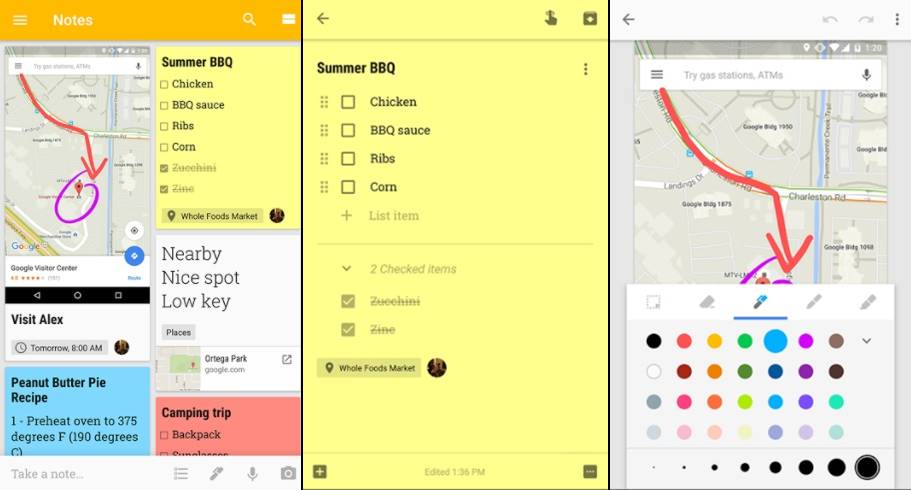 Using Google Keep, you can take notes in a variety of formats like text, image, handwriting, or voice memo. The simplicity of the app is best of all. Notes can be categorized by labels such as work, personal or any label you like. You can set reminders based on time or place( provided your GPS is on). Reminders will pop-up as a notification in all devices you are signed in using your Google account. So, there is less chance that you will miss it. The instant you write your note, it gets synced with your Google account, so there is no fear of losing it. You can easily search for any note and also organize them by giving a color code to each note.
Google Keep can be accessed from any browser and also has a Chrome plug-in. It has been my daily note-taking app since its launch in 2013. It is free, does not display any ads, and can keep you organized in your daily life.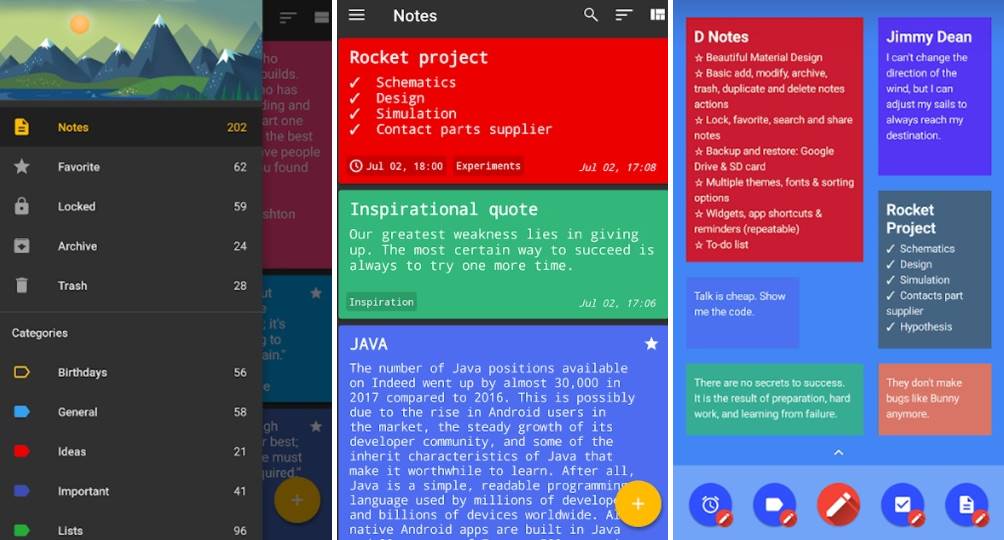 DNotes is an elegant Android note-taking app with a material design interface. The app does not require any online account to start. It is simple and resembles Google Keep in many aspects. You can easily make notes and checklists. Also, you can add categories to organize your notes. DNotes allows you to search and share notes and lock them with your fingerprint. Moreover, you can choose multiple themes, set colors to your notes, and backup your notes to Google Drive or SD card.
This Evernote alternative supports widgets with customizable transparency. Additionally, it comes with Google Now integration and you can take note by just saying  "Take a note" followed by the content of your note. Overall, DNote is a highly customizable and user-friendly Android notes app that is free to download and does not display any ads.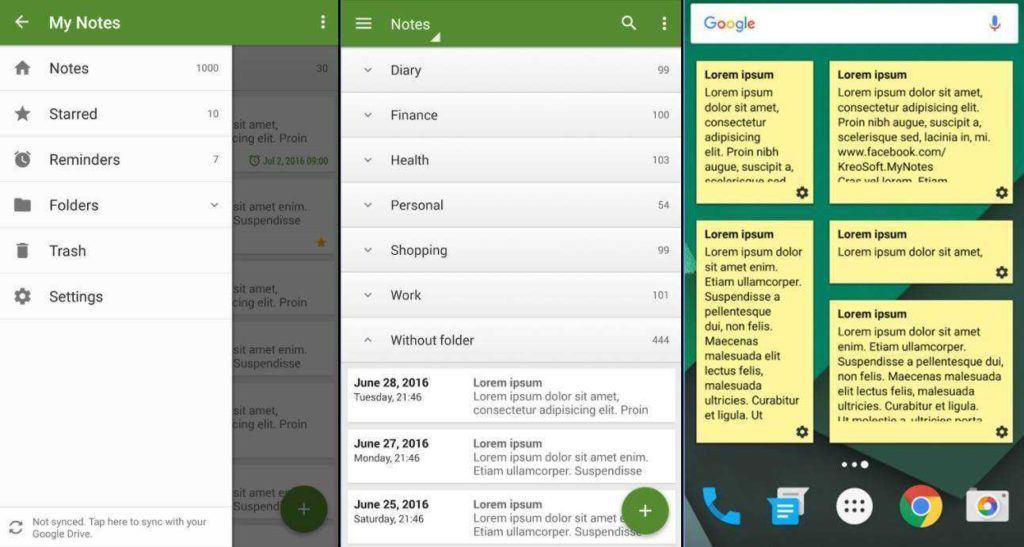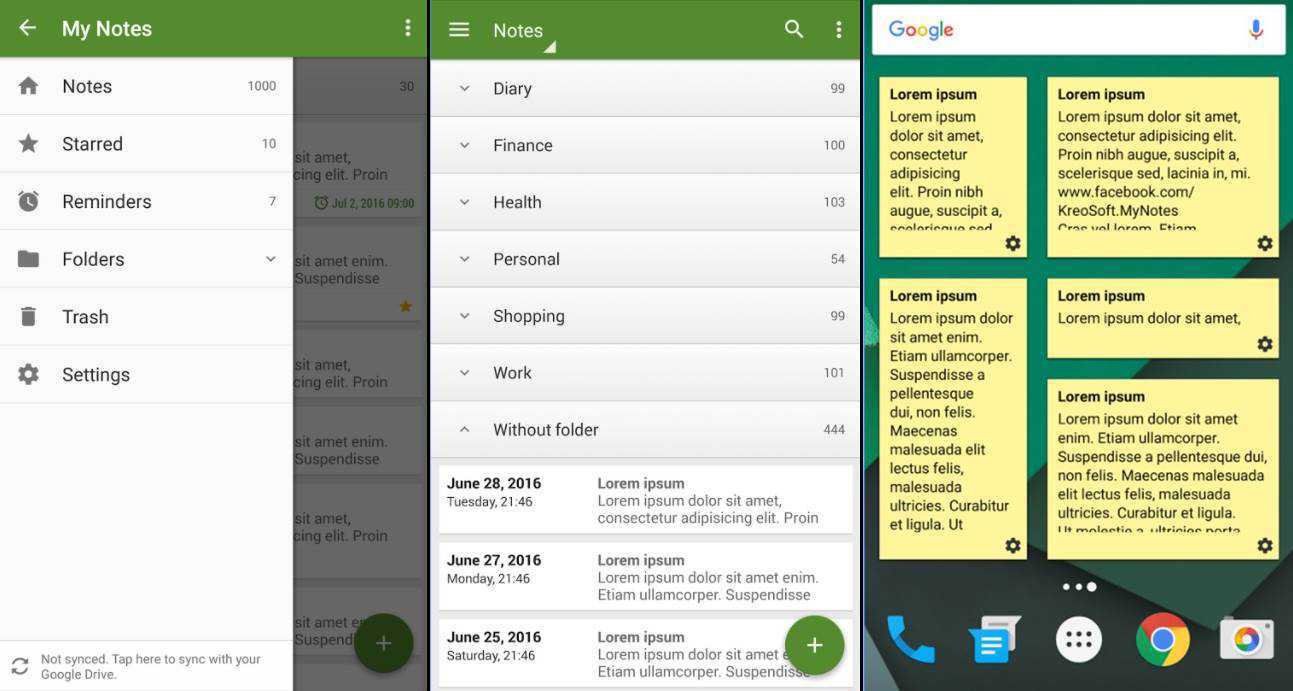 This app can be used as a notepad, journal or diary. The app arranges your notes into folders categorized into Diary, Finance, Health, Personal, Shopping, and Work. Your records can be protected using password, PIN or fingerprint. It is easy to search for notes within the app and notes can be sorted by date, title or folder. You can add a reminder for each of your notes. Notes can be synced using Google Drive. Moreover, My Notes can automatically detect phone number, email address and web links to help you navigate with a single tap. One downside of the app is that it doesn't have an intuitive interface to maintain checklist.
You can set home-screen widgets for easy access. The app displays ads and offers in-app purchases.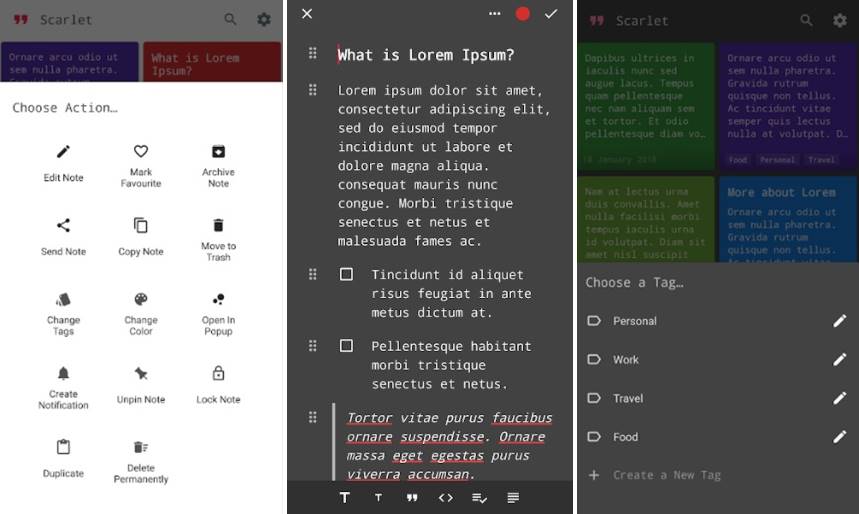 Scarlet Notes is a beautifully designed and feature-packed app to take notes with ease. You can sign in with Google to enable cloud sync. An option to add a tag to your notes can help you find them easily. You can set different colors to your notes, and there is also dark theme available. Users can lock notes using a pin code. Additionally, you can search for notes, view archived notes, mark notes as favorite, and much more
Scarlet Notes has widget support. Best of all, this Evernote alternative supports Markdown Formatting. The app is open sourced and ad-free.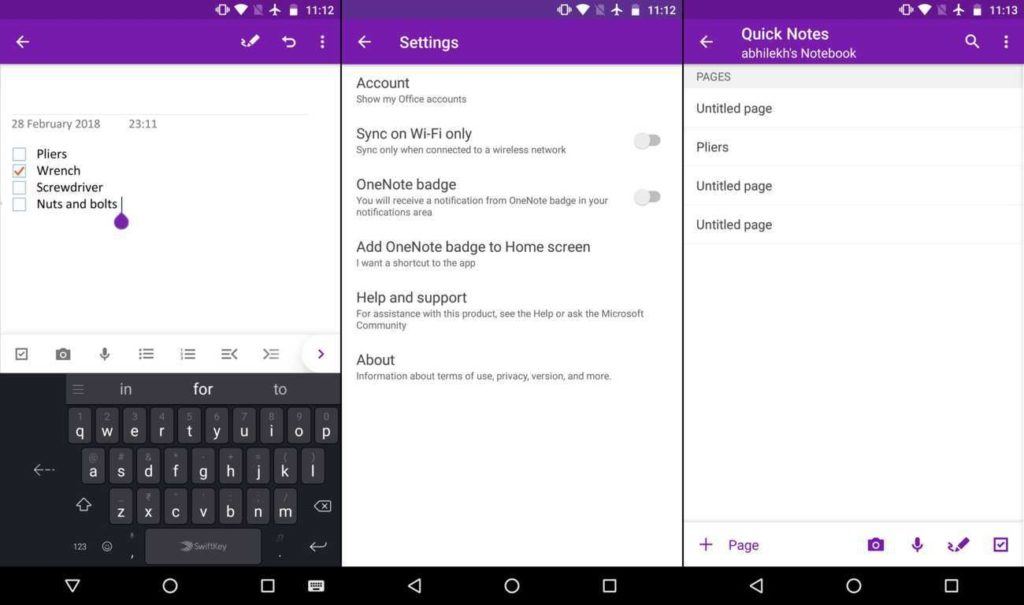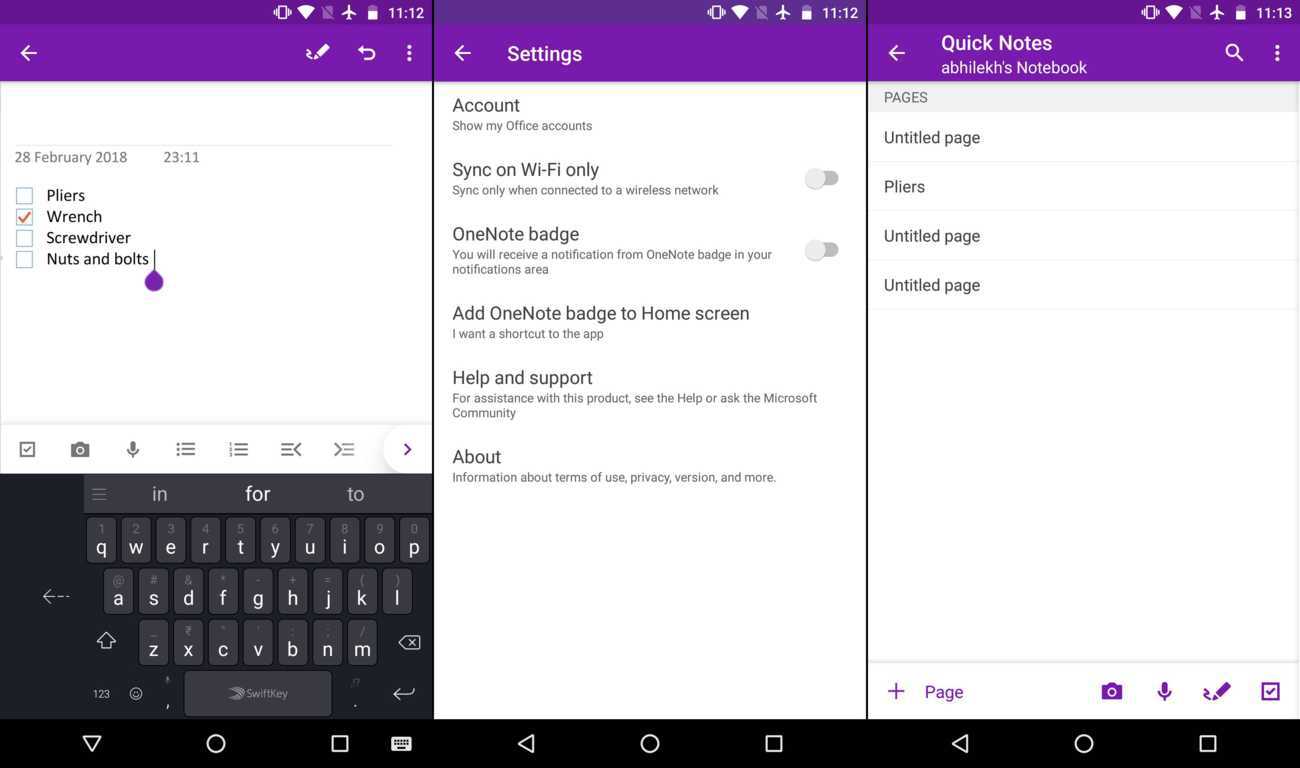 OneNote from Microsoft is another powerful Android note taking app.  You will need a free Microsoft account to use this app. It asks for your email ID, phone number or Skype name to log in. You can make notes by text, handwriting, drawing or clip contents from web. Also, you can use tags to label notes or to-do lists, and everything is neatly organized within the app.
OneNote syncs your notes across all your devices and has cross-platform support. Moreover, it lets many people work on content together simultaneously. The app is a part of the Office family of software and works great with Office apps such as Excel or Word. Hence, the OneNote is very convenient for teamwork and brainstorming ideas.
Did you find this list of best note-taking apps for Android to be helpful? Share your reviews in the comments and keep reading Fossbytes for more interesting lists.