The brand new AirUnleashed Wireless charger is here and despite being a new product, quite a rich history is associated with it. Back in 2017, Apple said it'd be launching a brand new wireless charger called AirPower. It was supposed to be a futuristic charger for all your Apple devices as it'd charge your Apple Watch, Airpods and iPhone, all in one place.
However, Apple ended up canceling the product, which was the first for the tech giant. Announcing the products and canceling them is more of a 'Google' thing but Apple too was dealt a bad hand this time around.
Apparently, the 25-30 charging coils that Apple was planning to use in their Airpower wireless charger emitted way too much heat for everyday use. Thus, Apple canceled that product.
Fast forward to 2019 and what we have is an AirPower look-alike known as AirUnleashed. According to the product's website, "AirUnleashed is our answer to Apple's failure to bring the AirPower to the market". Bold claims, to say the least. So, does the new AirUnleashed deliver on its promises? Read on to find out.
AirUnleashed Wireless Charger Design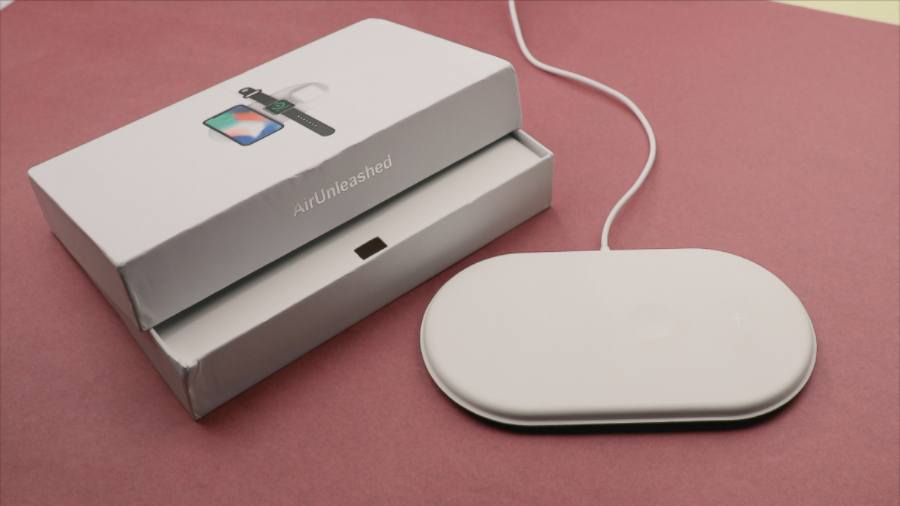 In terms of design, the AirUnleashed absolutely nails the look of an AirPower. It is strikingly white and Oval and features an intended space for charging your Apple Watch. Our review unit came with a Quick Charger 3.0 but if you're going to buy AirUnleashed on the market then it is not included in the packet.
Dimensions wise, the Airunleashed is around 12mm thick and feels truly made for Apple products. In short, the AirUnleashed absolutely accomplishes the task of being an AirPower look alike.
Currently, it is only available in white color and there are no other options if you're a fan of any different paint scheme.
Sitting next to your Macbook, iPad or any of your Apple devices, the AirUnleashed looks absolutely at home. It is sleek, minimalistic and just an "Apple-like" product overall.
AirUnleashed Wireless Charger Performance
What gives the illusion of AirUnleashed away as a non-Apple product is its performance. There are a total of three charging coils beneath the AirUnleashed and they're very sparsely placed. This translates to a not-so-exciting wireless charging experience.
Your iPhone or any other Android phone with wireless charging needs to be placed in a specific position every time to get a proper charging signal. First-time users will require some time to get used to the entire process of placing the charger on the mat. However, once you've correctly placed your phone on the mat, you can move it around a little bit and it continues charging without any problem.
The AirUnleashed also has a dedicated spot for Apple smartwatch, but you can't charge an Android watch in the same place. You can, however, charge your non-Apple smartwatch at any other place on the mat.
Speaking of non-Apple products, I also successfully charged Android flagship smartphones, including Pixel 3 and Samsung Galaxy S10 on the AirUnleashed. The charging rate of all Android smartphones is also similar to iPhones. For example: In around 40 minutes, my iPhone XS went from 0-15% and my Samsung Galaxy S10 charged around 17% in the same interval.
Now, the original Apple AirPower was seemingly canceled because it emitted way too much heat, courtesy of the 25-30 charging coils within it. AirUnleashed, on the other hand, only has three charging coils within it so naturally, the product only gets slightly warm.
AirUnleashed Final Verdict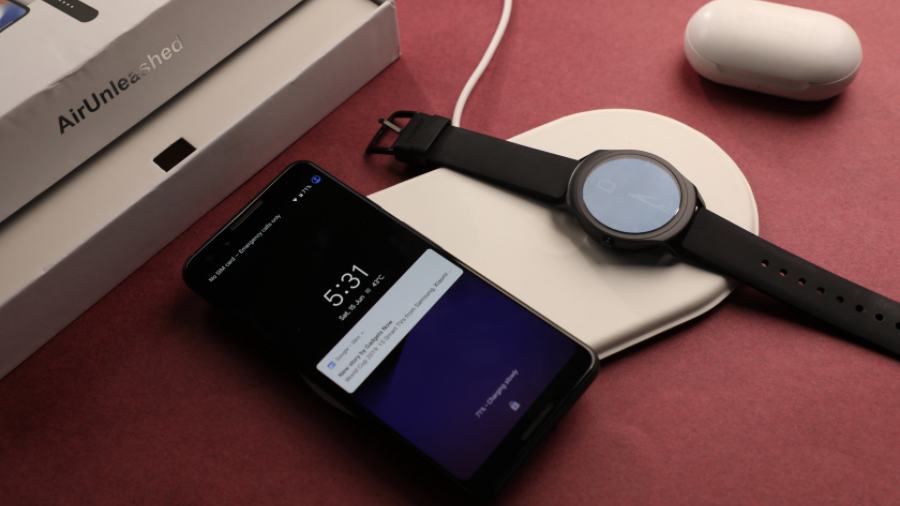 In conclusion, the AirUnleashed absolutely looks the part of an AirPower wireless charger, however, it just doesn't perform the same. We never had the chance to test AirPower on the account of Apple canceling the product, but the makers of AirUnleashed claimed to be the "answer to Apple's failure". So, it is fair to judge them on a slightly harsher scale as the market for Apple products is as always huge and utterly profitable and AirUnleashed is trying to cash in on the same thing.
Right from its packaging to its design, the AirUnleashed screams of beating Apple at its own game. Which in reality is far from it.
In its current form, AirUnleashed is for die-hard Apple fanboys who desperately want a one-stop solution for all their wireless charging needs. However, for the common folk, I'd recommend waiting a bit until the makers of AirUnleashed don't resolve some mismatch charging issues, probably in its next iteration.