Facebook has launched a feature where one can post 3D photos to the timeline, even with a single rear camera phone.
The social media gaint first introduced the 3D photo feature in October 2018 and was limited to smartphones having a dual or triple rear camera set up.
Previously, the tool relied on a depth map created by dual-camera phones and its own software tweaks which gave the 3D effect to the images.
The latest single-camera technique to create 3D images uses machine learning to transform a simple image into a 3D image. Facebook says that people can also use their front camera for capturing 3D selfies.
How to create 3D photos on Facebook in Android
Open the Facebook app and tap on "What's on your mind." 
Scroll Down and Tap on "3D Photo" 
Select the photo to convert into a 3D image and wait till it gets processed 
See how the 3D picture changes perspective when you scroll or tilt your phone
Now, tap on the post button to share your 3D photo
How to create 3D photos on Facebook in an iPhone
iPhones with portrait mode
Launch the Facebook app and tap on "What's on your mind" Tap on the photo or video options 
Tap on "Make 3D" at the top left of your photo 
Your 3D picture will be ready after processing.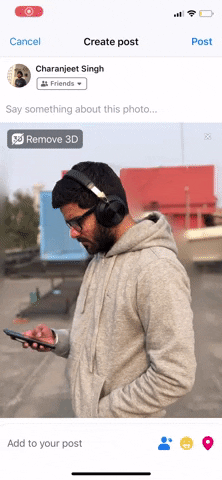 iPhones without portrait mode
Open the official Facebook app and tap the option saying, "What's on Your Mind."
Scroll down and click on the "3D photo" option
Your 3D photo will be ready to post after processing
How To Create 3D Photos In Facebook On A PC
Tap the photo/video button under the "What's on your mind tab."
Select two files, including the image and the depth map of the image, saved using "_depth" attached to the file name
For example, here is the file name Jokerr and the corresponding depth map file name Jokerr_depth.png. It should have the same aspect ratio as the image 
Your 3D image will be created after processing 
Review the 3D image and post it with text without text
Facebook 3D photos supported devices
According to Facebook, users with iPhone 7 or higher or "a recent midrange or better Android device," will be able to create 3D images through the Facebook app.
Facebook has not rolled out a specific list of supported devices; however, the feature is working on most of our iPhones and a few Android devices.
It appears that the feature will eventually roll out to a vast number of Android devices.