Short Bytes: Wondershare Filmora is a video editing production software that makes it easy for beginners to get started. The overall process of creating a video using Filmora consists of three steps–importing media files, editing and applying effects, and exporting/sharing the videos. While Filmora has its loopholes, overall, it's an impressive and fast way to create videos.
I
f you spend lots of time trying out new software, exploring their features, you might be aware of Wondershare. In the past, we've told you about a couple of other products of Wondershare like
Data Recovery Software
and
TunesGo
. In this article, I'll be reviewing
Wondershare Filmora video editing software
 and sharing my experiences.
Wondershare promotes Filmora as tool that will help you "start making your stunning "video with Filmora." Unlike other video editors that are focused on beginners or experts, Wondershare Filmora has something to offer to everyone. Apart from the free version, Filmora is offered as a paid version that's stuffed with more features, obviously. For the Wondershare Filmora Review review, I used version 7.8 on Windows operating system.
Wondershare Filmora video editor review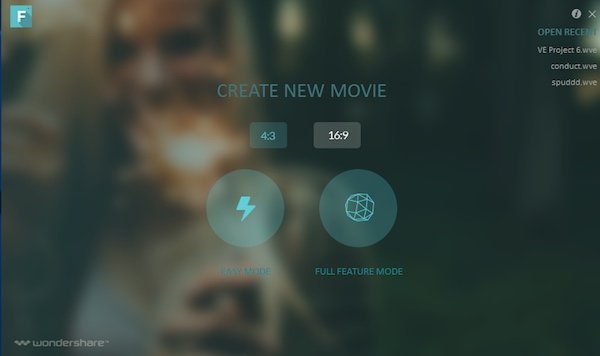 If you are a beginner, Filmora won't irritate you as learning how to get started is an easy task. It comes with a clean interface and all basic tools are visible in the main interface. The first thing you notice when you start building a new video project is the 4:3 of 16:9 option and Easy Mode or Full feature mode.

The Easy Mode allows you to easily create your own movie using built-in themes. You simply need to add video clips and pictures, select a theme and music, and you're good to go. As the name suggests, it's supposed to be very basic. Having said that, I'll go ahead and tell you about the Full Feature Mode.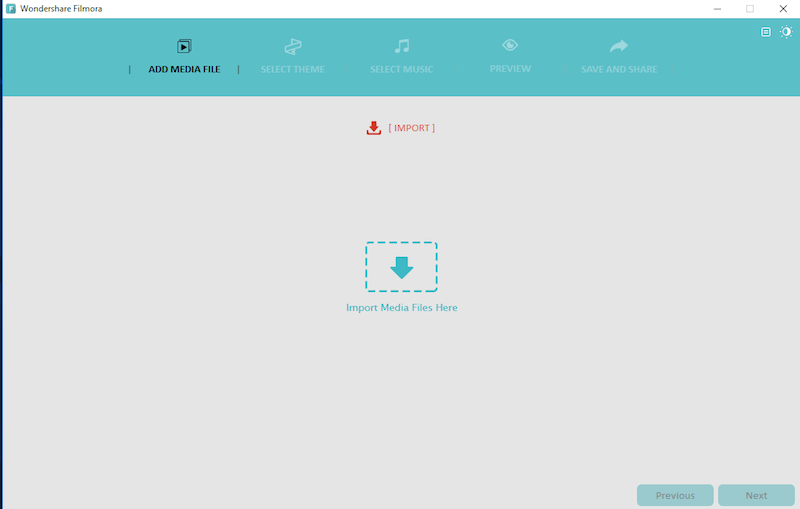 The Full Feature Mode presents you with a complete workspace loaded with all available features. It's a familiar and customizable timeline editing window with 1 video, 1 picture-in-picture, 1 text, and 2 audio tracks. Although there's just one video track, it doesn't mean that you can't play two videos simultaneously (something that surprised me firstly). To do that, you need to drag the video to the picture track. It plays the video but in terms of editing options, it treats the video like an image.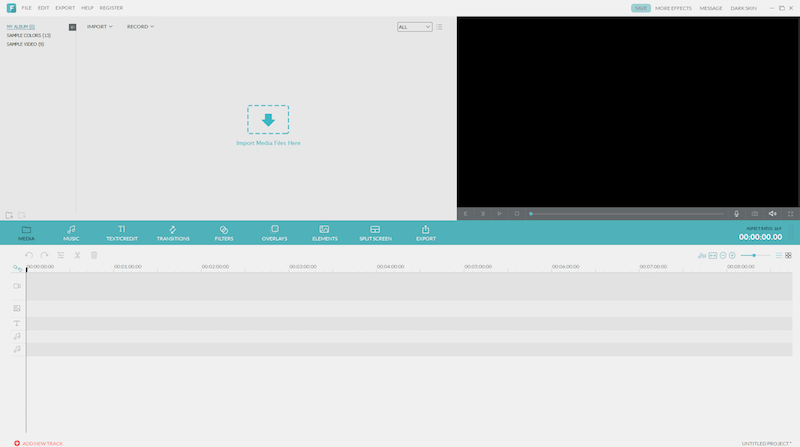 From the media library, you can grab your media files, including videos, pictures, and music. This windows also contains various effects, transitions, and other tools needed in the project. The toolbar has all the editing commands. Overall, I found the dragging, tool selection, and other toggles very smooth. By simply clicking and dragging, you can trim the video and crop it.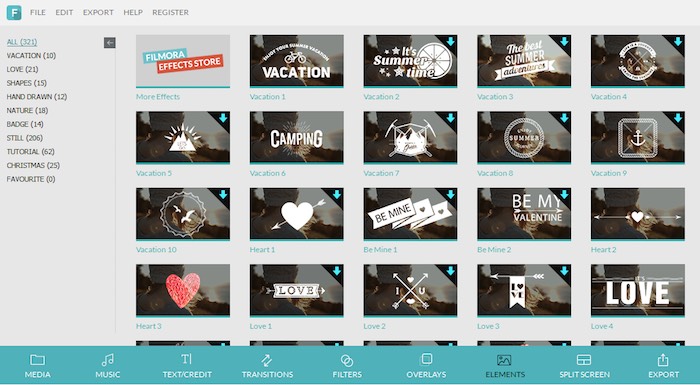 From the menu, you can access your Facebook account and import your personal pictures. There's also an option to record the screen and use it in your videos. For impressive editing, there are lots of presets for text (160), transition (94), filters (146), overlays (97), and elements (321). Out of these, only text presets are editable.
Out of the total 12 export formats, there are 10 videos formats like MP4, MOV, FLV etc. You get 12 device export presets to make your video playback on your favorite smartphone or other devices smoother. You can also burn the resultant video to DVDs.
The other features that make Filmora an impressive video editing tool are voice recorder, previewing with full screen, color tuning features, and pan and zoom feature. Notably, Filmora also supports creating 4K UHD videos.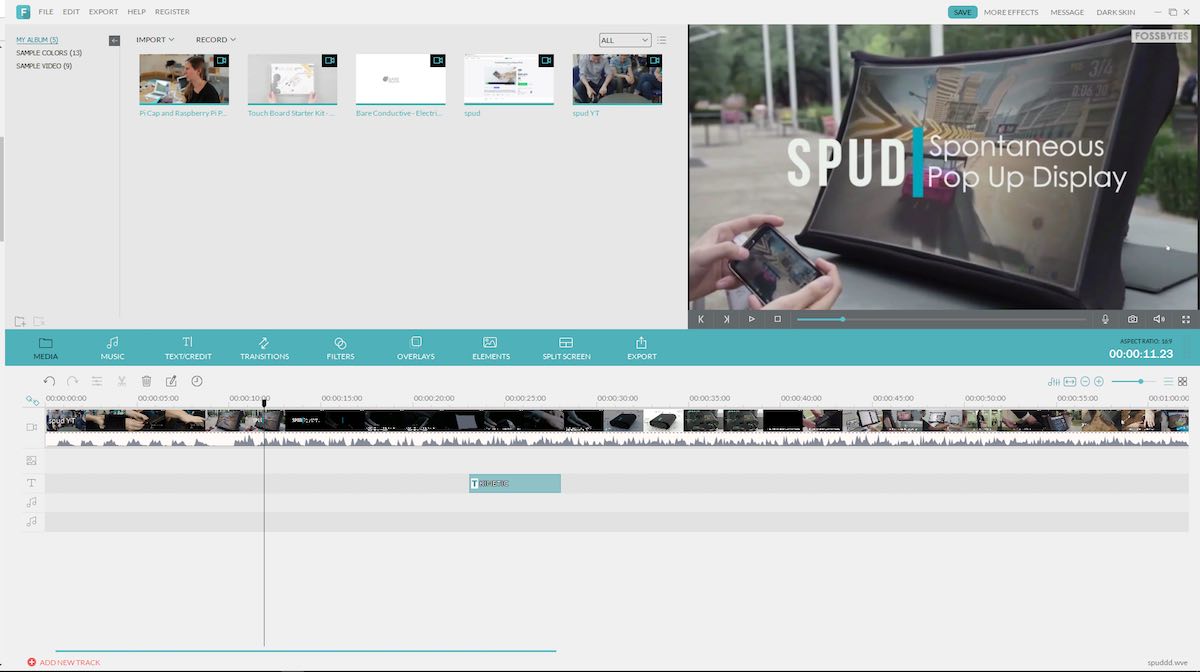 Filmora video editor review — Pros and cons
I'll start with the pros of Filmora video editor. As said earlier, it's easy to use and a new user won't find much difficulty learning how to use it. Wondershare has also provided a list of tutorials on its website for better learning. There's also an automatic scene recognition that identifies different scenes, separates them, and lets you work on them. The inbuilt animations are pretty nice and they look good to eyes. Compared to other software, the rendering of 720-pixel video is faster.

Talking about the cons, apart from many useful presets, there are tons of presets that would never be used. While the hard work of the developers is clearly visible, the experience could've been made better with a little more effort. A very basic feature of color picking is missing from Filmora and it doesn't accept Hex color codes. If you create a custom color, it doesn't save it for later use. I also faced a couple of issues (bad color and sound) with the rendering of high-resolution videos.
Another personal recommendation from my side would be to make the elements and overlays editable. These are some complex animations already done for you to save your time and energy but the exact text and their placement in the elements isn't always what you need.
Overall, Wondershare Filmora is an impressive and feature-packed video edition for getting things done quickly. Here's a Fossbytes video created using Filmora (excluding the animation in the end):
https://www.youtube.com/watch?v=E-o9Gogrp_4
You can grab the free and paid version of Wondershare Filmora by visiting their website.
Did you find Wondershare Filmora Review helpful? Don't forget to drop your feedback and experiences in the comments section below.