Mobvoi has been delivering some very solid products over the last couple of years. This time we take a look at the TicWatch C2, a device that appears to be targeted at an on the go audience in contrast to the bulkier TicWatch Pro with its slimmer designed and modern charm.
Mobvoi has a strong track record with its crowd-pleasing smartwatches. They have yet to fail in delivering a smartwatch that is hard to argue against. The original TicWatch and the TicWatch 2 were huge successes, and while their successors may not have shared in the same reverence, they are still improvements on their predecessors.
TicWatch C2 Technical Specifications
| | | |
| --- | --- | --- |
| Model | TicWatch C2 20mm | TicWatch C2 18mm |
| Dimensions (mm) | 42.83 x 42.83 x 13.10 | 42.83 x 42.83 x 12.80 |
| Colors | Black, Platinum | Rose Gold |
| Watch Case | Stainless steel (front) | Stainless steel (front) |
| Watch Strap | Genuine leather (interchangeable), 20mm | Genuine leather (interchangeable), 18mm |
| Operating System | Wear OS by Google | Wear OS by Google |
| Compatibility | Android, iPhone | Android, iPhone |
| Platform | Qualcomm® Snapdragon Wear™ 2100 | Qualcomm® Snapdragon Wear™ 2100 |
| Display | 1.3″ AMOLED (360 x 360 px) | 1.3″ AMOLED (360 x 360 px) |
| Connectivity | Bluetooth v4.1, WiFi 802.11 b/g/n | Bluetooth v4.1, WiFi 802.11 b/g/n |
| GPS | GPS + GLONASS + Beidou | GPS + GLONASS + Beidou |
| Sensors | Accelerometer, Gyroscope, Heart-rate sensor | Accelerometer, Gyroscope, Heart-rate sensor |
| NFC payments | Yes (Google Pay) | Yes (Google Pay) |
| Battery capacity | 400mAh (2 days) | 400mAh (2 days) |
| Waterproof rating | IP68 | IP68 |
TicWatch C2 Review
The TicWatch C2 comes loaded with all of the standard smartwatch features. There isn't anything in particular that stands out about it, except for maybe the price. Weighing in at a modest $199.99USD, it's quite the bargain.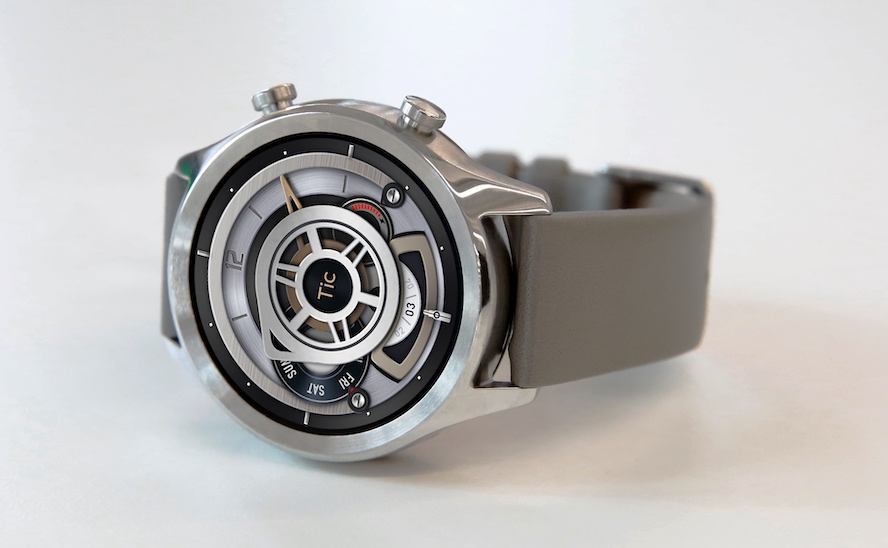 As with the rest of the TicWatch family tree, the C2 has more than capable specifications to provide a smooth interface experience. There is no jittering in the menu animations and the touch screen is very responsive. Combined with the features that underpin the unit, the C2 brings an arguably premium experience and feature set to the table at a budget price tag.
The C2 brings an iterative step forward on the TicWatch family design with its recognizable curvatures and recessed screen. The strap connectors are also of a very familiar fashion, although, it's hard to imagine how one would depart from this tried and true design. The leather straps, while elegant when first received, soon develop fold-lines and wrinkles and become somewhat cheap looking. This is in addition to the cardboard texture that the straps have. It is something that might require a break-in period and wear over time, but for a recipient of this product, it may be an immediate con.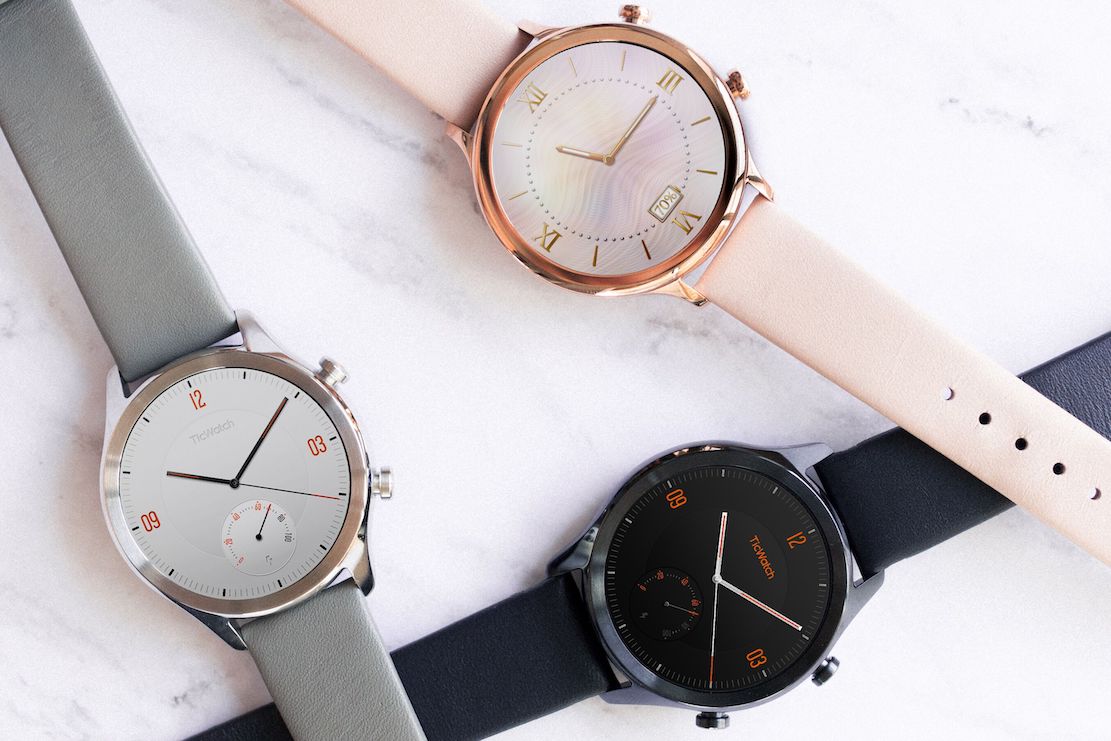 This, however, can be easily remedied by swapping out the straps for ones of desired quality and appearance like on any other watch. It is all in contrast to the very cleverly designed TicWatch Pro straps with the leather laid into the silicon combined with the channeled backing to provide a professional looking but breathable wrist strap.
The body of the C2 comes in the same steel two-button TicWatch fashion but is notably comfortable with its chamfered plastic back that is both smooth and breathable. The steel is in huge contrast to the plastic of the TicWatch E, adding significant weight without making it too heavy for comfort in daily wear. Declining the ruggedness of the TicWatch Pro, the C2 has a unisex elegance that is sure to incorporate into many styles, both feminine and masculine easily.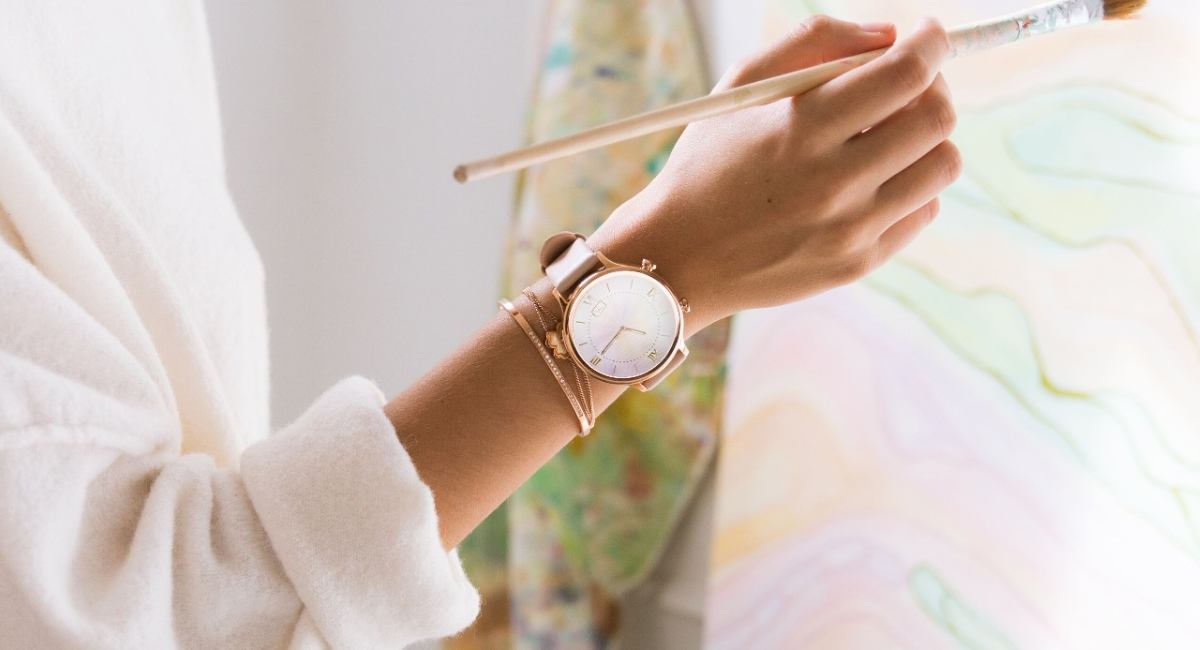 Battery life, while paling in comparison to my beloved TicWatch Pro, is still more than enough to get you through the day and nothing to scoff at. Considering that this is with all features enabled, such as Bluetooth, Wi-Fi, NFC, location services, and all the fitness tracking, it's still a leap up from the devices of yesteryear.
Jumping into the fitness, we have all the standard stuff. But to what will likely be a gripe for most people, we have this mix of the Android Wear native health apps and the TicHealth apps. This results in a bit too many apps preinstalled on the device and may be a cause of confusion for the unexpecting user. In my opinion, the health tracking apps and facilities in Android Wear are sufficient and should not be supplemented without an opt-in from the user. Despite this, the device would make a decent, albeit somewhat heavy, fitness accessory.
Overall, the TicWatch C2 is a solid device that is sure to make an excellent gift. The crisp display and snappy navigation won't disappoint. The is all around an excellent choice for a smartwatch at only $199.99.
In case you found the TicWatch C2 review helpful, do share your views in the comments section below. Keep reading Fossbytes.