Short Bytes: Wondershare TunesGo is a software that allows you to manage the data stored on your Android and iOS devices. You can sync music to your iTunes library, backup photos, videos, apps, contacts and SMS, transfer contents between two devices, root your device, and make GIFs from photos and videos.
I
t has been a while since I last used a PC suite application for my phone. In fact, many modern smartphones don't let us feel the need of a PC Suite or phone management software. Cloud platforms like Google Drive and iCloud can store and sync your smartphone data efficiently. But still, phone management apps come handy for keeping a local copy of your data on your machine.
Wondershare TunesGo, a phone management software that offers some great features in addition to backing up your smartphone data on your computer. There are many alternatives to iTunes, but one compelling reason to use Wondershare TunesGo is that it lets you transfer files from your iOS device without the need of using iTunes. So, in this article is a walkthrough of the Wondershare TunesGo software.
Setting up your Device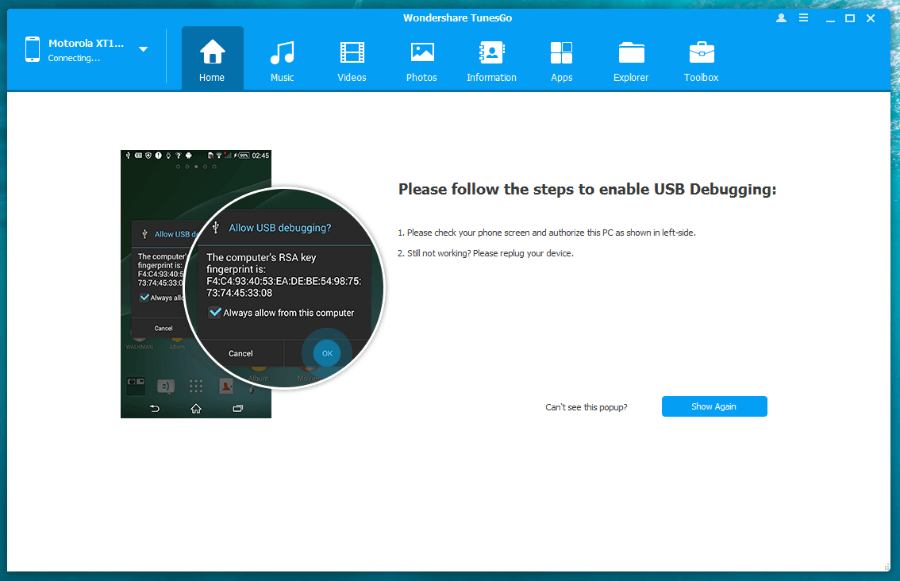 I have used an Android device. The setup process for iOS device may differ slightly.
Setting up your Android device on TunesGo involves a few simple steps. Before connecting your device to your PC, make sure you enable USB Debugging in the Developer Options. The TunesGo's main screen has instructions for enabling USB debugging on various Android versions. The software will guide you through the setup process. The name of the connected device is displayed in the top-left corner. You can click the down-arrow next to it to change the device.
Look and Feel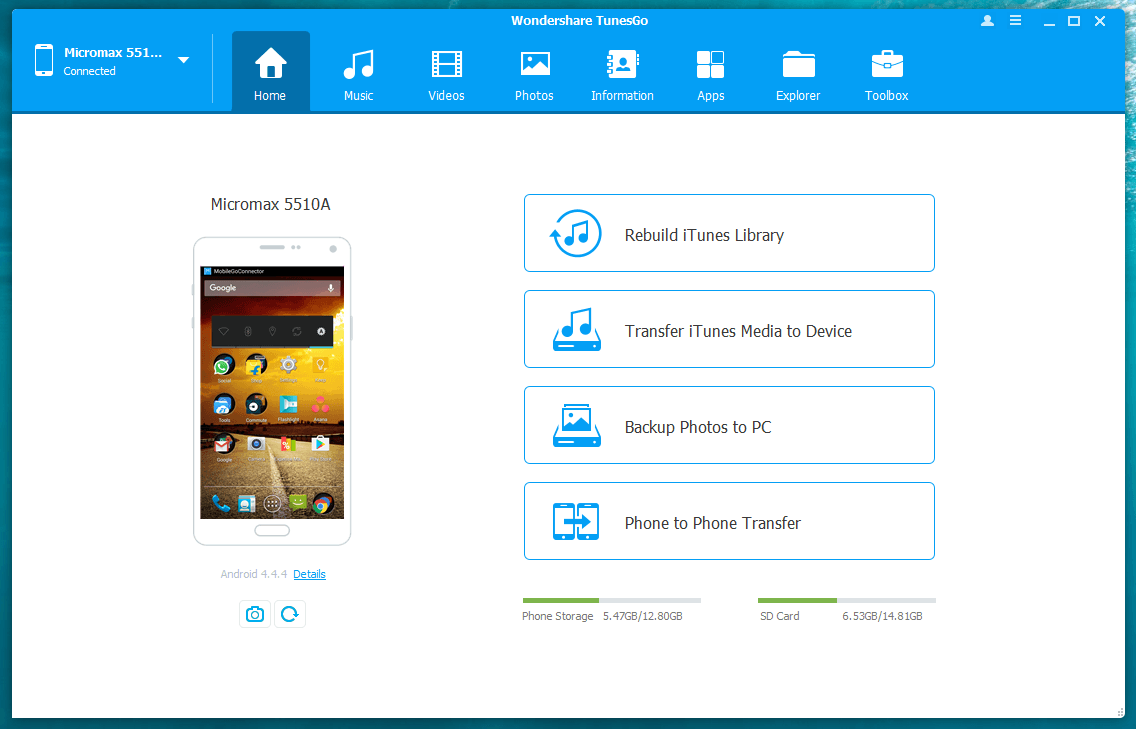 The user interface of Wondershare TunesGo is neat and clean just like their other products. On the top, you will find tabs for different categories of data like Music, Videos, Photos, Information (Contacts and SMS), Apps, Explorer, and Toolbox.
The main screen also displays your device along with several file transfer modes. You can view the specification of your device by clicking More below your device. If you want to take a screenshot, click the Camera icon below your device and it will capture the current screen. If you want to take a screenshot of another screen, go to that screen on your device and click Refresh button on TunesGo.
Wondershare TunesGo Features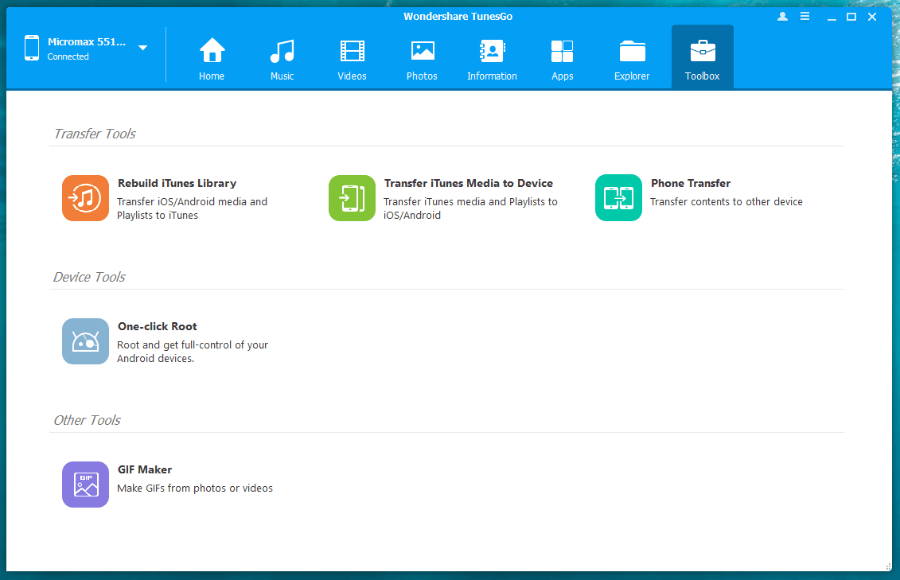 You can go to various tabs to access relevant data. The Wondershare TunesGo allows you to view data stored on your device without copying it. You can also transfer the data to your computer using the Export option. In the Information tab, you can view, edit, and backup the contacts and SMS stored on your device.
Sync your device with iTunes
You can transfer your songs, videos, and playlists to and from iTunes installed on your machine. An added advantage to this feature is that it works for Android devices also. TunesGo also has the functionality to automatically update metadata stored in ID3 tags with your music files. You can find and delete duplicate songs on your device.
Transfer between two devices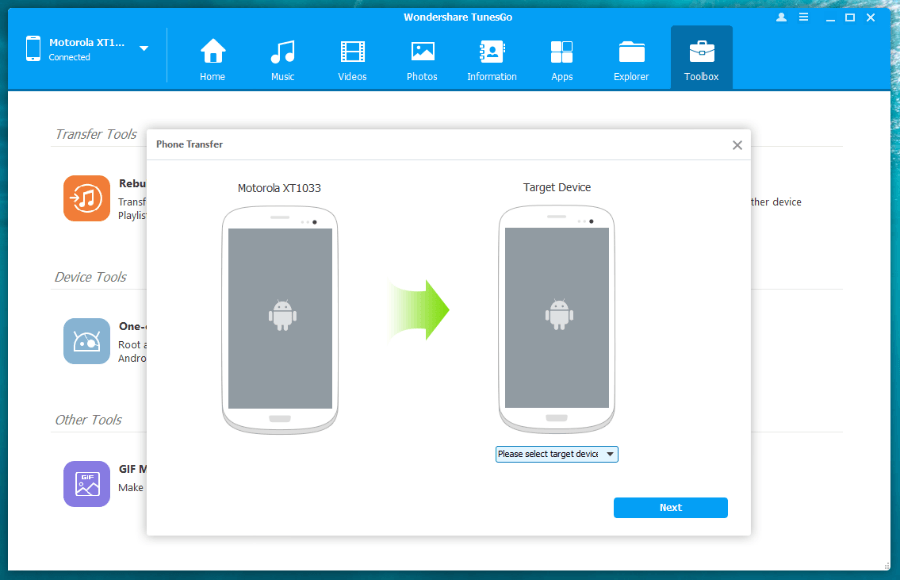 You can transfer content between two devices connected to your computer. Now, you would say, I can do so by using the file explorer. But it would be a tedious process. That's where TunesGo comes in the picture and takes all the pain for you.
You can transfer music, videos, playlists, contacts, and photos in one go. If you want to clean the recipient device before transferring data, tick the Delete contents on target device then transfer checkbox.
Root your device
Android rooting is one thing that makes us scratch our heads. Thanks to the existence of automatic tools like these. Otherwise , it's hard for normal users to find appropriate tools and root their device.
Note: Rooting your device will void its warranty. So, do it if your device is out of warranty or you don't want to avail any warranty claim.
Make GIFs from your photos and videos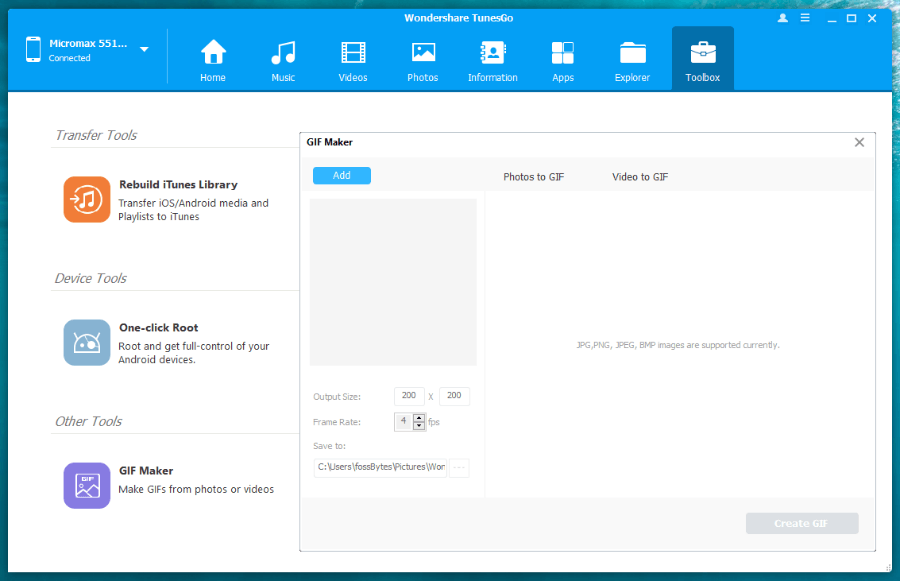 The cat GIFs, everyone has seen them. The GIF Make present in TunesGo is a great tool for making your own GIFs from your photos and videos. Maybe you have a cat that backflips around the house and you want to make him an internet sensation.
You can find the GIF Maker in the Toolbox and in the Photos tab.
App Management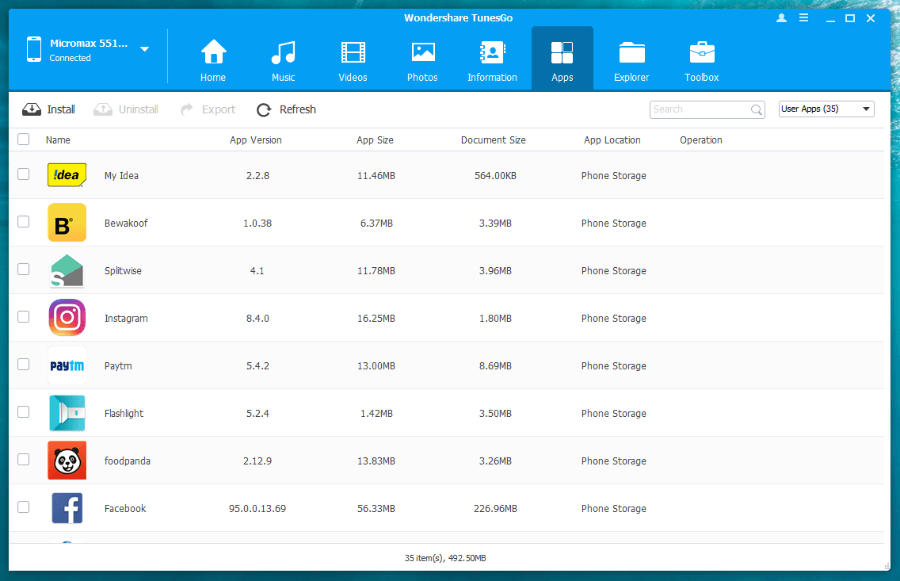 Wondershare TunesGo allows you to manage the apps installed on your device. You can uninstall, and backup multiple apps on your smartphone. If you have the APK of an app, you can install it using TunesGo. There is a search bar in the top right corner. The apps are divided into User Apps and System Apps which can be chosen from the drop-down menu beside the search bar.
Winding Up
I used the Wondershare TunesGo for few days and I am pretty satisfied with how it works. Frankly speaking, I have never felt the need for a dedicated phone management software. But I definitely ask other people to give it a try. It helps you in managing major data sections of your smartphone.
Also, there can't be everything good about a software. It asks you to install the Wondershare app on your smartphone which you can politely decline. I installed the app on my smartphone but noticed that the app didn't appear in the Apps tab. So, you can't uninstall it from the TunesGo on the computer but you can do so on your smartphone by going into the Apps section in Settings.
All over, it's a great app. It is available for Windows and Mac. You can purchase it from Wondershare's website.
Important: This article is sponsored by Wondershare TunesGo. However, to deliver an informative and impartial article to our users, we have tested the software and added our experiences.