Short Bytes: Wondershare Data Recovery for Mac is a great piece of software for recovering lost files that are accidently deleted or lost due to some system failure. This data recovery tool works in four useful modes that you need to select according to your need. Apart from Mac, Wondershare Data Recovery is also available for Windows. 
M
anaging data is a tough job and accidently deleting important files is an easy mistake that anybody can commit. Once you realize your mistake, very often, you regret, thinking that it's something that can't be reversed. Such incidents can also occur due to some malware attack or disk failure.
But this isn't the world's end. There are many file recovery software available that you can use to get the important data back. Deleted data doesn't mean that it's totally removed from a computer. This action only deletes the reference. When your computer's operating system, Windows, for instance, doesn't find it, it considers it deleted. Your file still exists on your hard drive and using a good data recovery software, you can recover all the data.
Wondershare Data Recovery For Mac Review
Today, I'm going to tell you about Wondershare Data Recovery software for Mac, one of best data recovery software around. It's a widely popular non-destructive data recovery method that lets your retrieve deleted, lost, or formatted data from your PC or removable devices like USB drives.
4 recovery options in Wondershare Data Recovery tool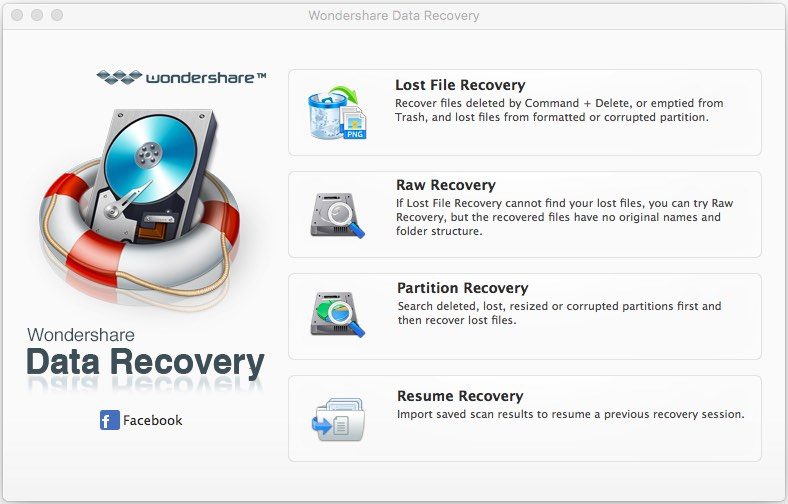 Compared to other data recovery tools, Wondershare is more user-friendly. The installation process of the tool runs smooth without any unpleasant events. After that, all you need to do is open the application and you'll be presented with different options. Here are the options:
Lost File Recovery
Raw File Recovery
Partition Recovery
Resume Recovery
Lost File Recovery is the quickest way to get back you files. If you know exactly the disk or folder where you lost your files, you need to go for this option. It recovers the formatted and deleted files, files deleted by Command + Delete, or emptied from Trash/Recycle Bin with their original path and names. It usually takes a couple of minutes to scan the entire hard disk and list the files. The recovered files are listed in the form of a table and you also get the option to see a preview, which is one of the best features of this file recovery tool.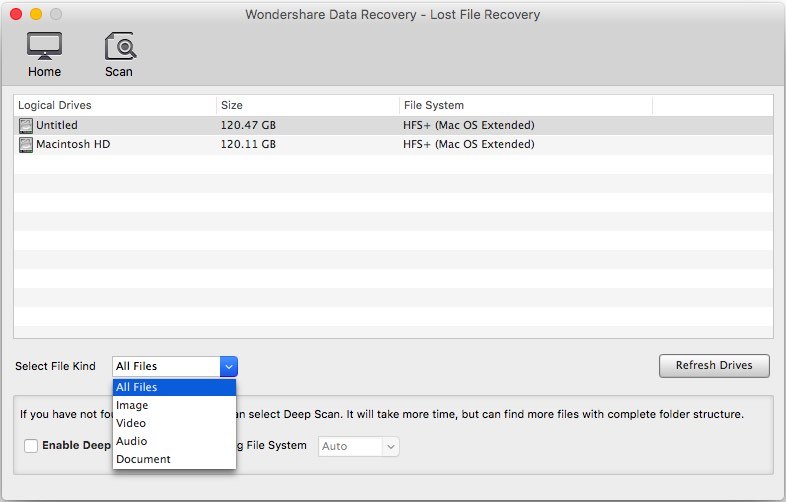 If Lost File Recovery fails to recover your data, you need to go for the Raw Recovery method. This method works with different types of partitions and takes more time to recover the files. You can also go for this method if the data loss has been caused by Logical Damages and Virus/trojan attack.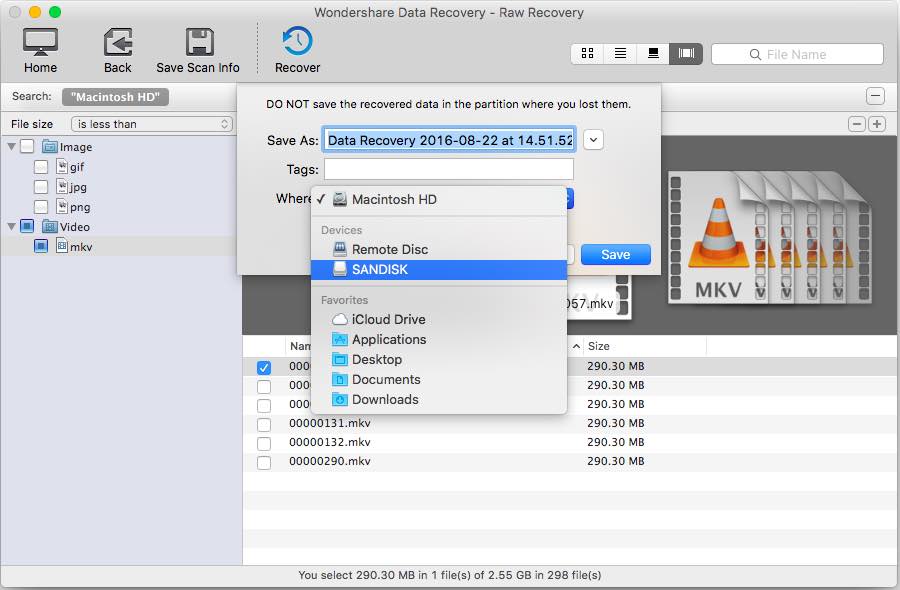 The third option, Partition Recovery, is useful when you are facing some problems with your partition. In all major file systems, NTFS, FAT 16, FAT 32, exFAT, you can efficiently restore deleted, damaged, formatted, or lost partitions.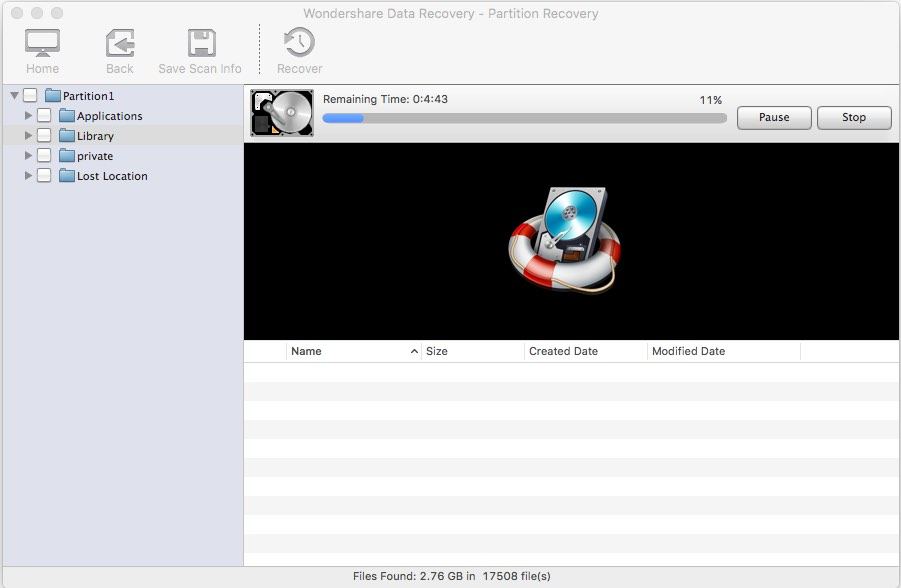 Let's suppose that you've spent lots of time to scan your multi-TB hard disk and Wondershare Data Recovery is showing gigabytes of recoverable data, but you don't want to restore all the files at once. For such situations, this useful data recovery tool gives you the option to import a saved scan result and resume a previous recovery session later.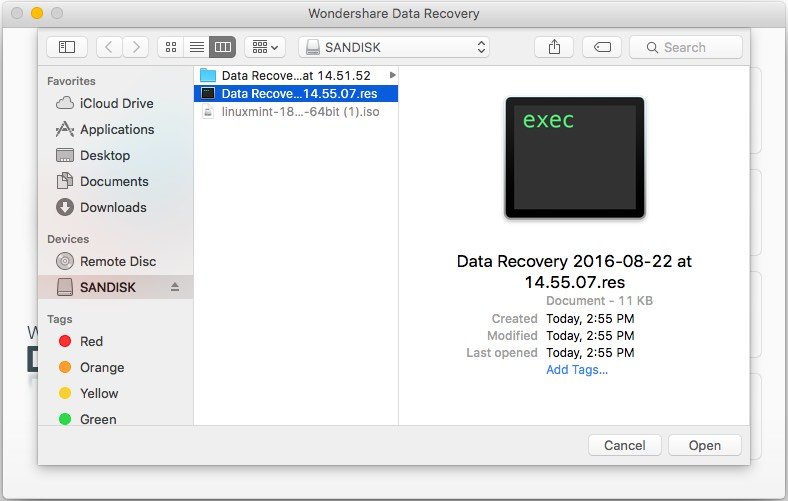 Three step data recovery process: Select, Scan, Recover
Each scanning option in this popular data recovery tool is built as a wizard to guide you at every step and help you get the best results. The complete data recovery process consists of three steps.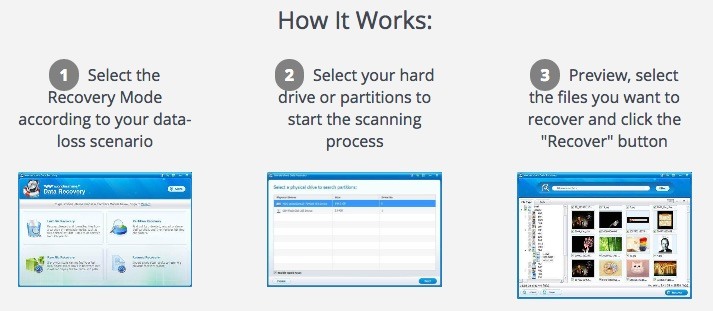 The first step involves the selection of the right data recovery mode according to how you lost your data. Depending on which way you lost your file, choose Lost File Recovery, Partition Recovery, or Raw Recovery method. Now proceed to the next step.
Before proceeding to the scanning window, you need to specify the partition, type of file, file system etc. You are also asked if you want a deep scan. After selecting the path/location where data loss occurred, you need to click on the Scan/Start button to start the scanning process. 
In the third and the last step, i.e. recovery, you have the option to preview, recover, and save your files. On the right pane, you'll be shown a list of the recovered files and their preview. You need to select the desired files and click on the Recover button. Please note that don't save the recovered files in the same partition where data loss occurred. In case that data loss occurred on your PC, I'll advise you to use a USB drive to save the recovered files and vice-versa.
Supported devices and file formats
As said above, all the devices with NTFS, FAT16, FAT32, exFAT, HFS+, and HFSX file systems are supported. These devices include desktops, laptops, digital cameras, memory cards, flash drives, removable drives, solid state drives etc. Interestingly, storage devices like Floppy Disk, iPod, and cell phones are also supported.
Wondershare Data Recovery software supports multiple types of files–document, images, video, audio, email, and archive. Here's the complete list of supported file types:

Pros: 
Wondershare Data Recovery software lets one have a complete control over the lost file recovery process. There are are different modes for different needs. This tool also shows you the scanning stat, telling you how much time is left and how many files are recovered. We tested these readings and they proved to be quite accurate. Using the Resume Recovery method, one can pause the scan and continue it later according to your convenience. Another plus point of Wondershare Data Recovery Software is its wide range of supported devices and file formats.
Cons:
The trial version of this tool has a 100MB file size limit. For recovering files bigger than that, you need to buy the full version. Also, the preview feature of the tool has some scope of improvement as it doesn't work for some file types.
Editor's conclusion:
Wondershare Data Recovery for Mac is a worthy option if you've lost some important files from your computer. This tool comes with many helpful options like different scanning modes, in-depth scan, and resume option that make it a good choice. So, you can grab the free version, scan for files, and if your files show up in the scan results, you can make the purchase and recover the data files larger than 100MB.
Important: This article is sponsored by Wondershare Data Recovery. However, to deliver an informative and impartial article to our users, we have tested the software and added our experiences. 
Did you find this helpful? Don't forget to drop your feedback in the comments section below.