With around 36% market share, Windows is the second most used operating system in the world. In 2017, it was outperformed by Google's Android which has reached many people as the flood of Android-powered smartphones and tablets spread across the globe.
Windows is mostly the first choice of everyday users who want to enter into the world of computers. One big reason has been the lack of comparable alternatives. MacOS is beyond the reach of many and Linux is perceived as a tougher replacement to Windows. Lately, the Microsoft-owned OS has started to face competition from Chrome OS, at least in the education sector.
Anyway, even after all these years of existence, many users often ask what version of windows do I run? That shouldn't be something we should call naive because knowing the exact version of your Windows OS is important.
It's required when you need to check software compatibility for apps and drivers. Installing wrong drivers could even break some stuff on the computer which many won't want.
What version of Windows do I have?
The old school way – Check File Explorer Properties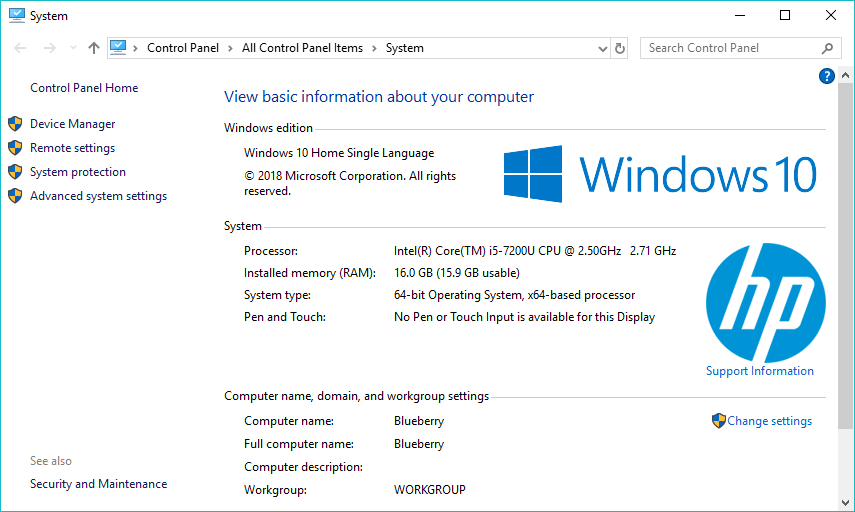 Just like you did in the past on Windows 7 and older versions, you can right-click on This PC/My Computer and go to Properties. Here, details like your Windows version and edition, product ID are displayed. It also shows your RAM capacity, processor model, and whether you're using a 64-bit processor or not. Nowadays, there is hardly any PC left that's not running a 64-bit processor, unless you've one from your grandpa's time.
Check Windows version in the Settings app
With the release of Windows 10, Microsoft has added one more place where it lists system details.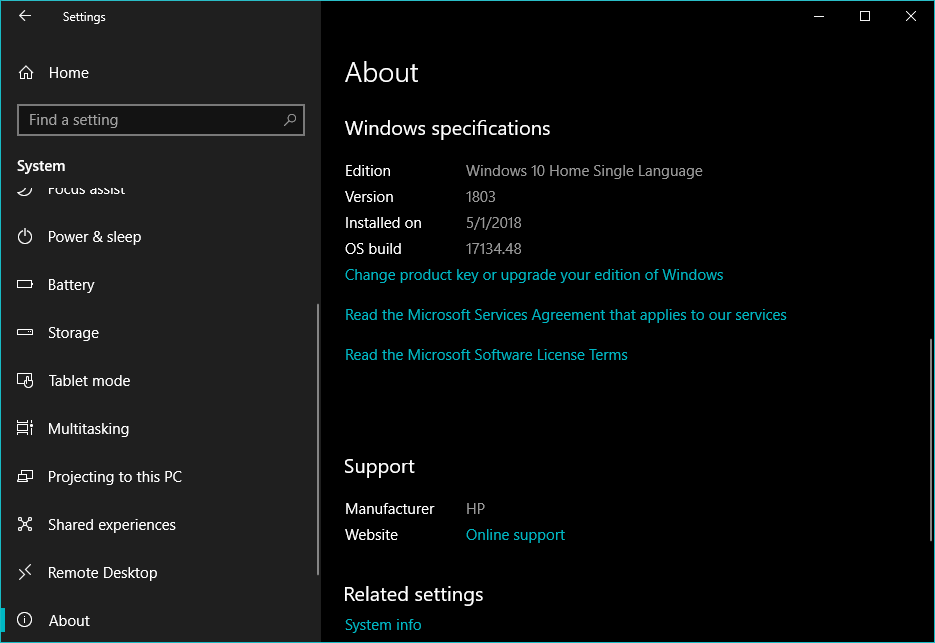 To know some extra information about your Windows PC, open the Settings app. Go to System > About. Here, you'll also see things like your Windows 10 version, OS build number, and when the latest update was installed.
If you're running build number 17134, that means the April 2018 Update is installed on your PC.
Use the System Information app to find Windows version
If you remember, Windows comes with a built-in app called System Information that displays information about your PC.with an extra level of detail You can find the app using Windows Search.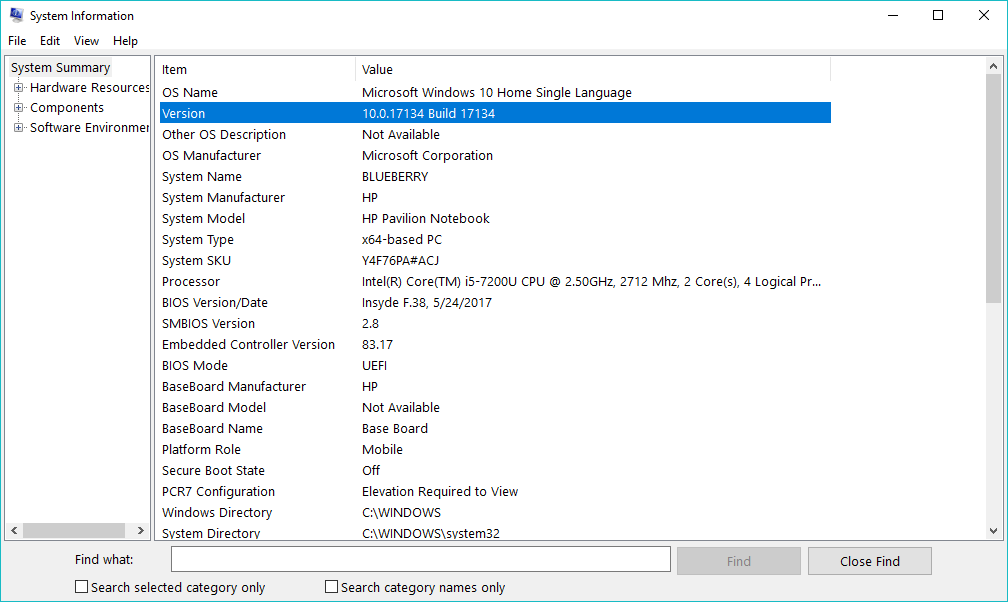 By firing up the System Information app, you can know almost everything about the hardware and software present on your PC, not just the Windows version.
Check Windows version and OS build using CMD
To check the version of your Windows OS, you also take the help of the Command Prompt. You can use the popular command called winver. A pop box will appear displaying the Windows version and build number. However, the information is not as detailed as the above-mentioned options.
If you want, you can type the winver command directly in the Start Menu search bar and click on the result.
Also, check out our article on how to check windows key using CMD and PowerShell here!
Is My Windows 32-bit or 64-bit?
The File Explorer Properties page and the About page in the Settings app tell you whether you're running 32-bit or 64-bit version of the Windows. You can read our detailed post on 32-bit and 64-bit Windows to know the difference.
So, you might have found the answer to the question "What version of Windows do I have?". But there some other things about Windows OS that you might want to know.
Windows 10 Release Date – When did it come out?
Another important piece of information you might want to know is when did Windows 10 come out. Microsoft made a big change in the development of Windows, the company now promotes Windows as a service which is loaded with feature updates every six months.
Windows 10 was released for general public on July 29, 2015.
What's the newest Windows OS?
April 2018 Update is what you can call the newest Windows. Of course, it was released in the month of April. The update brings the Timeline feature among the big changes.
Is Windows 10 free?
The answer has changed over time. Initially, Windows 10 was offered for free to any user having a valid copy of Windows 7, 8, or 8.1. Microsoft literally forced Windows 10 on the users.
Later, the company pulled the free upgrade offer but it was officially available for people, who use accessibility tools, until last year.
How much is Windows 10's price tag?
If you missed the upgrade deadline, you can purchase Windows 10 Home single PC license for $119.99 and Windows 10 Pro for $199. Alternatively, Windows 10 is now shipped with many laptops and desktops which makes it a somewhat cheaper deal.
What about the updates?
Once you have genuine Windows 10 running on your machine, the updates are pushed for free. Microsoft has rolled out five feature updates till now, including the April Update. The next major update, codenamed Redstone 5, will come out later this year.
So, this was a small piece on how you can check Windows version, build number, and whether it's a 64-bit or 32-bit Windows. If you have something to add, drop your thoughts below.
How to download Windows 10?
If you're already running Windows 10, the latest update might have installed on your computer if haven't stopped automatic updates. If that's not the case, you can visit Microsoft's website and click Update now.
You can also download and install Windows 10 manually using the Media Creation Tool and create a bootable USB.
The tool also works if you have a genuine Windows 7 or 8 product key. However, you should have upgraded to Windows 10 at least once during the free upgrade period. It's known that Windows 10 free upgrade offer still works if you have a key. So, give it a try.