The fifth Windows 10 feature update, most likely named April 2018 Update, is just around the corner. It will arrive with many new features including the timeline, fluent design changes, and more options merged into the Settings app.
But just like every other Windows 10 update, it might arrive with problems for some users. So, some people would want to delay the update until it becomes stable on major of PCs. Also, some users don't want the forcefully installed update to disrupt their tasks.
There are ways using which you can block Windows 10 from automatically downloading and installing the update.
How to stop Windows 10 April 2018 Update from automatically downloading?
You already know that there is no direct way to block Windows 10 update. But you can use the 'Set as Metered Connection' feature to prevent the April Update from landing on your Windows 10 PC.
Go to Settings > Network & Internet > WiFi.
Click Manage known networks.
Click the name of your WiFi network and click Properties.
After you enable the option, Windows 10 won't download any feature or cumulative updates on your system. Please keep in mind that this would also deprive your computer of the monthly security updates released in the form of Patch Tuesday.
However, Windows may still download some critical priority updates even if you have the enabled the metered connection option.
Among other updates, this option also prevents windows from installing drivers when you connect peripheral devices. You can change this setting by visiting Settings > Devices. Now on the Bluetooth and printers pages, tick the checkbox "Download over metered connections."
Set ethernet as a metered connection to block Windows Update
You can also enable the 'Set as a metered connection' for ethernet in Windows 10. Read this post to know the steps.
Delay Windows 10 April Update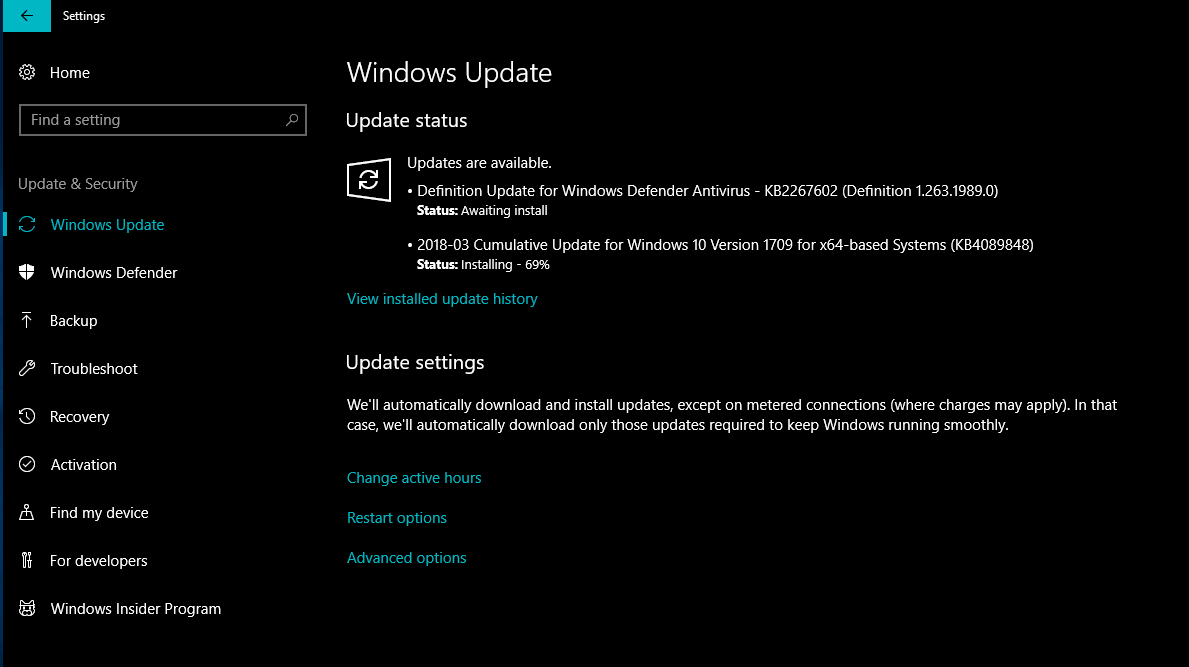 Apart from metered connections, there is another way you can delay the April Update for a while. In Settings > Update & Security > Windows Update, you can change the Restart options and pick a time for the system to restart after installing the update. You can delay it up to seven days.
Always Use a Cellular Connection
You can stop Windows 10 auto updates by connecting your PC to a cellular network. That's because mobile networks are considered as metered connections by default to minimize data usage. Although this might not be the best idea ever, it does what you want, i.e., blocks Windows 10 updates.
Change active hours for the extra piece of mind
There is one added workaround that I think should work if you don't want Windows to start installing updates when you are in the middle of something. The Active Hours feature that arrived Windows 10 prevents the system from automatically restarting when you're using the device. Setting the active hours to a time when you don't use your computer (for instance, at night) may stop installing Windows 10 automatic update at an inconvenient time.