Yesterday, Tesla released its holiday update on the occasion of Christmas and updated many features. It also introduced a new Boombox feature that is creating hype among fans.
Though most Tesla fans are already aware of the Boombox feature, many normal users might need an introduction to it. Today, we'll throw light on this feature, discuss how to use Tesla Boombox, and tell you who can't use it. Without any further ado, let's jump onto the crux.
What Is Tesla Boombox Feature?
Tesla boombox feature or boombox mode, enables users to broadcast sound outside the car through inbuilt external speakers. Tesla says, "turn your car into a boombox and entertain a crowd through a media player when parked."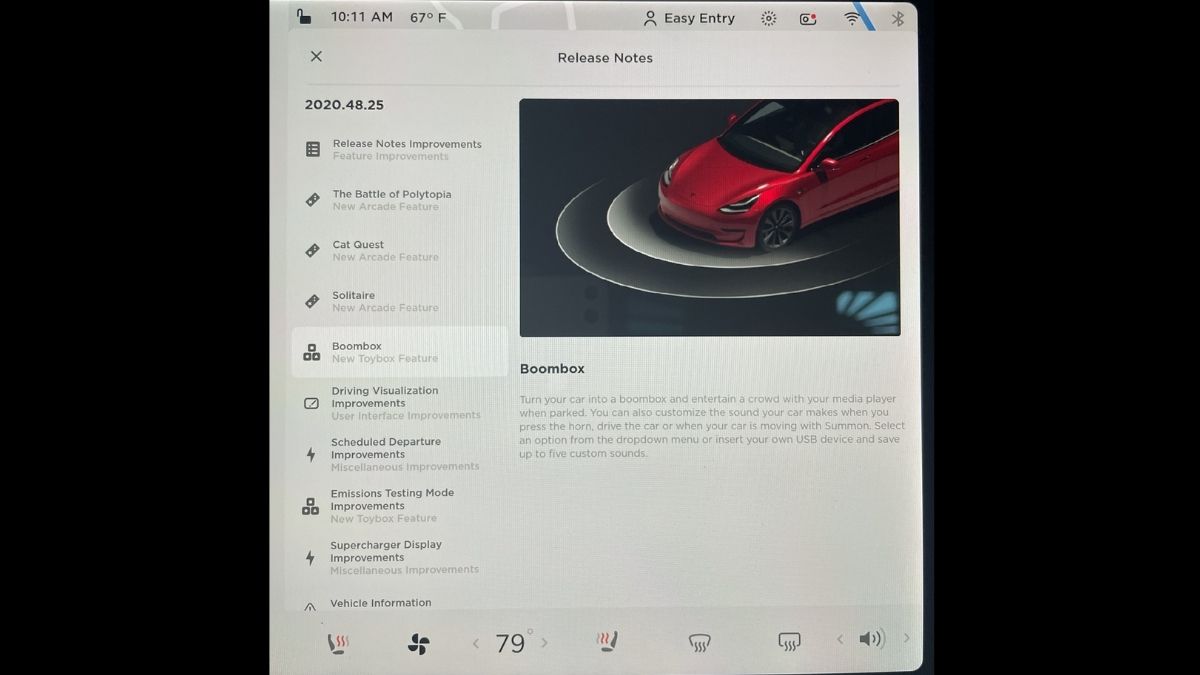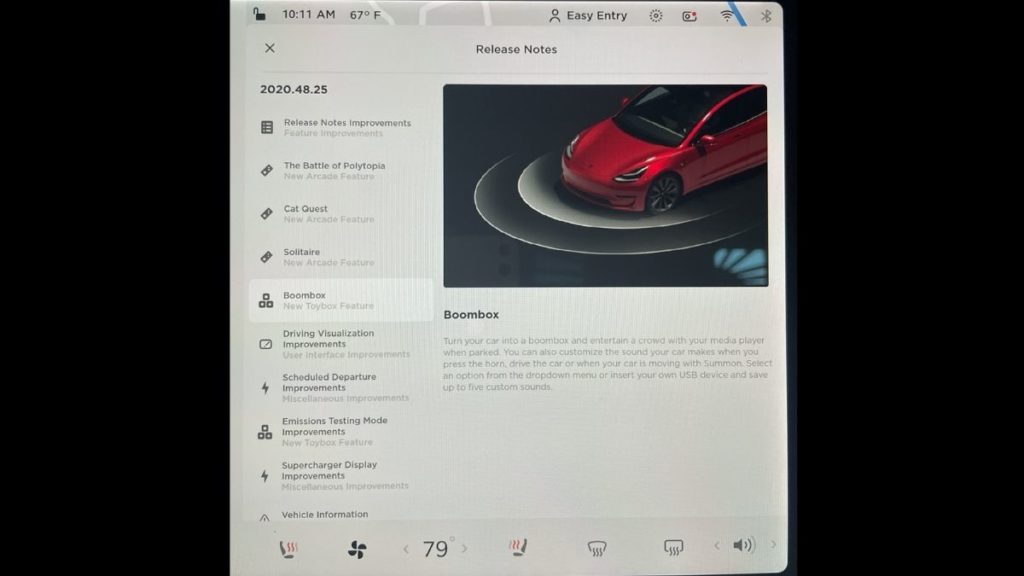 You can either choose a sound from the drop-down menu or set up to five custom sounds that you'll have to upload through a USB or other external device.
However, Tesla recommends checking local laws before turning your car into a boombox in public.
Also Read: What Is The Camp Model In Tesla? Everything You Need To Know.
How To Use Boombox Feature?
It's very easy to use boombox mode, you have to follow these simple steps:
First, tap on the Application Launcher icon present on the bottom bar of your Tesla screen.
After that, tap on the Toybox option.
Under the Toybox folder, you will see the option to activate boombox mode.
Select the boombox option and pick the sound of your choice.
Who Cannot Use The Boombox Feature?
As mentioned earlier, the boombox mode allows your electric car to produce sound externally, and it requires an inbuilt outer speaker. However, only the cars that Tesla produced after 1st September 2019 have an in-built speaker.
According to Teslarati, the speaker was a safety precaution when NHTSA required electric cars to produce sound to alert pedestrians. Hence, all Tesla owners who own a model manufactured prior to the aforementioned date will not be able to use the feature.
Anyway, in addition to this feature, Tesla also introduced some exciting updates related to artificial sounds.
New Tesla Update Allows It To Fart On Neighbours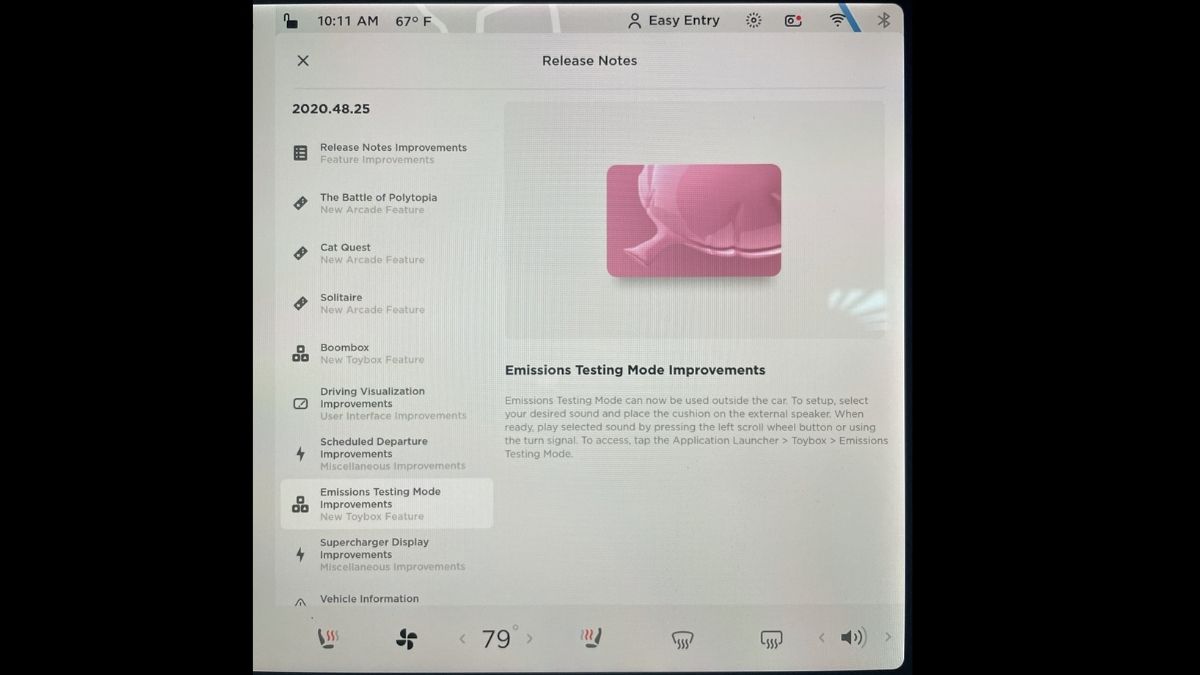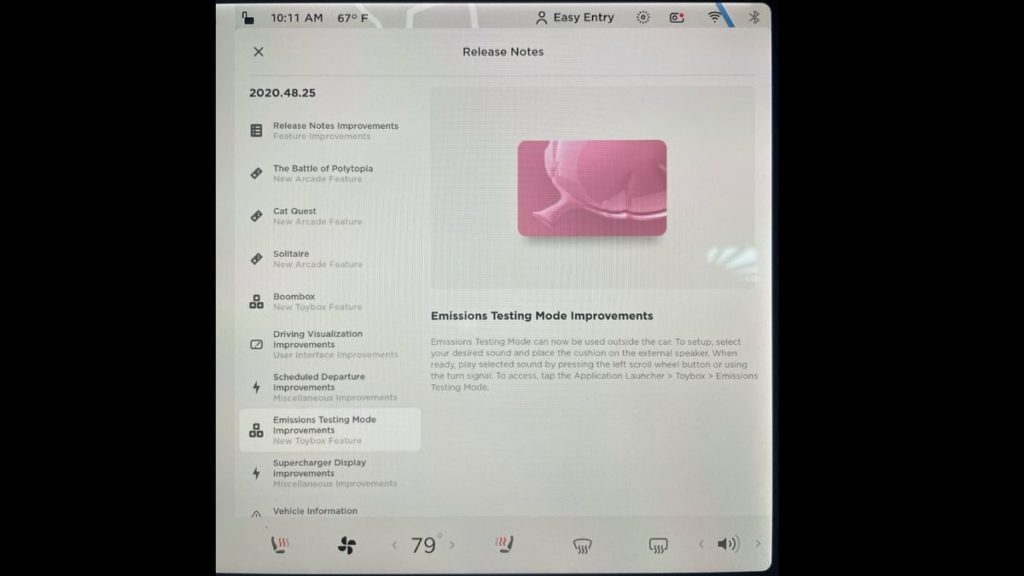 Yes, you read it right. The new Tesla holiday update has added a few new sounds like goat baaing, posh, applaud, fart, and a few more that can be used as a horn. Tesla already had a farting sound feature; however, users could use it through internal speakers.
Now, you can use farting horn through Emission Testing Mode, which is another feature of Toybox. You have to follow the same steps as boombox to access this feature.
To setup, select fart sound from dropdown options and place the cushion on the external speaker. You can then play sound by pressing the left scroll wheel button or using the turn signal. You can also use other sounds.
Aside from that, under the Emission testing Mode, there are two more options: Drive Mode and Summon. As the name suggests, Drive Mode can be used to play sound continuously while driving the car. Similarly, you can also play music while summoning your car. Here's a link to the video demonstrating how to access these features.
We hope this article will be of some help to you. Drop your thoughts in the comments.