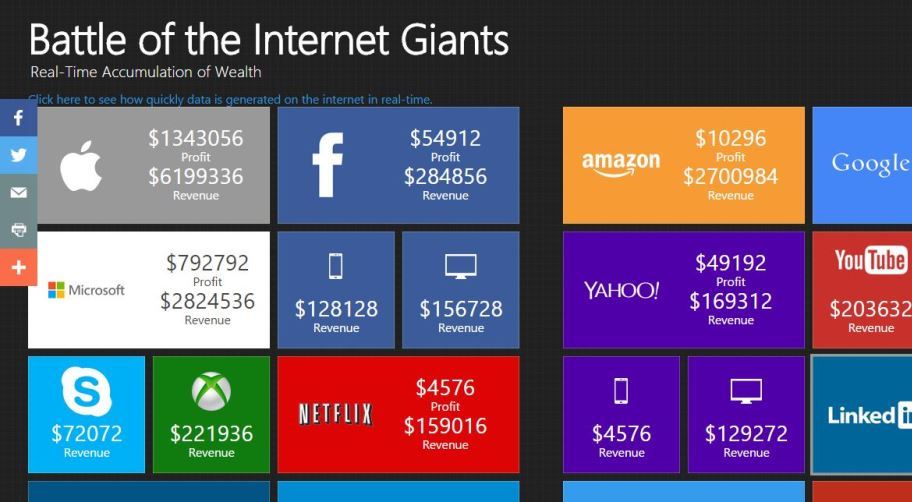 Short Bytes: Pennystocks has come up with a real-time visualization of the profits earned by the world's most valued companies including Alphabet, Facebook, Microsoft and Apple. It can also be seen on the visual that how other companies are struggling to make money and how companies like Apple are taking away most of the profit.
W
ith
Alphabet becoming the world's most valued company
after beating Apple which was holding the throne for last 14 years, it has become more interesting to see how these companies make money. The worth of these companies is decided on the Wall Street. For the first time in history, all the world's most valued companies are tech giants.
Facebook jut beat Exxon, the oil company to snatch the fourth spot
after Alphabet, Apple, and Microsoft.
To give you a real time feel of how much money these tech giants are making every new second. Penny stocks lab (see it below) has come up with a data visualization from the trading information portal. From the data visualization, it can be clearly seen how much money these companies are making every second.
Altogether, they're making more than $2,000 profit per second, or over $140,000 a minute. Still in total, 50 percent of the total cash is being taken away by the Apple. On the other hand, from the same data visuals, we can see that how Twitter, Pandora, and Yelp are struggling to make any profit.
Looking at this trend, some people think that the accumulation of money by the tech giants is going to cause a problem for the global economy, while others think that tech companies should pay more tax on their profits.

Click on the link to view the full version [PennyStocksLab].
What do you think? Should they pay more taxes? Write your opinion in the comments below.