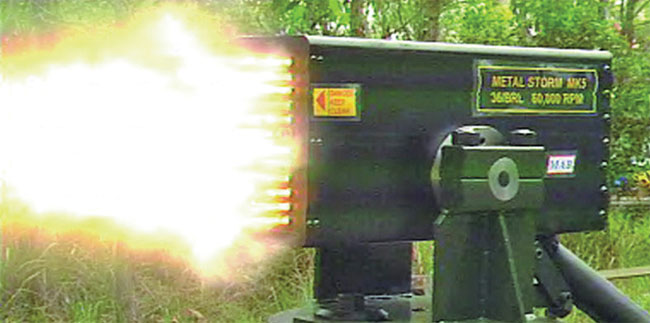 Short Bytes: The Metal Storm gun beats the Guinness World Records holder machine gun M134 Minigun by a great margin. Known as Metal Storm gun, this weapon system fires about 1 million rounds per minute. Sounds unbelievable? Go ahead, and watch it yourself.
A
ccording to the Guinness World Records, the machine gun in service with the highest rate of fire is the M134 Minigun. Designed in 1960s, this weapon spat fury from helicopters and armored vehicles. This 7.62mm calibre gun fired at a super fast pace of 6,000 rounds per minute i.e. 100 rounds per second.
Well, here I'm going to tell you about another gun — Metal Storm gun — whose firing speed blows M134 Minigun away. This prototype system fires 16,000 rounds per second or 1,000,000 rounds per minute.
Metal Storm gun was developed by an Australian weapon company, that delivered gun systems to the US Navy for surface ships.
Watch the video below and see how this gun fires 1 million rounds per minute:
Did you find this video about the world's fastest gun interesting? Share your views in the comments below.
Also read: The Teen Who Made Drone Gun Just Made A Deadly Flamethrower Drone