Valve recently published a teardown video of its upcoming Steam Deck console on its YouTube channel, and the console looks pretty interesting from the inside with quite appealing design choices. Let's dig in and learn from the video.
For those who don't know, Steam Deck is a handheld gaming console from Valve which runs an open-source Linux-based operating system called Steam OS. To know more about the console, check out our comprehensive coverage about the same.
Steam Deck Teardown: This Could Be It
The video starts with "This is a How-to video, but in another way, it's a 'why you really shouldn't do any of this,' and that's because, even though it's your PC, you have every right to open it up and do what you want."
It's great to see Valve openly acknowledging that you can open it. However, this leaves us with a couple of questions about the warranty. Later the host says, "the warranty doesn't cover any damage that 'you' do."
Through this, we're guessing that the warranty won't void if you open Steam Deck? That's pretty nice.
Another thing that we learned from the video is, Steam Deck's plastic back is screwed together with self-tapping screws (The ones which have aggressive threading). The video says that they increase the physical strength of the device, but we'll have to see.
The plastic back comes off easily, and there aren't any ribbon cables or sensors attached to it. Once the back's off, we get to see lots of sub-boards. This again might be a win from a repairability point of view since the sub-boards will be a lot easier and cheaper to replace.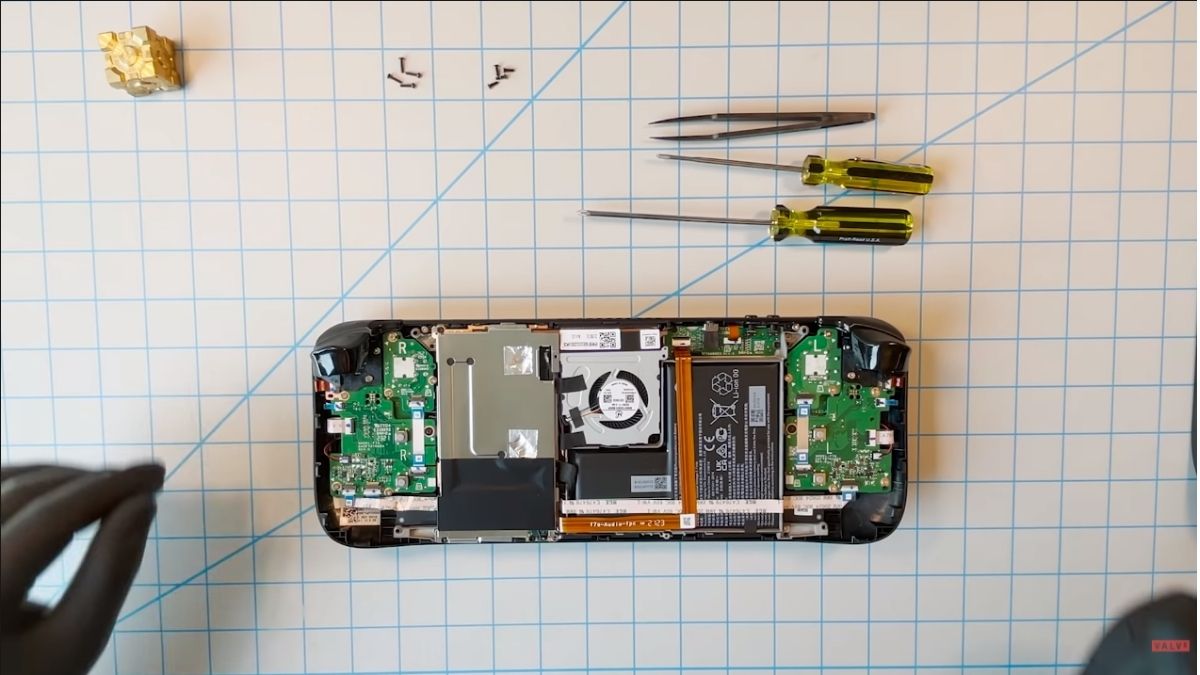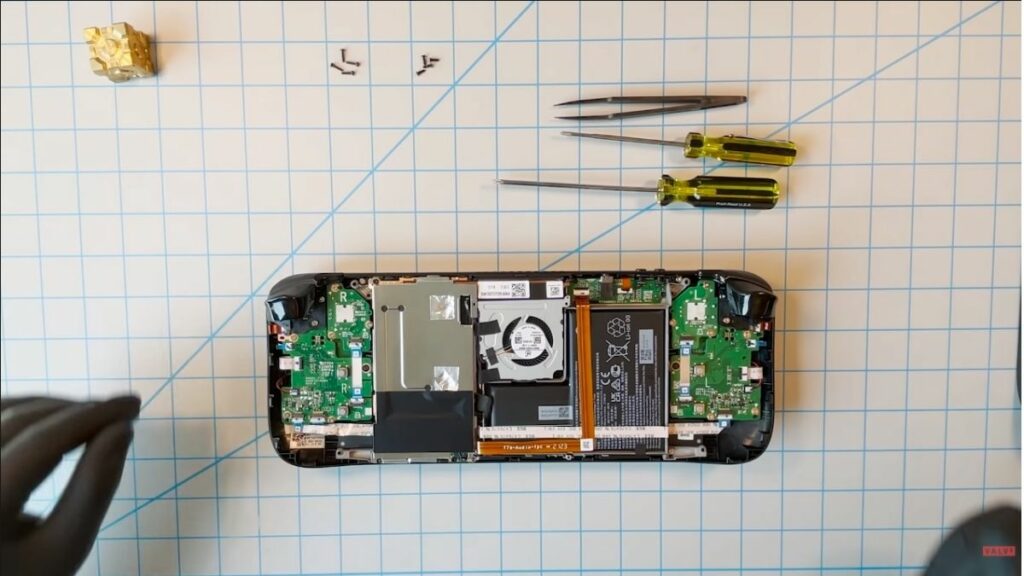 In the top middle section, we see a fan with a copper heat pipe running through the upper body, and to its right, there's an L-shaped battery. On the left, there's a metal shield, which, after removing, reveals the M.2 2230 SSD.
However, Valve said that the teardown was made with a pre-production Steam Deck. Hence, the one that people might get their hands on could be different from the inside.
Steam Deck Teardown: Removing the Back Plate
The host removes the right thumbstick, which is held down by three screws. Then he said something that blew my mind, "Stay tuned in the coming months for a source for replacement parts, thumbsticks, SSDs, and possibly more." This might make Steam Deck the most repairable handheld console.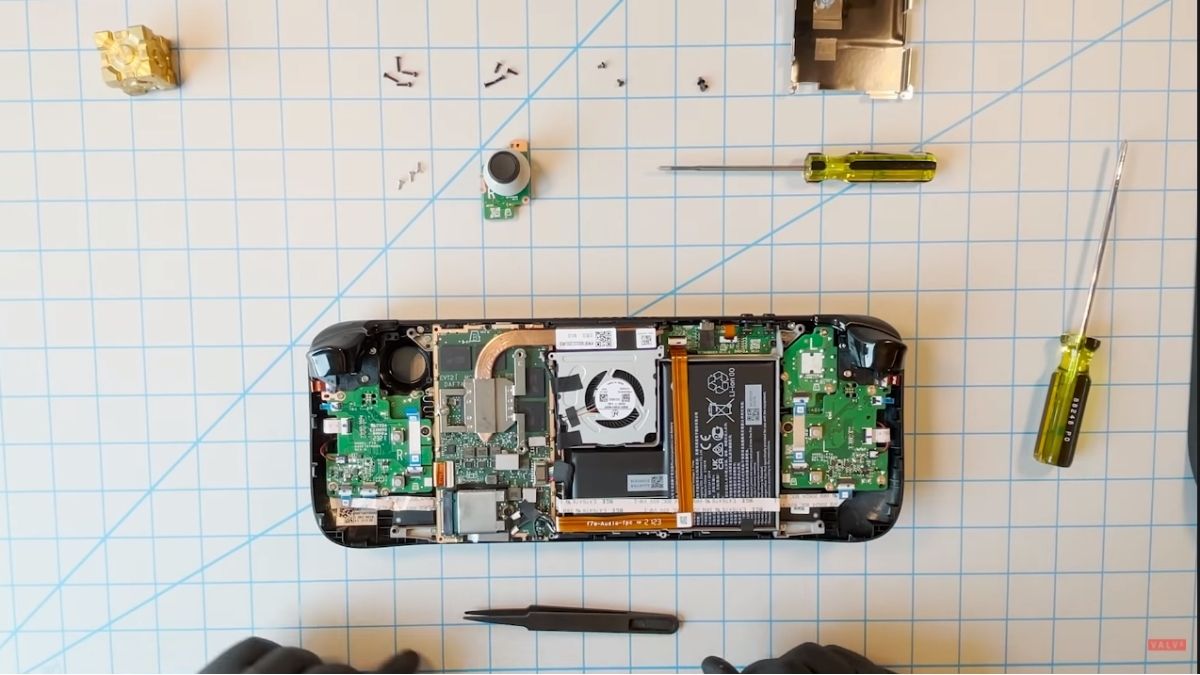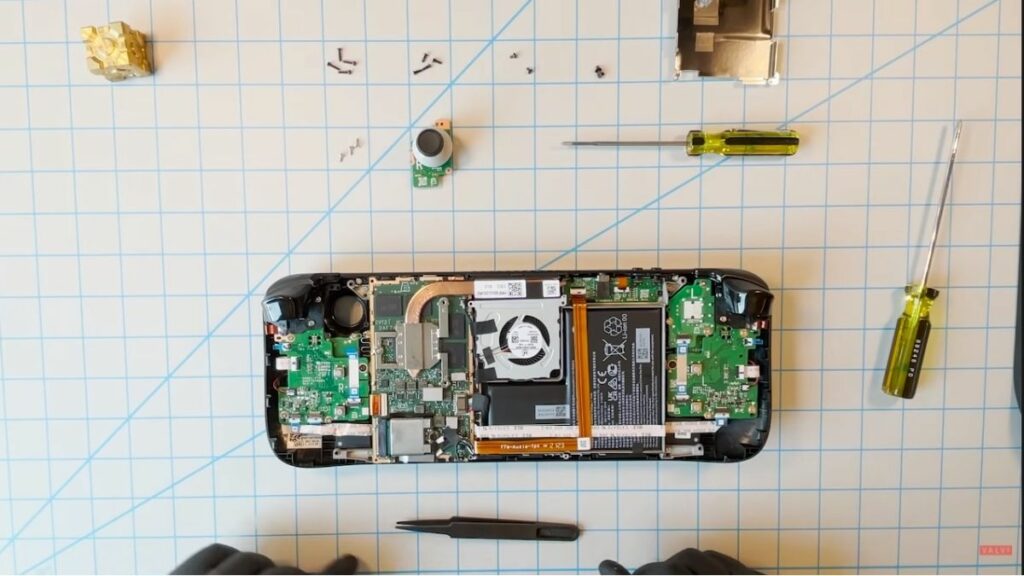 Interestingly, in the 64GB model, the 64GB eMMC storage is an NVMe module that sits in the M.2 slot. This surprised me as I thought the 64GB variant would ship with a different motherboard with no M.2 slot and soldered eMMC. Because of this, you might call me a Valve hater, but it's 2021, and I definitely saw it as a possibility. But I'm glad that I was wrong.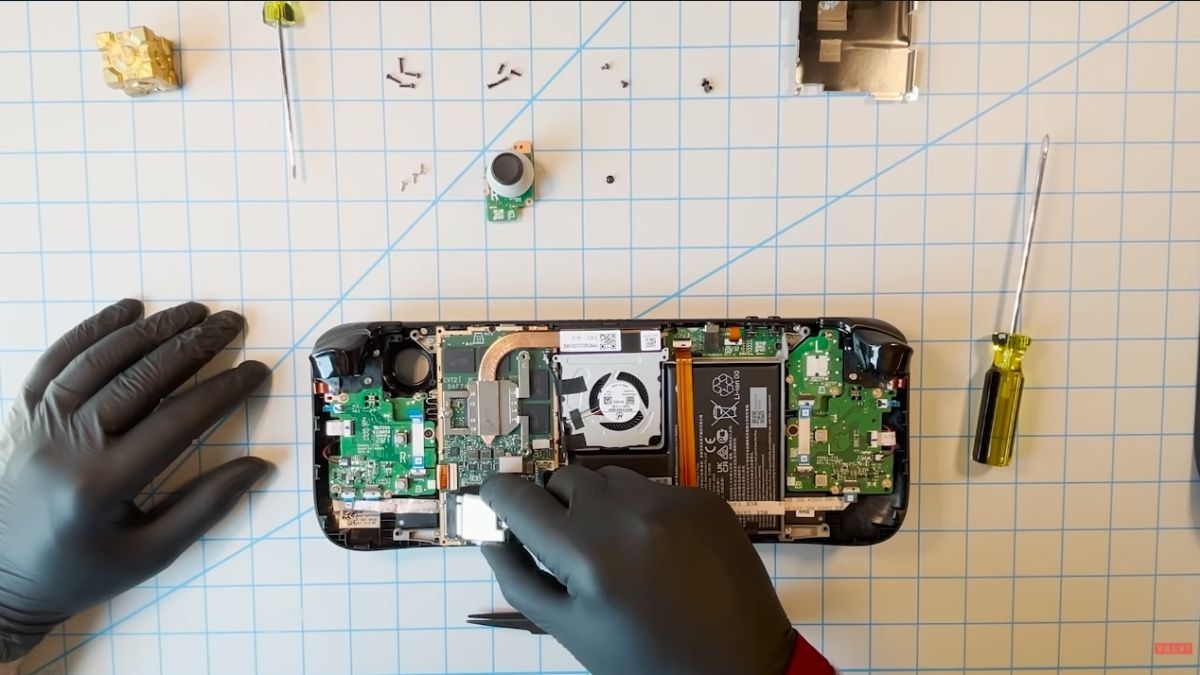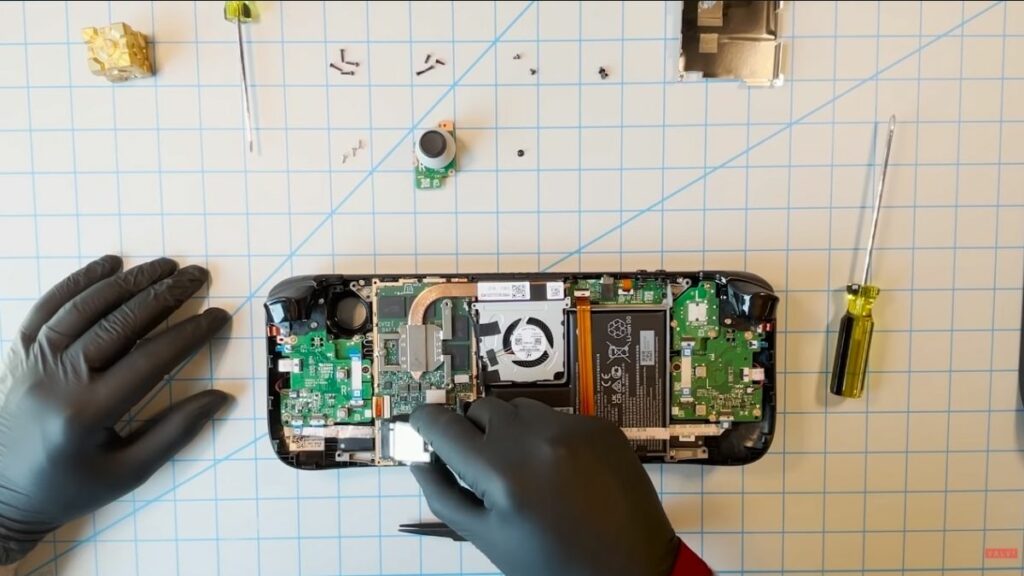 Now that the M.2 slot on the 64GB variant is confirmed, one can buy the same and add an SSD later, thanks to the easily openable back panel. However, that means you'll lose the 64GB eMMC. You should also note that Valve does not recommend upgrading to third-party SSDs as they could cause electromagnetic interferences, which may cause performance issues, overheating issues, and might consume more power.
The SSD slot is also very close to the wireless module. Using a third-party SSD might interfere with wireless connections and ultimately lead to network connection issues.
The rest of the video was a rewind of everything that was disassembled during the process. That's pretty much it. Overall, even from the inside, the Steam Deck, so far, looks like a pretty compelling package considering the price. We'll have to see if Valve actually goes the extra mile and provides spare parts in the future now that they have said it.
What are your thoughts about the Steam Deck? Have you pre-ordered one? Let us know your views in the comments section below.