Tesla reduced the price of its electric vehicles, including its best-selling electric car, Tesla Model 3 overnight. The electric automaker cut down over $5000 for some models. Despite being one of the best electric vehicle producers, what made Tesla drop the price?
Directly or indirectly, it's the global coronavirus pandemic that likely pushed Elon Musk to implement new prices. This pandemic has had a severe effect on the economy of many countries.
Even after being one of the most developed nations, the US could not escape from the impact of COVID-19. Moreover, the automotive industry is one of the most affected sectors in the current pandemic.
From auto shows to product launches, everything is either canceled or postponed until next year.
Likely due to these ongoing issues, Tesla decided to make its electric cars more affordable. Here's everything regarding the new prices of Tesla electric cars.
Tesla Model 3 New Reduced Price: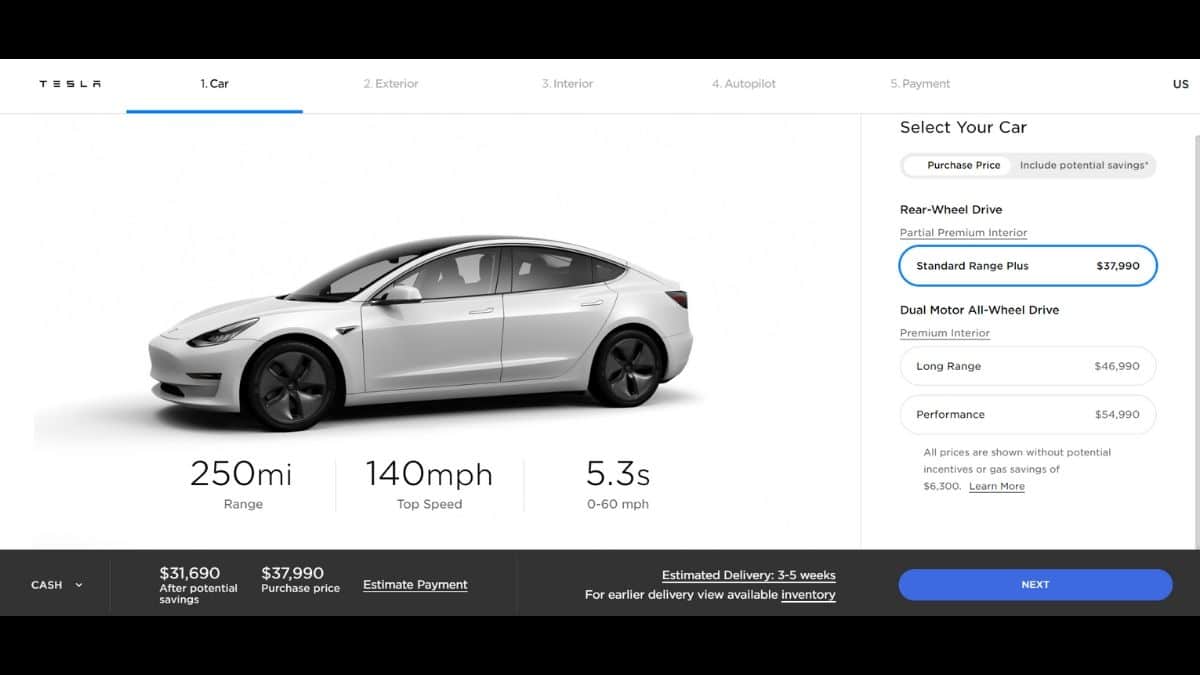 Tesla Model 3 is one of the most affordable electric cars from the EV maker.  To make it even more affordable, Tesla reduced its cost by $2000. The new price for the standard range plus variant is $37,990, and earlier, it was $39,900.
Meanwhile, there is a straight $5,000 cut in the price of Tesla Model S. The flagship electric sedan of the company now starts at $74,990.
Not only this, but the performance variant of the sedan also got a deduction of the same amount. Now one can get a Tesla Model S Performance in under $95,000. Earlier this year, Tesla updated its Model S with an improved range of around 390 miles.
Similarly, prices for both variants of the Model X electric SUV fell by $5000 each. The price of the long-range variant of Model X now stands at $79,900.
However, the newly launched Tesla Model Y still remains the same. It's a wise decision not to reduce the price of a new car as it might disrupt its market position.
On one hand, Tesla is improving the quality of its electric vehicles, and on the other hand, it is reducing the price. It is definitely a great time to be a Tesla buyer.
Tesla Also Plans To Reduce Price In Chinese Market
Tesla is long planning to sell cheaper Model 3 in China. To achieve this, the automaker has majorly focussed on producing high-density affordable batteries that will serve both the purpose of providing a long battery range and maintaining affordability.
The company has also collaborated with Chinese firm CATL to produce better lithium-ion batteries. CATL is a Chinese company that specializes in developing and manufacturing lithium-ion batteries for electric vehicles.
Additionally, CATL is working on Lithium-Iron-Phosphate (LFP) battery cells that are part of Tesla's China-centric strategy for making cheaper Model 3.
Furthermore, a research center headed by Prof. Jeff Dahn at the University of Dalhousie is working on developing electric battery technology for Tesla. We recently came to know that CATL and the scientific team will be working together to develop a million-mile battery cell for the American EV maker.
However, when it comes to the US market, there is no news of using such cheaper battery cells that will allow Tesla to reduce the price of its electric vehicles. The reduction in price mostly seems inspired by the pandemic condition. What are your thoughts on this issue?