As the government of India is escalating its tussle with social media, questions are being raised on both parties. Today, I came across a complaint that Twitter took more than 3 years to resolve.
Twitter user @dileepkush posted a screenshot of a message he received from Twitter. He filed a complaint against another Twitter user @Dksexy123, over 3 years ago. The platform has finally blocked the account for violating its rules against graphic violence and adult content.
A 1,000 Days To Act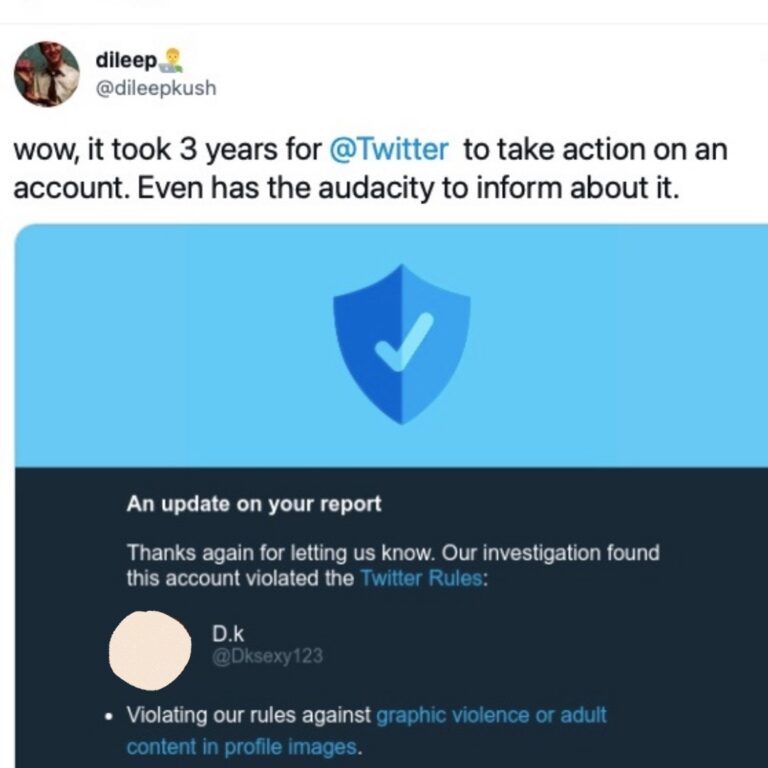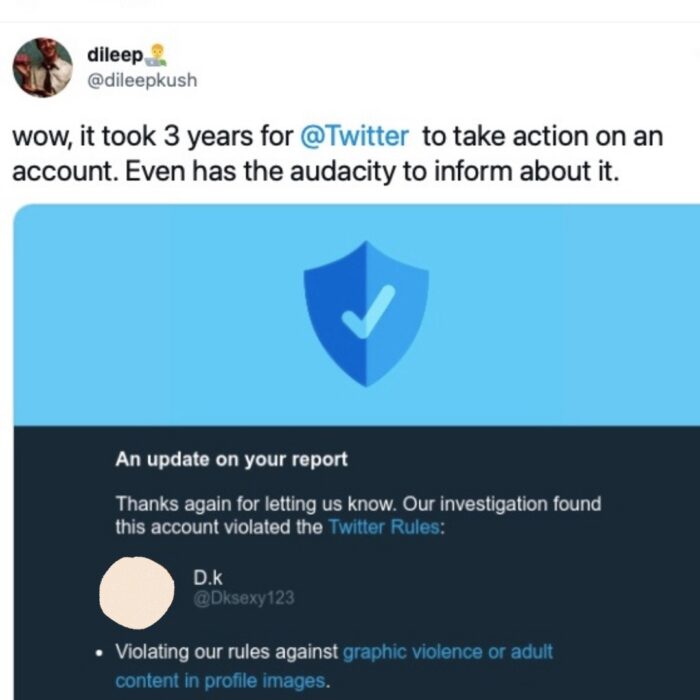 I first went with embedding the Tweet here, but the blocked account has a penis as its profile picture. One of the broad reasons it should've been blocked long ago. Well, I had to look at it, and I don't want to pass the trauma, hence the image.
It literally took Twitter 3 years to take down a clearly pornographic account. This action too comes after the National Commission for Women wrote to Twitter India about the pornographic content on the platform.
Twitter's policy allows consensual pornography on the platform. However, such content has to be marked as sensitive content. The account in this complaint has a penis as a profile picture, which is clearly not marked sensitive and is visible to everyone on the platform.
It takes no rocket science to connect this account's takedown with the recent pressure from the NCW and the government of India. What's alarming is that the account was at large for a long time after a complaint had been filed against it.
Recently, Twitter locked India's IT Minister, RS Prasad, out of his own account for a DMCA violation. On one hand, we see the platform taking copyright complaints seriously, which is good. On the other hand, we have complaints against such content that took 3 years for Twitter to act on.
In essence, Twitter had over 1,000 days to look into the complaint and take action. It is a serious matter as the account possibly created more nuisance on the platform because of the delayed takedown.
It has been a trying time for social media in India, especially Twitter. The platform has been under flak for not following the new IT Rules.
We understand that resolving such complaints can take time. However, such delays allow antisocial elements to remain online for a longer period.
We have contacted Twitter for a statement on the issue and will update the story accordingly.