In a bold move, Twitter has flagged a tweet from US President Donald Trump for glorifying violence. The social media company has affixed a warning on one of his two tweets in which he bashed the demonstrators in Minneapolis, who looted general stores during a protest.
In the tweet flagged by Twitter, Trump called demonstrators as "thugs" and also mentioned that if the looting continues, the shooting will begin suggesting that looters will be shot dead.
https://twitter.com/realDonaldTrump/status/1266231100780744704
This is the first time when a tweet by any US President has been flagged by Twitter. Now, the tweet is labeled with a disclaimer reading, "This Tweet violated the Twitter Rules about glorifying violence. However, Twitter has determined that it may be in the public's interest for the Tweet to remain accessible."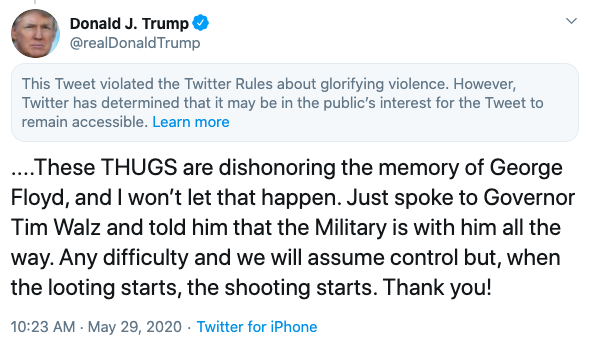 In its response, Twitter said it put a public interest notice on Trump's tweet "based on the historical context of the last line, its connection to violence, and the risk it could inspire similar actions today."
This tweet comes after US President Trump signed an executive order that could allow lawmakers to hold social media platforms more responsible for the content posted by users than the present conditions.
After his tweet was flagged, Trump attacked Twitter in a series on tweets over the freedom of speech and how the social media company is specifically targeting him.
https://twitter.com/realDonaldTrump/status/1266326065833824257
In addition to Twitter, Trump also posted the same message about violent retaliation against Minneapolis protestors on Facebook as well. However, the Mark Zuckerberg-owned company hasn't added any disclaimer on Trump's post.
This isn't the first clash between Trump and Twitter in recent times. Earlier this week, Twitter appended a disclaimer to Trump's bogus tweet about mail-in ballots. This led the US President to sign the executive order.
Facebook, on the other hand, has adopted a complacent attitude towards Trump's statements. Speaking to Fox News about Twitter putting a disclaimer on Trump's tweets about mail-in ballots, Mark Zuckerberg said, "I just believe strongly that Facebook shouldn't be the arbiter of truth of everything that people say online."
Zuckerberg has been criticized for his statements by several experts.
Nonetheless, the digital battle between Trump and Twitter doesn't seem to end soon and with the US elections approaching in the second quarter of the year, social media's role could be prolific.