The electric carmaker Tesla has recently released its new software update. Tesla added one of the most popular streaming platforms, Disney Plus in its latest 2021.24 software update.
Users will be able to access the service through the Theatre Mode app. Tesla already offers Netflix, YouTube, Hulu, and Twitch through its Theatre Mode App. It seems the increasing popularity of shows like Loki and other Marvel movies motivated Tesla to add Disney Plus to its bundle.
However, Tesla's theatre mode can only be accessed when the car is parked for obvious road safety concerns. This allows drivers to pass their time while charging their cars on stations.
Apart from this, Tesla introduced many interesting features like Car Wash Mode, Auto Mirror Dim, Dashcam improvements, and more.
Tesla New Software Update features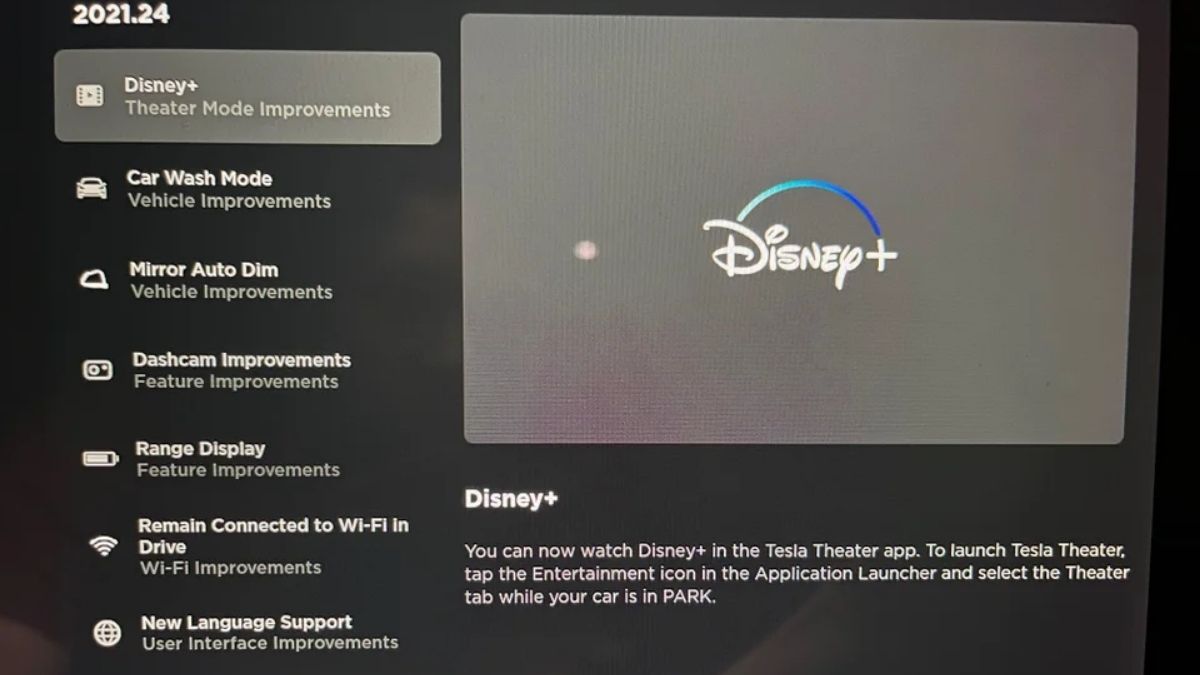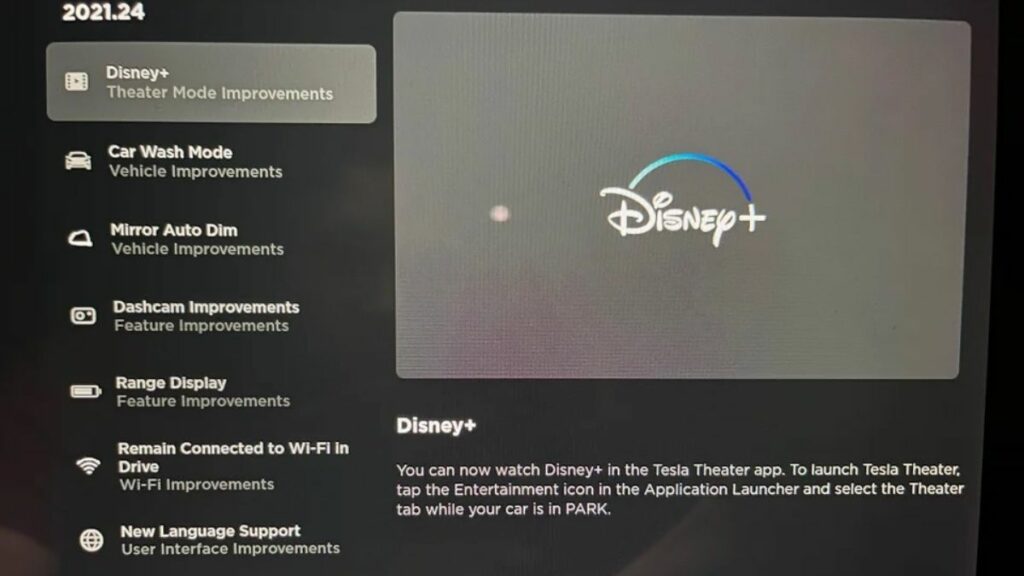 Here are all the features Tesla introduced in its latest software update.
Disney Plus: As mentioned above, Tesla owners can now watch Disney+ titles in Tesla Theatre App. To open Tesla Theatre, click the entertainment icon in the Application Launcher and select the Theatre tab. However, make sure your car is in Parking mode.
Car Wash Mode: This mode prepares the vehicle for scrubbing and washing by closing all the windows, disabling the automatic wipers, locking charging ports, sentry mode alerts, parking sensor chimes, and more. In short, it disable all the sensors and activators and make it behave as a dead car so that washing doesn't trigger any feature.
Mirror Auto Dimming: This feature allows the users to enable or disable side mirrors auto dimming. Tesla's Side Mirror Auto Dimming reduces the glare of headlights of cars approaching from behind at night.
Dashcam Improvements: With this upgrade, owners can program Tesla dash cam to automatically save clips in case of a safety event like collision or any accident. Tesla say it's an "opt-in" feature and recordings will be stored locally and will not be shared with the automaker.
Range Display: Drivers can now choose to display the range either in distance (miles) or in percentage.
Remain Connected to WiFi In Drive: Now you can also use WiFi through hotspot. Earlier, owners used Tesla's Premium Connectivity Package for accessing internet. It's quite a useful feature in case you don't want to use Tesla's package.
New Language Support: Tesla added new language support for Hungarian, Russian, and Romanian.
One of the best qualities of Tesla is that it keeps on improving its cars through OTA software updates. This gives the flexibility to improvise and allows its vehicles to always stay updated which is very important nowadays.
It seems quite an impressive update and none of the features feel unnecessary. Anyway, what do you guys think? Share your views in the comments section below.