Intel's new discrete gaming GPU called Xe-HPG (codenamed DG2) was scheduled to launch sometime in 2021. However, new rumors suggest it will arrive in January at CES 2022. The report comes from a Weibo user, Hardware Academy, who is currently attending ChinaJoy 2021 gaming and tech conference. A reliable source has told them that Intel has decided to release the graphic card during CES 2022.
Intel GPU (Xe-HPG DG2 Series)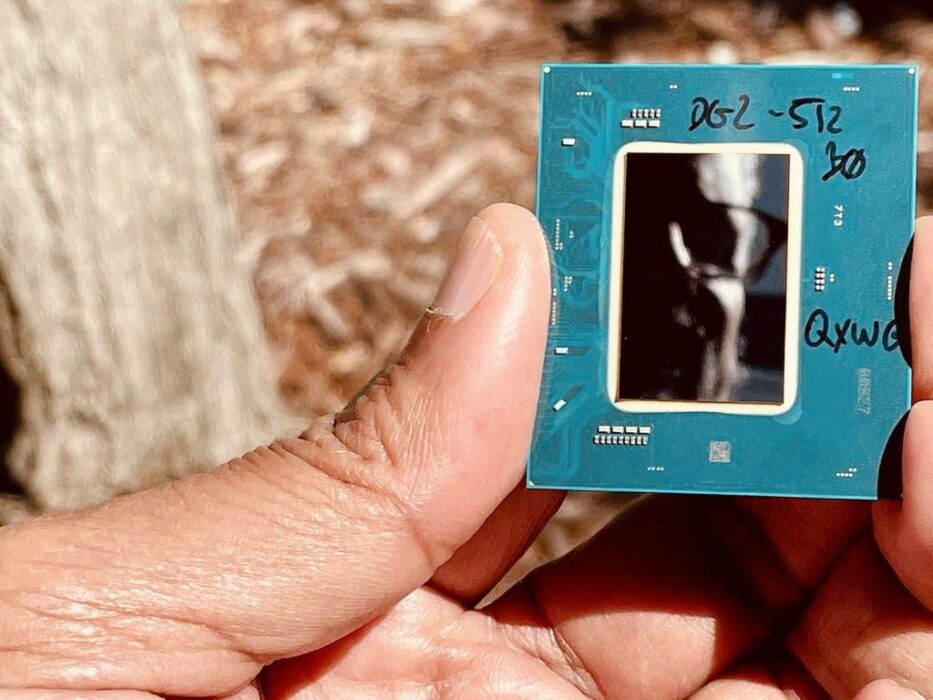 After Intel strengthens its grip in the discrete PC graphics card market, we will finally have a third player in the industry apart from AMD and Nvidia. This will provide some variety depending on the hardware and performance of the new Intel GPU. This will be a huge opportunity for Intel as it's losing the CPU market and has plans to manufacture chips for other companies.
The graphic card will reportedly first arrive with Alder Lake-P laptops, and the desktop versions rolling out later on with low-end Intel Xe GPU models. This will be a huge deal for Intel as it will be offering gaming laptops made with home-baked hardware (no third party involved).
Xe-HPG DG2 Series Specs
One good thing about this Intel GPU is its various models, so it should be treated as a whole Xe series rather than a single GPU. It is also likely that the chip could clock up to 2.2GHz (either base or boosted). As for the power consumption, Intel does have some initial predictions, with the Xe-HPG DG2 512 having a TDP of 225-250W. But that can go up to 275W depending on whether they can improve the clock speed even further.
The Intel DG2 512EU model is said to measure around 396 mm2, and the DG2 384EU will be around 190 mm2. As far as the mobile version is concerned, you can check out the rumored specs down below.
| VideoCardz | SKU1 | SKU2 | SKU3 | SKU4 | SKU5 |
| --- | --- | --- | --- | --- | --- |
| GPU | DG2-512EU | DG2-384EU | DG2-384EU | DG2-128EU | DG2-128EU |
| Execution Units | 512 | 384 | 256 | 128 | 96 |
| Shading Units | 4096 | 3072 | 2048 | 1024 | 768 |
| Memory | 16GB GDDR6 | 12GB GDDR6 | 8GB GDDR6 | 4GB GDDR6 | 4GB GDDR6 |
| Bus | 256-bit | 192-bit | 128-bit | 64-bit | 64-bit |
| Base Clock (Mobile) | 1.1 GHz | 0.6 GHz | 0.45 GHz | TBC | TBC |
| Boost Clock (Mobile) | 1.8 GHz | 1.8 GHz | 1.4 GHz | TBC | TBC |
| TGP (Mobile) | 120W | 80W | 60W | 35W | 25W |
Xe-HPG DG2 Performance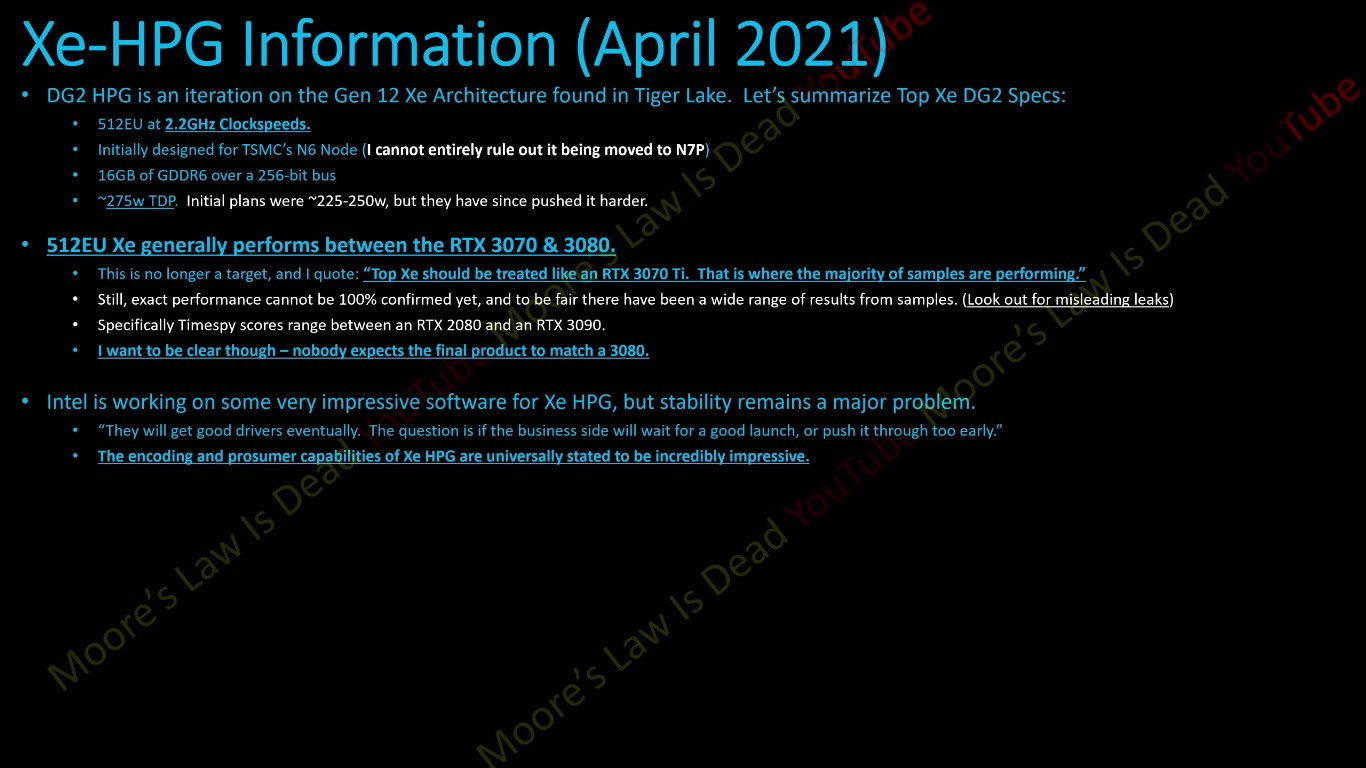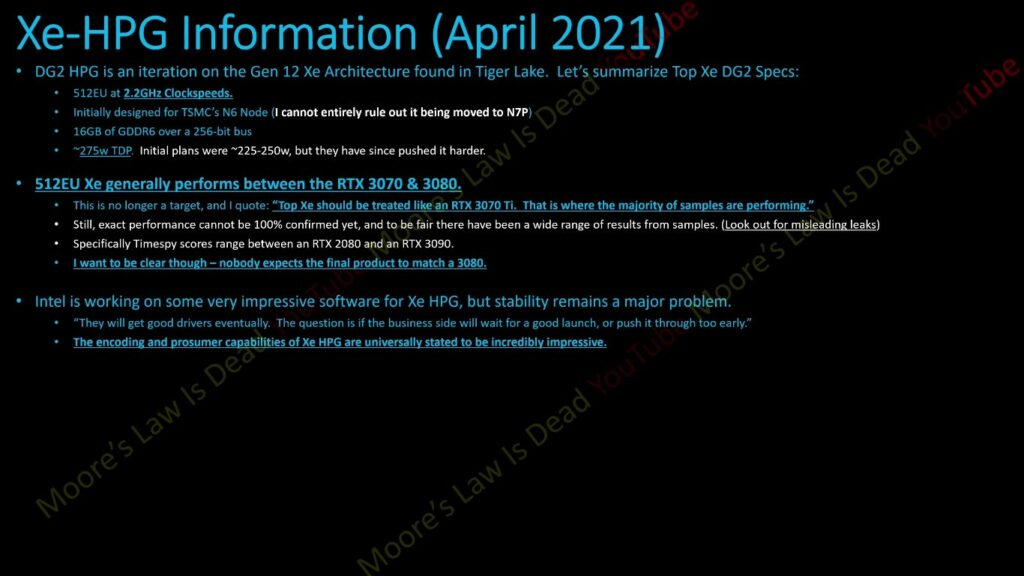 If the rumors are to be believed, the Xe-HPG DG2 will be comparable to high-end graphic cards from both AMD and Nvidia. Performance-wise, the flagship Xe-HPG DG2 512EU model competes with GeForce RTX 3070 Ti or a Radeon RX 6800. As for the whole Xe series, speculated performances range between RTX 2080 and an RTX 3090.
However, all of this information about the upcoming Intel Xe gaming GPU should be taken with a grain of salt until people can get their hands on it for further testing.
Intel's versions of DLSS may be on the cards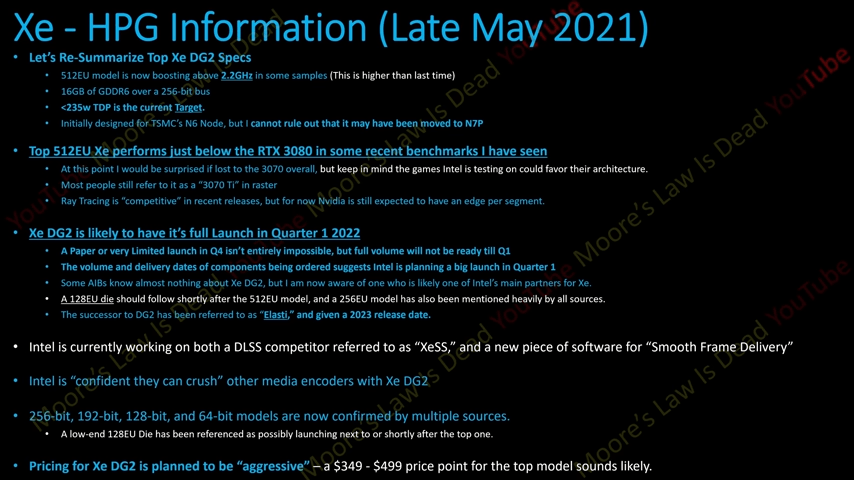 According to YouTuber Moore's Law Is Dead, Intel is working on a competitor for Nvidia DLSS, referred to as "XeSS" and a new software for "smooth frame delivery." Some of his sources have even confirmed a successor to the DG2 GPU called "Elasti," scheduled for a 2023 release.
What will be the cost of Intel Xe Gaming GPUs?
Right now, we don't have any official word regarding Intel Xe GPU price, however, it's no rocket science to conclude that the company would price it similar to GeForce and Radeon cards. In fact, many people hope Intel's initial asking price would be a lot more competitive.
According to the YouTuber, Intel Xe DG2 could be priced between $349-$499 for the top model. For reference, the Nvidia GeForce RTX 3070Ti starts at $599.99 and the Radeon RX 6800 is available for $579.
What are your thoughts on having discrete Intel graphics? Drop them in the comment below.