Our work from home during the pandemic has been a task for many people as it makes communication very difficult. Here, remote desktop software like TeamViewer come into play, but they are quite different from Virtual Private Networks. While it's the most popular but you may not like it. So, what are some good TeamViewer alternatives that you can use?
While working, maybe you need to access a machine sitting at your office, or use your desktop in another room. In this list, we have curated some of the best free alternatives to TeamViewer that can allow you to create a remote desktop connection and access the required resources easily.
What the heck is a Remote Desktop Software?
A remote desktop software or remote access software lets you connect to a PC sitting far away without any dedicated physical connection. It happens over the internet and you can control the remote PC using your mouse, keyboard, and touchscreen.
| Remote Access Tool | Price |
| --- | --- |
| Google Remote Desktop | Free |
| AnyDesk | Free |
| Zoho Assist | Paid (Free Trial) |
| UltraVNC | Free |
| Splashtop | Free |
| NoMachine | Free |
| Windows Remote Desktop | Free |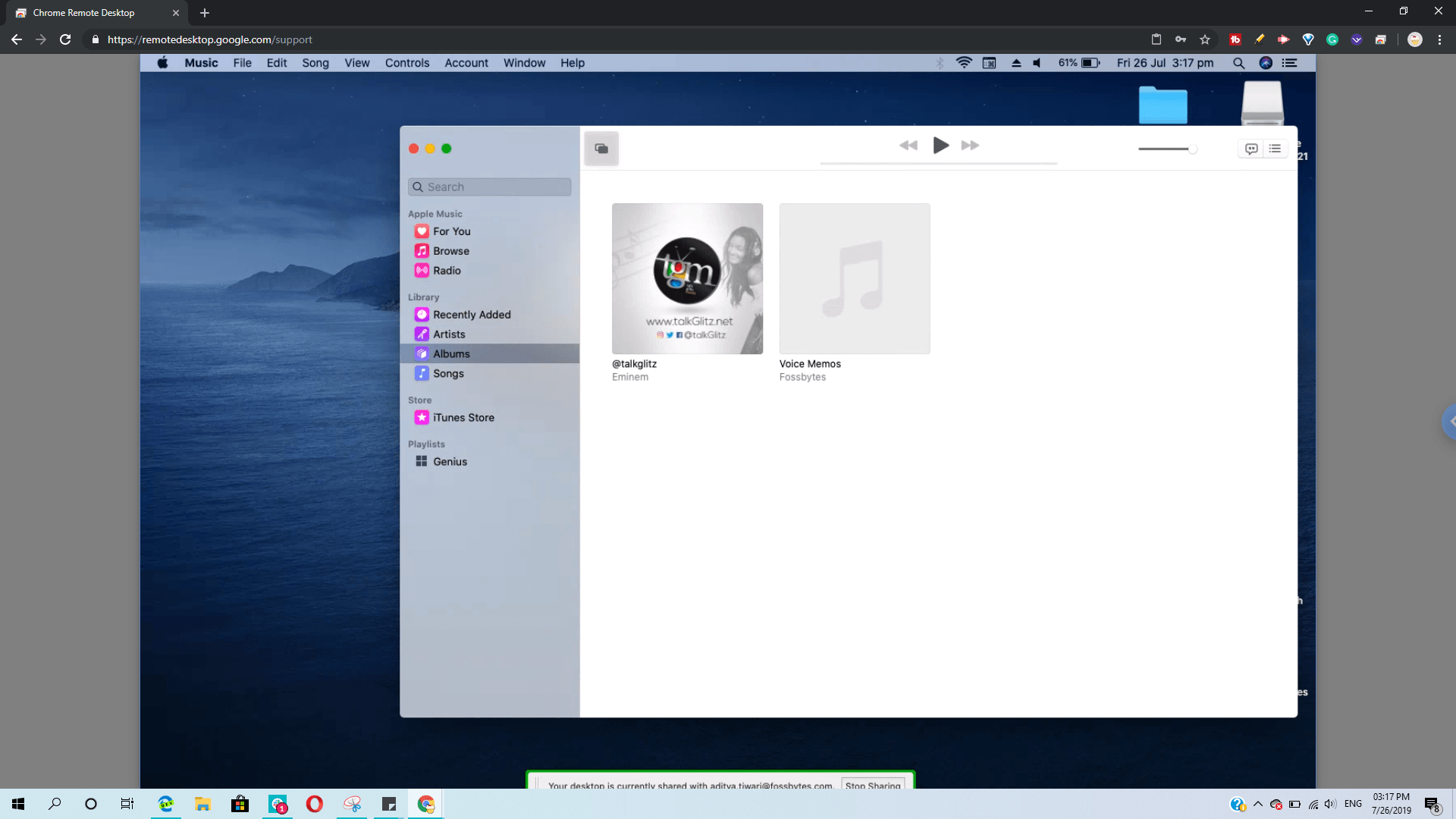 Possibly the easiest TeamViewer alternative you can get is Chrome Remote Desktop. You might have heard about this free remote desktop software from Google many times, and it's well known for its simplicity. It is based on Google's proprietary protocol known as Chromoting.
One of the selling points of Chrome Remote Desktop is the fact that it works inside your Google Chrome browser. You don't need to maintain a separate app on your computer (except the tools that you need to install while setting up a remote connection).
Best features of Chrome Remote Desktop
It is an easy and simple to use remote desktop program
Visually appealing user interface
Can sync clipboard with the remote device
Supports remapping of keys on the remote device
Supports multiple displays connected to the remote device
Quickly connect to other devices using One-time passwords
The bad part
The setup process is a bit tedious
Requires Google account for Remote Desktop connections (subjective).
Pricing
Free Version: Available
Premium: Not Available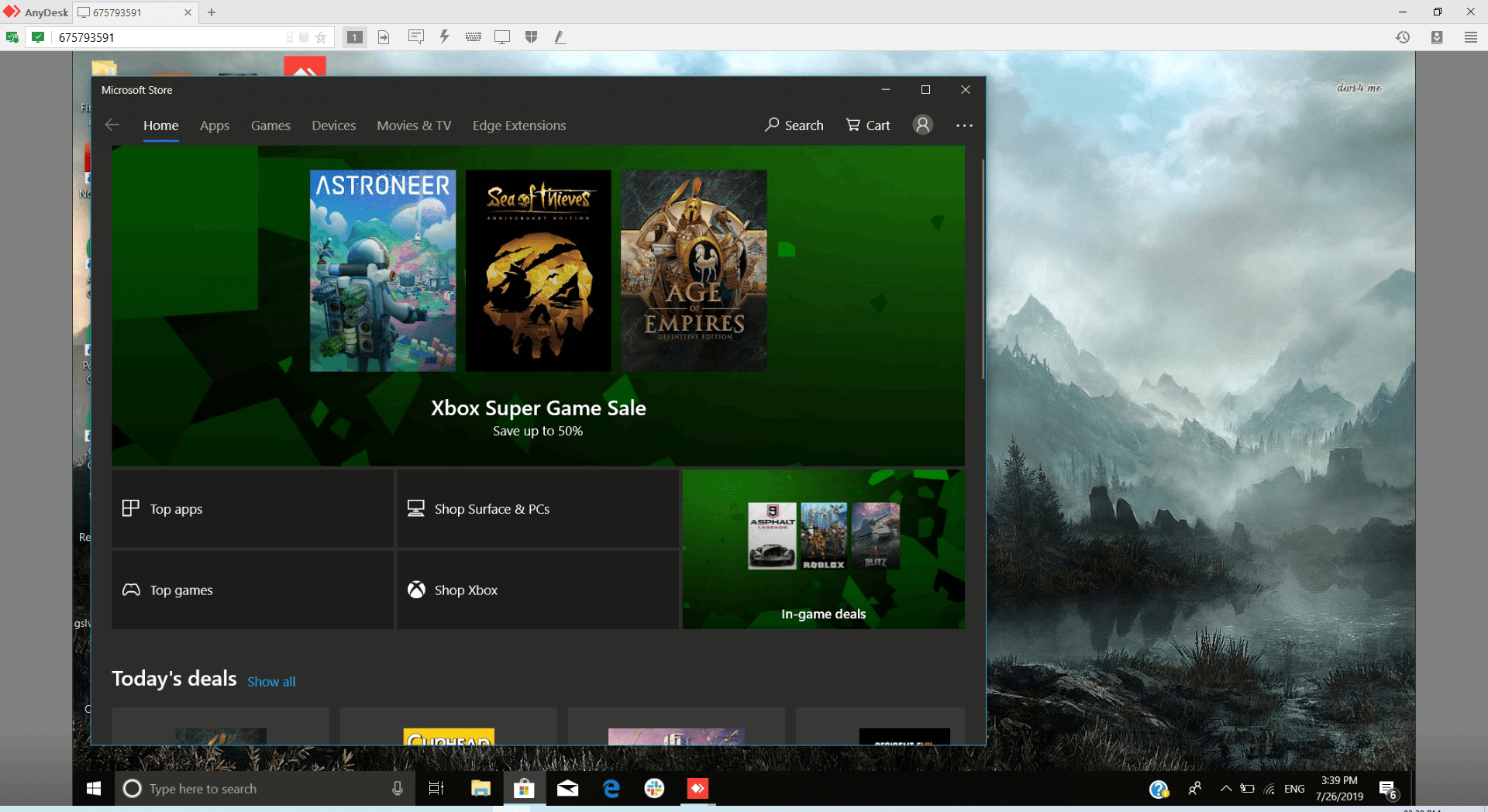 AnyDesk is the name that is taken quite often when talking about remote desktop software. But it also serves as a great TeamViewer alternative.
You can use AnyDesk by installing it on your machine and also as a portable app in case you just need to try it out. While there is a paid version, AnyDesk's free version offers enough features if you're just getting started with remote computing.
Best features of AnyDesk
Easily connects to remote machines using a unique device address.
Has built-in chat functionality
Supports file transfer, remote screen recording, clipboard sync, remote printing, and session history.
Supports login credentials for unattended access.
Supports multiple displays connected to the remote machine.
Can detect and connect to other AnyDesk machines over LAN.
The bad part
The user interface could have been better.
Some features are not that easy to use.
Pricing
Free Version: Available
Premium: Starts at $10.99/mo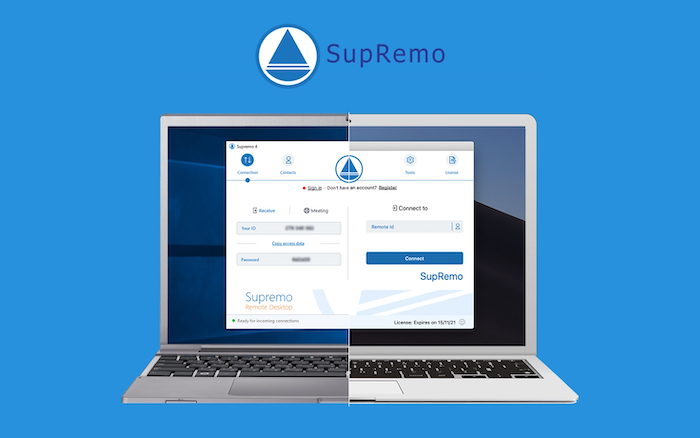 Supremo [Sponsored]: Supremo allows intuitive remote access without any type of configuration but, at the same time, full of a wide range of features. It is a cross-platform software available for Windows, macOS, Linux, Android, and iOS to connect from a PC, smartphone, or tablet if you are traveling, at home, or anywhere else. Supremo is a free software, but it is available for companies at an extremely competitive price starting from €5/month. Discover its features: https://www.supremocontrol.com/pricing/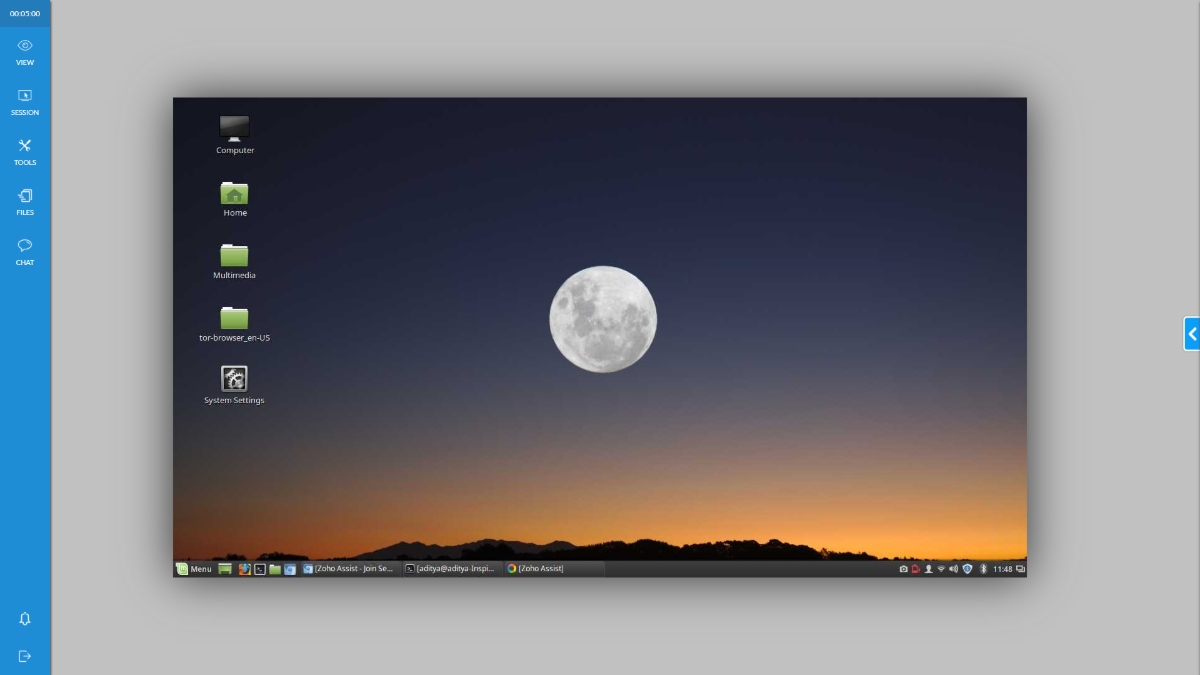 Zoho Assist, this remote desktop software caters to the needs of more advanced and business users. It's a great TeamViewer alternative for all the useful features it offers under a visually appealing UI.
The main selling point of Zoho Assist is its cloud-powered setup which means you don't need to install anything on your system to provide remote support. However, it's a paid tool that comes with a 15-day trial.
Best features of Zoho Assist
Easy to setup remote access software with pro features
Supports file sharing, annotations, text, voice calls, and video calls with the client
Can be used as a system service for more controls on the client machine
Provides direct access to Shutdown, Restart, and other quick launch options
Support for unattended access on the client machine
Provides favorites and past session history for later access
The bad part
Setup process may be a little tedious on the client machine (depends on OS)
Free trial version marketed as a free version
Pricing
Free Version: Not Available
Premium: Starts at $8/mo (15-day free trial)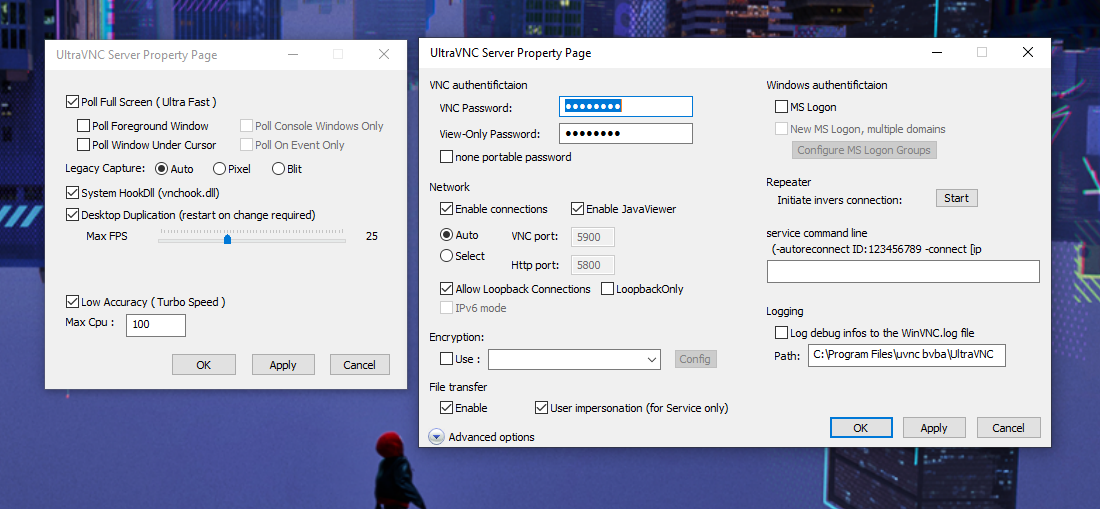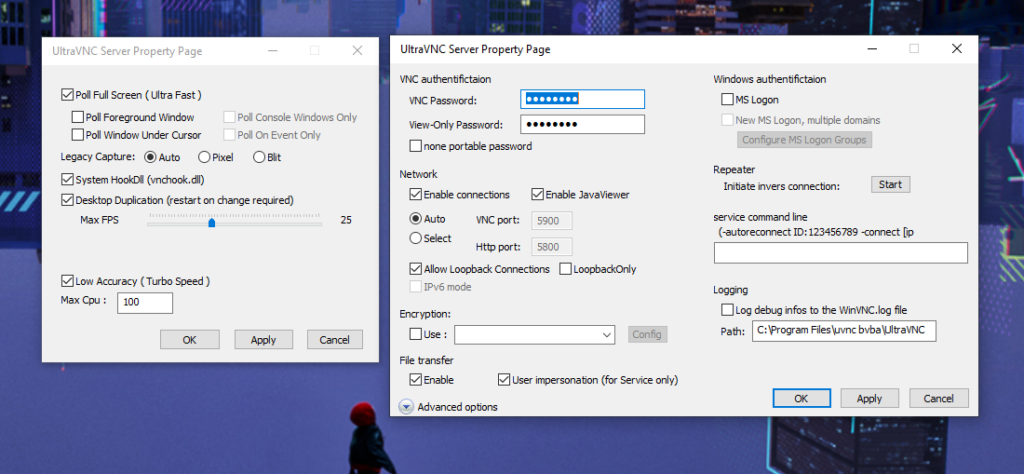 UltraVNC is another free remote software that you can use instead of TeamViewer. It's an open source software licensed under GNU GPL and available for Windows 10 operating system. The uses the VNC protocol to establish remote connection supports built-in file sharing and chat features. However, one thing some users may not like is the old-school UI of this TeamViewer alternative.
Best Features of UltraVNC
Can work smoothly with other VNC-based remote desktop software
Supports unattended access over the internet
Supports file transfer, texting, clipboard sync, etc
The bad part
Only available for Windows operating system
The user interface is too old consider modern Windows apps
Pricing
Free Version only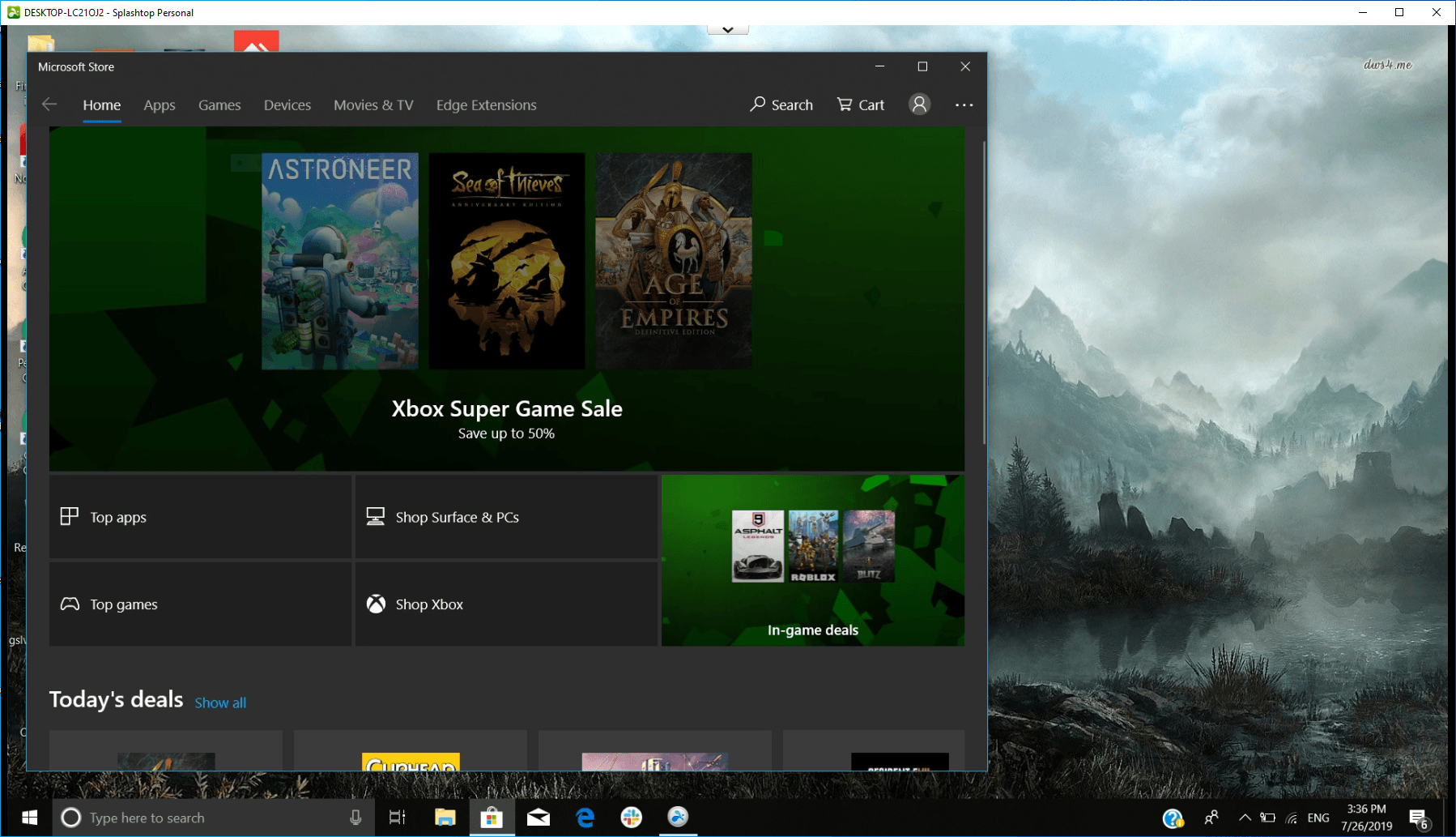 Splashtop is yet another alternative to TeamViewer that you can use to mirror your computer remotely. Over nine years of its existence, this remote access software has made a good name across the industry by providing a good mix of video quality and latency over the remote connection.
The free version of Splashtop comes loaded with features that can be enough for beginners. You should prefer this remote access software if you're planning to mostly connect to your host machine over LAN.
Best features of Splashtop
Seamless one-click connectivity to the remote machine
Support touchpad gestures such as two-finger scroll, pinch to zoom, etc
Offers good quality even on moderately fast connections
Supports file transfer from a remote device
Functionality can be extended by installing add-ons (paid)
The bad part
Requires two separate apps to be installed on both remote and client devices.
UI doesn't look appealing.
Pricing
Free Version: Available
Premium: Starts at $5/mo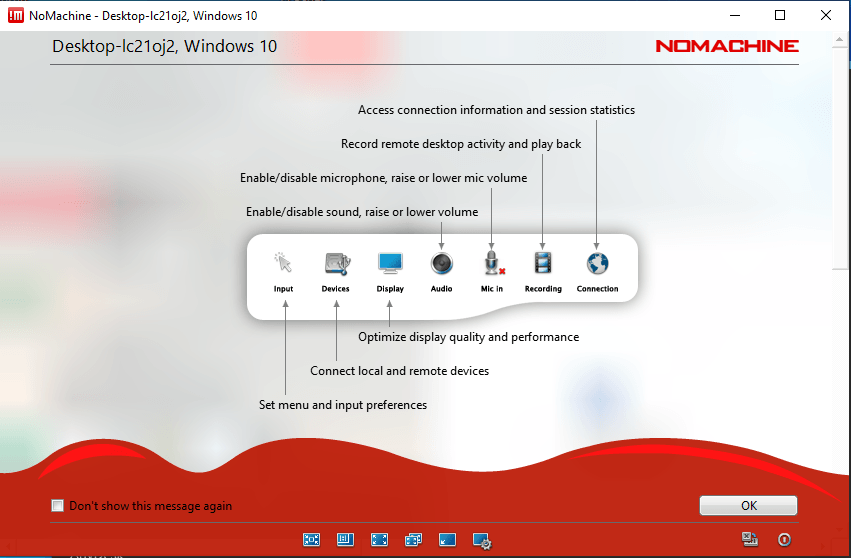 NoMachine is yet another free TeamViewer alternative that you can install on your machine. It uses a proprietary remote desktop protocol called NX to establish connections.
However, the catch here is that this remote access software works better for connections over LAN. This means you cannot access your computer sitting in a far corner of your house.
Best features of NoMachine
Automatically list other NoMachine-installed devices on your LAN
Hassle-free setup for remote desktop connection
Provides multiple authentication methods
Support for sharing different connected peripherals and file sharing
The bad part
The user interface doesn't look good
Some options aren't easy to use.
Performance could have been better.
Pricing
Free Version: Available
Premium: For Enterprise
7. Windows Remote Desktop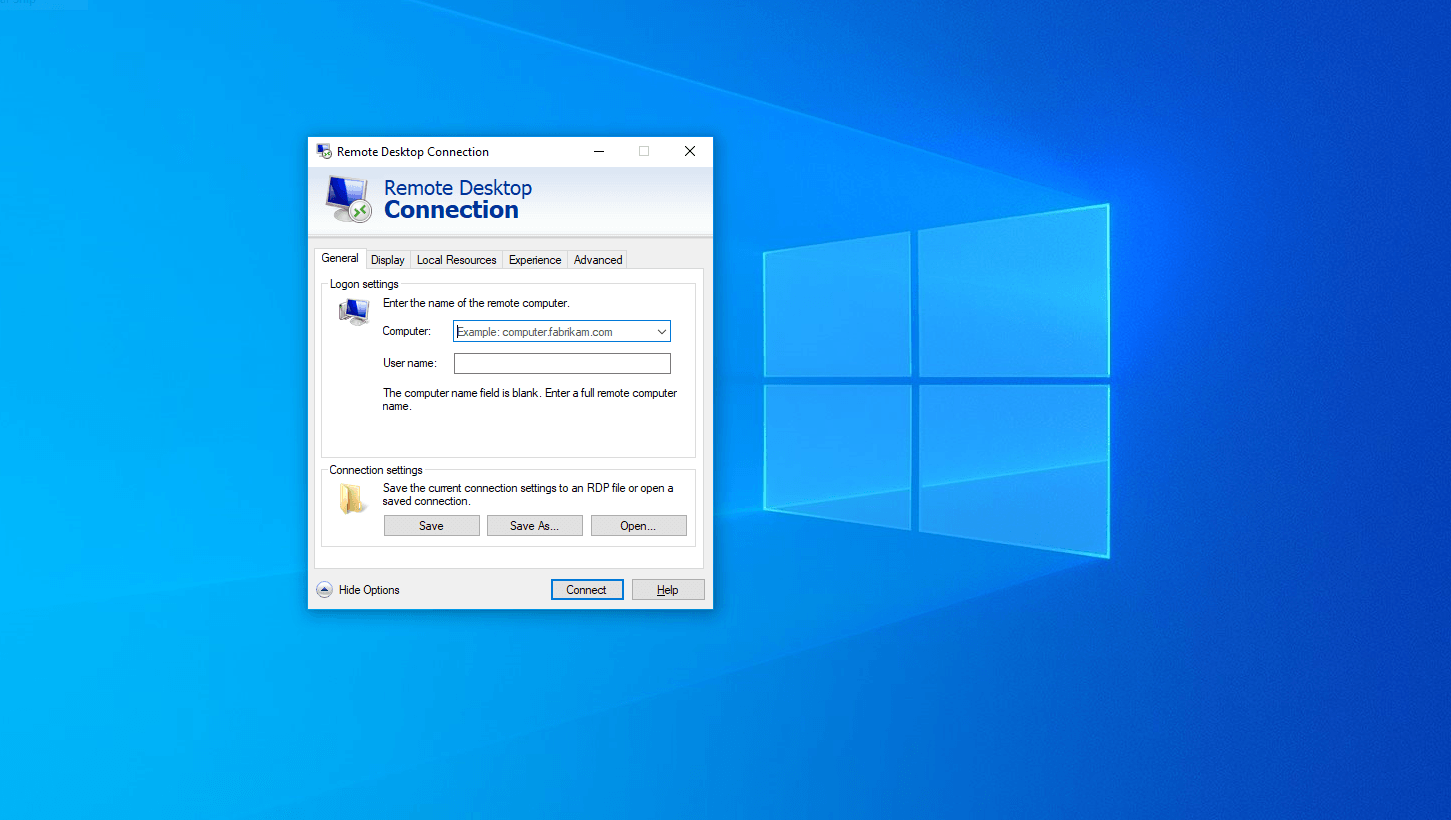 Why go so far when a free TeamViewer alternative is right there on your computer? Yes, I'm talking about Windows Remote Desktop which comes in-built in Windows 10 (and older versions).
As you might already know, it uses Microsoft's Remote Desktop Protocol to connect with other machines over the internet and LAN. The reason I have put it on the bottom of this list is that Windows Remote Desktop is not there on the Windows 10 Home edition, which many people use.
Best features of Windows Remote Desktop
Known for its reliability
Allows you to use printers and other peripherals connected to a remote machine
Supports clipboard sharing from a remote device
Provides encrypted remote connections with TLS support
Works with Windows username and password
The bad part
Doesn't work on Windows 10 Home edition
Enabling the feature is a little tricky.
Pricing
Free Version: Available
Premium: Not Available
So, guys, these are some great TeamViewer alternatives that you can install on your computer to establish a remote connection. We'll be adding more interesting apps, so don't forget to check out this list in the future.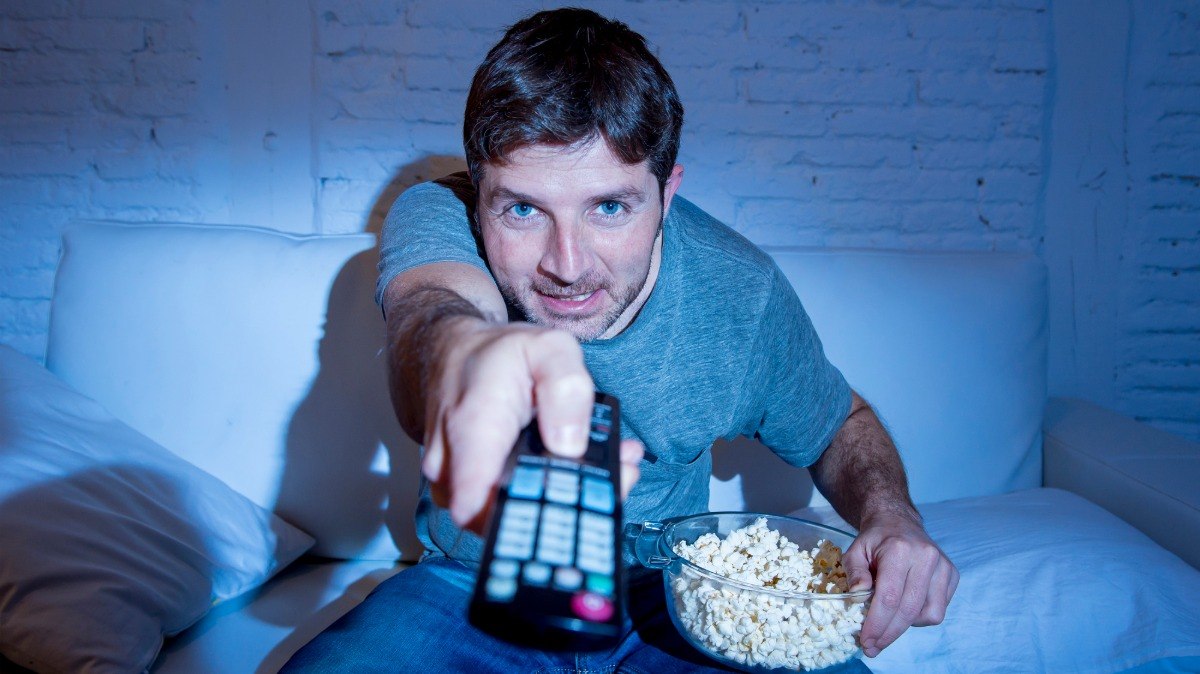 TeamViewer Alternative: Editor's Choice
If we have to choose, we'd go for Chrome Remote Desktop due to its ease of usage and no installation required. The other choice would be AnyDesk as it provides a good blend of performance and features.
What is TeamViewer?
TeamViewer is a remote access software first released in 2005 and currently provides support for popular platforms, including Windows, macOS, Linux, Chrome OS, Android, iOS, etc. If we talk about popular remote access services, I guess TeamViewer is the most popular free remote desktop software out there. It also lets you access other computers remotely without any issues.
Is TeamViewer free of cost?
Yes, there is a version of TeamViewer that comes for free and provides basic features to the user. But if you want you can shell out some cash for the premium version and more features. But if it's not your cup of tea at all, then you might consider some good TeamViewer alternatives mentioned in this list.
Why You Should Consider Free TeamViewer Alternatives?
TeamViewer is a great remote access software, but still are reasons you should use other remote access tools.
You don't like a paywall that restricts features.
You want a simple to use remote desktop software.
Your vintage PC is not capable of running TeamViewer at its full potential.
Also check out our detailed blog on the best Tumblr alternatives here!
Things To Consider When Choosing A Good Remote Desktop Software
You make sure that most of the following points are checking when you use remote access software.
It doesn't restrict essential features behind a paywall.
It's cross-platform and available for Windows, macOS, Linux, Android, iOS, etc.
It supports file sharing and in-app chat functionality.
It works fine even at slow internet speeds.
Frequently Asked Questions
Is AnyDesk better than TeamViewer?
Both have their list of pros and cons but one big plus point is AnyDesk offers a free web client for remote access while the same functionality on TeamViewer is paid.
Is Splashtop better than TeamViewer?
While Splashtop is a good alternative, TeamViewer certainly delivers better performance than Splashtop in terms of latency and FPS at a given speed.
What are the uses of Remote Desktop Software?
Using a remote access tool, you can do many things like mirror your PC over the internet, transfer files, provide assistance to someone else remotely, and so on. There are many different types of protocols supported by remote desktop services to establish a connection over the internet. For example, you get the Remote Desktop Protocol (RDP) on Windows. Then there is the Apple Remote Desktop (ARD) protocol, Remote Frame Buffer (RFB), amongst others.