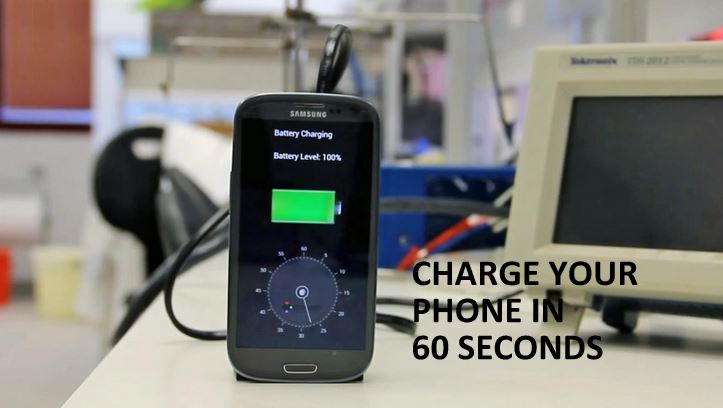 Keep the crispier camera, faster processor or a large screen aside; the feature which matters the most in the troublesome situation is a long lasting and more importantly a fast charging battery. Your smartphone's dead battery and the time taken by it to charge is one of the major headaches whenever you are on some outdoor trip. An Israeli startup StoreDot has listened your prayers and presented the ultimate solution at this year's Mobile World Congress.
D
oron Myersdorf's promising startup has developed a battery that could be charged in 60 seconds and due to this, any lifeless battery won't be dead for more than a minute. Few months ago, scientists also developed a fast charging batteries with 70 percent charging capability in
two minutes
. StoreDot certainly tops that one.
This is a result of a different type of nanotechnology research at the Tel Aviv University while the researchers were doing some work on Alzheimer's disease. Guardian writes that researchers found these interesting properties in a certain peptide molecule which are a chain of amino acids. This causes the Alzheimer disease by affecting the neurons. These peptide molecules have a high capacitance and can hold an electric charge for a very long time. This makes them able to rapidly hold and absorb a charge.
On combining a couple of peptide molecules, they give rise to a crystal of two nanometers in size. They have referred to these crystals as "nanodots" and it forms the basis behind this technology. Recently MIT scientists developed a new transistor circuit to extend the battery life of devices.
With the help of these nanodots, StoreDot has developed a three-tier system for charging a mobile phone. This system includes the battery inside a phone, a special charger to give a strong electric current and a system in the phone to manage the use of power efficiently.
Myersdorf said, "the charger itself is not a normal charger. We need to pump 40/50 and up to 80 amps of current into this battery in order to charge in one minute. No normal charger can do that. So we had to develop a very strong charger that is, first of all, cost effective but also small enough to be carried in your pocket."
The only disadvantage of these batteries is that they are smaller in size and they don't last long. The current StoreDot batteries will last about 1/3rd less of the current standard batteries. But, keeping in mind the speed with which they charge, this disadvantage is overshadowed.
Below is a demo video of this rapid battery changing technology of StoreDot in which CNet shows how fast a StoreDot modified Galaxy S5 charges.
Currently, these batteries are unavailable for purchase and in near future we can see smartphone manufacturers adopting this technology and making smartphones with these batteries on board. It hopes to bring a phone in the market by 2016 Christmas.
Applications in electric cars and more:
StoreDot expects to develop a technology with the help of more funds which will be used in electric cars and will charge the vehicle for running 150 miles in five minutes time. Apart from the cars and phones, this can also be used to give juice to brighter screen of computer and phones.
Also read: MIT Researchers Make New Circuit to Extend Battery Life to a Great Extent
Are you eager to use this battery in your phones? Tell us in comments below!
For more updates and interesting stories from fossBytes, subscribe to our newsletter. [newsletter_signup_form id=1]