Sling TV is an American-based live TV service that started in 2015 and is currently boarding millions of subscribers. Moreover, the platform is stacked with enticing features which attract many customers. When you encounter such an incredible platform, it makes sense to buy its subscription in an instant.
Now that you have the Sling TV at your place, you'll also have to share it with your friends and family. However, this small sharing will soon turn into a vicious circle of an infinite loop. While you've only shared it with your family, you'll notice that many other unknown devices are using it without your permission and wondering what to do next.
Well, don't worry, as today's guide will give you all the answers on how to stop sharing your SlingTV subscription. We'll also discuss all the steps to change your password and remove unknown devices from your account. That said, let's quickly get started with our guide down below.
How do I check the device list on your Sling TV account?
The platform provides a device list which allows you to check all the signed-in devices. Let's see how to access it in four simple steps: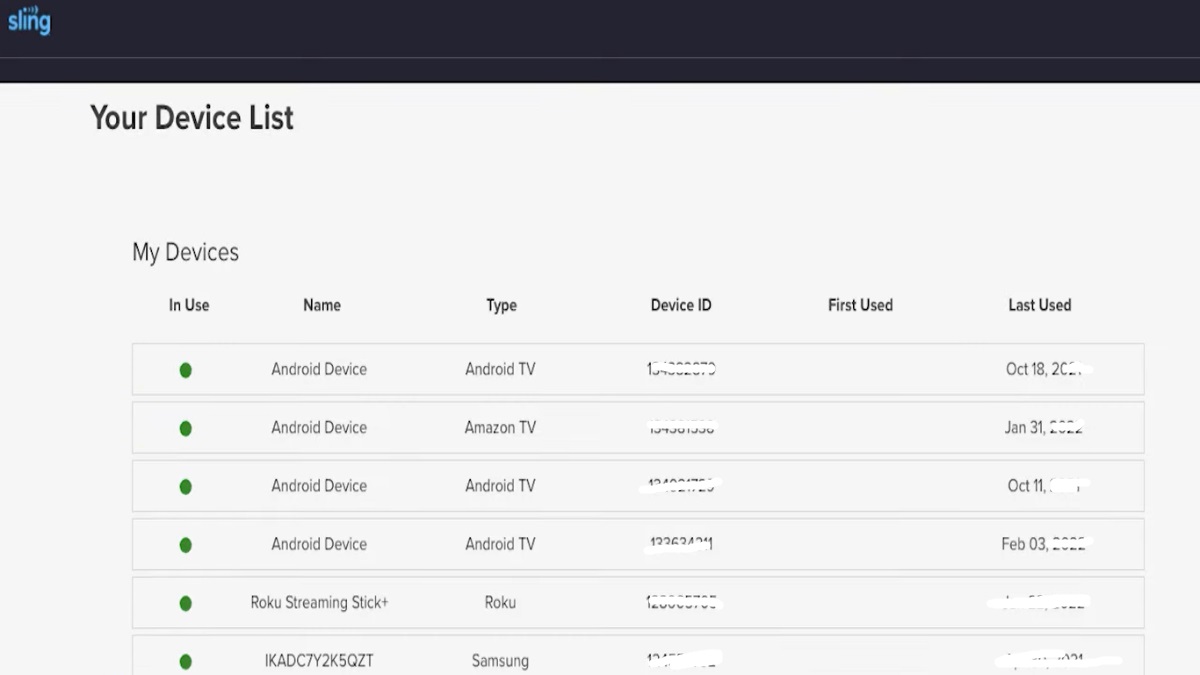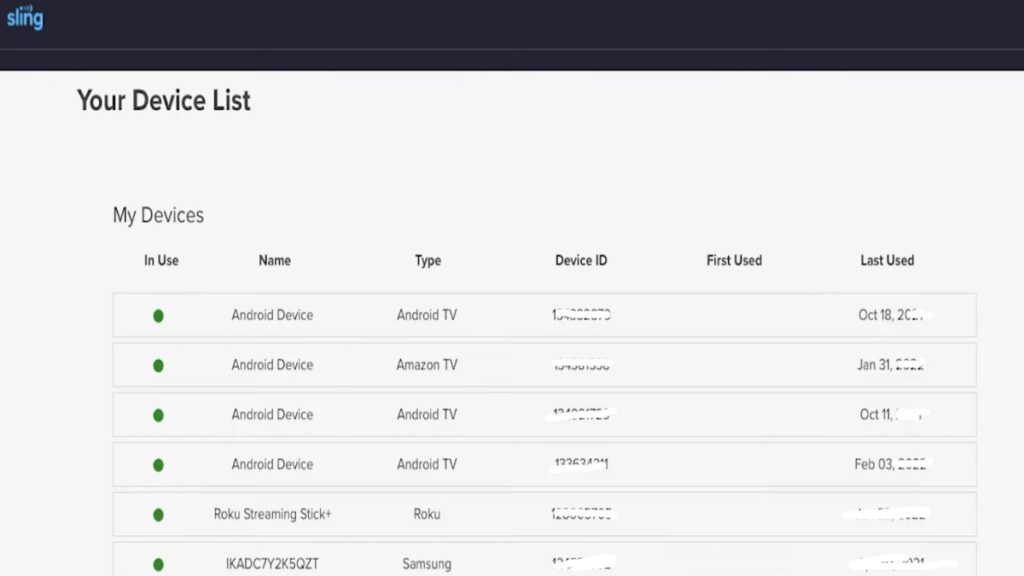 Visit Sling TV on your desktop and log in with your credentials.
Navigate to "Device List" below "Personal Information" and select open it.
Now you can finally see the device type, unique ID and the first and last used dates of all users currently accessing your account.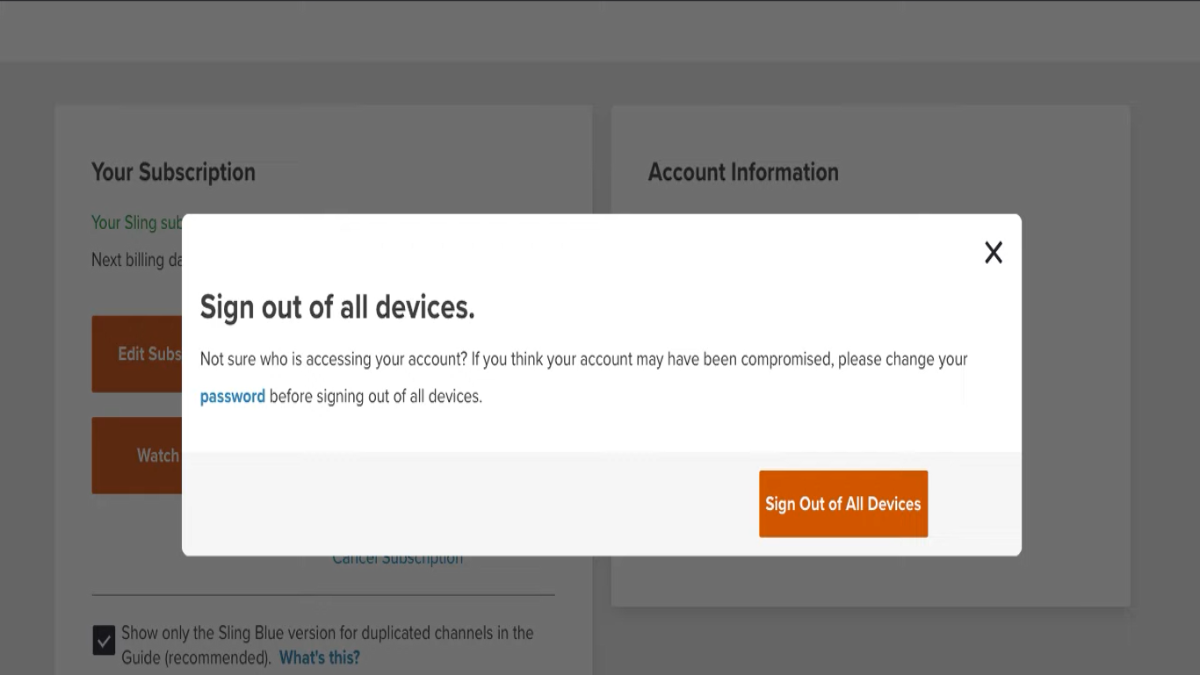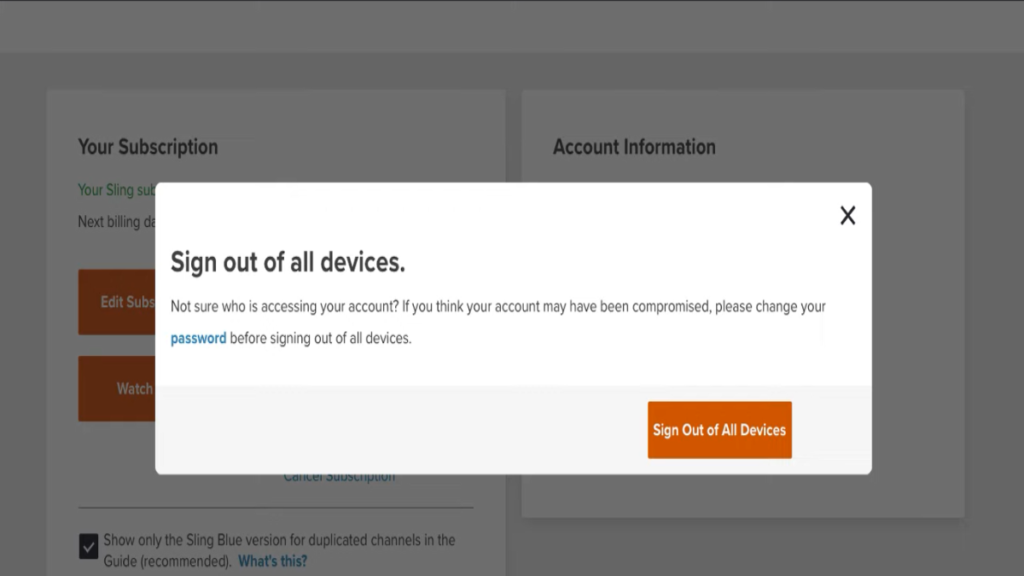 If you notice any unknown devices, perform a global sign-out, and it will remove all the devices from the account. Moreover, you can use it by visiting your Sling TV account and selecting "Sign Out Of All Devices." While it will remove unknown devices, it is still insufficient to protect your account.
You'll have to change the password and start using your account safely. So let's discuss the steps in the next section of this article.
How to change your Sling TV account password?
The best way to protect your account is to change your password frequently. So let's check out these steps below:
Visit Sling TV on your desktop and log in with your credentials.
Now, click "Change Password" under "Personal Information."
Enter your current password.
Enter your new password and re-enter the new password again.
Finally, select "Change Password" to confirm.
Note: Once your password has been changed, don't forget to sign out and log back into all of your devices using your new password.
If you want to choose a strong password, then check out some of the tips mentioned below. These tips will definitely give you an idea to set a strong password and will also be helpful on other platforms too.
Important tips for setting a strong password
The new password must be changed frequently to avoid compromising your account.
The new password must have 8-10 characters without spaces.
Create a longer password and use more characters in it.
Use mix and match of special characters like !@%#& to make your password strong.
Always use new passwords when changing old ones.
This concludes our streaming guide. Let us know your thoughts in the comments section below.