Samsung's next big event, Galaxy UNPACKED 2021, is just around the corner. There has been a mix of leaks and official info till now that gives us an exciting preview of the show. Essentially, we have an idea about what to expect during Samsung's announcement on August 11, starting from 7:30 PM IST.
Following a pattern that has become characteristic of Samsung now, the key highlights of its forthcoming virtual event were leaked again. There are rumors of a flagship launch at the tech giant's annual show. Moreover, reports of an existing flagship getting an upgrade this year were also officially debunked.
Apart from that, some gadgets for the Samsung ecosystem could also make an appearance on the day. To get a good insight into the smartphone maker's plans for its much-awaited event, check out the points below.
5 Things To Expect At Samsung Galaxy UNPACKED 2021
Samsung Galaxy Z Fold 3 And Galaxy Z Flip 3
In a recent article, we mentioned how Samsung hopes to lead the premium smartphone segment by making foldable phones mainstream. Now, it appears the company will kick off the plan this year itself as there have been some subtle but clear hints.
Besides the South Korean firm's publicly expressed interest in focusing on its foldables, the Galaxy UNPACKED event page is also an obvious reference. The webpage shows what appears to be shapes that are clearly a nod to Galaxy Z Fold and Galaxy Z Flip.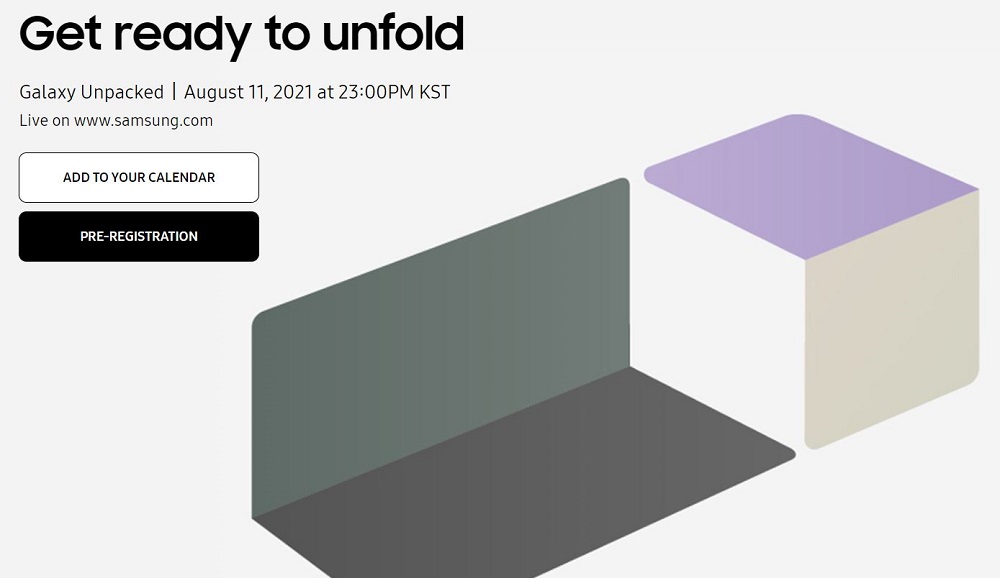 Moreover, in an official blog post last month, Samsung all but confirmed that its new foldable phones might make an appearance at next week's event. The mobile department head, Dr. TM Roh, wrote that Samsung's foldable smartphone lineup would get new, upgraded models soon.
Within the same post, Roh also revealed that the company is taking a break from the annual upgrade cycle of its Galaxy Note lineup. Samsung skipping a new Galaxy Note for this year and reiterating its commitment to foldable tech means there's a strong chance that we could see these new devices come Wednesday.
Furthermore, the latest leaks give us a better look at the new Z Fold and Z Flip. According to sources, Samsung Galaxy Z Fold 3 packs a Snapdragon 888 SoC, a 12MP triple camera shooter, and a 7.6-inch internal display. Whereas Samsung Galaxy Z Flip 3 offers Snapdragon 888, a 12MP dual-camera setup, and a 6.7-inch internal display. Both the foldable phones are reportedly water-resistant.
In addition, Z Fold 3 has an expected price of €1,899 and Z Flip 3 of €1,099. Understandably, the drop in price from the previous generation is to make these foldable smartphones affordable for more people.
S Pen And S Pen Pro For The Galaxy Range
Although there won't be any Samsung Galaxy Note this year, the company could still release a couple of new accessories for it. A new S Pen and S Pen Pro, which would be compatible with the entire Galaxy range of products, are supposedly arriving next week.
According to Samsung, the S Pen is specially designed for the Z Fold and Z Flip phones. There are no reports or leaks about its price and specifications yet.
However, plenty of details about the S Pen Pro have surfaced on the internet recently. Specs such as 0.7mm tip, 4096 pressure points, and USB-C charging are rumored for the premium stylus. The expected price is close to £70 without the case.
Galaxy Watch 4
One of the most interesting announcements during Galaxy UNPACKED 2021 could be the Samsung Galaxy Watch 4. For this one, the Galaxy Watch software is built in collaboration with Google, meaning the same apps would seamlessly work across your Samsung smartwatch and your Android smartphone. Quoting a Samsung press release for better insight, "once you install watch-compatible apps on your smartphone, they will be swiftly downloaded onto your smartwatch."
According to Google SVP Sameer Samat, the new watch will "bring longer battery life, faster performance and a wide range of apps, including many from Google to a whole new wearable experience." This would be possible with the brand new One UI Watch interface, which is a unification of Samsung's Tizen and Google's Watch OS.
If the rumors are true, then Galaxy Watch 4 would cost you €279. On the other hand, for the Galaxy Watch 4 Classic, you'll have to shell out €379. Buying the bigger-sized variants of these two devices would mean paying €30 moreover their respective prices.
Galaxy Buds 2
Another important product at this year's event could be the next iteration of Samsung Galaxy Buds. As per a source, Galaxy Buds 2 will come with Active Noise Cancellation (ANC), Bluetooth 5.2, and Qi wireless charging support. The earbuds would offer 18 Hrs playback with ANC enabled and 28 Hrs with ANC disabled.
Also, the leak reveals that the earbuds would sport 3 mics, 2 speakers, and an IPX7 rating. The Samsung Galaxy Buds 2 could be launched at a competitive price of $150.
Most of what we could get to see at Galaxy UNPACKED 2021 has been either leaked or implicitly confirmed. However, we can still expect some surprises when Samsung unveils the final version of these rumored gadgets.
Which Samsung product announcement are you the most excited for? Let us know in the comments below.