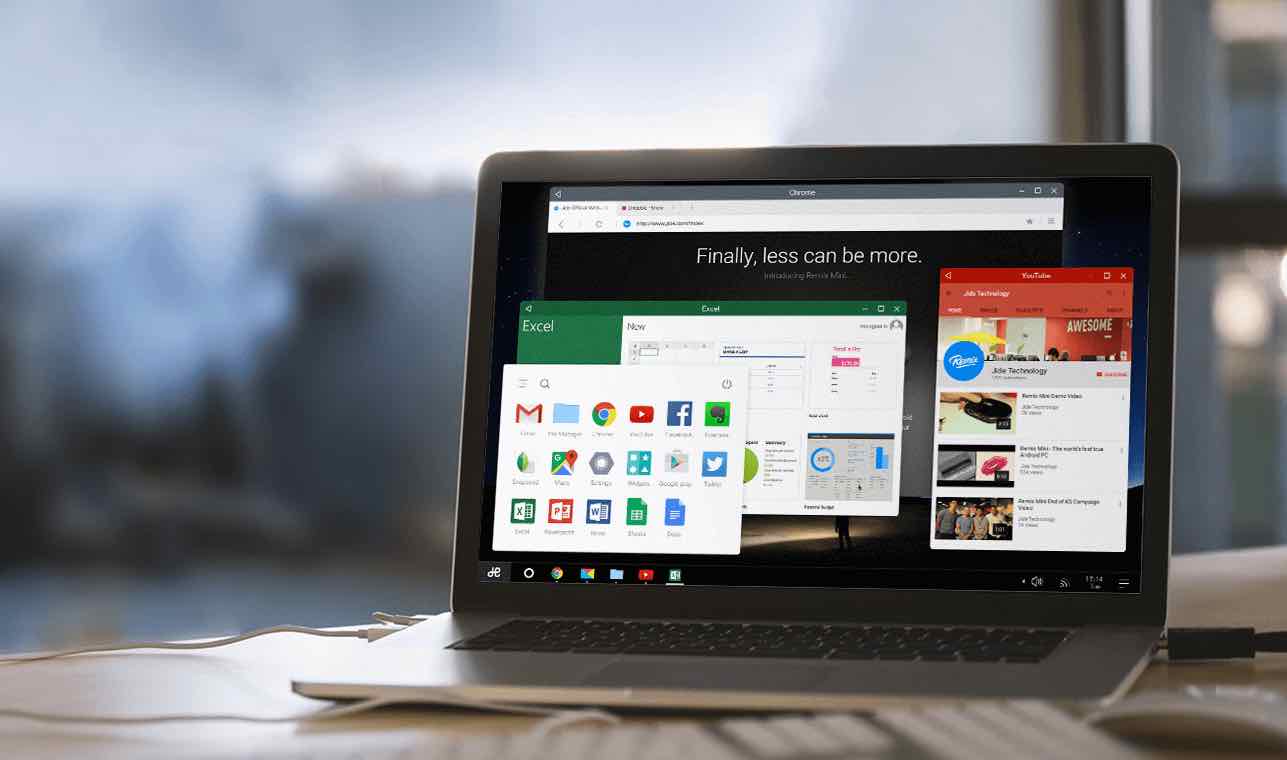 Short Bytes: Jide's Remix OS is becoming more popular when it comes to tablets and low-cost PCs. This Android-based OS is bringing productivity features to Android and acting as a big threat to Microsoft's low-cost PCs and Apple's tablet market. Read more know about the current scenario.
A
s more people from developing markets are starting to use the internet, everybody is curious to see what operating system is going to dominate in the next one billion devices.
We are having two options to place our bets — a low-cost mobile hardware powered by Windows and a mobile OS with more power.
Betting on the latter, Remix OS, whose parent company is Jide, is calling itself a serious contender. This Android-for-PC operating system is a creation of a trio of ex-Google engineers –Ben Luk, David Ko, and Jeremy Chau — who have made Android a compelling choice on large screen devices like tablets and PCs.
With Windows 8 and Windows 10, Microsoft has been working to make its plan of Universal Windows Platform successful. On the other hand, Google failed to do the same by not allowing Android to grow as a platform that supports productivity. Remix OS is targeting the same gap.
To make sure that Android extends itself from ARM to x86, David Ko developed a close relationship with Android-x86 project founder Chih-Wei Huang. "China is where the talent pool is," says Ko.
Remix OS knows the importance of making their own hardware and software. "There's a saying of Alan Kay's: 'People who are really serious about software should make their own hardware'. We needed to tweak the firmware to optimise performance and boot-up time. It can have a huge impact on battery life," says Jide's international marketing leader Jason Zheng.
With the required tweaks in the firmware to boost performance and boot-up time, Remix OS boots on a Dell PC in six seconds.
Jide's Remix OS team is working to improve multitasking and developing a file manager with real drag-and-drop.
Talking about another competitor, Zheng says, "The Chromebook model does not work well in the consumer segment."
Rejecting the possibility of Apple being a threat, Ko says, "Jide is a natural upgrade for the emerging market, Those next billion will be moving from a cheap Android phone to an Android tablet/desktop. It's still Android."
If we take Windows 10's case on tablets and low-cost PCs, here a line that sums up the whole story: Google Play Store has more apps that Windows Store, a lot more.
What are your thoughts about Remix OS? Share your views in the comments below.
Want to grab Remix Mini Android PC? Grab here from fossBytes Store.