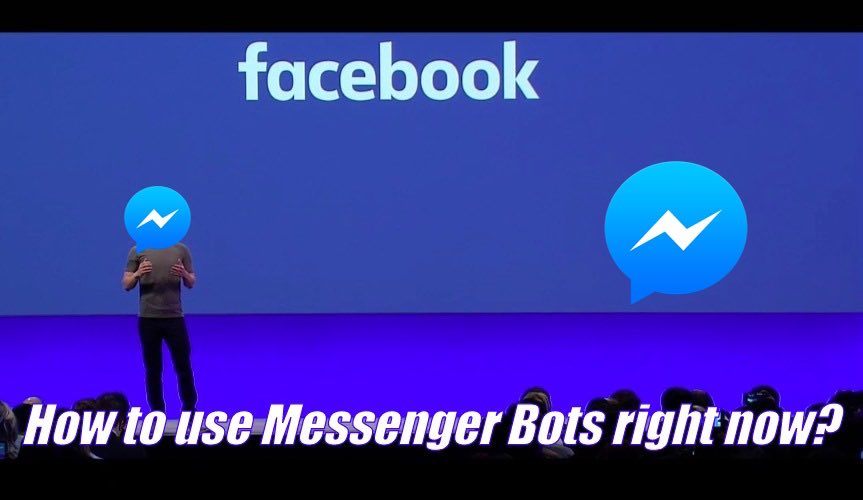 Short Bytes: Betting heavy on Messenger, Facebook has rolled out Bots for Messenger. You can use these Bots to talk to a business and get services like weather reports, news, movie tickets etc. directly in your Messenger chat. Go ahead and know how to use Facebook's Messenger Bots right now.
From the stage of F8 developer conference, Facebook made sure that people know that the social network is taking videos very seriously as a part of its 10 year roadmap. Another thing that Mark Zuckerberg pointed out was that the future of Messenger lies in the hands of bots.
The company revealed the Send and Receive API for developers that will enable them to build bots for Messenger right away. To make more complex bots using machine learning, Facebook announced a more powerful bot framework, the Bot Engine.
At the conference, Mark Zuckerberg reiterated Messenger's success facts. With its massive reach, the developers can target the end users where they already exist. The company expects that bots can provide a new and polished service by connecting the businesses and users via Messenger chat.
How To Use Facebook's Messenger Bots Right Now?
If you are scratching your brains wondering how bots on Facebook look like and how do they operate, calm down. These are simple bots dedicated to a particular service and you can use them right now.
But, at the moment, they are pretty confusing and unintuitive. Many times the bots don't know what to do and you end up struggling getting any work done.
To make things easier for you, I tried Facebook Messenger Bots myself. I started with Facebook's very own F8 bot. You can access it via m.me/f8bot. As you visit this URL on your phone, you'll be asked to choose Messenger or Facebook app to proceed.
I chose Messenger and here are the screenshots of my chat with F8 Messenger Bot.
Next, I decided to try out another Facebook Messenger Bot that was showed off during the F8 keynote. Yes, I'm talking about Poncho, the weather-bot that pretends to be a cat. Chatting to Poncho was better than my F8 bot experience. You can access Poncho via https://m.me/hiponcho.
You can find Poncho and other bots like CNN, WSJ etc. at botlist.co and use them right away.
Here's how my chat with Poncho turned out:
Can Bots become the next big thing for Facebook? Did you follow this how to use Messenger Bots tutorial and tried some bots? Share your views in the comments below.