The tech-giant BBK's sub-brand, Realme, today launched its first-ever tablet, the Realme Pad. Realme is renowned for its budget and mid-range Android smartphones. After quite a while, we finally have OEMs launching budget Android tablets.
Likewise, the Realme Pad comes in two variants – one with WiFi and 4G connectivity. The WiFi model houses 3GB of RAM and 32 GB of storage. Meanwhile, the other cellular model houses 4GB RAM and 64 GB storage.
Is the Realme Pad Worth it?
Realme has decided to price the Android tablets aggressively. However, the pricing involves tremendous cost-cutting. The Realme Pad features the Mediatek Helio G80 chip. The aforementioned SoC also powers some budget smartphones from Vivo, Samsung, and others. Although, it isn't the most well-performing chip. The involvement of the Helio G80 SoC repurposes the significance of the Realme Pad, which can only be used for light usage efficiently.
The tablet has a massive 7,100mAh battery which Realme claims can deliver 12 hours of video playback. Moreover, the display isn't Realme's best choice either. It features a 10.4-inch WUXGA+ display with a screen resolution of 2000×1200.
The Realme Pad has an aggressive pricing of Rs 13,999 (~$190) for the WiFi model, Rs 15,999 (~$220) for the 3/32GB cellular model, and Rs 17,999 (~245) for the 6/64GB cellular model.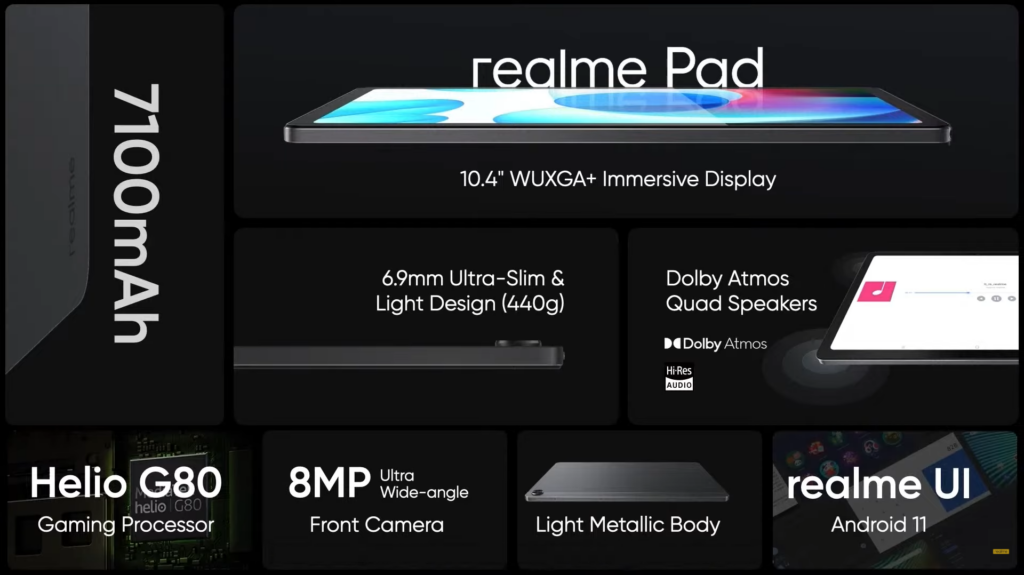 Considering everything, the Realme Pad didn't live up to everyone's expectations. However, there has certainly been a need for an initiation towards the revival of the tablet market.
Return of Android Tablets
That said, the tablet's launch definitely means we can expect more Android tablets coming from BBK's other sub-brands like Vivo, Oppo, and OnePlus. Also, Samsung has recently launched the Galaxy Tab S7 FE silently, which is on par with Apple's 8th-generation iPad in terms of pricing.
Furthermore, that's not all. Xiaomi might also be entering the tablet game globally as reports say that the Mi Pad 5 might be launching globally on September 15. With all brands focusing on Android tablets, we can expect a comeback of these into the market.
Presently, Apple has had a claim to the throne of tablets for a while now. Apple's baseline iPads, though not exactly in the budget segment, offer excellent value for money. Apple's iPad is the perfect candidate for students with light usage and professionals with moderate to high usage. Clearly, budget Android tablets cannot compare with iPads.
When it specifically comes to the Indian market, most consumers want an Android tablet for under Rs 15,000 (~$210) for online classes or streaming media. While this is a solution, we can expect a better product assuming other brands make more tablets.