A few days after the 0.18.0 Update, PUBG Mobile released its Season 13 Royale Pass. It flaunts a "Toy Playground" theme and comes with a "plethora of toy-themed skins and goodies." However, unfortunately, the new Royale Pass didn't land among fans how the PUBG Mobile team was expecting. 
The toy-themed Royale Pass was to invoke a nostalgic feeling in players; however, fans dubbed the Season 13 Royale Pass as "worst RP in history."
Apparently, players think that this Season's Royale Pass is for kids and not for adults. That is why PUBG Mobile players are in no mood to spend their UC on a Royale Pass that is meant for "four years old."
this royale pass is such a joke tbh! You think we're bunch of teenagers who still watches power rangers!! nah that's not it!

— Sally ❀ (@nastyGZB_) May 13, 2020
Given that most people aren't ready to spend their money on the Toy Playground RP, PUBG Mobile decided to host a giveaway. However, the skins and outfits are so "horrible" and "silly" in Season 13 that players don't want the Royale Pass, even for free.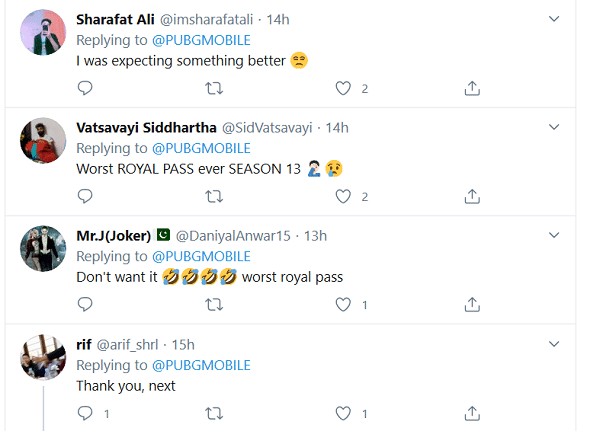 Following all the negative feedback, even PUBG Mobile accepted that Season 13 Royale Pass "missed the mark."
Thanks for the feedback, we're constantly iterating and trying out new things with each Royale Pass. Sorry this one missed the mark for you! We'll pass this along to the team for future Royale Passes.

— PUBG MOBILE (@PUBGMOBILE) May 14, 2020
So, it's safe to say that the much-hyped Toy Playground RP is nothing but an utter failure.
It's true that despite the hate, some people are still spending money on the Season 13 Royale Pass. Also, there's a new theme with every Royale Pass, so it's not the end of the world. PUBG Mobile can still make everything better with the next Royale Pass.