It is common knowledge that Google's Play Store and Apple's App Store are two of the most popular places for downloading Android and iOS apps, respectively. Whether streaming apps or games, you can find virtually everything you need from these online stores.
Thanks to the millions and millions of apps available on both storefronts, they can cater to the needs of their huge userbase. Both these stores offer free and paid apps grouped by various categories. Additionally, there are curated lists of apps handpicked by editors on the Play Store and the App Store.
These two storefronts have many apps in common as almost all the major developers often port their apps for Android and iOS audiences. Rest assured, if a certain app on one store isn't available on the other, then there is usually a worthy alternative in most cases.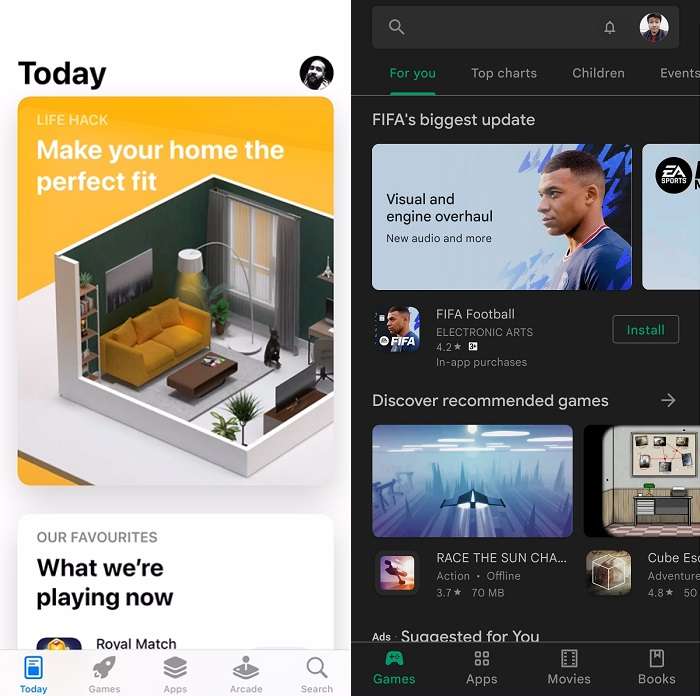 Play Store vs. App Store: Head-To-Head Comparison
| | | |
| --- | --- | --- |
| Area | Play Store | App Store |
| Number of apps* | 3.48 million | 2.22 million |
| Free app availability** | 97% of Play Store apps are free. | 93.7% of App Store apps are free |
| Home categories | Games, Apps, Movies, Books | Today (daily app roundup), Games, Apps, Arcade (gaming subscription) |
| Services | Play Books, Play Movies | Apple Arcade |
| App review process | Comparatively lenient: apps undergo automatic review | Comparatively strict: apps undergo a manual review |
| App moderation | Comparative average: a sizeable number of low-quality apps | Comparatively better: virtually zero low-quality apps |
| Developer fee | One-time $25 fee | $99/year |
| Privacy | Developers have more freedom to follow guidelines; hence, they are less secure. | Developers must follow strict guidelines; hence, more secure. |
*According to Statista's Biggest app stores in the world 2021 report
**As per Statista's Android & iOS free and paid apps share 2021 report
There are specific points we can interpret from the above comparison. The Play Store's higher number of apps means more sub-par apps make it through to users. In the case of the App Store, the stringent review process means slightly fewer options for iOS users while saving them from facing a poor app experience.
The comparatively high fee for publishing an app on the App Store is another reason novice developers, who might publish half-baked apps, refrain from uploading to the storefront. On the flip side, the Play Store's affordable one-time fee is more popular across all kinds of developers. Therefore, many beginners are more encouraged to test out their debut apps, which are likely to be sub-par, on Google's store.
The manual review process and strict imposition of guidelines further make a strong case for the App Store regarding security and privacy. However, in recent years, Google has been working to improve the Play Store on this front.
While both storefronts offer many of the same top-quality apps, the few differences set in due to Apple's strict quality-focused approach and Google's developer-friendly approach.
If you like this simple explainer, check out our Short Bytes section. We take complex tech topics and break them into short, easy-to-understand articles.