Google Play Store, or simply Google Play, is a digital app store for devices running Android and ChromeOS. It hosts a variety of apps that developers build using Google's Android software development kit (SDK).
The app marketplace was first launched on October 22, 2008, under "Android Market." Eventually, it received significant additions such as categories, curated lists (such as Editors' Choice), and Google Play Music (discontinued). On March 6, 2012, Google changed Android Market's name to "Google Play."
On Google Play, there's plenty of free stuff to download. However, some apps and services require paying a fee before you can download them. Also, you can check out app insights such as description, download count, and aggregate ratings.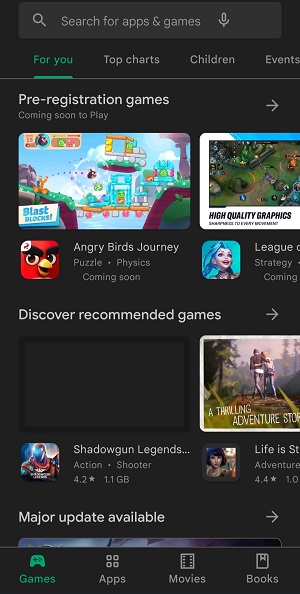 It's worth noting that you must have a Google account to download these apps. Also, some apps that have specific requirements might not work on all devices.
Besides apps, Google Play also contains other services, namely Google Play Books, Google Play Games, and Google Play Movies & TV. Each of these services offers a specific type of entertainment media.
Services Offered on Google Play Store
1. Play Books
Play Books is the online front where you can buy and download ebooks. You can read them using any compatible ebook reader app. Additionally, you can upload as many as 2000 ebooks (PDF or EPUB) to your account library.
When it first came out in 2010, it was called "Google eBooks." Currently, it hosts millions of ebooks belonging to a range of genres, including fiction and non-fiction.
2. Play Games
There is a service aptly named Play Games for gaming that came into existence in 2013. It provides several useful features for those who play games from the Play Store. These features include achievements, cloud saves, personalized profiles, leaderboards, profile levels, etc.
Thanks to this service, you can easily continue where you left off in a game, even when playing it on a different device. You have to log in to your Google account to sync your game data on the new device.
3. Play Movies & TV
Play Movies & TV, previously known as "Google Movies," is a Play Store service that started in 2011. It offers a diverse catalog of video content spanning different genres that you can purchase or rent. Before downloading a movie or show, you can also check out its synopsis, Rotten Tomatoes score, audience rating, among other things.
If you like this simple explainer, check out our Short Bytes section. We take complex tech topics and break them into short, easy-to-understand articles.