Microsoft unveiled Pluton, a security processor designed to withstand even the harshest cyberattacks. The tech giant first introduced a security processor in November 2020 to protect future Windows PCs. Pluton stores sensitive information like passwords and encryption keys at the hardware level to better protect them.
Further, Microsoft announced in January 2022 that AMD laptops with the Pluton chip would be released in 2022. The first batch of Windows 11 computers housing the Microsoft Pluton security processor comes in 2022, featuring AMD's Ryzen 6000 series. Xbox consoles already have a Pluton-like technology to protect sensitive data, and Microsoft is working on adding Pluton to more devices.
How does Microsoft Pluton work?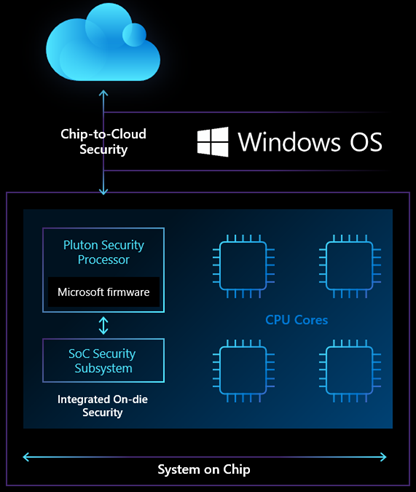 The approach by which a Pluton device stores sensitive data is entirely different from the existing processor architecture. Currently, the CPU interacts with a separate Trusted Platform Module (TPM) that stores sensitive system data. Likewise, TPM improves security by preventing attackers from tampering with low-level firmware that could lead to malware injection on the PC.
The introduction of TPM significantly increased the security on Windows PCs, but it also allowed attackers to get more creative. Hence, attackers found a weakness in the functioning of TPM: the CPU communicates with the outside hardware chip. However, Pluton's design takes care of this vulnerability.
Pluton kicks out the need for external communication between the CPU and a security chip. Instead, the security chip itself is a component baked into the CPU, where it can have constant contact. Consequently, this would make it significantly harder for attackers to extract information from a PC that packs Microsoft Pluton.
Microsoft's security processor is essentially an evolved version of TPM integrated with the CPU. It also offers the same features that a TPM chip does, including Windows Hello security and BitLocker Encryption. Pluton follows other hardware-based security offerings, such as Apple's T2 chip on Macs and Google's Titan M chip on Pixel devices.
The future of Microsoft's security processor
In a nutshell, Pluton only has one job – to guard sensitive information like encryption keys, credentials, and user information. It isolates this important information using Secure Hardware Cryptography Key (SHACK) technology.
It will undoubtedly stay for a while, and most newer AMD-based computers will house it. Microsoft has also partnered with Intel and Qualcomm to integrate Pluton into their chips. Moreover, the security chip will get regular firmware updates via Windows Update, just like any other PC component.
However, Microsoft isn't the only company working on increasing hardware-level security in its computers. Apple also adopted the trend in 2016 by introducing its T1 chip and, later, the T2 security chip that also found a home on the newer M1 Macs. Then there's Google's Titan M chip, which boosts security on Pixel devices.
If you like this simple explainer, check out our Short Bytes section. We take complex tech topics and break them into short, easy-to-understand articles.
More Simplified Tech Topics!