What are the different ways to protect yourself digitally? As the most basic level, you should have some security software to safeguard your computer. But what about your online security? How do you prevent someone from tracking you on the web? One free option is to use Tor. It could be called secure, but the performance of your connection might suffer while using Tor. That's why VPNs exist. Also, Tor and VPN have their pros and cons.

Say, you want to hide from some notorious stalker who is following you on the web. You subscribe to a secure VPN service so that the person can't track your online activities. When you use a VPN, the outgoing/incoming internet traffic from your computer flows through an encrypted tunnel which goes all the way to the VPN server you're connected to. Anyone trying to track your IP address will see the address of the VPN server.
VPNs are not just about concealing someone on the internet or bypassing geofences. Various companies set up VPNs to provide their remote employees access to company resources. One advantage of using VPNs is you can secure your VOIP calls. There are a few myths associated with VPN services as well. Like, many people think they don't need a VPN if they aren't doing anything illegal.
To help you choose a VPN service for a long-term use, here I would like to tell you about a cheap VPN service which goes by the name Private Internet Access, PIA for short. Also, make sure to check out our list of the best torrent sites that work like a charm in 2021!
Private Internet Access In-Depth Review
Private Internet Access is a VPN service developed by London Trust Media Holdings, Inc. based in the United States. PIA is the biggest VPN service with more than 3200 VPNs in 25 countries. Its plans are affordable with high-speed performance. However, it's unable to unblock Netflix restrictions.
Let's tell you about PIA in detail:
What features do users get?
Despite being a low-cost VPN service, PIA doesn't seem to take a step back when we a take a look at the features on paper. The operators of PIA include the following as a part of their VPN subscription:
Strict no logs policy
SOCKS5 proxy
Unlimited bandwidth
Support for multiple VPN protocols (OpenVPN, PPTP, and L2TP/IPSec)
Blocking of adware, trackers, and malware
Simultaneous connection up to 5 devices
Easy to use apps
Your PIA subscription will also include support for P2P connections so that you don't face any hassle downloading content from the BitTorrent network. This makes PIA a good choice as a VPN for torrenting.
Regarding software availability, PIA apps are available for all popular operating systems, including Windows, macOS, Ubuntu Linux, Android, iOS, etc. There is a browser extension for Google Chrome. Also, you can setup PIA on various routers manually or buy routers pre-configured with PIA VPN settings. By downloading its APK app, you can also install PIA on Kodi and Firestick devices.
By default, PIA secures their VPN connections using the 128-bit AES encryption with SHA1 authentication and the RSA-2048 handshake. But they also offer the stronger AES-256 (SHA256, RSA-4096) encryption if users want added security.
PIA Review – Hands-On
Using PIA on Windows
Laptops and desktop computers are probably the primary devices used by VPN subscribers. I used my Windows 10 laptop to get first hands-on experience for this in-depth PIA VPN review. You can download PIA Windows app from their Download & Support page.
One thing about the app that you'll notice quickly, and might find inconvenient, is the PIA app for Windows doesn't have a dashboard, which isn't in the case of NordVPN or ExpressVPN. All the tasks related to using the service are performed via the icon present in the notification area.

You can right-click the PIA VPN icon to connect to VPN servers in various countries from the list or let the app choose some random server automatically using the 'Connect Auto' option. The 'Connect' option at the top of the list will connect you to a server in the region you've chosen as default in the Settings.
When you visit Settings, you can toggle basic options, such as, whether to start PIA at login, auto-connect at launch and show desktop notifications. You can set the default country for the PIA VPN from the Region drop-down menu.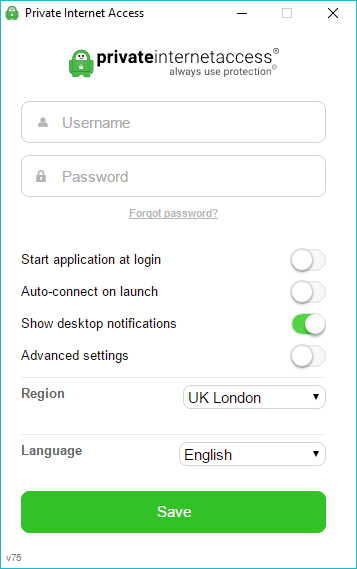 The Advanced Settings toggle hides another set of options that might be useful to many users. You can choose between OpenVPN TCP and UDP protocols, choose the remote port, and turn on port forwarding.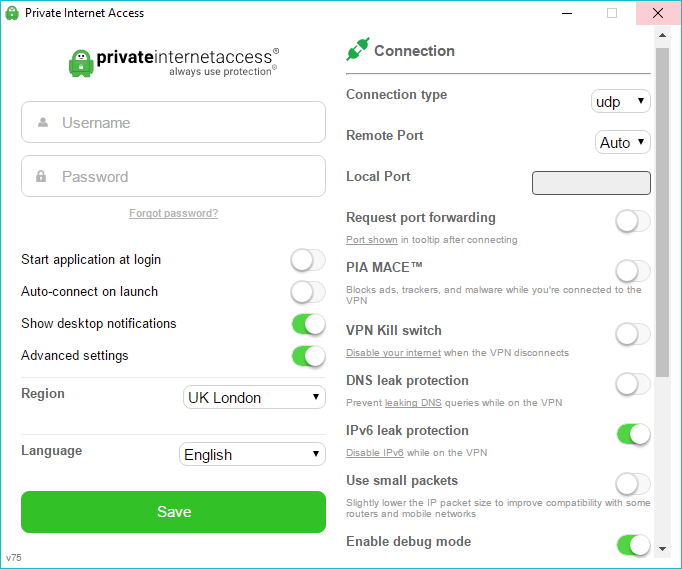 You can also enable and disable other features such as VPN Kill Switch, DNS Leak Protection, IPv6 leak protection, etc. The app can also reduce the size of data packets to improve compatibility with a wide range of routers, possibly older ones. The 'Enable debug mode' option allows the PIA to gather data about performance, attempts to connect to the VPN, and save it to a local log file.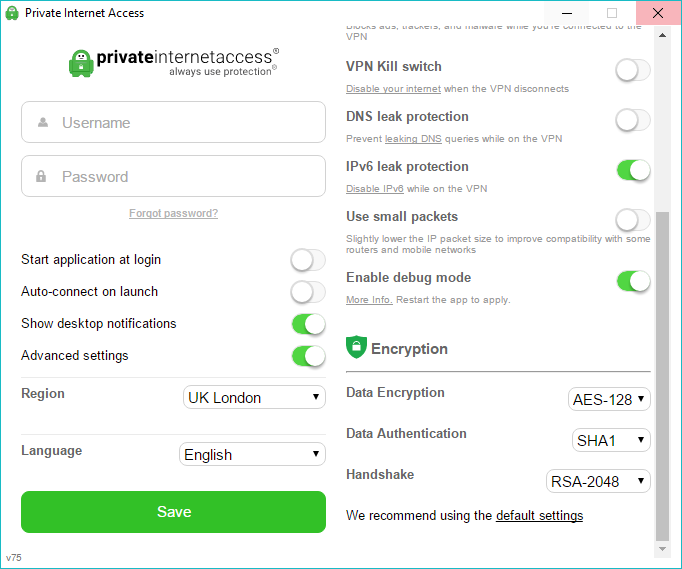 One thing that I liked about the PIA VPN app is it includes the option to change VPN encryption which I didn't find in other VPN apps like NordVPN and ExpressVPN that I used. You can choose between multiple options for data encryption, authentication, and handshake schemes to get the encryption to your liking. However, you shouldn't mess with these settings if you don't know what you're doing.
The PIA app also includes a feature called PIA MACE which can block advertisements, trackers, malware when connected to their VPN service, the operators of PIA claim.
Using PIA on Android
The PIA VPN Android app is much better than its Windows sibling regarding usability. The main screen, with its default white theme, looks simple and neat. There is a dark theme mode which you can enable in the Settings. All it shows is Connect slider, your IP address and an option to change your location.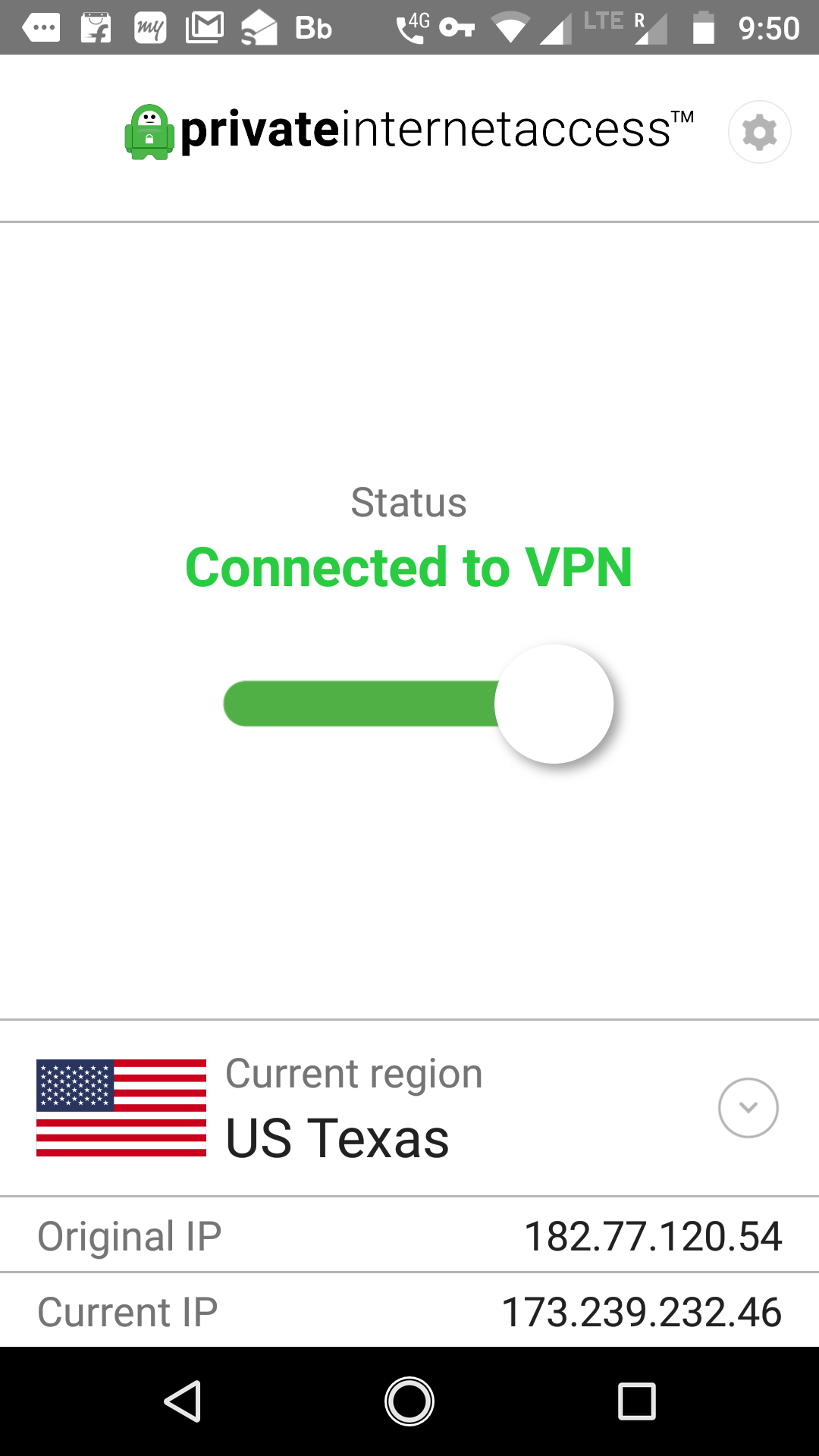 The all-inclusive Settings screen includes almost every option that I found in PIA's Windows app. Some VPN services seem to put different features for apps on different platforms. But it isn't the case here.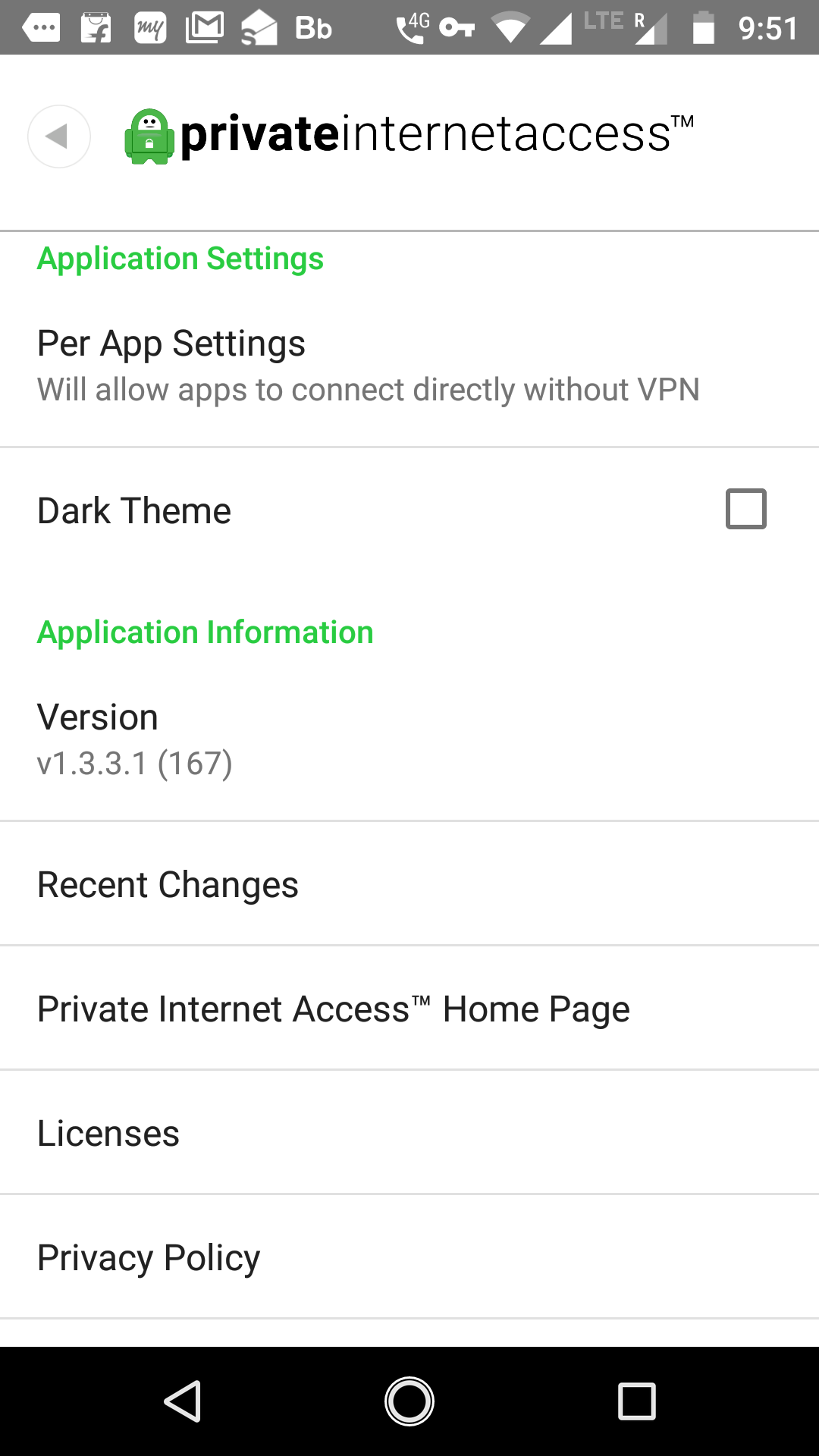 One of the features I liked about the PIA VPN Android app is you can configure one or more apps to connect with VPN when the VPN is turned on. Go to Settings > Per-App Settings. There, you can pull the plug on all apps or allows the desired ones.
However, there was one thing I found inconvenient about the PIA VPN app for Android, and other platforms. There is no search option present to narrow down your choice to individual cities in the countries. In the NordVPN vs ExpressVPN vs PIA comparison, PIA doesn't take a lead here.
Using PIA VPN on iOS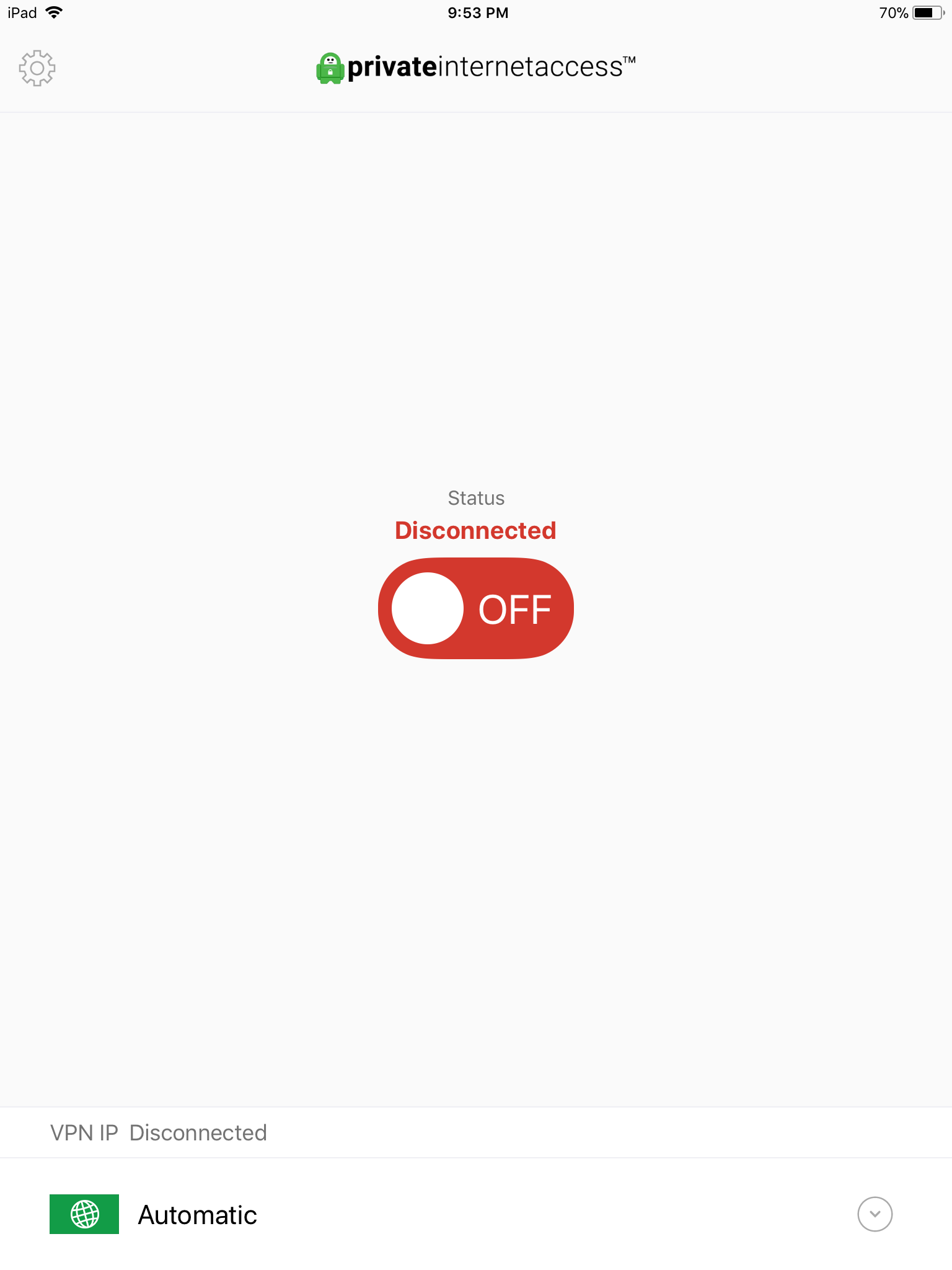 Getting hands on the PIA VPN iOS app on an iPad was as smooth as it was on Android and Windows. The app is visually appealing, and for a moment a user might forget that PIA is a cheap VPN service. But it seems to cut down on the number of settings and features.
The Settings button, present on the top-left corner, only allows you to turn on a few toggle buttons including the dark theme, auto re-connect, and PIA MACE, etc. on PIA VPN. What's more, you'll find is the detail about your subscription and links to the support and home of the VPN service.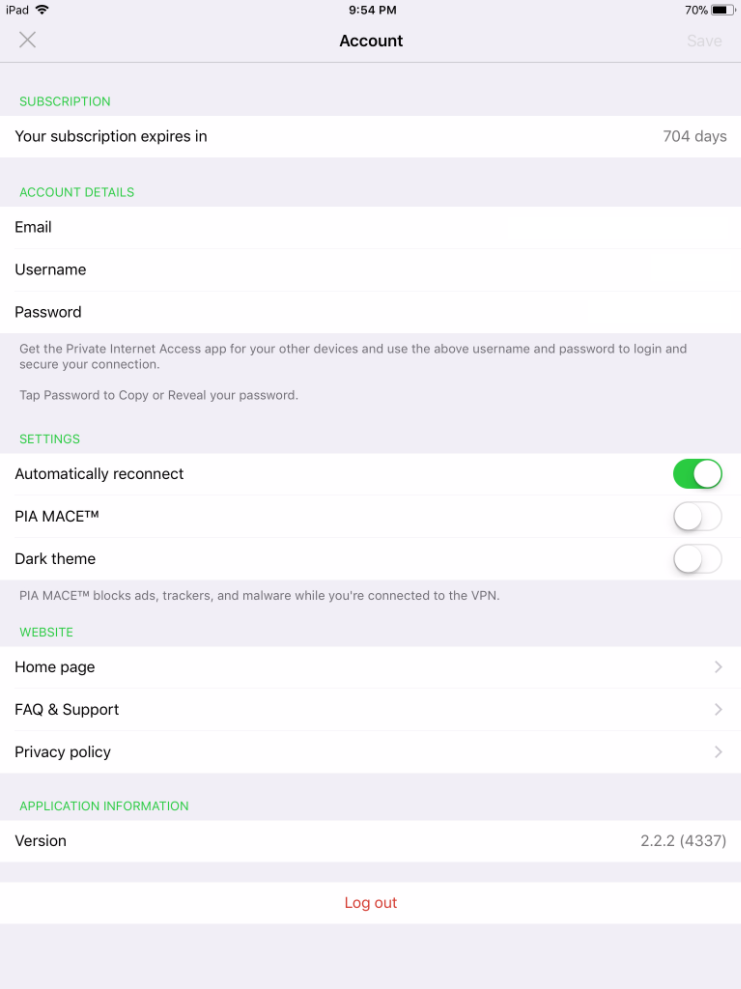 However, there is no regret regarding performance. The app is fluid and didn't run into any problem during my review of PIA VPN. You can choose your desired region by tapping the arrow button on the bottom right corner of the screen.
Performance: What does PIA VPN offer?
When you subscribe to a low-cost VPN service, what you initially expect is it would unlock the internet for you over average speeds. But the story seems to be totally different here.
The average time PIA apps took to connect to the VPN service was impressive. It was the best when I configured the app to choose the best server automatically. However, you'd start to spot the difference when trying to connect to the PIA VPN server located far away, such as in the US or UK.
Now, one thing that matters to most VPN users is the speed and latency offered by a VPN service. Despite the fact that it costs you less, browsing the web when connected to PIA VPN service was no different than fast VPN services like ExpressVPN and NordVPN. But many users tend to care about the numbers.
For the PIA VPN review, I did the speed test in two ways: one, by connecting to the closest server possible, and another by connecting to a server using the Auto-Connect feature. Then, I ran the speed tests on the same test servers using Okla's SpeedTest tool.
For the PIA VPN server location in my region, I can easily call PIA a fast VPN service. For various domestic and international speed test, the overall performance was around 85 to 95% of what I get without VPN.
When connected to a server automatically, PIA VPN was able to deliver around 80% of my regular connection with no issues. There were some servers for which the speeds were as low as 30%. But I think that can't be considered conclusive as the VPN speed test results are very subjective.
Prime Video and Netflix on PIA?
Many people subscribe to a VPN to explore Netflix catalog that's not available in their country. PIA VPN seems to disappoint the users. The same is the case with Amazon Video. But it's also the operators of such services who try block VPNs due to legal issues. So, nothing much can be said here. The best experience I had was watching YouTube. Even when I was connected to a US server thousands of miles away, 4K videos went like breeze. So, as said above, watching Netflix on PIA isn't a current possibility here.
Customer support: Is it any good?
Clearly, customer support is among the factors that can make a VPN service popular. ExpresVPN has an exceptional customer support followed by NordVPN. Sadly, this one area where the low-cost PIA VPN seems to cut down costs.
PIA customer support is a single option which can be availed by raising a ticket on their website. It took few hours to address my ticket. Rest, users can take the help of their collection of how-to guides for setting up the VPN service and troubleshooting stuff. Regarding live chat support, PIA told me over an email the feature is in development and scheduled for a release in 2018.
PIA VPN Pricing
If you ever plan to buy a PIA VPN subscription, you can choose between the following plans according to your needs:
Monthly Plan – $6.95 per month
Semi-annual Plan – $5.99 per month (after 14% off)
Annual Plan – $3.33 per month (after 52% off)
A 7-day money back guarantee is there for unsatisfied users. This makes it easier to give this cheap VPN service a fair try.
PIA Review Bottomline – Should you buy PIA VPN?
Private Internet Access is a thumbs-up for the users. Especially for those who are looking for a long-term VPN service. Because it's the annual plan which makes all the difference in the pricing and this is the reason why we called it an affordable VPN service.
My overall experience of the PIA VPN was great where I faced no considerable issues while using any of the apps I tried. However, I did miss the lack of features in the iOS app which were present in the Windows and Android PIA apps.
Surely, there is a scope for improvement in the customer support section but it's agreeable to sacrifice it to some extent if the benefit is visible on the price tag. Chances are high that the users wouldn't face problems with the speed and performance of PIA VPN is daily usage.
We presented a few questions (via email) in front of the PIA team to give you a better idea of their service. Read them on the next page. The answers may have been edited to maintain the consistency of the text. Please note that the next section isn't the part of our PIA review.