VPN services are being widely adopted nowadays, except for countries like China where the government either wants to control or wipe unmonitored VPNs from their existence. There aren't many times that I have found myself in an urgent need to subscribe to a VPN service. Except for some occasions in the past when I had to access some blocked websites. You know the pain of college folks.

Recently, I got the chance to use NordVPN for a few days. So, I thought I should post my very first review of a VPN service. I won't say I am know-it-all guy when it comes to VPNs, but a brief walkthrough would surely be of help to the ones finding an excellent VPN service for their various internet needs.
What is VPN (Virtual Private Network)?
In the past, Fossbytes has already covered topics like 'What is VPN?' As the name suggests, a virtual private network doesn't exist for real. It provides a virtual tunnel across the internet to carry your internet traffic while preventing it from being intercepted. When you connect to a VPN service, your IP address is hidden, and the websites see the IP address of the VPN server.
Another purpose that VPNs serve is to connect employees of a company to their network over the internet. This facility allows them to access the resources and files while they're relaxing at their home or even in some other country.
One of the common myths about VPN is people think they are of no use if one uses Tor or some proxy. But it isn't entirely correct. One might be comfortable with Tor, but VPNs have their place in the market.
You can also read about various reasons to consider a VPN service and the list of some of the best VPN services you can buy. Now, without further delay, let's tell you the good and bad about NordVPN and answer different questions.
NordVPN Review
When it comes to reputable VPN services, NordVPN is a popular name. With its cleanly designed interface and applications, this service has tons of high-speed servers. It also provides six simultaneous connections and cross-platform support. It might appear to be a little costly option to some but it delivers fast and reliable performance.
Let's dive into NordVPN review in detail: 
For most of the VPN services, there are two primary ways of getting access: using the custom application built by the VPN service provider or the default VPN setup provided by many operating systems. In both the cases, you can enable a system-wide VPN shield.
For general VPN users, it's most likely that they'd go for the VPN app instead of going the manual way. I have used their NordVPN app on Windows 10 to get started with my review of NordVPN. It's easy to use interface is one of the reasons I would prefer the VPN service.
NordVPN offers apps for various platforms including Windows, macOS, Android, iOS, etc. Setting a VPN connection on all of these apps is as simple as signing-in and clicking the 'Connect' button.
You can also configure NordVPN directly on your router to use the service on every device connected to it. NordVPN also offers support for various NAS (Network Attached Storage) hardware. Support for Linux distributions is available, but NordVPN has no dedicated app for the platform.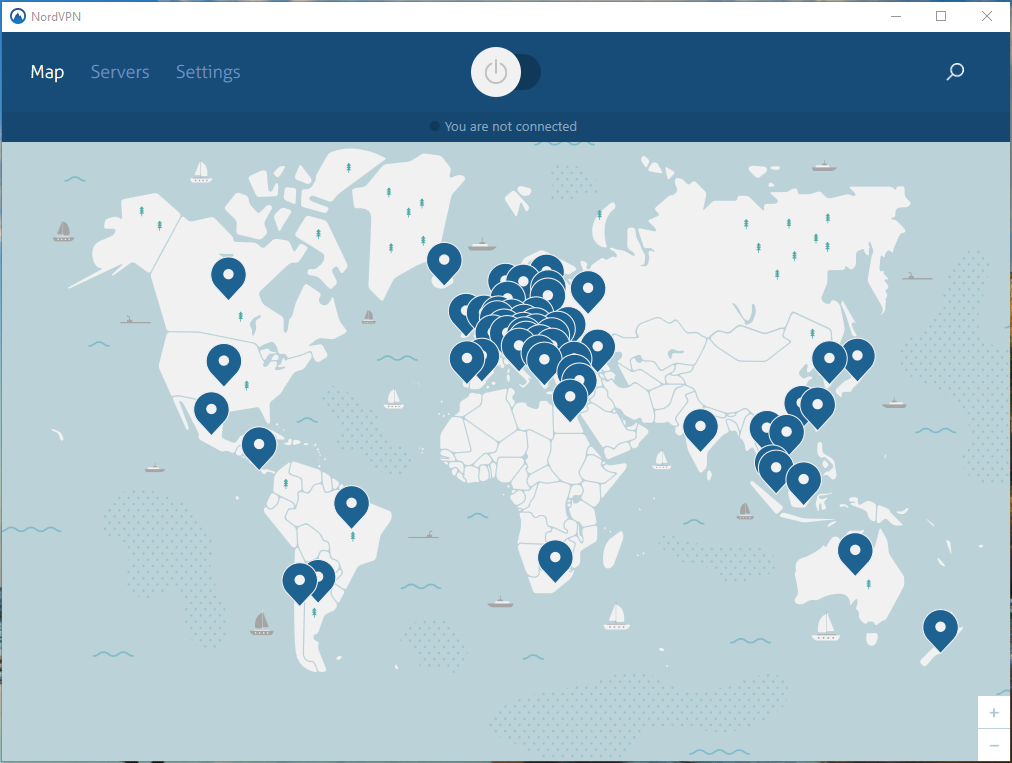 The first big thing you'd notice after you enter your login credentials in the NordVPN app is a world map featuring various blue-colored markers which depict the countries where NordVPN's servers spread across the globe.
To turn on the VPN connection on your computer, you have to click the Connect button present on the upper side of the window. Alternatively, you can click one of the pointers if you want to connect to a server of a particular country. It'll automatically choose the best one available.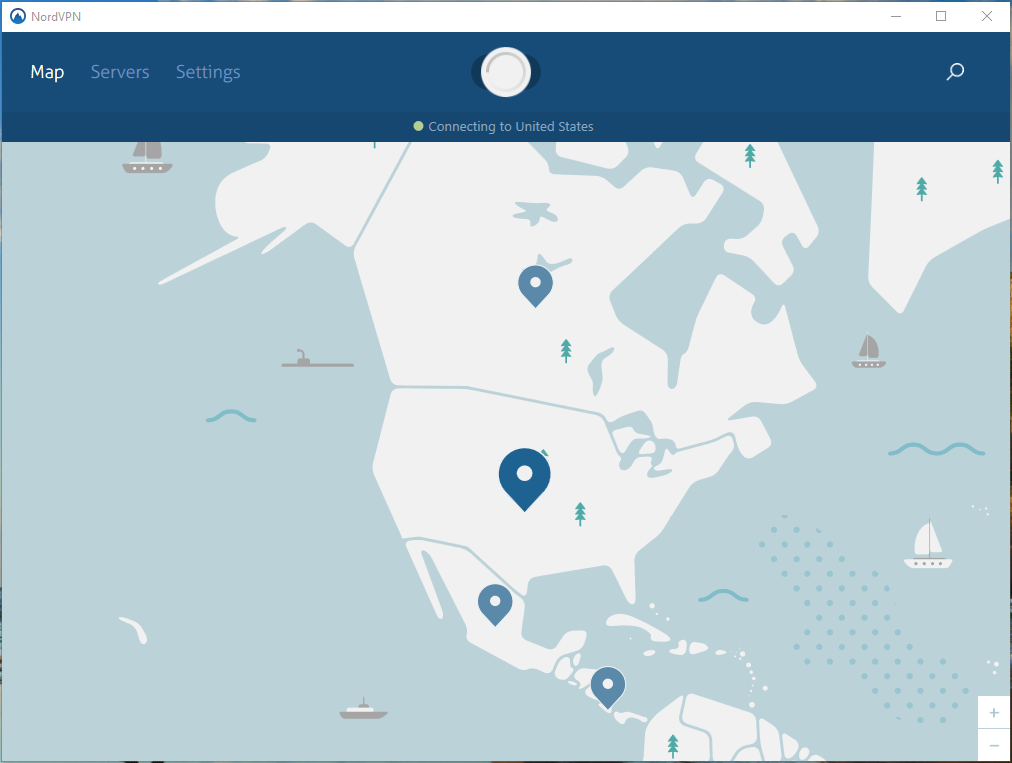 NordVPN Features
This NordVPN review will be incomplete if I don't discuss its highlight features. The Servers section in the app opens a new set of options you can take advantage of. Apart from the complete list of 61 nations where they host around 1300+ VPN servers, you can find collections of servers for things like Double VPN, Onion over VPN, P2P, Anti DDoS, etc.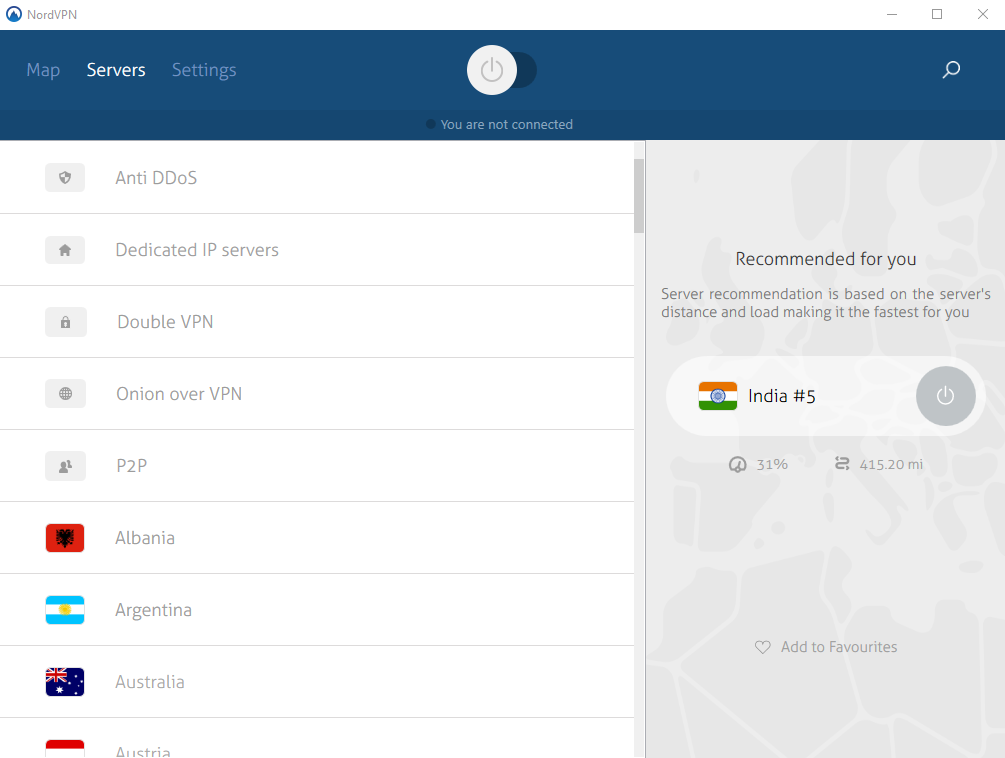 With Double VPN, NordVPN lets you access websites and services over two consecutive VPN servers. It claims that the second VPN server doesn't know your actual IP as it's already hidden by the first one.
Moreover, if you're a big-time fan of the Tor network, you can club NordVPN with the same using the Onion over VPN servers. There are also servers listed explicitly for the people who prefer P2P services like BitTorrent.
The Servers page also shows the details (speed, load, etc.) about the server you're currently connected. For a specific country, you can explore the list of available servers by hovering on its name and clicking the menu button.
Head over to the Settings section; you will find various toggle buttons for notifications, turning on NordVPN at Windows startup, start minimized, etc. CyberSec is a new addition that NordVPN says it can remove phishing and other malware-related threats while you use their VPN service.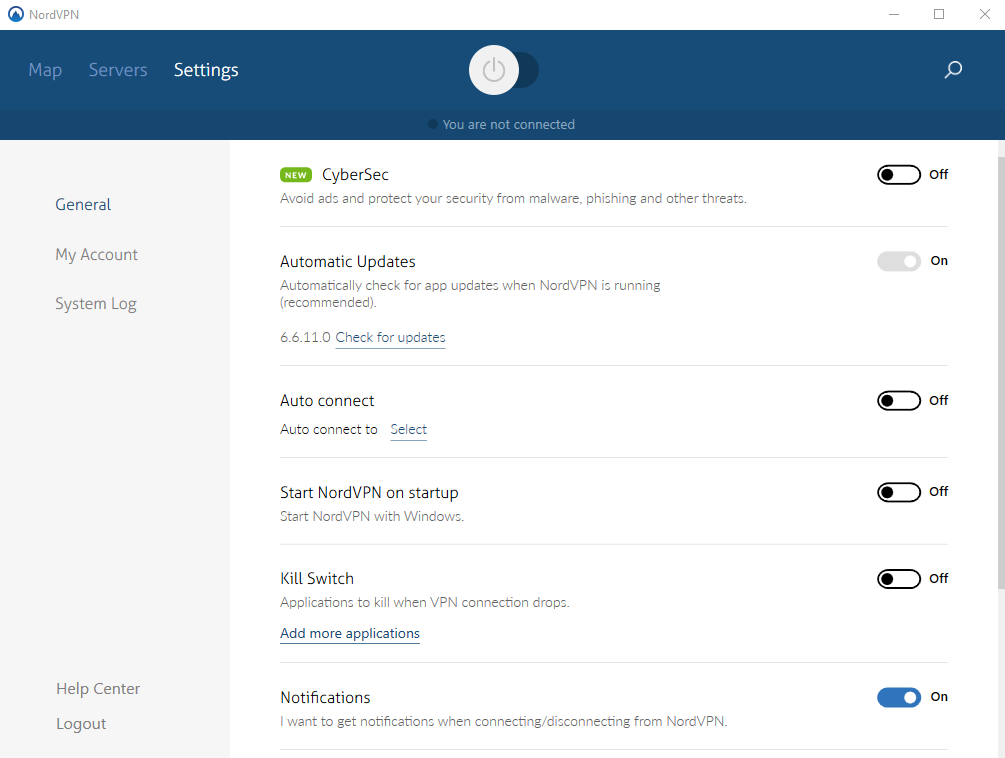 A Kill Switch
Many people use some apps specifically over the VPN. In case, the VPN gets disrupted, the traffic doesn't follow through the VPN tunnel anymore. Tracking the IP address of the machine is possible in that case.
NordVPN tries to prevent such situations by implementing a Kill Switch. It automatically closes VPN-dependent applications when some issue occurs with the service, and there is a need to shift to the standard connection.
Advanced Settings allow you to change the options which NordVPN's creators think, if done wrong, might break things. These include simple things like adding a custom DNS server, running the diagnostic tool, etc. In case you're having doubts like "is NordVPN safe", this feature should clear them.
The NordVPN apps for Android, iOS, and macOS also feature the map-styled view from where you virtually transport yourself to the region you like. Regarding features, there isn't much difference between the apps.
By default, NordVPN uses the OpenVPN protocol across all the platforms. However, the VPN service also supports other protocols including IKEv2/IPSec, L2TP/IPSec, PPTP, and SSTP. You can also configure Norn VPN using your system's inbuilt VPN setup.
Using Nord VPN on Android
You can find NordVPN's Android app on Google Play. The app is as simple as the one they have made for Windows, featuring the map on the main screen. All you need to do is tap the 'Quick Connect' button, and you're done.
Present on the bottom, tapping the Server button displays the list of NordVPN servers dedicated to specific tasks like P2P, Double VPN, etc. The names of countries then follow them down the screen. Tapping each one of them would list the NordVPN servers present in that region.
To explore various options, you can tap the icon in the top left corner. There it shows details about your subscription, as well as, settings to automatically connect to VPN, obfuscate VPN traffic, etc.
Performance
I tested their VPN servers using the Okla's Speedtest tool and tried to gain an idea of NordVPN speed. One important thing to note here is the distance. Other than the factors such as server load, your connection speed, there are other things that matter. For instance, the distance between you and the VPN server, and the same between the VPN server and the test server. So, the actual performance may vary in different users' case.
One major problem I faced during the review of NordVPN was the lack of high-speed VPN servers near my location. It made me realize that the performance of NordVPN is not even satisfactory in my region. Even when the VPN server and test server were located close to each other, the download speed was around 20% of my original connection speed. And the latency escalated around 250%.
When connected to a VPN server in the US, download average speed jumped from 20% to 60%. However, that was at the cost of latency figures. Similarly, the numbers for other regions including UK, Australia, South Korea were something I can call great.
What works?
Bypassing geographical restrictions is one of the main reasons people pay for VPN services. NordVPN helps you do that easily. Usually, the app took between 5 to 10 seconds to connect to a VPN server.
You might have seen people asking queries like, how to use Netflix US or how to use Netflix over VPN? They search these questions because of the different catalog provided by streaming service in various countries.
On NordVPN, respective versions of audio and video streaming services like Netflix, Amazon Prime, Spotify, etc. worked when connected to the servers located in a country. Through their SmartPlay technology enabled by default, NordVPN claims to provide support for around 400 streaming services.
My experience with these streaming services was average. One possible factor is their own stubbornness and disability to allow VPN users to access their content due to license restrictions. YouTube was the real place where NordVPN's true potential (connected to a US server) was observed. Streaming 1440p was buttery, however, there was a slight buffering when I bumped up the quality to 4K.
NordVPN Pricing
You can choose between the following plans while buying a NordVPN subscription:
Monthly Plan: $11.95/mo
Half-Yearly Plan: $7/mo
Yearly Plan: $5.75/mo
Currently, there aren't any free plans or trial version available for NordVPN. All you're left with is the 30-day money-back guarantee in case the VPN service leaves you unsatisfied.
As far as payment options are concerned, NordVPN has your back with popular options including Bitcoin for privacy-focused users who don't want to reveal their payments.
Should you buy NordVPN?
Spending money on NordVPN could be a tough decision if you find there are cheaper VPN services. But less price can also mean unreliable service, and you might not want that, do you? Getting NordVPN for free can't be a thing, it can be a VPN service you might find a considerable investment, as it allows you to connect up to 6 devices simultaneously.
The availability of apps for different operating systems is another plus point that puts NordVPN among top VPN services. Becuase, not every customer wants to dive iintocomplicated settings and stuff they don't know.
My overall experience with NordVPN has been good to great. And why it shouldn't be. You have a VPN service which you can set up in a few mouse clicks, and it eliminates locations barriers for you. NordVPN is safe, it works well with Netflix, etc. A small downside I faced was regarding speed when connected nearby NordVPN servers. Certainly, it appears some of the best servers are in the US.
We presented a few questions (via email) in front the NordVPN team to give you a better idea of their service. Read them on the next page.