In the past, you might have read the in-depth review of NordVPN on Fossbytes. But one needs to consider more than one or two names before choosing a VPN service and investing their money.

In this article, I'd like to post a review of the VPN service called ExpressVPN. It stands in third place in our list of Best VPN services for 2018.
What is VPN (Virtual Private Network)?
As the name suggests, VPN is a virtual network that exists on top of the real internet. While using a VPN service, your internet traffic flows through an encrypted tunnel across the web. It's hard for outsiders to guess what websites you're visiting.
There can be many reasons to use a VPN service. For instance, you want to visit some website that's blocked in your region, or you want to connect to the corporate network of your company. Also, there are many myths associated with VPNs, like people think they can do anything using over VPN and no one will ever know. That's not entirely true.
ExpressVPN In-Depth Review
ExpressVPN is a VPN service with its head office located in the British Virgin Islands. It came into existence in 2009, and since then its worldwide network of VPN servers spans across 145 locations in 95 countries. ExpressVPN is known for strong encryption, fast VPN service, and unbeatable customer support.
Features: Speed, strong encryption, 24×7 support
If you ever plan to buy ExpressVPN, you can feel assured about the availability of apps for different platforms. ExpressVPN apps are available for Windows, Android, iOS, macOS, Linux (Command Line), Routers (compatible ones).
There are ExpressVPN extensions available for Google Chrome, Mozilla Firefox, and Apple Safari web browsers. For devices including PlayStation, Xbox, Apple TV, and Amazon Fire TV, you can setup VPN using the ExpressVPN Media Streamer.
So, the VPN service has got you covered for all the popular devices. You can connect to ExpressVPN simultaneously on up to three devices. ExpressVPN claims that all of their subscription plans include the same features. Also when we look at the features on paper, the VPN service doesn't seem to cut any benefits for the users.
When you subscribe to the VPN service, ExpressVPN claims to provide unlimited bandwidth, speed, servers switches, and 99.9% uptime. We'll try to find out later in the review. They use the secure 256-bit AES encryption to protect all the data you upload or download through their VPN service.
It comes with support for many popular VPN protocols including OpenVPN, L2TP-IPSec, SSTP, and PPTP. ExpressVPN promises to keep no activity logs and no connection logs. It is a clear advantage and a significant concern for the users looking for a privacy-focused VPN service.
ExpressVPN also provides their custom DNS servers when people use their VPN servers. This facility helps VPN users jump geofences implemented to block content in their location.
Their online portal is also well-designed. There, you can change the subscription plan and use other features including IP address registration, DNS Configuration Checker, and Dynamic DNS registration.
For extra security, this fast VPN service also has a .onion Tor Web address which lets you access the website from the regions where the websites of the VPN services might be blocked.
Update (June 2019): ExpressVPN told Fossbytes in an email that they've made changed to their multi-device policy. Now, there is no limit on the number of devices on which you can setup ExpressVPN. However, only five devices will be able to connect to the ExpressVPN servers at any given time.
Customer support
One of the crucial aspects to consider while buying an excellent VPN service is the customer support. ExpressVPN says they have 24×7 customer support through live chat, contact form, and email. So, feel free to ping them anytime. Their response was quick when contacted to ask for Netflix servers.
Using ExpressVPN
Using ExpressVPN on Windows
For the ExpressVPN review, the first device on which I installed ExpressVPN Windows app is my PC running Windows 10. The installation completed without any hassle. And one thing I liked is that you don't need to remember your Express VPN credentials to use the app, they provide a unique code to every user. All you need to do is copy and paste that code into the app (one time process) and start using their VPN service.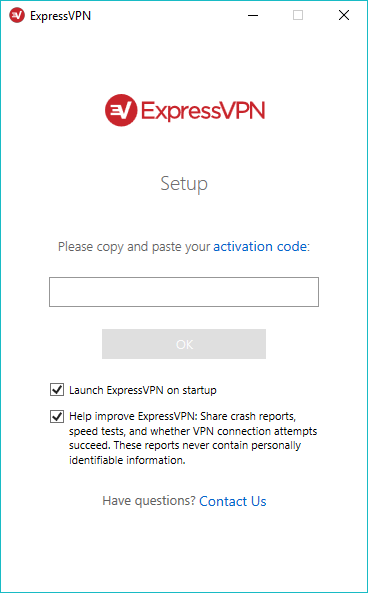 In the first look, ExpressVPN's dashboard appeared different from that of other VPN services I have used in the past. For instance, NordVPN has the world map, and IPVanish shows more details.
On the dash, all you'll find are three buttons: one for quick connection, and other two for smart location and choosing location manually.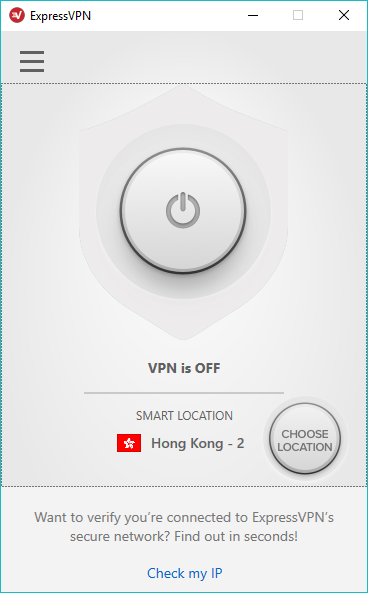 Smart Location chooses the best server location by analyzing various factors like distance, latency, and server load. You can pick a location manually by clicking the Choose Location button which opens up the list of countries in a new window. Double click a country name to connect to a random server there. You can also click the arrow in front of a country name to expand the list of cities available.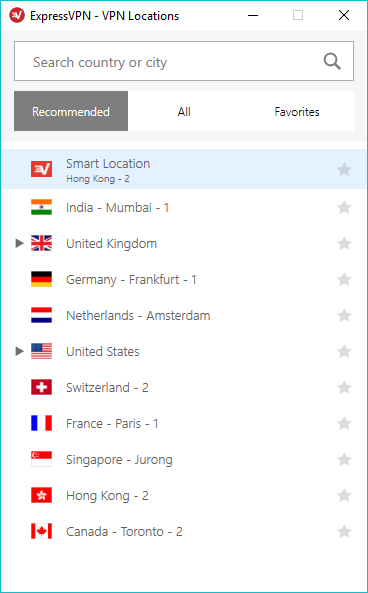 It would have been better if ExpressVPN could make this a little bit easier. I realized that I could connect to VPN servers in individual cities when I used the app for the third time. I didn't notice the expand button earlier.
The Settings button is present in the top-left corner of the main window. A thing that amazed me is the ExpressVPN app has built-in speed test tool which analyses VPN connection speeds for multiple locations in a single click.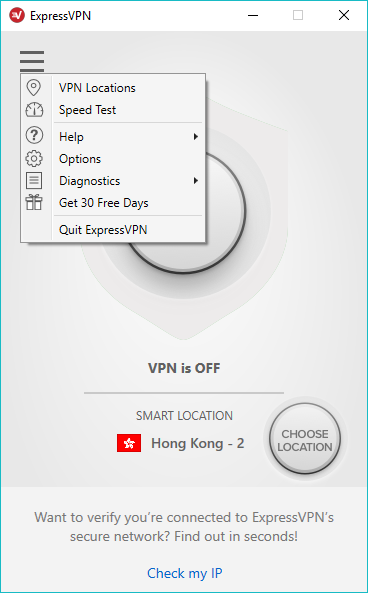 There are two other tools that you'd find in Settings > Help. You can use the IP address checker to see if the VPN service is actually working; it would show an IP address other than the one provided by your ISP. Another tool performs the DNS leak test for ExpresVPN.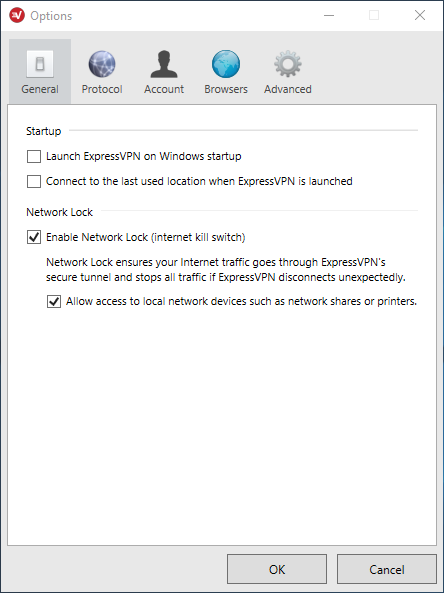 The Options window opens the door to access the few settings available for Express VPN. Under the General tab, you can choose whether ExpressVPN should start automatically when Windows boots, connect to the last used location, etc. Support for Kill Switch is also available in the ExpressVPN app.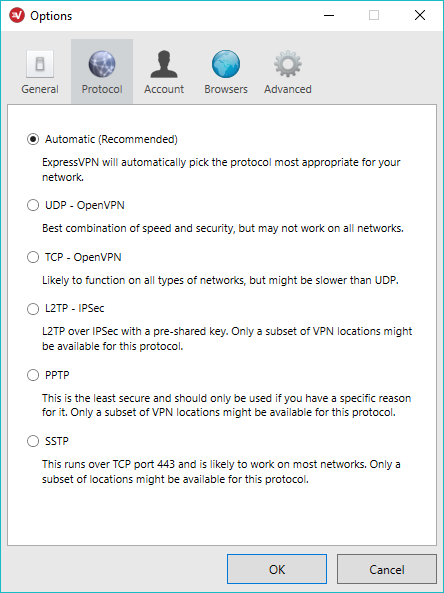 The Protocols tab allows you to switch between various VPN protocols supported by the service. This is an advantage over others like the NordVPN which only supports the OpenVPN protocol in their app.
You can see the expiry date of you purchase ExpressVPN subscription in the accounts tab and download extensions by clicking the link in the Browsers tab. Under the Advanced tab of this fast VPN service, you can choose whether you want to use the ExpressVPN's DNS servers or not when you connect to their VPN.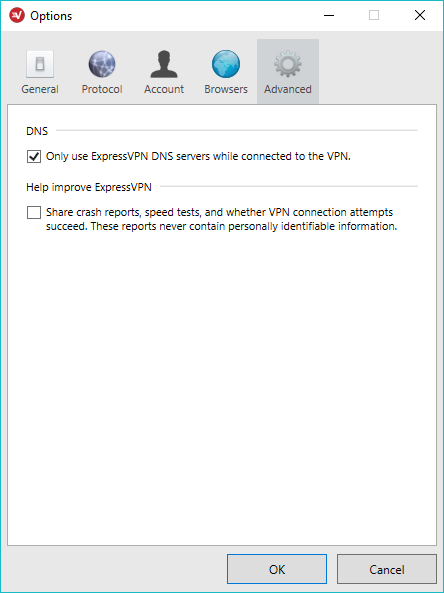 Regarding the number of options available in the ExpressVPN app, other VPN services take the lead here. Although, you won't miss much, more is always welcome.
Using ExpressVPN on Android
The ExpressVPN Android app is also simple like its Windows sibling with a scarcity of options you would find in other VPN apps. But never mind, the ExpressVPN provides easy to access VPN on your Android device.
After installing the ExpresVPN Android app, you will be asked that the app can crash reports and other non-personal data to the servers (you can disable it later in Settings > Help Improve ExpressVPN). The main screen of the app features the same Connect button which turns on the VPN service in a few seconds.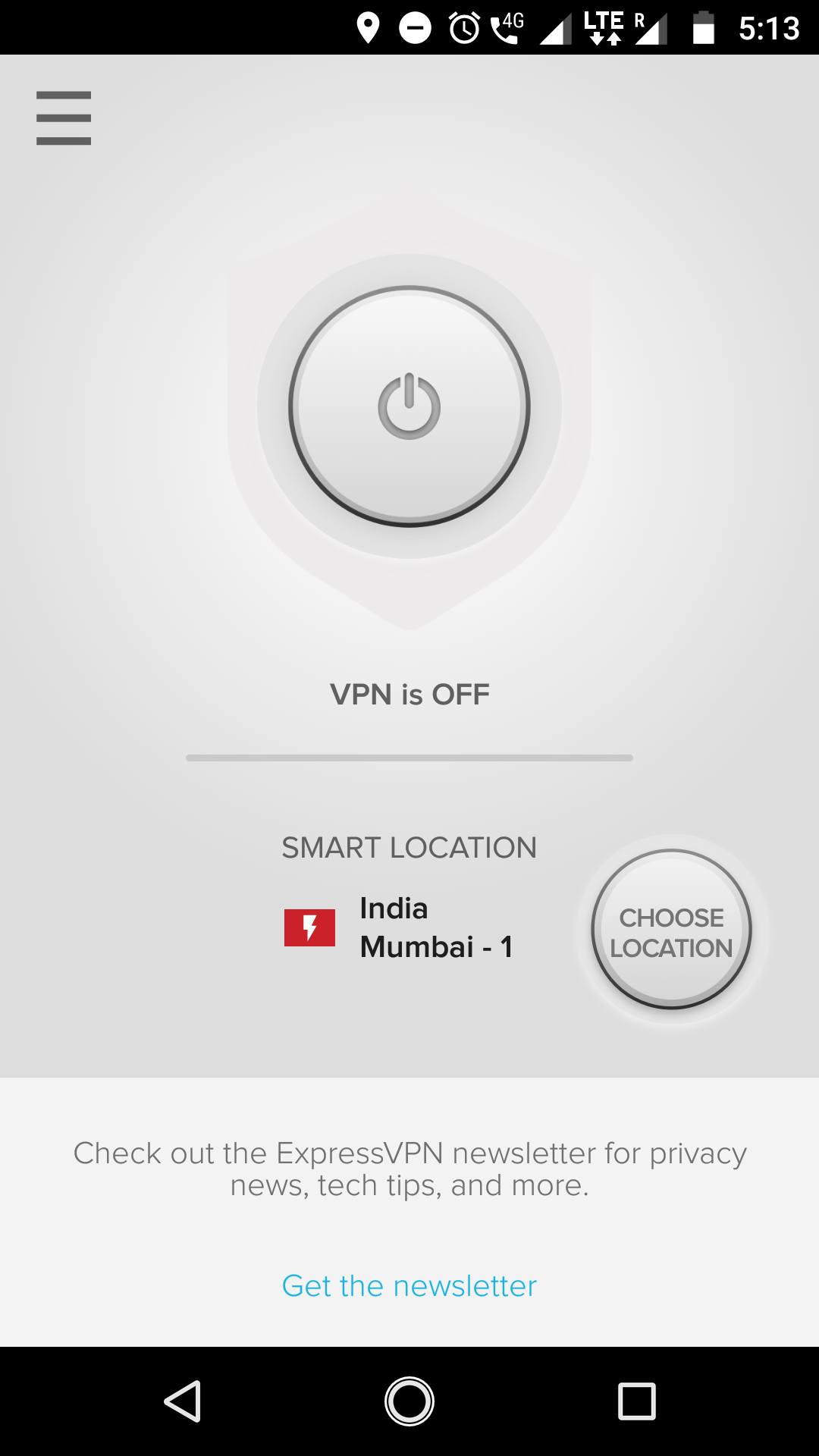 You can tap Choose Location to explore the list of countries and cities where ExpressVPN has their servers and mark them as your favorites.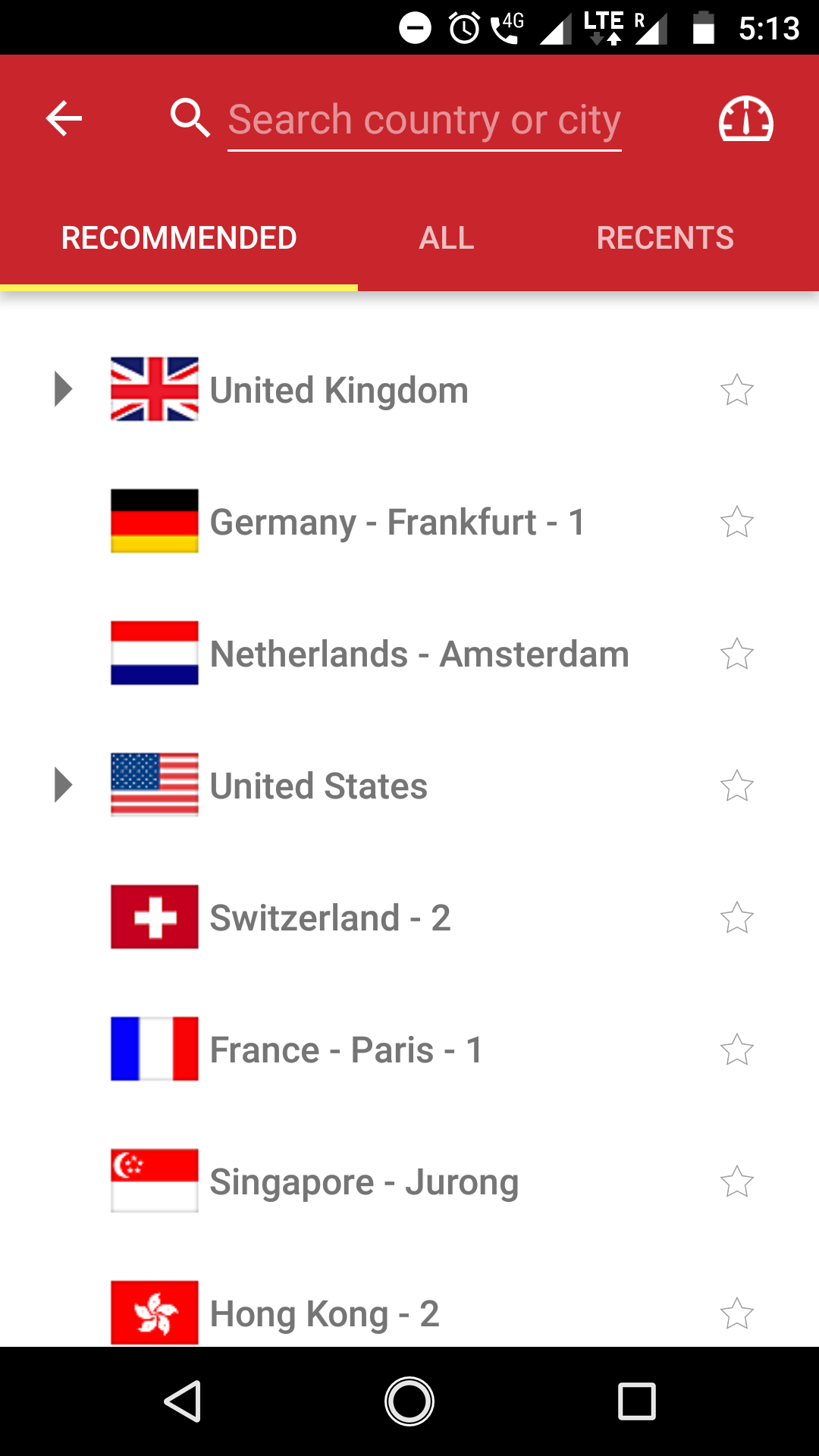 Swipe from the left to reveal the available options in the app. The Settings screen offers a couple of things including the ability to change VPN protocols. Contrary to what I saw on Windows, the ExpressVPN Android app only supports OpenVPN TCP and UDP protocols. If you want to use other VPN protocols, you can setup a VPN connection manually.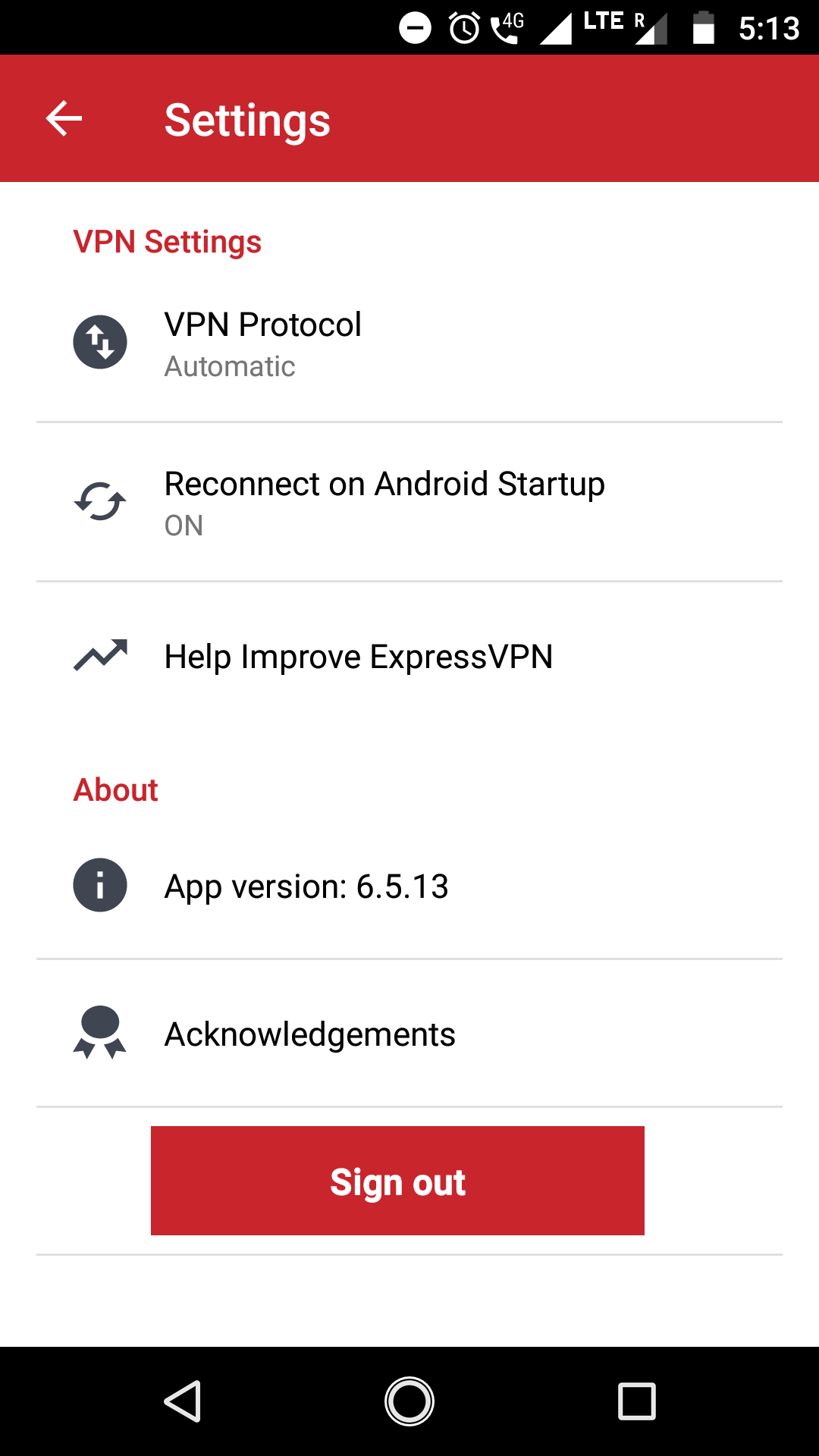 The ExpressVPN Android app also includes a tool to check the latency of their VPN servers and choose the best. At first, I thought of it as an advantage but later realized that other VPN apps automatically test the latency and suggest the best server. Still, manually doing the same gives a sense of satisfaction.
Using ExpressVPN on iOS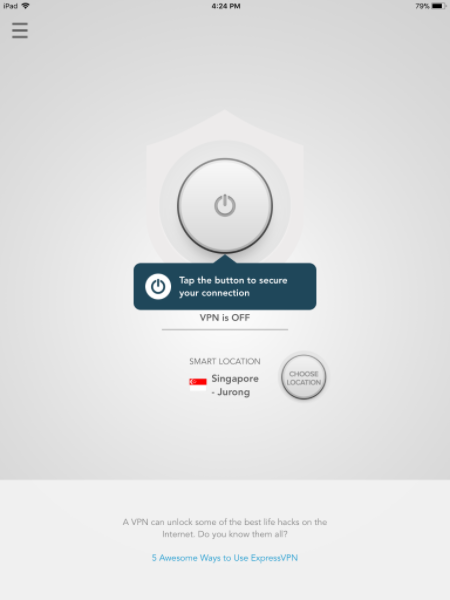 The ExpressVPN iOS app, when used on the iPad, looks like a blown-up version of its iPhone and Android siblings. You can see the same Connect button, smart location suggestion, and the option to choose location manually.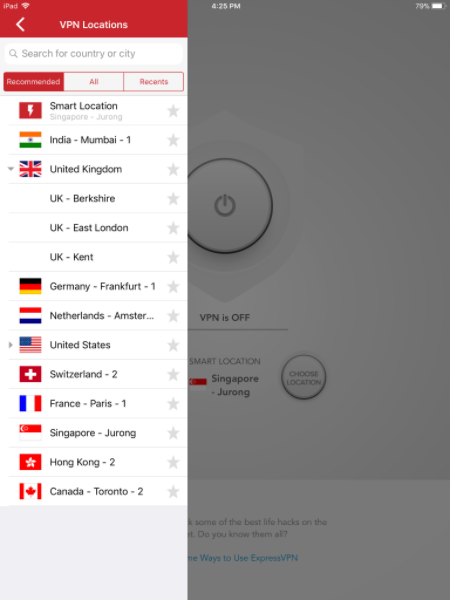 The first difference I found was the absence of the Ping test or speed test tool which were available in the case of Android and Windows. But an advantage was hidden in the Settings. While the ExpressVPN Android app only offers OpenVPN protocol (TCP/UDP), you can switch between multiple VPN protocols in the iOS app if you require.
ExpersVPN Performance: As fast as promised?
Although by a couple of seconds, I think ExpressVPN's app took less time when connecting to a VPN server. This advantage I believe provides much better experience than the other VPN services I have used. However, there were a couple of instances when the VPN took ages to connect. But that I think could be internet's fault.
Speed and latency are a deal breaker for many users. So, a top VPN service should never compromise on that part. The overall web browsing experience when connected to ExpressVPN was great. I didn't notice any degradation in browsing speed in comparison to my regular connection. But it's speed test number that matters a lot.
During my review of ExpressVPN, I used the Okla's SpeedTest tool to check the performance of their VPN servers. First, I manually connected to the nearest server in my country. The speeds barely made past 10% of my bandwidth in the first go, but it escalated in further attempts. ExpressVPN was quickly able to reach around 80% to 95% of the network speed when I download an 800 MB file.
There wasn't much difference in the speed when connected to a VPN server far away. The difference in latency was just fine. One should keep in mind that this test can't be a definitive answer to questions like which VPN is fastest as the speed depends on many factors.
Next, I connected to the server suggested by the Smart Location tool. It also didn't pose any speed problems upfront; there wasn't any difference in the VPN and the regular connection. It can be concluded that ExpressVPN is a fast VPN service.
What works? — Netflix, Prime Video, HD Streaming
Many VPN users on the web care about the fact whether Netflix works or not. The streaming service worked after a few failed attempts and a couple of server changes. After contacting the customer support, I was told about the particular server that works for Netflix. Upon connecting to that particular server, I was able to use Netflix US instantly. In a few more trials, this worked smoothly again.
The performance of Amazon Video was surprisingly better if we don't consider the picture quality. Other popular services worked as well. Regarding YouTube, I was instantly able to stream 4K videos with the video buffering only one or two times because other people were using the same WiFi network.
ExpressVPN Pricing, Money-back guarantee
ExpressVPN is offering a limited-time 49% discount to Fossbytes readers if they opt for the annual plan. Visit this link to grab the offer and browse safely.
When you plan to buy an ExpressVPN subscription, you can choose between the following plans:
Monthly Plan: $12.95/month
Semi-annual Plan: $9.99/month
Annual Plan: 8.32/month [Via Offer: $6.67]
ExpressVPN provides a plethora of payment options to suit your needs. These include credit cards, Paypal, and various payment options through Paymentwall. The option to pay using Bitcoin is also available for those who want to keep themselves anonymous.
The VPN service also offers a 30-money back guarantee for those who are not satisfied.
Get ExpressVPN for free
There is no trial or free version of available, but there is an opportunity for you to earn some free ExpressVPN subscription through their referral program. For every friend you refer, ExpressVPN will provide you 30 days for free.
Conclusion: Pros and cons of service
After using ExpressVPN for a while, it appears that the Virgin Island-based service has only one motive: provide an easy to use and fast VPN service to their users. Their legal jurisdiction being the British Virgin Islands is also a plus point for the users concerned about some security agency asking for their details.
It doesn't seem to compromise on the speed and latency of their VPN, making ExpressVPN stand as a high-speed VPN service among the flock. The availability of 24×7 support through live chat could help the users in need. Netflix and other streaming services too work, which is a must-have for many users.
But let me tell you, ExpressVPN is not for those who are looking for a cheap VPN service. Their monthly plan costs almost double of many other VPN services.
One of the cons is the absence of the obfuscation feature. This might deviate users living in countries which block VPN services to other VPN services. Also, the number of simultaneous connections offered is limited to three which is another drawback.
Advanced users who want tons of features and options in apps might feel disappointed. I might agree with the fact that many users won't use most of the options available, but their presence would give the ExpressVPN apps an edge over others.
We presented a few questions (via email) in front of the ExpressVPN team to give you a better idea of their service. Read them on the next page.