The Beelink Mini S is an ultra-affordable computer perfect for students, a home office, or a home theater PC.
Beelink offers a wide variety of small form factor computers comparable to Intel's NUC line. The Mini S is on the lower end of the spectrum. But it has its fair share of noteworthy features, perhaps the best being the price of just $219.
Mini S Specifications
CPU
Intel Celeron N5095
4C/4T 2.0GHz/2.9GHz Turbo
15W TDP
Memory
8GB
Graphics
Intel UHD Graphics
Storage
256GB M.2 SATA SSD
Network Connectivity
Wifi 5 (AC), Gigabit Ethernet, Bluetooth 4.0
Front IO
2x USB Type-A 3.0
3.5mm Audio Jack
Rear IO
2x USB Type-A 3.0
2x HDMI
Gigabit Ethernet
DC Power Barrel Jack
Internal IO
M.2 SATA Drive Slot
2.5″ SATA Drive Bay
Dimensions
115mm x 102mm x 41mm (480ml)
4.5″ x 4″ x 1.6″
Weight
(0.71lb/11.35oz)
Operating System
Windows 11 Pro
Beelink Mini S Specifications
The Mini S wears its heart on its sleeve here. It's not intended to be a gaming computer or a productivity machine. The Mini S is a modest computer with a modest footprint.
In the Mini S Box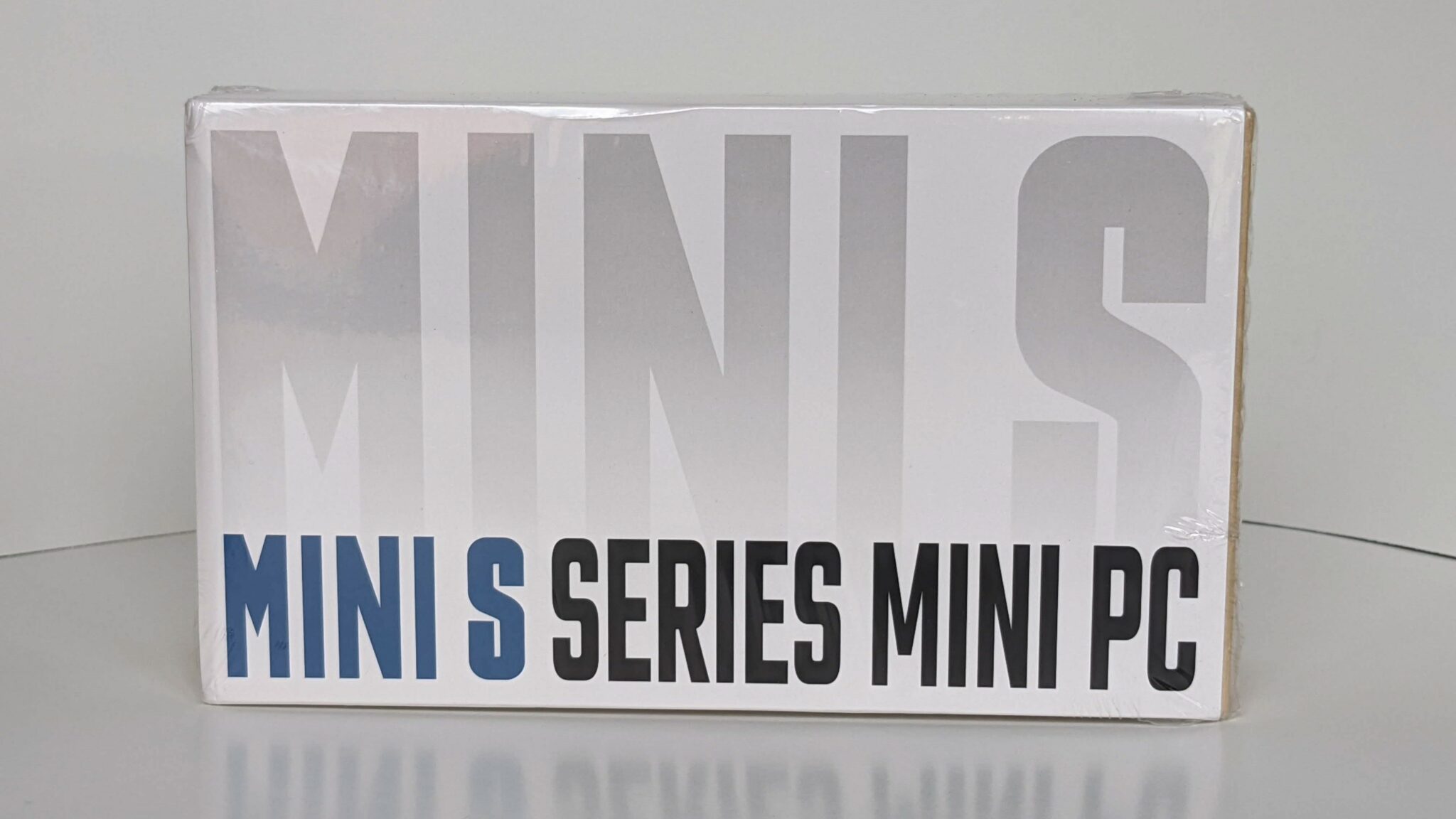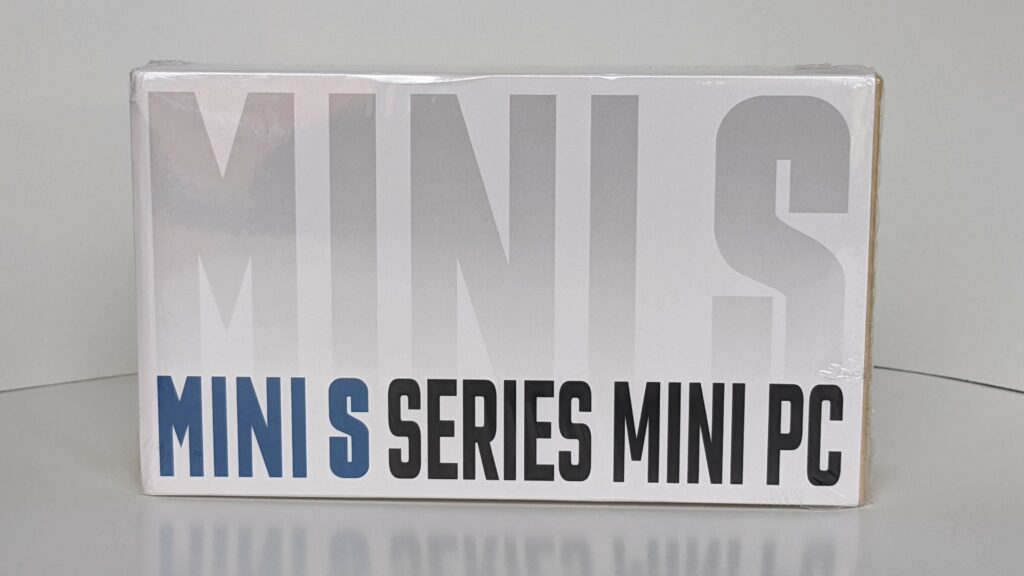 The Mini S comes in very simplistic packaging. I think this is a good thing, though. Like many other package designs, the box comes with a slipcase holding it together. There is very little plastic waste, which is something I enjoyed about it.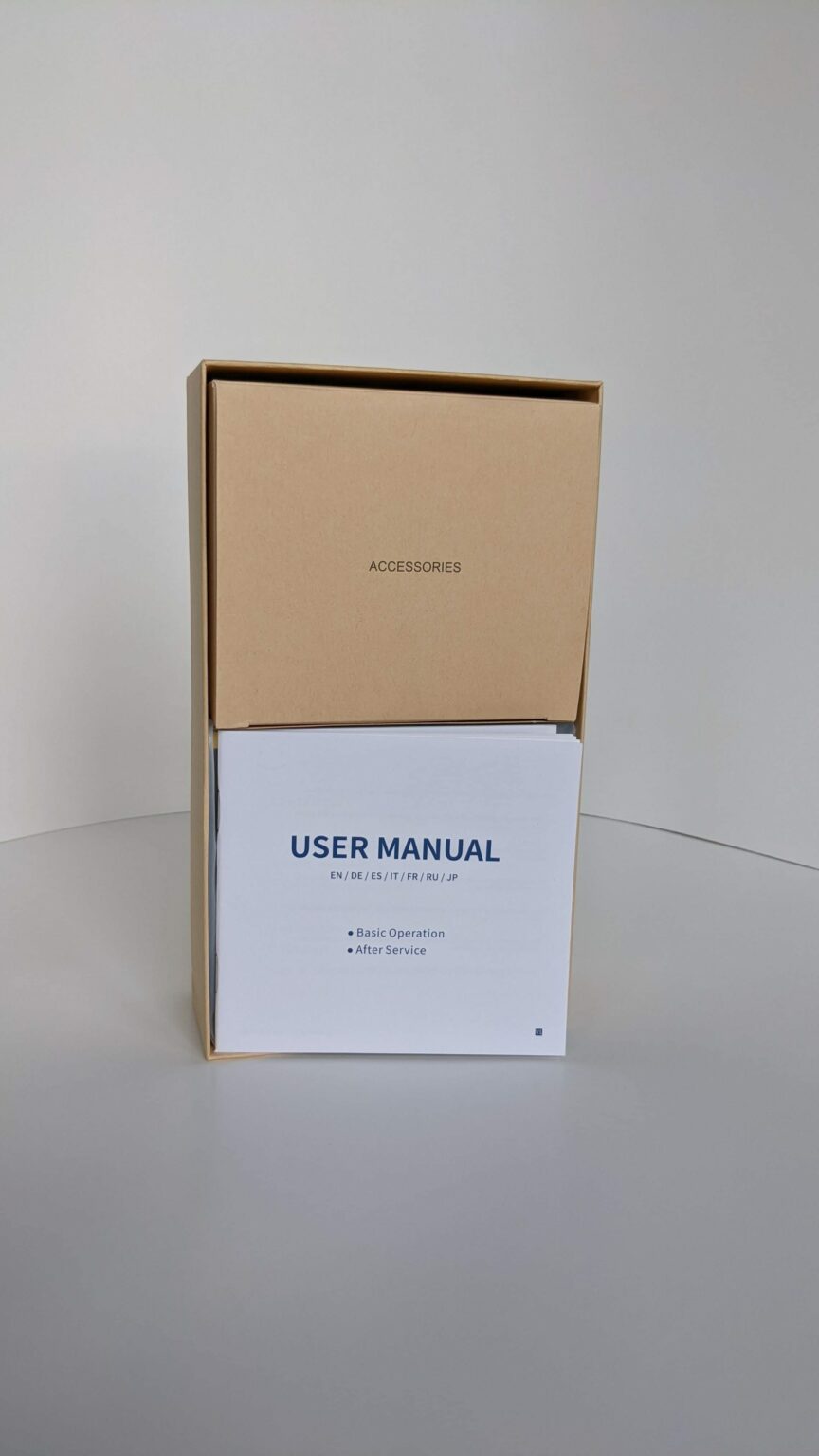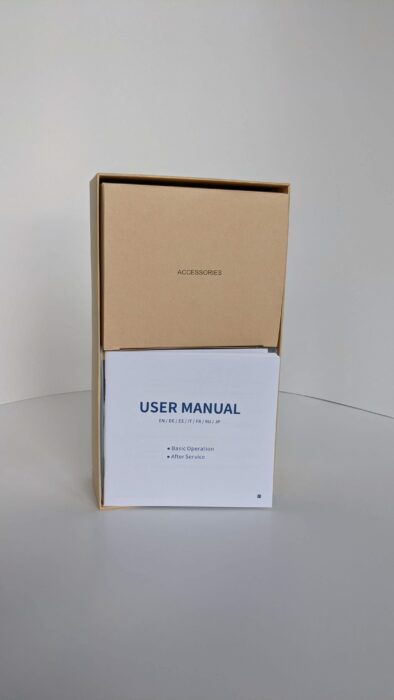 Packages with the Mini S are
A region-specific power cable
Two HDMI cables, one short and one long
A VESA mounting bracket and screws
A user manual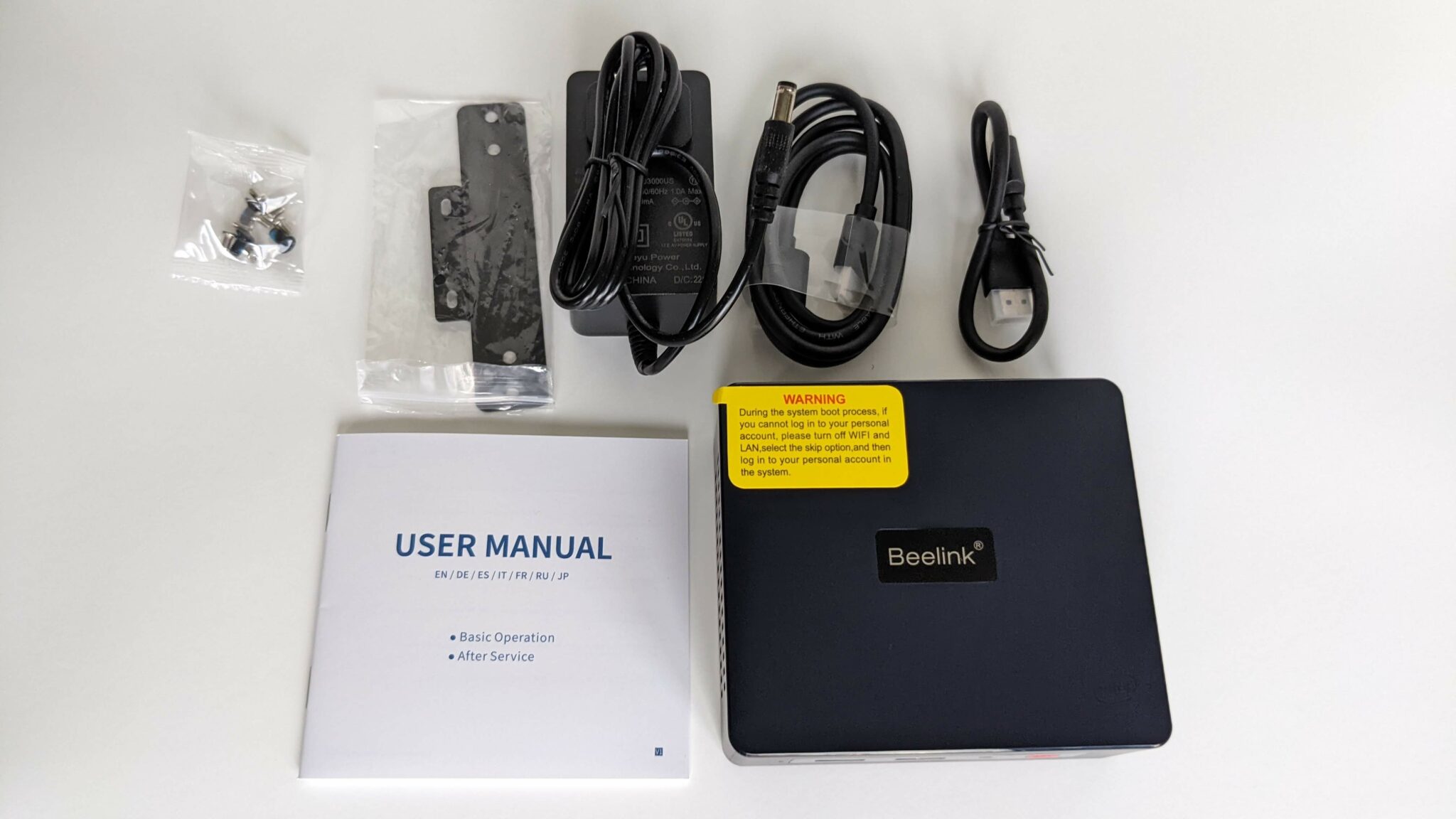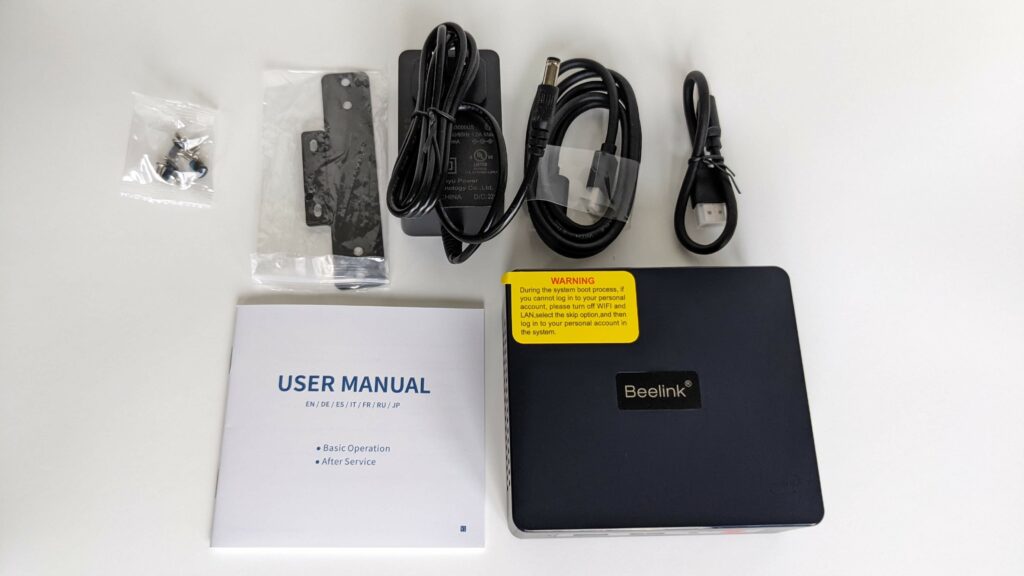 There isn't much in the box, but that's a good thing. The Mini S keeps everything simple and easy to unpack.
First Impressions
The Mini S has very little mass, which is immediately noticeable. This is due in large part to the plastic shell. The shell feels thick enough to be rigid, even when applying torsional force, but still sounds fairly thin when tapped. This makes it feel a little on the cheap side, although the rigidity provides a notable contrast to that feeling.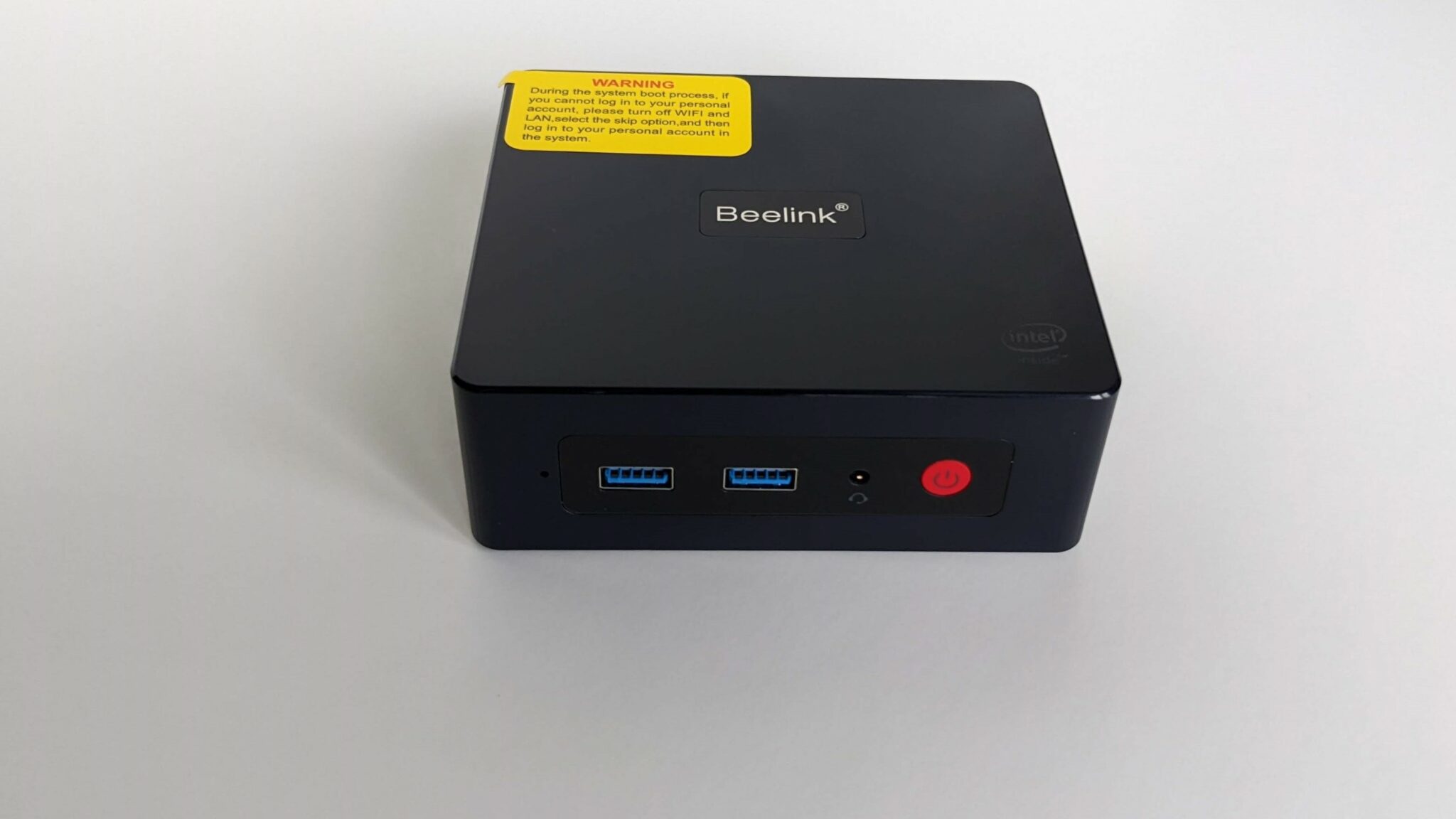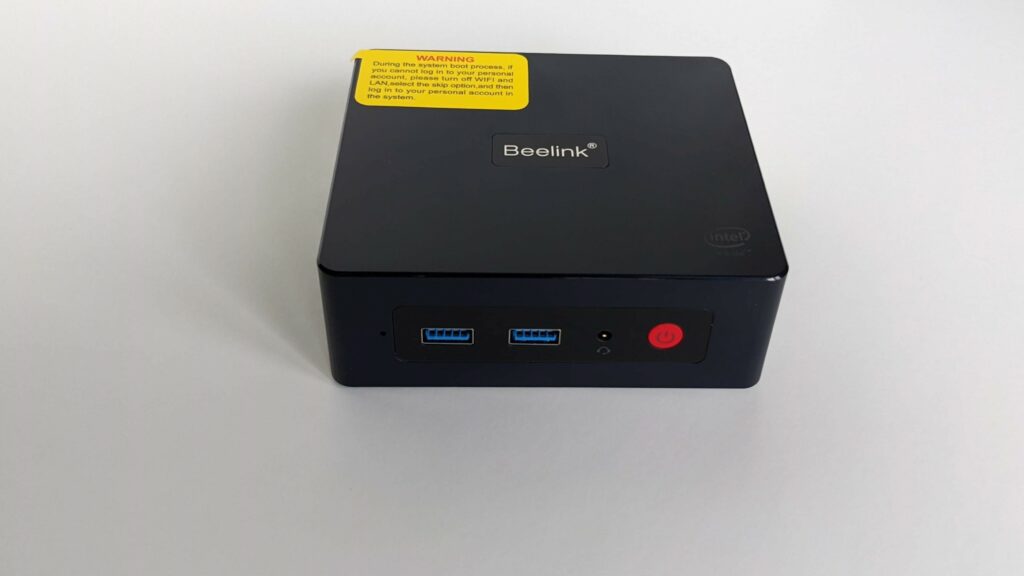 On the bottom are four rubber feet, a welcome inclusion for anyone trying to preserve their desk's surface. In addition to the rubber feet, threaded inserts match the VESA mounting bracket.
On the left- and right-hand sides, there are intake vents. The rear is home to the exhaust vent. There is a large surface area designated for the intake vents, but only a fraction of that for the exhaust vent. The Celeron N5095 is only a 15W part, so this is unlikely an issue. Additionally, the exhaust vent is likely sized appropriately for the heatsink, but I can't help but think there could be a little more exhaust throughput.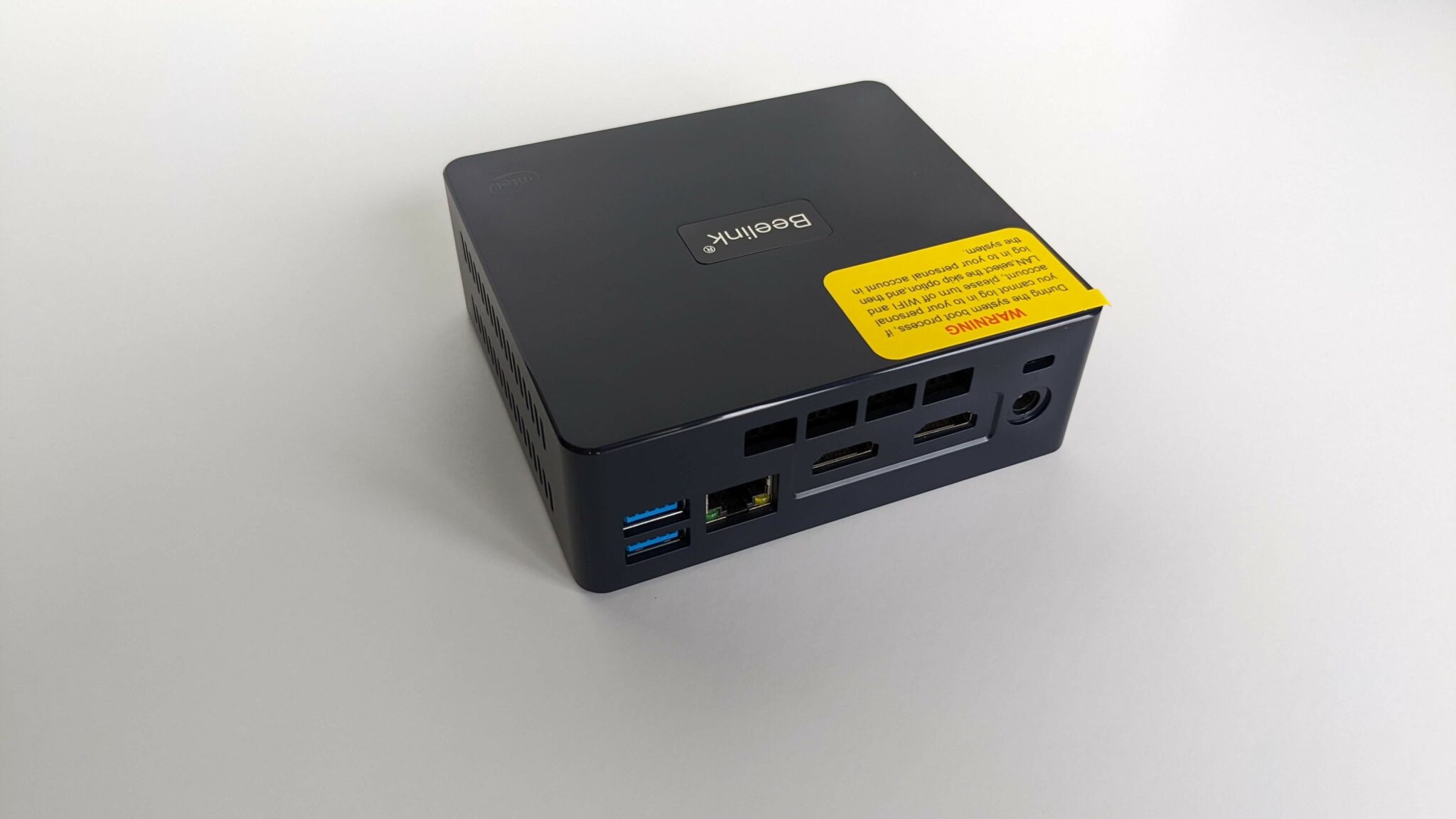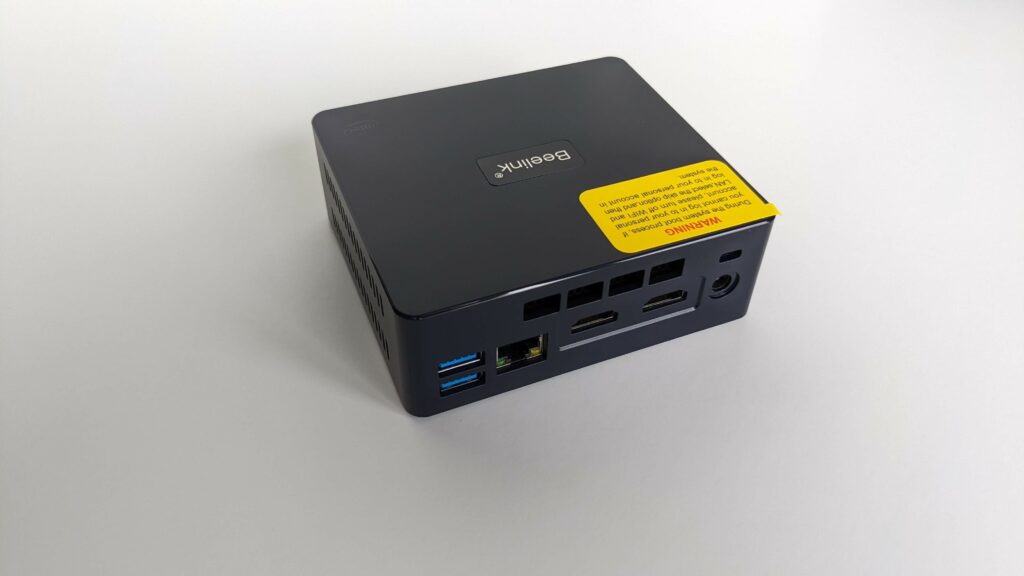 There is a "CLR CMOS" button on the front, which is interesting. Not only would I expect this type of button to be on the back, but it's not typical outside of enthusiast hardware. My best guess is that this is provided because a typical desktop computer would allow for much easier access to the CMOS battery for removal to clear the CMOS, making this not just a convenience but a fairly thoughtful one.
The total of four USB 3.0 Type-A ports, with two on the front and two on the back, might be enough but certainly isn't ideal. Typical users will use one or two for the mouse and keyboard, depending on whether they have a wireless combo. That leaves only two or three ports for all other peripherals.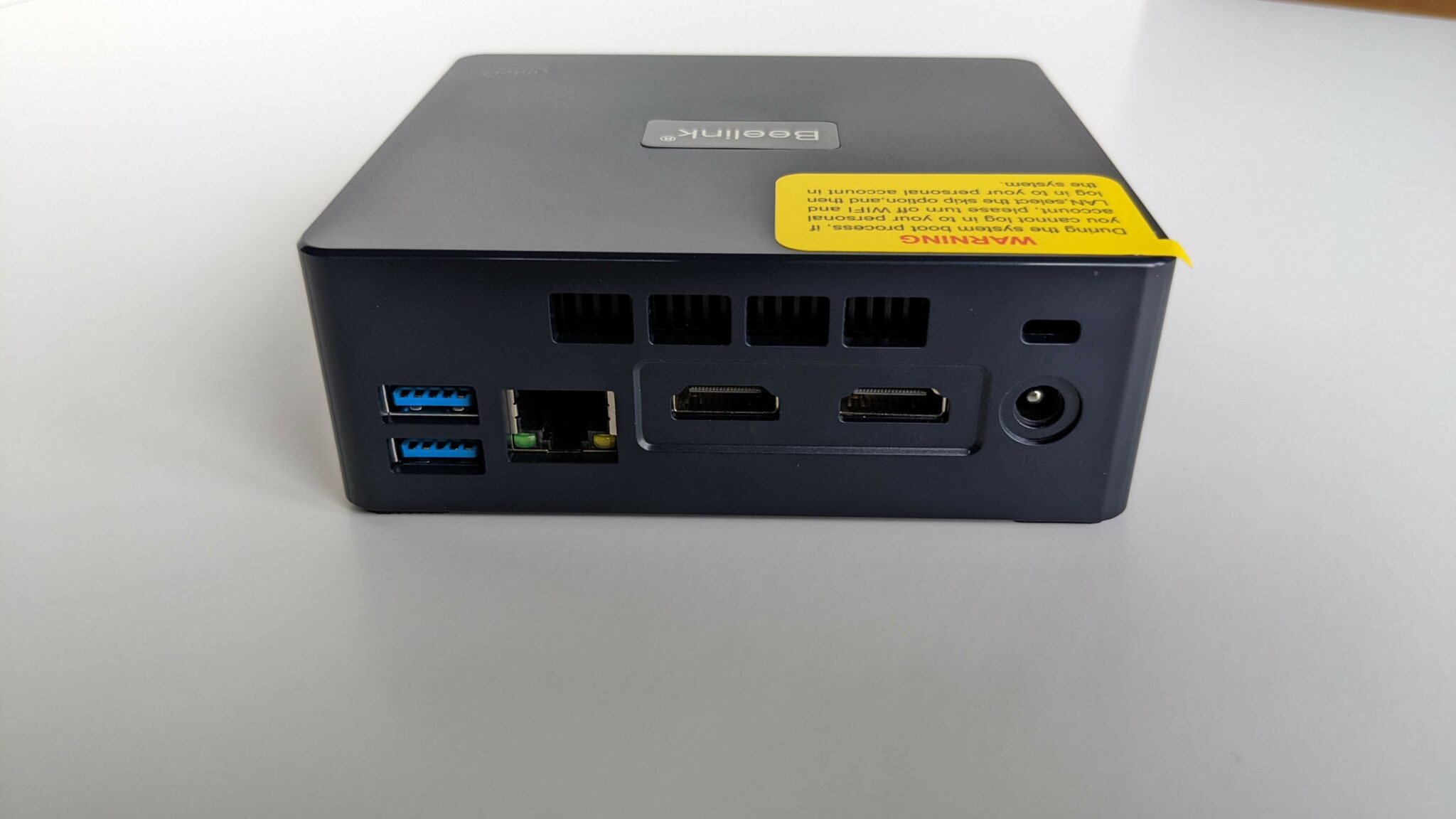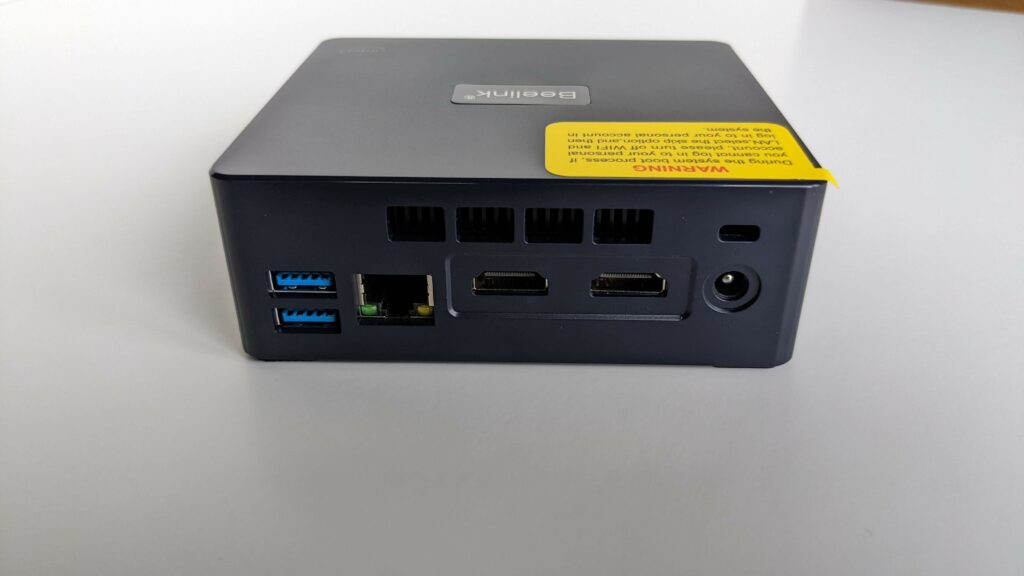 One of the major selling points of the Mini S is the second HDMI port. This is a productivity requirement for any office worker. Multiple displays are the norm now, and Beelink acknowledges this by providing that second port.
The Mini S is, for the most part, what you'd expect for a mini PC running the Celeron N5095. But for such a demure device, it manages to bring a couple of things to the table.
Mini S Performance
The Mini S is not a high-performance machine. This comes down to the Celeron N5095. So, there will be some clear limitations to the Mini S.
Productivity
Productivity is likely where the Mini S is going to shine. The Mini S isn't a productivity beast by any means. But it's certainly a capable computer for the price. For just $219, you can get a computer that can drive two displays, has 8GB RAM, an SSD, and Windows 11 Pro. It's hard to find that configuration at that price point, even without the Windows Pro license. This combination makes the Mini S an excellent option for light office work.
Gaming
With that in mind, I tried playing Skyrim. Unfortunately, it was unplayable. Considering that Skyrim came out almost eleven years ago, that's a lot. Given this, it is plain that the Celeron N5095 isn't going to fair well with any modern titles with even a sliver of demand. On the other hand, though, it might fare well enough in some retro emulators. After all, there are whole Raspberry Pi Linux distributions made for the express purpose of emulation.
SSD
The storage connectivity available to the Mini S is only SATA. Because of this, it's limited to the speeds of the SATA III interface. An interface that was released in 2009. The SSD in the unit I was provided for review pushed about 500MB/s for both reads and writes, which is to be expected but is nonetheless reassuring. The near-saturation speeds of the SATA connection will help with Windows updates, boot times, and application installations.
In addition to the M.2 SATA interface, there is a drive bay for 2.5″ SATA drives. Using this, you can expand the available storage to several terabytes. Or, if you're more like me, you can use it with Linux to create a RAID configuration with Btrfs or ZFS.
Streaming and Media
Despite its general lack of muscle, the humble N5095 can decode 4k video at 60Hz. This means that the Mini S will make a decent streaming device. Especially since it comes licensed, you can run Windows or your favorite Linux distribution. Adding to that, I tested the Mini S as a Steam Link client, and it performed extremely well when wired. Unfortunately, I couldn't test wireless because my desktop is wireless without the possibility of being wired without considerable work. Steam Link doesn't play well with the client and host on wireless.
In summary, the Mini S has a performance of about what you'd expect for what it is. That is, with the exception that it's running on an SSD. The Mini S should fit the bill if you have some low-power needs. Otherwise, it might be best that you look elsewhere.
Where Does the Mini S Belong?
The most exciting aspect of the Mini S is its value proposition. None of the hardware or specifications are headline-worthy. The most notable feature is, perhaps, the price. Not just the price, though. Between mini PCs, SBCs, and refurbished units, you can certainly find a computer for the same price. The Mini S proposes a composite value comprising the price point, the physical footprint, the SSD, and Windows 11 Pro. This makes the Mini S an incredible option in particular use cases.
The Mini S is ready to be deployed in the enterprise with its Windows 11 Pro license. This means this device is ready to go without imagining or re-licensing, whether you use Microsoft's Active Directory with GPOs or Microsoft Endpoint Manager (Intune). It supports two displays, which are crucial for productivity, even in low-intensity clerical positions. With Windows 11 preinstalled, the Mini S is capable of the typical security requirements (TPM 2.0) of enterprise IT. It's a boon for corporate IT budgets.
Following IT deployments, the Mini S would make an excellent media center. The Mini S has all standard connectivity options in an easily concealable footprint. With 4k output, wifi 5 (AC), and Bluetooth, it's perfectly suited for movie nights and binging SciFi. If you're looking for something with a little more punch than a Raspberry Pi or something that's just ready to go, the Mini S is a sure candidate.
Lastly, for those that don't need much computing resources for homebound tasks, the Mini S is just as handy at home as it is in the office. The small footprint might be even more valuable for low-needs users. The included mounting bracket can provide an all-in-one experience without the all-in-one drawbacks.
Conclusion
In contrast to modern computers, it would seem that the Mini S is bringing a knife to a gunfight. But the Mini S does have its smoking gun. The Mini S is a mini PC with mini-performance and a price tag. For that reason, I think that the Mini S warrants consideration the next time you're looking for a lightweight computer.