W
henever we discuss single board computer and Raspberry Pi-alternatives, Orange Pi definitely earns a mention. This cheap, tiny computer looks just like Raspberry Pi and packs some useful features. Its makers have recently released the latest iteration in the form of Orange Pi One Plus, which is
available on AliExpress
for $19.99 + shipping.
The most important feature of this device is the brand-new SoC — Allwinner H6 V200 quad-core Cortex A53 processor with Arm Mali-T720MP2 GPU. This processor is designed for Gigabit Ethernet, USB 3.0, PCI interfaces, etc. However, with Pi One Plus, you only get one USB 2.0 host port and microUSB for power. You can also power it via 4V/2A DC power barrel jack.
The specifications of this hacker board are 1GB LPDDR3 RAM, microSD card slot up to 32GB, 26-pin header, and 3-in serial console header. For audio and video output, there's HDMI 2.0a up to 4K @ 60Hz with HDR, CEC, HDCP.
That's not all. The device also has power and status LEDs, IR receiver, and power button.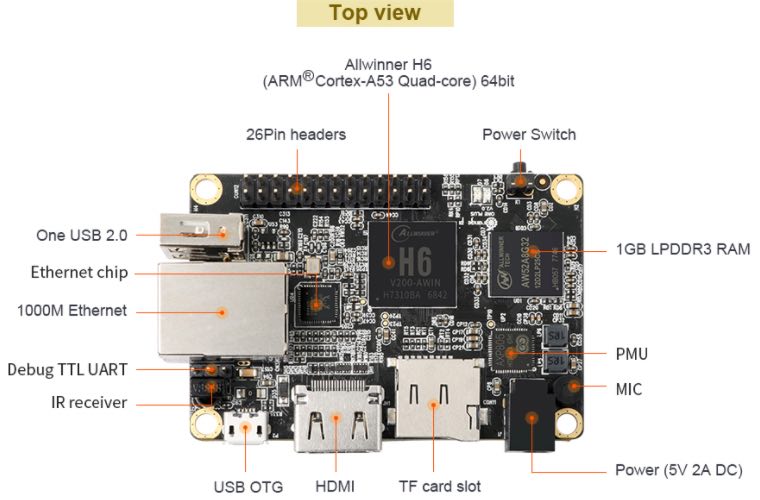 Moving on to the software powering the device, currently the board support Android 7.0. However, the support for Linux-based operating systems like Ubuntu and Debian will be soon added as the testing is being done. It should be noted that all Linux images are expected to be based on legacy Linux kernel 3.10, as reported by CNXSoft. As a result, some features like 3D graphics acceleration may not work in Linux. This is understandable, given the fact that Orange Pi One Plus is the first mini PC to be based on Allwinner H6.
In case you're interested in this mini computer for DIY and other learning purposes, feel free to order it from AliExpress.